The Independent's journalism is supported by our readers. When you purchase through links on our site, we may earn commission.
10 best planters
Show off beautiful blooms or grow your own veg in our pick of the pots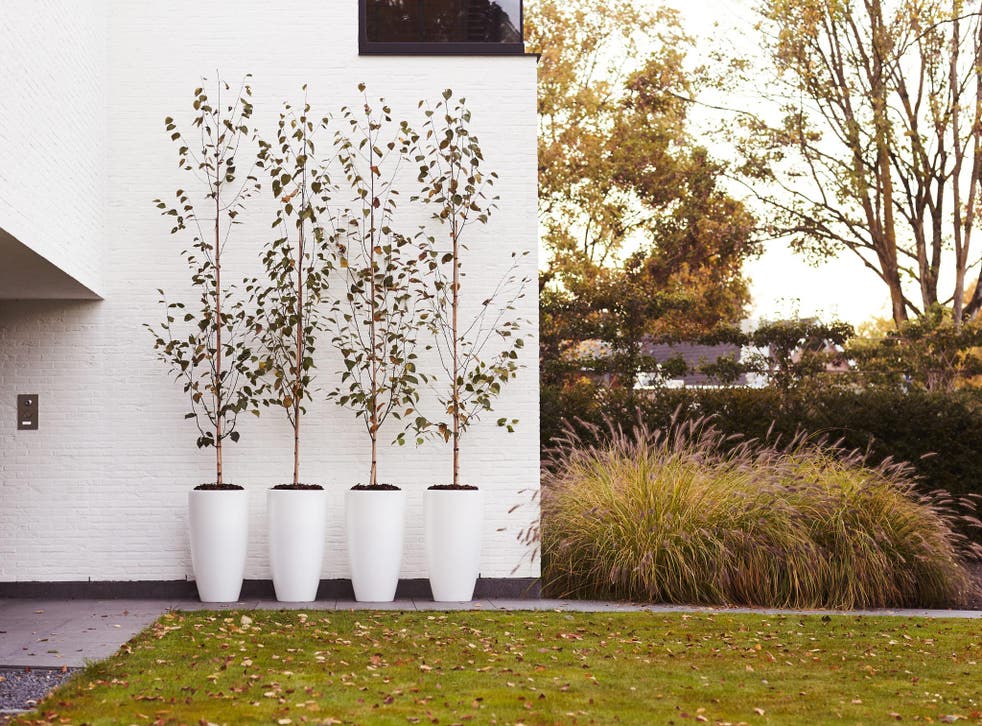 Whether you're in the market for a vessel to show off a prized plant or looking for a pot to stuff full of blooms to brighten up a shabby patio, there's a garden planter for all occasions.
The choice is vast and bewildering, thanks in turn to advances in the manufacturing process and the shift in demand from traditional, heavy terracotta to more lightweight materials that can be sculpted into a host of funky shapes and designs.
Many gardeners like to swap, change and move plants around (we can be an indecisive bunch), so having your plants housed in something less weighty makes this process a lot easier and less likely to end in injury.
Planters made from synthetic materials also tend to be more durable to frost damage, but that's not to say terracotta pot lovers should fear the frost – just remember that when looking for one, you get what you pay for. You'll be lucky if a cheap, machine-made buy survives the winter. Instead, look for terracotta pots that have been fired at high temperatures (a process known as vitrification) which renders them incredibly strong and frostproof.
Wooden planters, metal planters, terracotta and plastic – we've plunged our plants into some of the best, and this lot are top of the pots.
Capi Nature Row NL Egg Planter: £53.99, Primrose
Size: W43 x H41 cm
This cracking, egg-shaped planter is formed from a mixture of polythene and wood fibres, then moulded into a naturalistic stone-effect pot with wobbly, ribbed detailing. The distinctive orange inner core – as well as making this planter look like an inside-out chocolate orange – acts as an insulator, protecting your plant's roots from winter frosts and soaring summertime temperatures (however unlikely this latter scenario may be). It's super-light to carry, so the indecisive gardener can pick and place their plants to their heart's content without fear of rupture. We love the dark brown planter which will look resplendent planted up with a leafy variegated hosta. Four other colours are available: ivory, anthracite, black and grey.
Scheurich Wave Globe High: £59.99, Riverside Garden Centre
Size: W30 x H60 cm
German pot makers Scheurich (named after the noise a wet plant makes when you pull it out of a planter or when you skid on a slug in your wellies?) fashion their modern, earthy-hued planters from an extremely strong UV-resistant plastic. This container features elegant, sweeping lines with a ribbed, granite effect finish and has an internal cavity to cater for smaller, shallow rooted plants. Tall planters can be a bit unstable – especially when made from a light material such as this – so there's an opening in the base of this pot through which you can add sand to weigh it down.
Waitrose Garden Dolly Tub: £89.99, Waitrose Garden
Size: W48 x H58 cm
This planter is modelled on the old dolly washing tubs that Victorians used to scrub soot from their filthy garments – your gran probably has one rusting away in her back garden. The Dolly tub has a rustic, weathered finish and offers bags of room in which to pack in plants. It has been galvanised (coated with a protective layer of zinc to prevent rusting) and no drainage holes are required – excess water will flow out of the bottom where the ribbed sides of the planter meet the saucer shaped base.
Crocus Sphere Planter with Stand: £35.99, Crocus
Size: W36 x H18 cm
This stand-based planter is just the ticket for planting up herbs. It's easily portable and you can tilt and rotate the bowl on its metal tripod stand to ensure your plants receive maximum sunlight. It comes in an industrial, hammered metal finish coated with a protective lacquer. Compact enough to fit on a small patio but big enough to make a statement, the bowl can also be removed for use on the ground – Crocus suggests balancing it on large pebbles for a minimalist style well-suited to balconies.
Apta Blue Glazed Poppy Pot: from £21.95, Riverhill Garden Supplies
Size: W26 x H24 cm
This small but perfectly formed terracotta pot is styled in a classical conical shape with a shiny blue glaze, complete with a striking poppy motif to commemorate the centenary of the end of the First World War. It's a bargain at a shade over £20 and with each pot purchased, Apta make a generous donation to the Royal British Legion. These pots are available in two sizes (the medium measures W33 x H30cm) and come supplied with a bonus frost damage guarantee of ten years.
The Pot Company Heritage Patterned Trough Planter: £194 for a set of two, Harrod Horticultural
Size: W70 x D27 x H29 cm
The Pot Company has been roaming crumbling castles and scouring stately homes in search of inspiration for their New Heritage Collection range of planters. The weathered, raised detailing on this trough was inspired by patterns spotted on a stone plinth within the English Heritage archives. This strong, frost-resistant planter with drainage holes drilled into the bottom sits low and long, making it easy to fill, poke and tend. Pack it with lavender or a mixture of herbs and place it in full sun for a glorious, fragrant display.
Yorkshire Flowerpots Terracotta Longtom Hand Crafted Planter: £300, Primrose
Size: H71 x D55 cm
If you are in the market for a fine, upstanding traditional clay planter, then look no further than Yorkshire Flowerpots. Their range of planters come in all shapes and sizes – from small patio dwelling pots to vessels for trees so vast you could take a bath in them. We like the versatility that this tall pot offers. It hails from their Prestige range – each one having been individually hand-finished and stamped. It's a beautifully made, weighty pot that comes with an equally weighty, prestigious price tag, but you'll be reassured to know that Jack Frost won't come a calling and wreck your investment as it comes with an eye-popping fifty year frostproof guarantee.
Elho Pure Straight LED Light 45: £209, Amazon
Size: H63 x D45 cm
Made from a durable, frost-resistant plastic, these semi-transparent planters will plug into a power socket (via the 5m cord) and cast a soft light over their surroundings. Your chosen plant is popped into a removable inner sleeve that sits inside the vessel which makes filling and maintaining this planter a cinch. A dimmer switch on the wall plug means you can choose moody, ambient lighting for indoors or crank up the LEDs to the max to illuminate the scene for late night slug patrols outside.
Argos Forest Windsor Planter: £119.99, Argos
Size: H64 x W114 x D42 cm
Slack gardeners, rejoice! The latest garden design trend for the green-fingered to embrace is Wabi-Sabi, the Japanese philosophy that accepts that there is beauty in the imperfect. The riser planks on these crenulated planters are cut to appear rough around the edges, and look fantastic with a clumps of summer trailing plants like a lobelia or a bacopa cordata cascading over the sides. The Windsor planter is made from rot resistant, pressure treated wood and is supplied in an easy to assemble flat packed form.
VegTrug Classic VegTrug: £149.99, Robert Dyas
Size: L183 x W76 x H80cm
This capacious veg planter takes seven 60 litre bags of compost to fill and will give you a maximum depth of 42cm – enough to harbour medium rooted plants such as beetroots, carrots and peppers. The planter warms up quickly in the sun, sits at waist height for easy plant management and provides a formidable obstacle for slugs and snails to scale. Airborne avian attacks can also be thwarted by attaching optional netting and fleece coverings. VegTrugs arrive flat packed and require a degree of DIY skill to assemble, but there's a handy online video should things get too fraught. They're treated with food-safe preservative and two colours are available – grey wash or natural wood.
The Verdict: Planters
For a lightweight, modern planter that'll last for years, the Capi is our winner. For a bargainous planter that'll help a worthy cause, cast your money in the direction of the Apta Poppy Planter.
Register for free to continue reading
Registration is a free and easy way to support our truly independent journalism
By registering, you will also enjoy limited access to Premium articles, exclusive newsletters, commenting, and virtual events with our leading journalists
Already have an account? sign in
Register for free to continue reading
Registration is a free and easy way to support our truly independent journalism
By registering, you will also enjoy limited access to Premium articles, exclusive newsletters, commenting, and virtual events with our leading journalists
Already have an account? sign in