The Independent's journalism is supported by our readers. When you purchase through links on our site, we may earn commission.
6 best cocktail shakers to inspire your inner mixologist
Whatever your vice, get ready to shake, rattle and roll like a pro with a trusty bar tool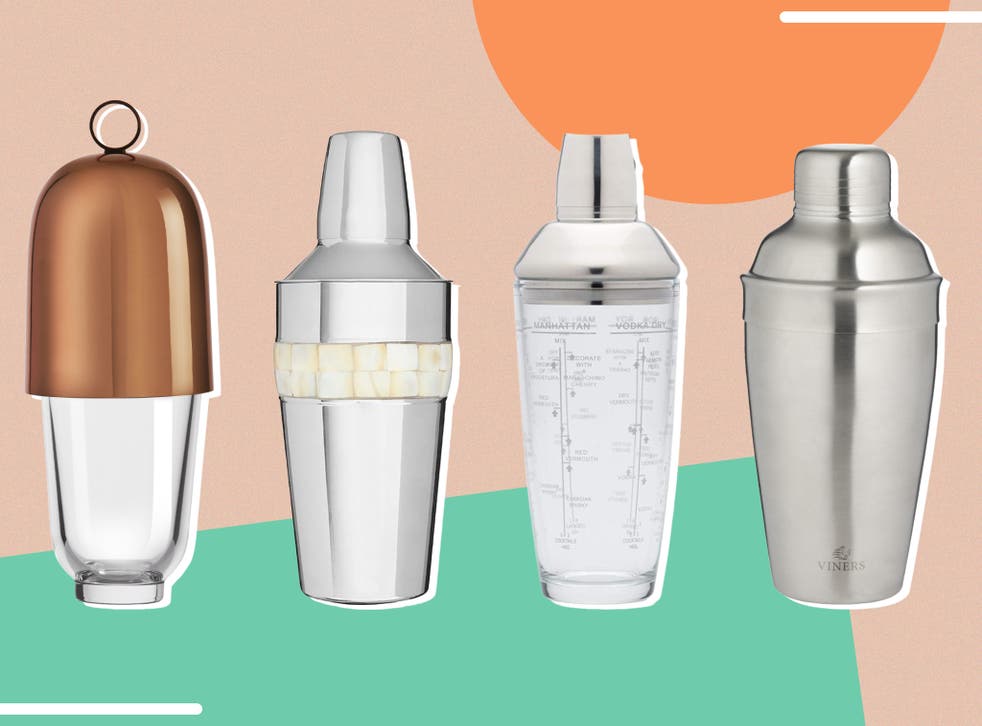 If the past two years has taught us anything, it's that a home bar is not a luxury: it's a necessity. And whether yours is squirrelled away in the back of a kitchen cupboard, or carefully arranged on a stylish vintage cart, any bar's essential centrepiece is a quality cocktail shaker.
Even if you're not looking to flair bartend à la 1980s Tom Cruise, cocktail-making is a somewhat theatrical process, so you obviously want a vessel that looks good. But perhaps the biggest consideration when choosing a cocktail shaker, aside from price, is style.
Boston shakers, the style most often seen in bars, are formed of two semi-equal halves that are wedged together to create a seal. They're easy to clean, hold a fair bit – double daiquiris, anyone? – and are quick to assemble, so can turn out a high volume of drinks.
The downside is that you need to invest in a separate Hawthorne-style strainer for pouring. And they take practice to master; fail to seal the shaker correctly and you'll be wearing, not drinking, that whisky sour.
On the other hand, three-piece cobbler shakers are the bartending beginner's friend. Besides having the benefit of a built-in strainer (which can be troublesome to clean), their lids are easier to fit and grip while shaking.
Read more:
How we tested
We've included both cocktail shaker styles in our round-up below, testing for chill speed, durability, pourability and ease of cleaning.
While the shakers are suited to different occasions – some perfect for parties, others for civilised martini hours – we control-tested each with the same supermarket-sized ice cubes and a readymade espresso martini mix to keep an even playing field. Shaked at a constant rate for 15 seconds, every one turned out a happy hour-worthy pour. Cheers!
The best cocktail shakers for 2022 are:
Cocktail shaker FAQs
Cleaning your cocktail shaker: Can they go in the dishwasher?
Keeping your cocktail shaker clean is the best way to ensure its longevity, but there are different ways to approach cleaning each part of the shaker.
While shakers made out of glass or stainless steel can go in the dishwasher, designs with painted markings or rubber rings around the lid are at risk of breaking dishwashers, so make sure you always clean them by hand.
Tin lids, measuring glasses and traditional strainers are always best washed by hand, but mesh strainers can go in the dishwasher.
What size cocktail shaker do I need?
A shaker that holds 600ml or less is perfect for happy hour for one, but you'll need a 700ml and above shaker for rustling up cocktails for gatherings.
What should you look for when buying a cocktail shaker?
There are three main types of cocktail shakers; the cobbler shaker, the boston shaker, the french shaker.
The most common is the cobbler shaker, which consists of three parts, a metal tumbler, a metal lid with a built-in strainer, and a metal cap to cover the strainer. This one is the best for a cocktail novice as it is easy to use, although can be a challenge to separate.
The Boston shaker is more popular with cocktail professionals and consists of two parts; a mixing glass and a metal tumbler. It is great if you know what you are doing, and are hosting a large party as it can hold more liquid. But, beware, it can be a bit fiddly and requires two hands to use.
Lastly, the French shaker, this one looks great but is largely for show and can be very tricky to use.
The verdict: Cocktail shakers
Walking the line between fun, fabulousness and functionality, Beaumont's Tiki cocktail shaker is a worthwhile buy. It feels like a really solid purchase for under £20, though of course, you'll have to be comfortable using a Boston-style shaker and buying your own separate strainer.
For those looking to channel jazz-age glamour, Nick Munro's trombone fuses utility with finesse. It's gorgeous enough to take centre stage on a bar cart, but we still wouldn't have any qualms about using it on a weekly basis.
Finally, if you're looking for a classic cobbler shaker that gets the job done on a budget, you could do far worse than pick up Viner's 500ml brushed cocktail shaker.
Voucher codes
For the latest offers on alcohol, try the links below:
Enjoy red, white, sparkling and more delivered to your door with the best online wine shops
Register for free to continue reading
Registration is a free and easy way to support our truly independent journalism
By registering, you will also enjoy limited access to Premium articles, exclusive newsletters, commenting, and virtual events with our leading journalists
Already have an account? sign in
Register for free to continue reading
Registration is a free and easy way to support our truly independent journalism
By registering, you will also enjoy limited access to Premium articles, exclusive newsletters, commenting, and virtual events with our leading journalists
Already have an account? sign in