The Independent's journalism is supported by our readers. When you purchase through links on our site, we may earn commission.
9 best handheld vacuums that make quick clean-ups a breeze
We're a sucker for these small but mighty machines from the likes of Dyson, Hoover and more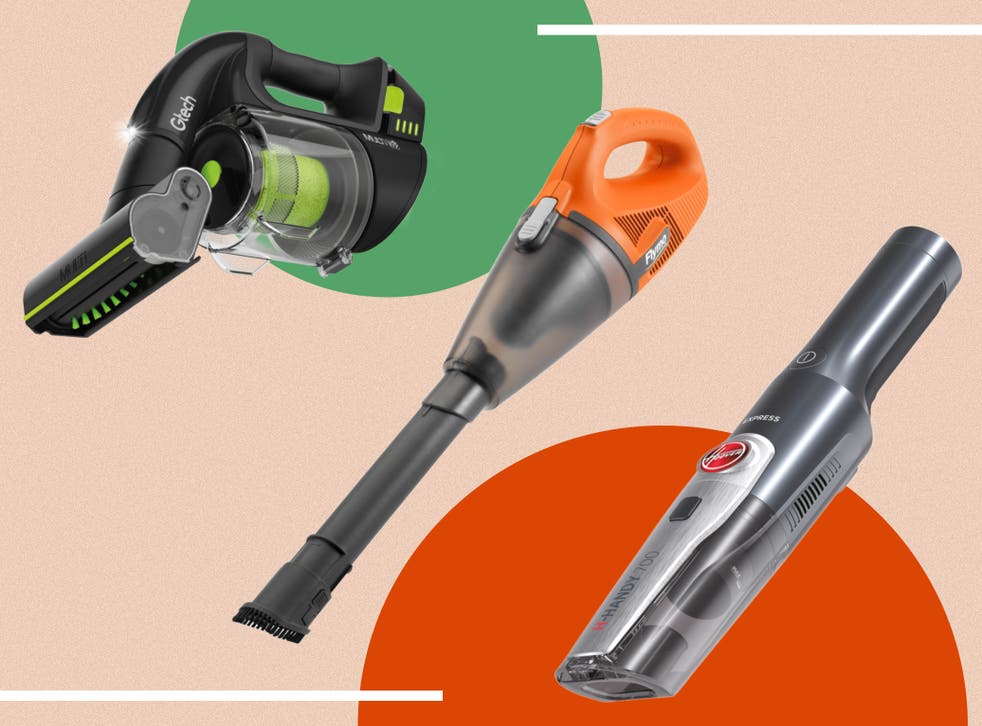 There's no denying it – vacuum cleaners are getting smaller by the day, the best example of which is the trend for handheld vacuums. And opting for smaller versions no longer means sacrificing power, thanks to powerful motors, streamlined suction and longer battery life.
Handheld vacuums are especially suitable for smaller areas, but they're brilliant for quick clean-ups, too – consider keeping one in the car and one in a kitchen cupboard for quick spruce-ups of high traffic areas.
Key factors to consider include dust bin size, battery life and the ease with which filters can be changed. With smaller vacuums, filters will often need to be changed more regularly as more dirt will be passing through a smaller area on a more regular basis.
LED lights on nozzles can make getting to tricky areas much easier, and two-in-one nozzles, which often incorporate an external shaft that can be used as a crevice tool, and raised to reveal an interior brush for situations where extra power is required, can be brilliant space savers. Run times – after a full charge – vary, but most cordless vacuums will typically run for between 15 and 20 minutes.
How we tested
As self-confessed clean freaks, this was our kind of challenge. We used the vacuums in a wide range of situations, including car boots, dog hair-covered areas of carpet and hard hallway floors. And given our love of vacuums, we knew what to look for. For this particular testing session, we paid extra attention to the features which save time and energy, which is what handheld vacuums are all about, after all.
Read more:
The best handheld vacuum cleaners for 2022 are:
The verdict: Handheld vacuums
The Eufy HomeVac H30 mate does it all, without requiring huge charge times or costing the earth. It's powerful and rugged, and does a great job of cleaning a wide range of areas.
The Gtech multi MK2 K9 is one of the best handheld vacuums for pet households due to its ability to remove trickier debris such as pet hair. While the Hoover H-HANDY 700 express HH710M offers brilliant cleaning power with an easy-on-the-eye price tag.
Voucher codes
For the latest discounts on home appliances, try the links below:
We've also found the best cordless vacuum cleaners for hassle-free hoovering
Register for free to continue reading
Registration is a free and easy way to support our truly independent journalism
By registering, you will also enjoy limited access to Premium articles, exclusive newsletters, commenting, and virtual events with our leading journalists
Already have an account? sign in
Register for free to continue reading
Registration is a free and easy way to support our truly independent journalism
By registering, you will also enjoy limited access to Premium articles, exclusive newsletters, commenting, and virtual events with our leading journalists
Already have an account? sign in