The Independent's journalism is supported by our readers. When you purchase through links on our site, we may earn commission.
7 best robot vacuum cleaners that clean your floors and carpets effortlessly
These clever machines get the chores done and dusted, so you don't have to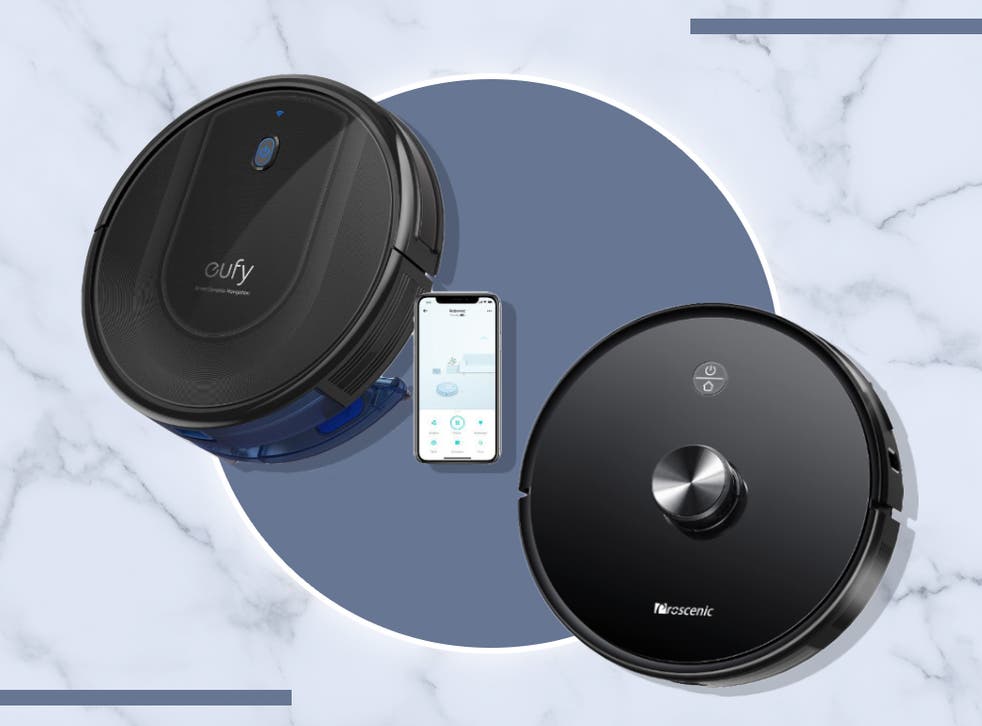 Whether you love them or loathe them, household chores are a necessary part of everyday life. So wouldn't it be great to have someone or something to pick up the slack? Enter: robot vacuum cleaners, a worthwhile investment for any busy household.
Robot vacuum cleaners have recently hugely risen in popularity, especially as more affordable models have joined the vacuum market with options that suit most budgets – Aldi even brought out its own model last year which promptly sold out.
Manufacturers offer a wide range of features on these smart cleaners like voice control, room mapping and even automatic dirt disposal.
Ready to shop now? Our current best buy is the Xiaomi roborock S5 max (£412.27, Amazon.co.uk)
Depending on the level of technology you're looking for, robot vacuums can still be very expensive – one product we tested cost almost £1,200.
So before you invest in a robot vacuum, it's important to consider exactly what you're looking for, whether it's a dual function cleaner that can vacuum and mop, a low maintenance product that effectively cleans hardwood floors only, or a powerful hoover that will reach every corner of your home, sucking up pet hair, dust, and everything else in between.
Read more:
How we tested
To help you make this decision, we've tested out a range of robot vacuum cleaners in three different settings: a small bedroom with a hardwood floor and rugs for the robot to navigate over; a large, open-plan kitchen complete with dining table and chairs; and a carpeted living room featuring numerous obstacles such as sofas, a coffee table, a desk and a television. Our final pick features the products that performed the best in these challenges and we believe are worth investing in.
The best robot vacuum cleaners for 2022 are:
Robot vacuum cleaners FAQs
Robot vacuums vs other types of vacuum: Pros
Time saving: The best aspect of a robot vacuum cleaner is the fact that it cleans your home all by itself, saving you valuable time and leaving you one less chore to do yourself.
Cleans while you're out: You can schedule the robot to clean on specific days and at specific times. Schedule cleaning for when you're out at work and enjoy the feeling of coming home to a clean house.
Better reach: Thanks to their small size, robots can get under heavy furniture that you wouldn't usually be able to clean yourself.
Vacuum and mopping: Many of the newer robot cleaners are dual function, with mopping capabilities as well as vacuuming.
Space saving: The compact and minimalistic design means robot cleaners take up much less space in your home than a traditional vacuum cleaner, plus they look a lot nicer, too.
Control remotely: Wifi-enabled robot vacuums can be operated and controlled via a smartphone app, and many of these models feature voice control, which is compatible with Amazon Alexa and Google assistant.
​Spot cleaning: Crumbs under the dining room table? Simply pick up the robot vacuum and put it next to the mess for a quick and easy spot clean.
Robot vacuums vs other types of vacuum: Cons
Small bin capacity: Robot vacuum cleaners are much smaller than traditional vacuums, which means they have a much smaller bin capacity. You'll find you'll need to empty the robot after every thorough clean.
Price: Although they are becoming more affordable as the technology develops, robot vacs are more expensive than regular vacuum cleaners, making them a serious investment in your cleaning routine.
Obstacles: Depending on the size of the model – robot vacuums can get stuck on objects or under furniture. You need to make sure the room is reasonably clear before the robot is scheduled to clean – don't leave socks and cables lying about.
Stairs and corners: Robot vacuum cleaners cannot navigate stairs, but they will stop short of the stairs when cleaning, so you don't have to worry about the robot falling down them. Most models cannot get into corners either, so you'll still need another vacuum cleaner to clean these areas.
Battery life: Most models last for at least 60 minutes, which won't be enough time for a full clean if you have a large home. However, the robot will go back to the charging base when the battery is low and will then return to the area to resume cleaning once adequately charged.
Can robot vacuums be set to clean multiple rooms?
Basic robot vacuum cleaners will clean any area available to them – so if you leave the sitting room door open it will navigate its way through and start cleaning the next room. More advanced robot vacuums come with mapping technology. This means the robot can map your home layout using built-in cameras and smart sensor technology, remembering the different areas using its memory bank. The maps the robot creates will then show on your app, and you can usually change the boundaries of the map and assign each map a name – for example, main bedroom, office, and dining room. The robot will also note the placement of furniture, so that it won't bump into any of it when it next cleans.
Is it difficult to program a robot vacuum?
This of course varies depending on the model, but robot vacuums are generally designed to be as simple as possible to set up. All robot cleaners come with a charging stand or "home", and the robot will need to be left to charge for a short while so that you can then set it up to start cleaning. You'll need to connect the robot to your wifi, and most cleaners come with an app that you need to download to create a cleaning schedule for your vacuum. Here you can track your robot's cleaning progress, and some apps will give you more in-depth information, such as the time it took for the robot to vacuum and the areas it successfully cleaned. Some will also send alerts to your phone if the bin needs to be emptied or if the robot is stuck in a corner and needs your attention.
Are robot vacuums worth it?
While a rather costly purchase, a robot vacuum cleaner is a great addition to your home as it can complete day-to-day cleaning tasks without you having to pick up a vac yourself, saving you both time and energy. Plus, if you're short on space, thanks to its compact size, it won't take up too much room in your home.
Can a robot vacuum replace a normal vacuum?
If your living space is all on one level, a robot vacuum cleaner can clean your home for as long as its got charge. However, robot vacs don't have the ability to climb stairs so can't (yet) replace a normal vacuum for a multi-floor home... unless you get two.
The verdict: Robot vacuum cleaners
For its comprehensive cleaning and reasonable price tag, the Roborock S5 max won our best buy. If you'd prefer to spend less on your first foray into the world of robot vacuum cleaners and you have hard floors, the Eufy G10 hybrid is an excellent choice. If you're ready to make an investment, choose the iRobot roomba i3+ for its powerful suction and automatic dirt disposal.
Voucher codes
For offers on vacuum cleaners and other household appliances, try our discount code pages:
We put the Dyson V11 outsize to the test to find out if this cordless vacuum cleaner was worth the price tag?
IndyBest product reviews are unbiased, independent advice you can trust. On some occasions, we earn revenue if you click the links and buy the products, but we never allow this to bias our coverage. The reviews are compiled through a mix of expert opinion and real-world testing.
Register for free to continue reading
Registration is a free and easy way to support our truly independent journalism
By registering, you will also enjoy limited access to Premium articles, exclusive newsletters, commenting, and virtual events with our leading journalists
Already have an account? sign in