The Independent's journalism is supported by our readers. When you purchase through links on our site, we may earn commission.
World Wildlife Day 2021: The small, sustainable swaps to make today
We've compiled top consumer choices you can make to support this year's 'forests and livelihoods' theme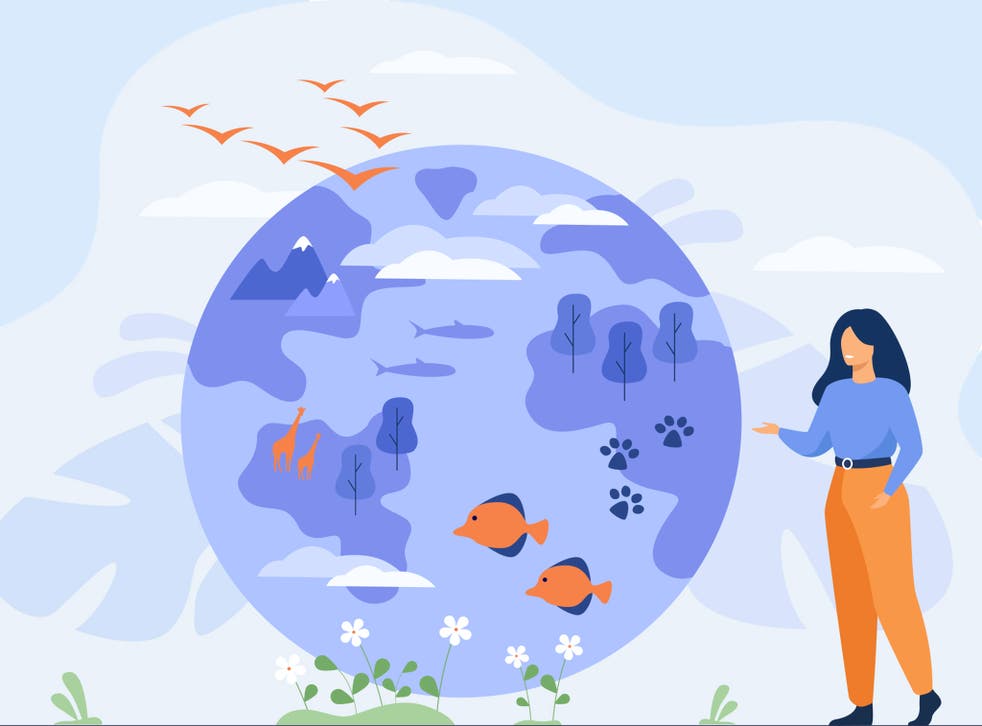 World Wildlife Day – honoured annually on 3 March – is the UN's flagship campaign to celebrate wild animals and plants, and serves as a reminder that we must protect them by developing more sustainable practices.
Last year's initiative put biodiversity (the variability of living things that make up life on Earth) at the forefront of the global sustainability agenda. This year's theme is "Forests and Livelihoods: Sustaining People and Planet", in a bid to highlight the central role that forests, and their species and ecosystems, have in sustaining the livelihoods of our global population, and particularly those of Indigenous and local communities.
Read more: 10 best plastic-free books to help you lead a greener life
"Forests and woodlands have an important environmental role and provide essential services for hundreds of millions of people," notes Ivonne Higuero, secretary-general of the Convention on International Trade in Endangered Species of Wild Fauna and Flora.
"They sustain the resources so many communities around the world rely on for their livelihoods, as well as the broader food security, climate regulation and economic stability for the entire world," Higeuro added.
Forests provide a home to 80 per cent of the world's terrestrial biodiversity; after oceans, forests are the world's largest storehouses of carbon; and they provide more than 13 million people across the world with jobs. And despite our dependence on forests, we are allowing them to disappear at a frightening rate.
Last year, deforestation in the Amazon rainforest reached a 12-year high, which scientists say is causing weakened environmental protection. But that's not all. A recent WWF report revealed that an area of forest twice the size of the UK has been lost in the past decade. Scientists note that the rapid depletion of forests is not only going to cause biodiversity loss, it can also increase the threat of diseases like Covid-19.
As such, it's important to mark the day, which encourages people to adopt more sustainable practices into their lifestyles. And because there are no ways to avoid the fact we all depend on wildlife, in both rural and urban areas, it's important we make more responsible decisions.
From more conscious food decisions to implementing a recycling system in your home, here are the ethical and sustainable swaps you should make today so that we can all see a better tomorrow.
You can trust our independent round-ups. We may earn commission from some of the retailers, but we never allow this to influence selections, which are formed from real-world and expert advice. This revenue helps us to fund journalism across The Independent.
Food and drink
A report published by the Committee on Climate Change (CCC) noted that we should cut our intake of meat and dairy products by 20 per cent in order to combat the climate emergency. And the WWF has noted that beef production is one of the top drivers of deforestation. By adopting a more vegetarian lifestyle, you can help do your bit.
If you're new to vegetarianism or are looking to make it a little easier, we'd recommend turning to a vegetarian recipe box.
The Riverford vegetarian recipe box (from £13.25, Riverford.co.uk) came out top in our guide to the best, thanks to it having "an easy-to-navigate website, fantastic quality produce and varied interesting recipes". What's more, all the ingredients are 100 per cent organic, with "fresh veg arriving muddy, straight from the farm".
When you do buy meat, we'd recommend doing so from an ethical farm since, according to the CCC, British farming practices produce some of the most sustainable beef.
We'd suggest Eversfield Organic (from £3.20, Eversfieldorganic.co.uk) since it not only featured in our guide to the best meat boxes from ethical farmers, but the beef and lamb are 100 per cent grass fed.
In our review, our writer noted that in terms of "feeding a family on generally good-quality meat, that supports farms and environmentally friendly farming practices", the Eversfield Organic family meat box (£99.95, Eversfieldorganic.co.uk) is "possibly one of the best-value meat boxes". 
You can also make sure your diet is more sustainble by buying seasonal vegetables. The easiest way to do this is with a veg box that delivers fresh produce straight to your door. Eversfield's organic no potatoes veg box (£17.95, Eversfieldorganic.co.uk) was a big hit in our review of the best, with our writer noting that it offered great value for money. 
It was "packed to the brim with excellent quality specimens, including kale, courgettes, red peppers and mushrooms, as well as plenty of carrots and white onions". It's a great option if you don't have a local greengrocer nearby or want the convenience of having something delivered.
Another way to strive for sustainability is by avoiding food that contains palm oil – an edible vegetable oil that comes from the fruit of oil palm trees. It's a versatile product, which explains why it is so widely used, even in beauty products. But, it is also extremely detrimental to the environment and continues to be a major driver of deforestation in places with high biodiversity, threatening endangered species. 
Boycotting it entirely is not the answer for a number of reasons, for example, the fact that millions of smallholders depend on it for survival. Rather you can keep an eye out for brands that have been certified by the Roundtable of Sustainable Palm Oil and reduce your consumption where possible. 
In peanut butter, for example, many brands use palm oil to make sure their products are creamy and spreadable. But, Pip & Nut's the ultimate extra crunchy peanut butter (£3.85, Ocado.com) produces palm-oil-free nut butters, and the brand received rave reviews in our guide to the best. 
"Boasting a serious 99.7 per cent peanut content with just a touch of sea salt, we're not sure what witchery has been employed to make this quite so impressively crunchy without using tricks like caramelisation or extra sugars, but it does have a noticeable extra bite," praised our writer.
Home and garden
Reducing your meat and palm oil intake are just some of the ways you can do your bit when considering food. But, if you're looking to make more environmentally-friendly choices at home, you may also want to implement a recycling system.
Recycling reduces the need for raw materials so forests can be preserved where possible. If you're unsure where to start, take a read of our guide to the best recycling bins, where this Joseph Joseph 60l totem max waste and recycling bin (£179, Josephjoseph.com) took the top spot. 
"The kitchen would be a far duller place without Joseph Joseph and its clever ways to make life's little hassles disappear. Its latest recycler is a roomy, easy-to-clean solution that will take all your kitchen cast-offs," praised our writer.
While this year's theme for World Wildlife Day focuses on forests and the livelihoods of the communities who rely on them, the wider overarching aim of the event is of course to "celebrate and raise awareness of the world's fauna and flora".
As such, you can do your bit for your local ecosystems is by encouraging wildlife into your garden. One way to do so is through bees, which are crucial pollinators. Yet they are in decline – since 1900, the UK has lost 13 species of bee, and a further 35 are considered to be under threat of extinction. 
The causes of this decline can be attributed to pesticides, habitat loss and climate change. Bee a hero and do your bit to support these creatures by coaxing them into your yard by cultivating British wildflowers. We'd do so with these Black Bee Honey seed bombs (£8.50, Blackbeehoney.com). 
Each pack contains 20 bombs, which is sufficient for one square metre of wildflower meadow – the resulting plants will also attract butterflies. Profits go to Bee Friendly Trust, a charity that works to transform the nation's neglected areas into thriving floral habitats for honey bees and other pollinators – so you'll not only be attracting them into your garden, you'll also be supporting them in the wild. 
Other at-risk animals include birds; 40 per cent of the world's bird species are in decline, and one in eight are threatened with global extinction. Robert Jacques, supporter development officer at the British Trust for Ornithology, told The Independent that "one of the simplest ways is to leave some parts of your garden to grow wild. This will create nesting opportunities for birds, which like dense vegetation, and homes for insects, which most garden birds need to nourish chicks." 
Jacques recommends fruiting trees and bushes, along with large seedheads, such as teasels, as a great resource for birds in the winter. As such, we'd recommend this featherbom seedbom (£3.95, Kabloom.co.uk), which includes teasels. 
Simply shake, pull the pin out of the top and drop it onto bare soil – preferably in an area that has plenty of light. Plant in spring for flowering in the same year.
Finally, we'd always recommend reading more about these issues, as when you learn more about what's facing our forests, you'll want to help maintain their health and in turn, share your knowledge and educate others.
The Sixth Extinction: An Unnatural History by Elizabeth Kolbert (£19.06, Amazon.co.uk) featured in our review of the best books on the climate crisis and explores the fact five mass extinctions have taken place in the last billion years. 
Combining field reporting from the Andes, the Amazon rainforest, the Great Barrier Reef, and even her own garden, Kolbert uncovers the picture of the sixth; an extinction that threatens to eliminate 20 to 50 per cent of all species on Earth within this century.
It's a book that aims to inspire conversations and provide hard-hitting evidence regarding deforestation in the hope of making you feel more empowered to make a change. After all, knowledge is power.
Want to discover ethical and sustainable brands? Read our guide to the B Corp-certified companies that are making a difference
IndyBest product reviews are unbiased, independent advice you can trust. On some occasions, we earn revenue if you click the links and buy the products, but we never allow this to bias our coverage. The reviews are compiled through a mix of expert opinion and real-world testing.