10 best running nutrition products
Keep up your energy and stay hydrated on race day with these IndyBest-approved options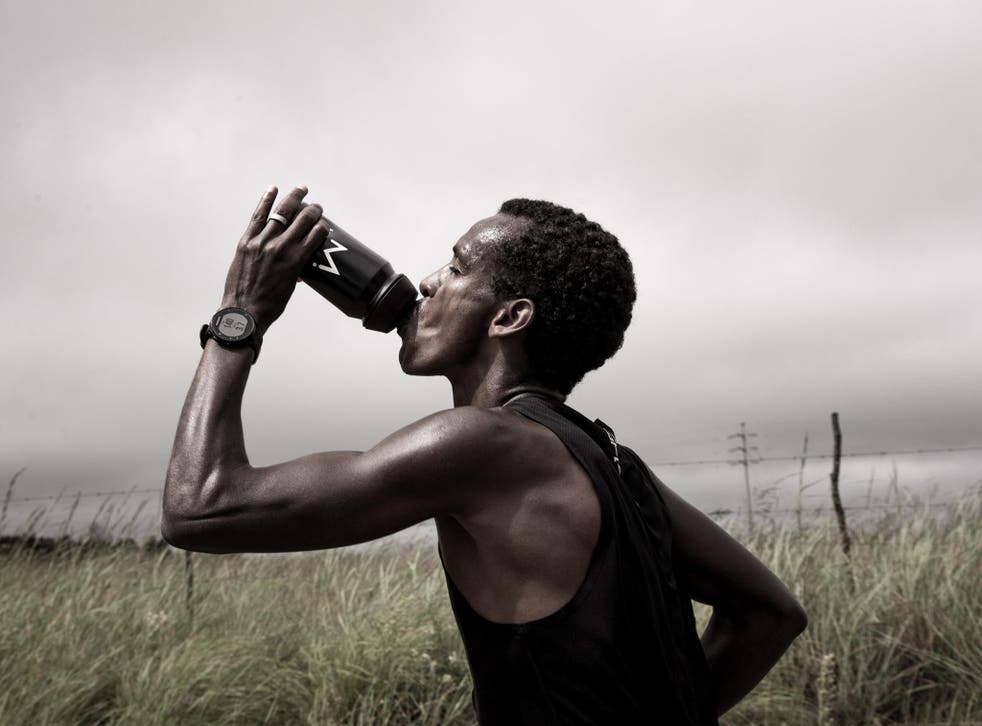 If you're running for over an hour, refuelling during your event is a necessity. "Our bodies can only store a certain amount of glycogen," says sports nutritionist Liam Holmes. "You will need to provide this fuel in order to maximise your performance." Enter the world of energy drinks, gels, chews, bars and snacks, all sources of carbohydrate. Used in the right way, these will replenish your body and power you to the finish line ensuring you don't hit the dreaded "wall".
Which type of nutrition is right for me?
Every person is different, so which you turn to in particular is a personal thing. It will also depend on the length and type of event you're taking part in. Carbohydrate drinks typically come in sachets of powder that you dilute with water. These are very easily absorbed by the body. You may not be able to carry enough of this to see you through longer events such as a marathon, however.
Gels are another option. They're small and packed full of energy. You can stuff several in your pocket or bumbag to use throughout the duration of your run. Some are formulated so that they don't need to be washed down with water. We recommend trying a few different brands to see which you find the easiest to digest. Chews work in a very similar way. They just, as the name suggests, require some chewing and a little more water to aid digestion.
Then there are energy bars, best for those longer events like ultramarathons, where taking in too many high-sugar carbohydrate drinks or gels gets a bit much and could give you an upset stomach. "Bars can contain protein, slower-release carbohydrates and fats to provide a more energy-dense alternative," says Holmes. Then there are natural products – peanut butter and dates, for example – that are cost-effective, and are well-suited for those who can't stomach sweet gels.
How much fuel does my body need?
As a guide, you should aim to consume between 30g to 60g of carbohydrate per hour. A typical banana, energy bar or gel will have around 25g. If you're taking part in a marathon and expect to complete it in four to five hours, aim towards the lower end of this. However, if you're completing in two to three hours, aim for higher energy replenishment. "You need to be having a mix of liquid nutrition as well as snacks, so be sure to use water stations to hydrate," says Holmes.
One of the golden rules is that you practise and try out the specific products you are thinking about using. It might be that your body for some reason simply doesn't like a certain brand, or a particular type of product. Also, you should test timing and how often you need to be fuelling up. Don't start experimenting on race day – stick to your nutrition plan.
We have tested the following products in a variety of cycling and running scenarios, from an hour to four- or five-hour sessions. Here are our top picks and recommendations. Needless to say, should you have any pre-existing medical conditions, be sure to apply your common sense when considering using any of these options or consult your GP. Be sure to follow the brand's recommendations for dosage too.
Drinks
Maurten 160 drink mix: £37 for box of 18 (£2 per sachet), Sigma Sports
Swedish brand Maurten makes revolutionary energy and nutrition products that have helped fuel elite athletes to victory, including the winners of all the major men's marathons in 2017. It is the chosen brand for Nike and Adidas's sub-two-hour projects. This powder is a mix of carbohydrates and electrolytes – with no colouring, preservative or flavourings. It's a neutral to slightly mild, sweet flavour – so free of that sickly taste – and it is easy to drink. It's a great mix of energy and hydration, and comes in "160" and "320" versions (denoting the number of calories in each sachet size). Mix one of these with 500ml of water, and you'll have a huge 40g and 80g of carbohydrate respectively. The science behind these drinks is it reduces the gastrointestinal stress that comes with highly concentrated carbohydrate solutions.
Precision Hydration salt and electrolyte powder: £10 for box of 8 (£1.25 per sachet), Precision Hydration
Precision Hydration is a brand that specialises in sports hydration, in particular to replace sodium and potassium lost from the body from via sweat (note that it's not a carbohydrate drink). This is suited more towards endurance and longer events, where you'd likely be consuming other bars and snacks as your source of carbohydrate and fuel. This will aid hydration and help you avoid getting cramps. Its taste is great – not too sweet, but a little hint of flavour, with subtle grapefruit – to help tempt you to keep drinking. There are different strengths depending on how much you sweat. If you're a heavy sweater or competing in a very hot place, the 1000 or 1500 options are the best, otherwise there are the lighter versions (PH also offers "sweat tests" if you need more guidance.
Gels
GU Roctane Energy Gel: £64.80 for 24 32g sachets (£2.70 per gel), Wiggle
These are the next evolution of energy gels. They include BCAAs, amino acids that help you preserve energy in your muscles. This makes them particularly good in long-distance events (they're great in ultras for example), and will give you an energy boost. With 21g of carbohydrate, and extra electrolytes than a lot of other energy gels, they're intended to reduce fatigue and keep you going for longer in endurance events. A short time after taking them, you are sure to notice a pick-up in energy. You will need a couple of mouthfuls of water to wash it down, but they taste pretty good. There are six flavour options. Our tip is to try the blueberry pomegranate – it's not too sweet, but still has plenty of flavour.
Science in Sport GO Isotonic Energy Gel: £27.50 for 30 (91p per gel), Chain Reaction Cycles
With 22g carbohydrate, The SiS Go Isotonic Gels are designed to combine carbohydrate and water in a specific ratio (22g of carb in a 60ml gel). This means you won't need to drink from your bottle to help swallow the gel – they're designed to be swallowed down and that's it – so you can focus on your running. Also, this mix of carb and fluid makes it more effective as a source of energy, and easier for the body to use. They are some of the best tasting gels out there and give a great pick-up. These are still very sweet but there nine flavours to try so there should be something you like – our favourite is the grapefruit.
Chews
Clif Bar Shot Bloks: £34.49 for 18 (£1.91 per block), Chain Reaction Cycles
If you find gels too sweet and sickly, blocks are a great alternative. With six pieces per pack, they're also easy to ration and space out, enabling you to practice the "little and often" philosophy so you can top yourself up frequently. Doing something similar with a gel would likely mean gel squidging all over your pocket. You can suck each block for around two to three minutes, which is a nice distraction too. They give a good energy boost. Each pack has around 45g carbohydrate (equivalent of two average gels) and 190 calories. They have a great texture, not too sugary or claggy in mouth, and taste better than you would think. There are 11 flavours available in the States, not all of which we could find here, but there are still plenty to choose from.
GU Energy Chews: £52.20 for 18 (£2.90 per pack), Wiggle
Here's another entry from GU. With eight chews in each packet, these are ideal if you like to sink your teeth into something (as an alternative to gels) quite frequently. They are packed with carbohydrate (40g) and where they really differ from other chews is that they include amino acids to help reduce muscle fatigue. They taste good, particularly the strawberry flavour, and there's a kicker of caffeine too that will help in giving that extra boost.
Bars
Prime Beef Bar: £25 for 12 (£2.08 per bar), Prime
If you're not a fan of regular energy bars – those which are sugary and sweet – look no further than Prime. Comprised of 76 per cent British beef and with 7g of carbohydrate, they're not designed so much for the shorter runs (half-marathon or even marathon). Where they really come into their own are for more ultra or long-distance events – each 50g bar is packed with 170 calories, 12g of protein and 12g of fat, so these are a really tasty, balanced snack to keep you going. Another huge upside too is they won't upset your tummy. Our favourite variety is the chilli and red pepper, with its subtle paprika hit. These are the ultimate savoury energy bar in our opinion.
Tribe Infinity choc salt caramel: £28 for 18 (£1.55 per bar), Tribe
Tribe turns out great all-natural energy nutrition, specifically designed for runners. At 206 calories and with 25g of carbohydrate all in a tiny package, these are intended to give you slow release energy – and they certainly do that. They're made with the likes of brown rice syrup, sunflower seeds, cashews and cocoa butter, plus they're low in sugar – half that of an apple. Once you've eaten them – and this chocolaty salted caramel does taste particularly good – you'll be all set for another 30-40mins of running. You will need some water to aid digestion as they're quite dense.
Snacks
Buy Whole Foods Online Medjool Dates: £12.39 per kg, Buy Wholefoods Online
The go-to choice of many a top ultramarathon runner, two medjool dates have around 35g of carbohydrate in them – that's not far off two energy gels. They're super easy to eat, they don't get squished or go over ripe (like bananas), and they're very easy for your body to digest. Very cost effective too, these come very highly recommended to perhaps pair up with another energy source, such as a gel for when you need a more immediate and bigger boost. They are also kinder on your stomach than gels.
Pip & Nut coconut almond butter squeeze pack: £3.50 for 4 (87p per sachet), Boots
In a super convenient and compact 30g sachet, these aren't actually super-high in carbohydrate (with just 4g). But what they lack in this department, they more than make up for with high protein, and also calories – 186. So they're a great option if you've perhaps lined-up something longer in distance, and need to mix up the types of snack you're using. Natural foods are a winner in this circumstance. Nuts are also packed with magnesium, Vitamin E, fibre and other essential nutrients, have no refined sugars, so they're good all round. You will need a few gulps of water once you're done to wash it down and aid digestion, but this will be very welcome amid other more sugary options.
The Verdict
If you're taking part in a half marathon, there's no doubt Maurten 320 Drink Mix is a fantastic option – it's a great energy drink, and in one 500ml bottle. You should have enough energy to keep you topped up. However, for a marathon distance, unless you're super quick, it's likely you'll be turning to gels or chews, as a number of these are easily stowable in your pocket or bumbag and are packed with energy. Clif Bloks and GU Roctane Energy Gel are the best in these departments. For ultramarathons and longer runs, we would turn to a mix of energy bars and then natural foods. This way hopefully you'll avoid an upset tummy and be in good shape to the finish line.
IndyBest product reviews are unbiased, independent advice you can trust. On some occasions, we earn revenue if you click the links and buy the products, but we never allow this to bias our coverage. The reviews are compiled through a mix of expert opinion and real-world testing.