The Independent's journalism is supported by our readers. When you purchase through links on our site, we may earn commission.
12 best men's running shoes to help you smash your personal best
Enhance training and performance with trainers from the likes of On, Nike, Asics and New Balance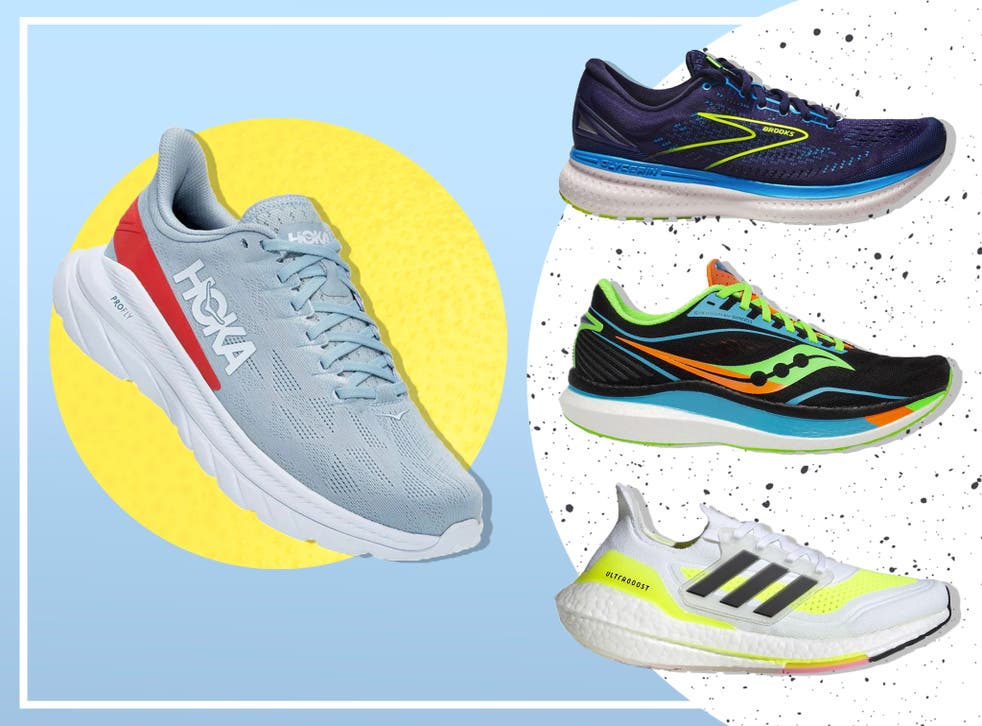 Whether you were a religious runner before the first lockdown or you began pounding around your local park to stave off boredom and try to stay fit, you will know that the shoes on your feet shouldn't be an afterthought.
They can increase your enjoyment and decrease your injury risk, all of which will make you more motivated to lace up and smash your training goals.
A comfortable, cushioned and secure fit is paramount, as the repetitive nature of running can turn any minor niggle with a shoe into a major issue in no time. The best running shoes also provide a stable base on which to land each time. In our round-up, we looked for an upper that locks the foot into position, so you don't have to worry about blisters or chafing.
The best shoes will do this without compromising on the dynamism needed to keep moving you forward, offering a discernible energy return from the materials used in the midsole and outsole.
Ultimately, the right shoe will help develop your passion for running, so if you don't think you've found the right match quite yet, or you're looking for an update on your current favourites, here are the kicks to consider next for your running rack.
Read more:
The best men's running shoes in 2022 are:
Men's running shoes FAQs
How to choose your perfect running shoe
First things first, it's worth considering the surface you are running on – do you mainly run on the road? Or do you prefer trails and gravel paths? Secondly, have you had your gait analysed? The best running shoe for you will depend on your foot shape, pronation and personal preference. It's particularly important to ascertain whether you overpronate as it means you can choose a shoe that has extra support for your heels and achilles, for example.
Similarly, if you're training for a marathon you'll need a shoe tailored towards long-distance running, as you'll likely need extra cushioning. Whereas if you're going on shorter and faster runs a more flexible shoe is better.
When should I buy new running shoes?
There are no real set rules for when you should buy new running shoes, but it's recommended that you retire your old treads once you've run between 300 and 500 miles in them. The wide range is owing to the fact that different runners shoes will wear depending on their running style.
What are the three types of running shoes?
There are three categories of running shoe support, these are:
Neutral – A shoe ideal for neutral runners or those who overpronate (roll outward), these provide plenty of cushioning but have no motion control features and are lighter. These type of shoes have been designed to encourage faster movements and feel soft underfoot
Stability – These shoes provide stability to help prevent pronation, and often provide a little extra support to control side-to-side motion. A stability shoe is best for those who mildly or moderately overpronate
Motion support – As the most stable running shoes, motion control trainers work to counter moderate or severe overpronation in runners. Designed to reduce or control excessive rolling of the foot, they tend to be the most rigid type of shoes and provide additional shock absorption
Do I need special shoes for running?
Whether you're new to running or a seasoned pro, having the right pair of shoes tailored towards running is beneficial for performance and injury prevention. This is particularly important if you overpronate, as the trainers you choose will work to provide additional support to your foot and ankle.
The verdict: Men's running shoes
Runners of every experience level are looking for a compromise between comfort and performance, and the Saucony endorphin speed ticks both boxes, imparting control and cushioning when running, while responding well when it's pure speed you're after.
Voucher codes
For the latest discounts on running shoes and other activewear offers, try the below links:
For more running gear to help you pick up the pace, read our review of the best running watches
Register for free to continue reading
Registration is a free and easy way to support our truly independent journalism
By registering, you will also enjoy limited access to Premium articles, exclusive newsletters, commenting, and virtual events with our leading journalists
Already have an account? sign in