The Independent's journalism is supported by our readers. When you purchase through links on our site, we may earn commission.
Earth Day: Everything you need to go vegan, from food to fashion swaps
From cookbooks to footwear, here's our top products for embracing a plant-based lifestyle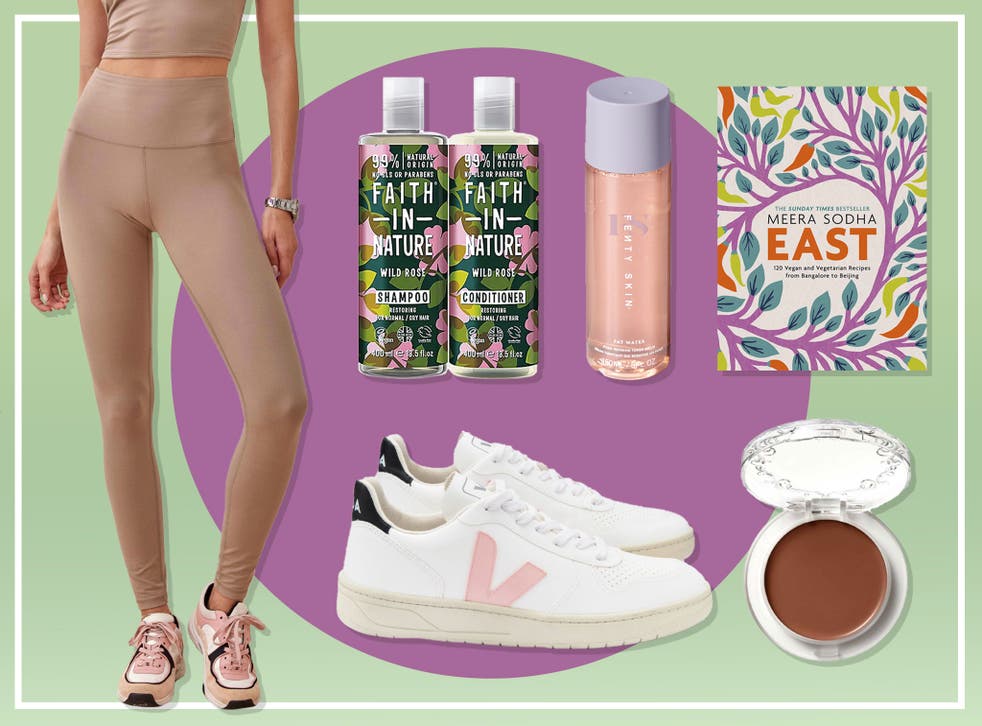 Going vegan can be intimidating for a whole host of reasons. Maybe you love pre-prepared foods, or you're terrified of having to find a new foundation. Or perhaps you're worried it's going to be more expensive than a non-plant-based lifestyle.
We're not going to lie – it can be a challenge to make the switch. But it's also a lot of fun. Finding ways to make more ethical choices that minimise your carbon footprint is incredibly rewarding, and with a little bit of initial work, you should find your concerns start to melt away. It's also great to know that you're doing your bit for the planet.
One of the most common reasons for people giving up on veganism is that they're hard on themselves: it's easy to think that for your efforts to be successful, you have to have a perfect record. But in reality, there are lots of ways to be vegan.
Some people ease into it with vegetarianism, then gradually filter out animal products as they get more confident at cooking for themselves. Many people are happy to wear clothes containing animal products, so long as they are bought second hand. Others see no problem with identifying as vegan while still finishing up beauty products they bought before making the switch. And some are super strict for 364 days of the year… but have fish and chips on their birthday.
That's the beauty of a plant-based diet for environmental reasons: a 2019 study found that your diet is where you can make the biggest difference to the environment, and this means that any level of effort is worthwhile.
Read more:
So with that in mind, we've brought together a guide to some of our favourite vegan-friendly products that will help you start your new lifestyle with ease. Written by a mixture of vegans and non-vegans with an interest in ethical shopping, you're sure to find something that fits your brand of going plant-based.
You can trust our independent reviews. We may earn commission from some of the retailers, but we never allow this to influence selections, which are formed from real-world testing and expert advice. This revenue helps to fund journalism across The Independent. 
'East: 120 Vegetarian and Vegan Recipes from Bangalore to Beijing' by Meera Sodha, published by Fig Tree
There is a fabulous range of vegan cookbooks on the market, but our favourite is actually a vegetarian one: Meera Sodha's East. We've recommended this tome to a bunch of our vegan-curious friends, as it perfectly shows just how many Asian dishes are inherently plant-based, and how many just need a little tweak to become so. There is also a fabulous eggs section with plenty of pastries, should you need a dairy cushion on your journey to plant-based paradise. From firm favourites (this is the only vegan pad thai recipe worth trying) to some more experimental treats (clay pot noodles with smoked tofu, anyone?), everything is simple, easy to follow and absolutely delicious. Honestly – Sodha's hit rate is astonishing. We've just never had a recipe written by her go wrong. Also, dispense with your preconceptions of bean curd – Sodha will teach you to adore tofu. We promise.
Microplane premium zester
Look, you're going to need some garlic. And lemons. Your tastebuds do change after you've been vegan for a while (we love olives now, whodathunkit), but until things have settled down you're going to want to go hard on these delicious staples of home cooking. We'd recommend a microplane to help things along. If you've ever wondered how the hell Nigella seems to be grating a garlic clove on TV, it's with one of these super-sharp wonders. Zesting is also about to become a breeze. You're welcome.
Salter NutriPro super charged multi-purpose nutrient extractor blender
It's not essential for a vegan diet (we got by for many years without one), but a bullet-style blender really opens up more possibilities in the kitchen. You can use it to make curry pastes, nut butters, fancy hummus, creamy plant-based white sauces and, of course, breakfast smoothies. In our guide to the best bullet blenders, our writer said the surface sucker pads on this Salter model kept the blender firmly fixed to the counter, while the powerful blades "seamlessly absorbed ingredients into the smoothie with no splashing back up".
Koko dairy free original
Here at IndyBest we've previously recommended some seriously delicious plant milks. But for someone just starting out on their journey? We always point them to Koko. It's got a number of pluses for newbies: first up, it's not got lots of flavour to it – our partner regularly describes it as tasting of "wet", which may sound a little gross, but they merely mean that it lubricates their cereal without an overly sweet, sickly flavour. Secondly, Koko is available in a LOT of supermarkets, making it a good option to suggest to your mum when she freaks out next time you visit. Thirdly, it's fortified with B12, which is the one essential vitamin that's near impossible to get without eating animal products. And lastly, it's available in a UHT option that tastes exactly the same and can be kept at the back of the cupboard for months. It's an excellent starting point for the plant-milk curious.
Plant Pioneers southern fried bites
Sometimes you want something filthy. Don't get us wrong: we're thankful for the fact our veganism means we eat fresh food made with real ingredients almost every day. But these… well these are great. We recommend trying them with a chilli jam or even some Hellman's vegan mayo (£1.80, Sainsburys.co.uk) for scratching that southern-fried itch. We've tried every comparable product from the major UK supermarkets and these are by far our faves.
Veg 1 vegan supplements, 180 tablets
Veganism can be a really healthy choice, but no matter how on it you are in terms of getting in all your beans, lentils and nuts, there are still some things our bodies need that it's difficult to get while shunning animal products. The main one is B12 – without it, you can develop anaemia and even damage your nervous system. So be sure to take a supplement (we have a great buyers' guide if you want more information), like one of these straight from the Vegan Society. Both the blackcurrant and orange versions taste a little sugary, but it's much better to chew a tablet for the best absorption, rather than swallowing it whole. Take one every day and you'll be better protected against vitamin and mineral deficiencies.
Dr Martens vegan 1461 shoes
Dr Martens's vegan range is fabulous. These shoes have all the style of the originals but in a synthetic material which actually has a number of advantages over the leather versions – mainly that they don't take anywhere near as long to wear in. They go straight from the shoebox to the street without needing a week of at-home wear. This model is our go-to, but the brand's collection of animal-free items has a number of classic designs.
Reformation ecostretch high rise legging
Eco-conscious clothing brand Reformation is a firm favourite thanks to its free-flowing and feminine clothing, but it recently expanded into the realm of activewear and we're obsessed. These leggings are made from 87 per cent repreve polyester (recycled plastic bottles), and in the brand's push to be more size-inclusive, its entire RefActive range is available in XS to 3X. If you love the leggings, we'd also recommend checking out the coordinating Ivy ecostretch cropped tank (£52, Thereformation.com), which might make going back to the gym a little more enjoyable.
Veja V-10 CWL white petale black
We've said it before and we'll say it again, Veja (pronounced vay-ja) is one of our all-time favourite footwear brands and for good reason. Owing to its strong eco-credentials, it's a certified B Corp: a company that meets the highest standards of social and environmental performance, transparency and accountability. Refusing to choose between design and sustainability, the founders produced a collection of shoes using the most ecological materials and ethical suppliers possible. The end result? Trainers that aren't just good for the planet and its people, but also stylish. While not all of Veja's designs are vegan, this pair is and you can find its entire vegan line on its website. Made from a vegan alternative to leather (a 100 per cent cotton canvas coated in corn starch) these trendy treads feature the brand's signature V and are wipe clean. Owing to the brand's versatility, its trainers have featured in our guides to the best white trainers and vegan trainers, so you can trust these are a wardrobe staple.
Fenty Beauty fat water pore-refining toner serum
We always approach celebrity-founded beauty lines with a healthy dose of scepticism, but Fenty Skin is a brilliant brand in its own right, Rihanna ties aside. The brand is certified vegan and cruelty-free and doesn't allow suppliers to conduct animal testing on its behalf. Since its launch last summer, every product release has felt original well-thought-out, which is no small feat in such a saturated market. Launching an SPF so early on, for example, was a bold move as it's a product that's often not prioritised by other beauty brands.
Our favourite product from the range is the "fat water", a toner/serum hybrid that's unlike anything we've tried before. It has a lightweight, almost gel-like consistency that absorbs quickly into the skin and feels instantly hydrating. Since using it consistently for a month, we've noticed a significant improvement in texture and dark spots thanks to the niacinamide in the formula. It's worth noting that while many of Fenty Beauty's products are free from animal byproducts, it's technically not considered a vegan line, but the skincare range is.
KVD Beauty good apple skin-perfecting foundation balm
It used to be that us vegans felt a bit left out of big beauty trends, but we hope that this recent TikTok fave is a sign that ethics will be as important as formulas in the future. KVD's entire range is famed for being vegan, and its good apple foundation recently went viral on the social media platform. If you are after a full-coverage foundation to replace your current one, you need look no further. Our tester described the finish as "modern matte", without that "chalky, cakey feeling" that some bases leave. Want to make sure your entire kit is animal-product free? Try applying it with KVD Beauty's lock it edge foundation brush #10 (£26, Boots.com), which we loved in our guide to the best vegan make-up brushes.
Faith in Nature wild rose shampoo and conditioner
We're ecstatic when brands we loved anyway have Vegan Society approval, and Faith in Nature is one of them. The company's delicious-smelling wild rose range was a big hit with our tester of the best vegan shampoos and conditioners, who said it "left our hair feeling lighter after use". It also comes in gigantic refill tubs to minimise your plastic waste – something on all of our minds on Earth Day.
Register for free to continue reading
Registration is a free and easy way to support our truly independent journalism
By registering, you will also enjoy limited access to Premium articles, exclusive newsletters, commenting, and virtual events with our leading journalists
Already have an account? sign in
Register for free to continue reading
Registration is a free and easy way to support our truly independent journalism
By registering, you will also enjoy limited access to Premium articles, exclusive newsletters, commenting, and virtual events with our leading journalists
Already have an account? sign in