The Independent's journalism is supported by our readers. When you purchase through links on our site, we may earn commission.
Pinterest 2021 trend predictions: Everything you need for a low-key wedding
Considering a more casual celebration? Plan your perfect day with our top picks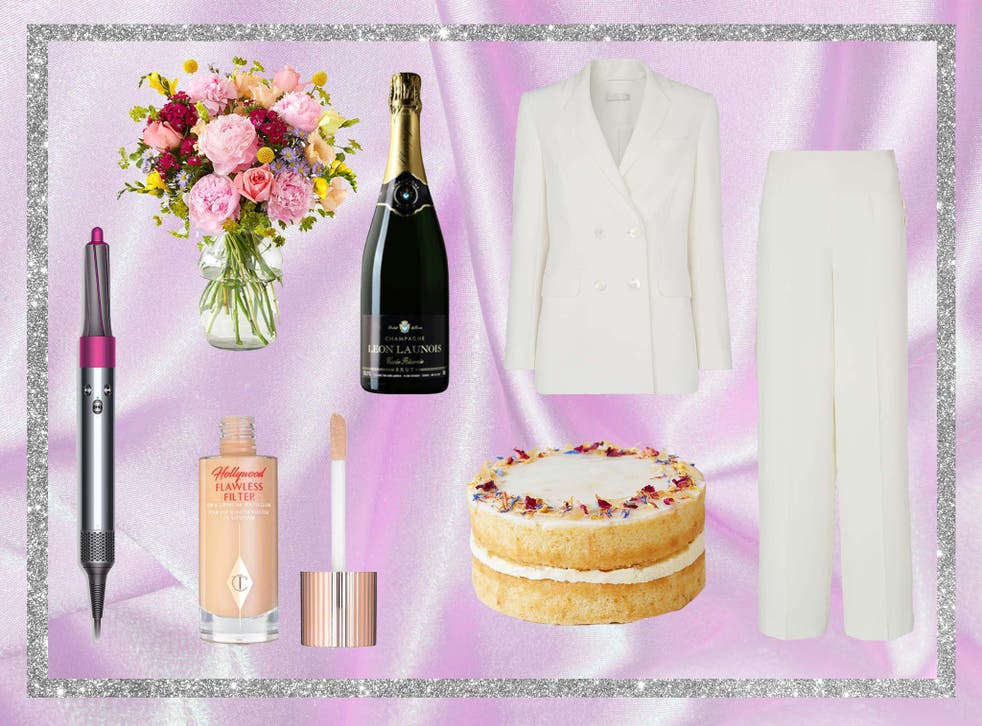 The coronavirus pandemic has pressed pause on the wedding industry for much of this year, prompting more than 200,000 couples to postpone or cancel their big days, while others have made the most of the situation by staging virtual weddings over Zoom. But it seems things are looking up for 2021.
Earlier this month prime minster Boris Johnson raised hopes for weddings during an online "People's PMQs", when he said people should have "confidence" that couples will be able to tie the knot in a "normal way" next year.
"My hope is that, by summer, it really will be a different world for the weddings and events industry," he said. "I think you should be able to plan for a really much more active summer and lots of happy nuptial events all over the UK."
With 2021 set to be a bumper year for saying "I do", experts are already looking ahead to what might be trending when the time comes. According to Pinterest's global predictions for the year, the pandemic is going to have a lasting impact on wedding trends as people rethink what's important to them on their day.
Instead of inviting all and sundry, the platform expects the "micromonies" (or micro ceremonies) we have seen this year to spark a movement towards minimalist celebrations in the longer term.
"Say 'I do' to minimalist matrimony," says Pinterest in its trends report. "Couples will make their big day more laid back than ever – starting with smaller venues and no-frills elopements."
The prediction comes amid rising search trends on the platform, with enquiries for "simple wedding cakes" having doubled year-on-year, and the number of people looking for "small back garden weddings" increasing by 160 per cent. Similarly, searches for "registry office wedding outfit" have doubled, suggesting that more brides are scrapping the traditional made-to-measure gown in favour of a less formal dress code.
Ashleigh Li, wedding planner and stylist at Pink Palms, agrees that more intimate nuptials will dominate the industry next year. "Micromonies have been big this year and will continue to be popular into 2021 while we are still living in the middle of a pandemic," she says. Couples feel the need to move into the next stage of life together, and, for some, Covid isn't going to stop them. It's important to point out that micromonies aren't for everyone, though, so what each couple chooses to do is right for them."
However, Li adds that just because a wedding is scaled back, it doesn't mean it needs to be any less impressive. She predicts that there will be more of a focus on venue styling and guest experiences.
"I know first hand the level of thought and detail that couples are going to even for smaller weddings," she explains. "Personalisation is a huge area – with a smaller guest list you can really treat everyone in a way that would be far too expensive with a bigger wedding."
If a minimalist wedding sounds just right for you, but you're struggling to know where to start, we are here to help. From an understated outfit and simple bouquet to good-quality fizz, there are plenty of ways to buck tradition while still ensuring your big day celebrates your personal love story.
You can trust our independent round-ups. We may earn commission from some of the retailers, but we never allow this to influence selections, which are formed from real-world testing and expert advice. This revenue helps to fund journalism across The Independent.
The anti-wedding dress
After months of wearing loungewear, brides are undoubtedly looking forward to an opportunity to dress up. But they're still looking for styles that will suit their low-key venue. So it's out with ballgowns and in with puff-sleeved dresses, feather-trimmed slips, jumpsuits and androgynous tailoring.
In our round-up of the bridal outfits for intimate ceremonies, Ghost London's Bella dress (£245, Ghost London) was described as "simpel, yet stunning". Made from 100 per cent satin, it features a flattering neck at the front and back and adjustable spaghetti straps so you can find a comfortable fit.
Alternatively, a sharp suit like this one from Whistles promises to earn you some serious sartorial points. Perfect for any modern bride, the Annie wedding blazer (£229, Whistles) has a flattering, double-breasted silhouette, while the coordinating trousers (£229, Whistles) have a wide leg and are finished with stylish shell buttons. Our writer suggests wearing yours with a slinky, lace-trimmed camisole underneath.
DIY hair and make-up
Whether you're a dab-hand at applying eyeliner, want to scale back your budget or simply feel less stressed knowing the fate of your face lies in your own hands, DIY hair and make-up is a great option for any low-key wedding day.
In addition to practising (a lot), you're going to want to make sure your make-up bag is filled with the best products for the job, including Charlotte Tilbury's Hollywood flawless filter (£34, Charlotte Tilbury). A "complexion booster" that's designed to be worn under, mixed in with, or on top of foundation as a highlighter, it won the top spot in our round-up of the best wedding make-up products for its ability to provide a "radiant glow without being glittery". Bobbi Brown's pot rouge (£22.50, Bobbi Brown) is another great product to add to your kit, as it can be used on the apples of your cheeks or blotted onto your lips for a soft, stained finish.
If you want to stay true to your own personal style with a no-frills hair do, we recommend investing in the Dyson airwrap (£449.99, John Lewis), which took the top spot in our comparison with ghd's rise hot brush (£169, ghd). It comes with several attachments, meaning you can create multiple styles, and enables you to create voluminous and glamorous waves with little fuss.
A modest wedding cake
While wedding cakes are traditionally colossal, multi-layered creations covered in stacks of frosting and a teetering topper made to look like the happy couple, the trend for smaller ceremonies and receptions means there's little point investing in something which most people never end up eating.
Instead, why not opt for a more modest wedding cake that doesn't cost as much and is guaranteed to give The Great British Bake Off showstoppers a run for their money. In our round-up of the best cakes that can be delivered to your door, Cutter & Squidge's lemon drizzle cake (£29.90, Cutter & Squidge) reigned supreme. Proving that smaller cakes don't need to look any less beautiful, it features two layers that are sandwiched with zingy buttercream and topped with pretty petals and dried raspberries. The best part? It can be sent in the post and arrives in a beautiful embossed and reusable tin.
Alternatively, ditch the cake altogether and gift each of your guests a personalised cookie (£11.95, Baked by Steph) courtesy of Baked by Steph. Featuring in our round-up of the best letterbox cakes and biscuits, the cookies can be purchased in a range of shapes, from leather jackets to floral bouquets, that can all be customised to feature a special message.
Bridal blooms
If you're looking forward to walking down the aisle holding a beautiful bouquet but don't want a huge arrangement, there are plenty of online florists that can help.
In our round-up of the best letterbox flowers, Bloom & Wild's Tilly bouquet (£40, Bloom & Wild) earned the top spot. The reviewer said the bouquet came with a range of seasonal flowers and noted how healthy they were when they arrived. "Ours smelled amazing throughout the two weeks it bloomed for, with the peonies blossoming after a couple of days in the vase," they said.
The bunches can also be used to decorate your venue. "Making each and every celebration feel special is so incredibly important right now," says Li. "Creating amazing tablescapes, choosing floral installations and beautiful handmade items are just some of the ways to make a smaller wedding feel a little closer to the celebration they always thought they'd have."
If fresh flowers don't quite fit your style, try dried versions like Dot and the Dandelion's flowers in a can (£35, Dot and the Dandelion), which featured in our round-up of the best dried flowers. Ideal for decorating tables at any rustic wedding, each box contains a generous bunch of blooms and a tin can decorated with a replica vintage label.
Festal fizz
What you serve at your wedding can set the tone for the whole day, meaning buying booze can be daunting. If you want to celebrate with a glass of champagne, it's important to note that prices can vary anywhere from £15 to more than £100, but there are some great offerings in the middle. For a tipple to toast with, we recommend the Leon Launois Brut (£21.95, Slurp), which we named best buy in our round-up of the best champagnes.
"A blend of pinot noir (60 per cent), chardonnay (20 per cent) and pinot meunier, it benefits from the sprightliness and vibrancy provided by the chardonnay and the juicy overtones of the pinot noir. Fruit-led with ripe white peach and plump damson notes, it's everything a classic champagne should be," said our reviewer.
If champagne isn't quite within your budget, prosecco is a great alternative. Costing just £8, Asda's Albretto Nani Organic Prosecco (£8, Asda) topped the list on our round-up of the best proseccos and was praised for being "extremely crisp, creamy and fresh".
Register for free to continue reading
Registration is a free and easy way to support our truly independent journalism
By registering, you will also enjoy limited access to Premium articles, exclusive newsletters, commenting, and virtual events with our leading journalists
Already have an account? sign in
Register for free to continue reading
Registration is a free and easy way to support our truly independent journalism
By registering, you will also enjoy limited access to Premium articles, exclusive newsletters, commenting, and virtual events with our leading journalists
Already have an account? sign in