7 bright and beautiful lights to shop on MADE.COM
The MADE.COM Autumn sale is here, with 20 per cent off across selected items
Monday 18 October 2021 11:15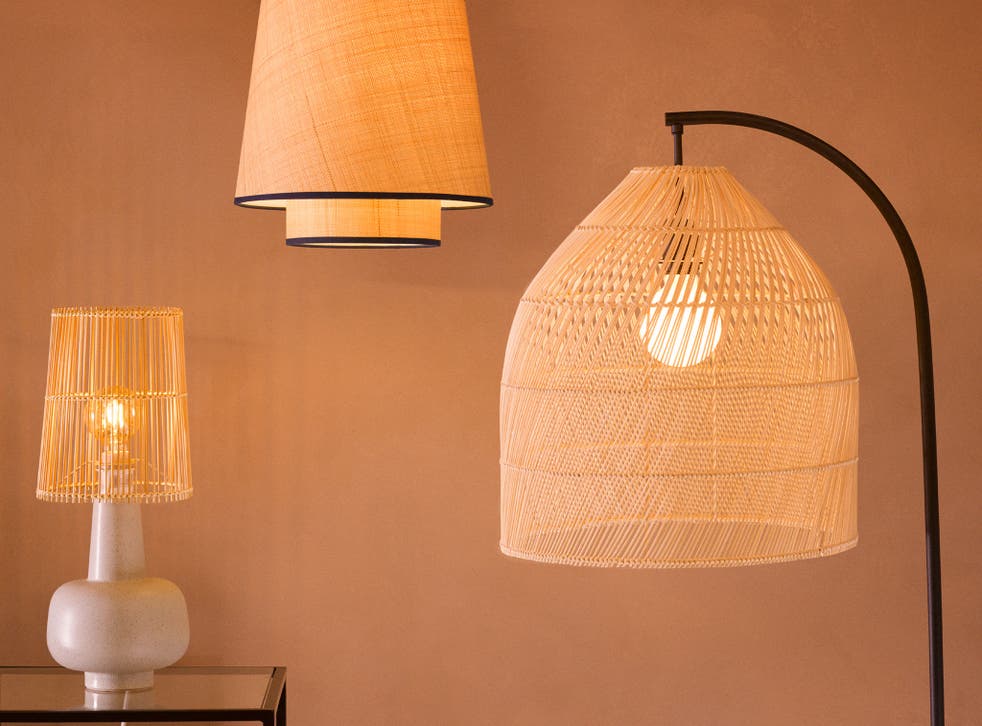 When dark and gloomy winter sets in, getting glowing isn't always so easy. But while the outside world might be drained of sunshine, the right lighting can ensure that your home remains a warm and welcoming haven all year round.
If you're thinking of giving yours a refresh, you should know that your options have come a long way since the days of basic shades and spotlights. Creative shapes and sizes, oversized bulbs, unexpected placements and bold metallic finishes can all elevate a humdrum ordinary feature into a piece that you're proud to have out on display.
Shop up to 20% off selected items in the Made.com Autumn sale
Contemporary lighting doesn't just look great, either – it can also dictate the atmosphere in a space (hey, they call it mood lighting for a reason). Think of the pendants you see hung meticulously over the most elegant dining tables, or dimly-lit wall lamps on either side of a cosy king-size bed. A new desk lamp could help to sharpen your focus in your home office, or a fun floor lamp in your living room might give just the right level of illumination for watching the latest Netflix drama.
There are plenty of lighting shops out there on the internet right now, but few offer the same wealth of de-light(sorry)-ful options as MADE.COM. The online furniture store has fast become a nationwide go-to for any chic home upgrades – from sofas to clever storage – but its lighting selection really is second to none, offering everything from punchy maximalism to stripped-back Scandi-inspired style at surprisingly affordable prices.
Many of its designs are dreamed up by its talented in-house design team at the MADE Studio, but the brand also partners with designers such as the award-winning Magnus Pettersen, to extend its range into even more interesting and inventive realms.
If you're feeling inspired, we bring good news – there couldn't be a better time to shop its wares, as the retailer is currently having a huge 20 per cent off sale across selected items until 24 October. To help you fill your virtual cart, we've whittled down just a few of our favourites from its line-up below.
Sure, you've seen chandeliers before, but we bet they weren't as fabulous as this. The combination of brushed brass and smoked glass give MADE.COM's Verona a vintage edge that could work almost anywhere in the home, from making a statement in the hallway to finishing a bedroom in the most aesthetically pleasing way. Plus, the LED bulbs inside its tubes are more efficient than their peers, so you'll hardly ever have to swap them out.
We're all working from home more than ever before. If you're found your designated home office spot getting darker and darker earlier and earlier these days, the Ondene lamp has got your back. Its luxe-looking curves and marble base will make you feel like you're typing from a glamorous hotel, rather than the corner of your bedroom, and on a practical level, its 39cm height means it can tower over and illuminate most screens effectively, too.
The Illaria comes in two colourways – this pastel jewel tone trio and a neopolitan ice cream-esque black, pink and cream that we love just as much. Even when it's turned off, this style will bring an added dose of joy to your home thanks to its cheery hues and textured glass, which make the light dance around the room when you do hit the on switch.
For when you want your lighting to whisper, rather than shout, look to the discreet yet still exceptionally chic Folio collection, a Magnus Pettersen original. This abstract wall light will complement an entryway, the space above a dresser or an alcove beautifully, but really it'll slot in seamlessly anywhere you might want to fit it. There's also a Folio flush ceiling light and a Folio chandelier if you like the style but are looking for something larger.
Hollywood? No, just your usual 2-bed terrace, but the Chicago lamp's antique vibe and eyecatching shape will have visitors fooled. This unique gold foil inner and exterior diffuser of this table lamp creates a particularly snug, enveloping light that would be lovely in a living room as the chillier nights draw in.
Beachy rattan isn't just for summer – introducing natural textures and neutral shades is an ideal way to make your environment feel comforting and grounded on a year-round basis. We're big fans of the two-tier shape of the woven Java pendant, and it's so simple to fit there's no need to call out an electrician to wire into your ceiling.
Don't overlook your exterior on your mission for a lighting makeover. The Penate, which boasts a sleek bronze finish and unique ribbed detailing, is a timeless addition to your back garden or front porch. No more fumbling for your keys at the door – let this little beauty light your way (and for less than £40, it's an even brighter idea to invest in than ever before).
Head to MADE.COM now to discover more
Register for free to continue reading
Registration is a free and easy way to support our truly independent journalism
By registering, you will also enjoy limited access to Premium articles, exclusive newsletters, commenting, and virtual events with our leading journalists
Already have an account? sign in