With so many other changes taking place during puberty, good skincare can, unfortunately, often end up taking a backseat. 
However, whether you're struggling with acne, irked by the occasional blemish, or are prone to dry skin, taking some time to be kind to your skin is essential, especially as a good routine is crucial to set you up for the rest of your life – you'll thank yourself later.
It's important, first of all, to understand what good skincare means – no matter how oily your skin is, it's always important to moisturise, and covering up your spots with make-up isn't the best way to get rid of them. Also, be careful with products such as make-up removers and face wipes, as they can contain irritating chemicals.
Obviously everyone is different, so it's important to try a variety of different skincare products and stick with the ones that suit you best, but here's a list of our top picks to get you started. 
We've particularly focused on skincare essentials that are gentle on the skin and use natural ingredients, and we've made sure to include plenty of budget-friendly options too. 
1. Cure Natural Aqua Gel: £28.19 for 250g, YesStyle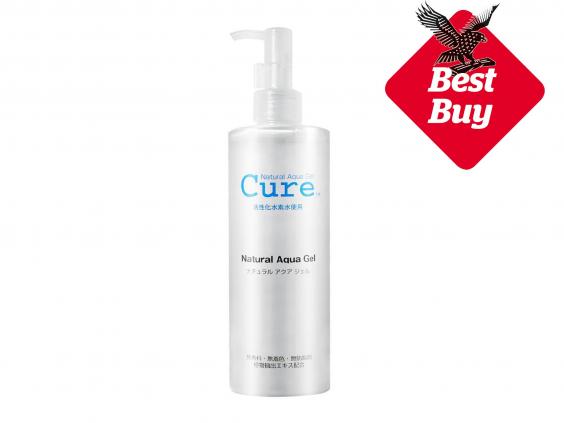 There are so many different options out there for deep-pore, blackhead-clearing, exfoliating, or oil-eliminating facial scrubs, that the choice can be overwhelming. However, a lot of these scrubs can be unpleasantly moisture-stripping and contain scrubbing beads that irritate the skin, which can be especially painful if you have acne. Our favourite exfoliating solution is this, Cure Natural Aqua Gel, which is Japan's best-selling skincare product. It's mostly made of antioxidant-rich hydrogen water, and contains natural ingredients such as moisturising and healing aloe vera, and gingko biloba leaf, which has been used in herbal medicine for thousands of years. What's great about this exfoliator is that it works effectively without beads. To get rid of dead skin cells, all you need to do is massage a small amount onto dry skin. And with just a quick rinse, and you will be left with significantly softer and smoother skin. It may seem a little pricey, but it's only meant to be used once or twice a week, so it will last you for ages.
2. Origins Checks and Balances Frothy Face Wash: £16.50 for 150ml, Origins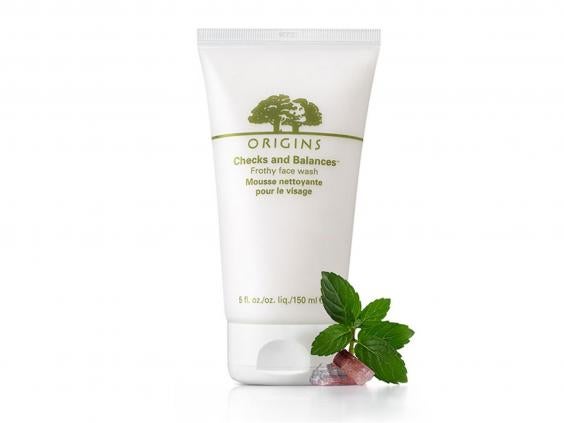 This was by far our favourite face wash. It lathers up very well, effectively removes dirt and make-up, and is gentle enough for twice-daily use. What's best is that the formula has been made to carefully balance excess oil and dryness in your skin, so whether you have oily, combination or dry skin, it should work for you. Our testers noted that this face wash left their skin feeling comfortably cleansed, and not dry or tight as a lot of other detergents do. We also love how it's delicately scented with bergamot, spearmint and lavender, which leaves you feeling fresh as a daisy. 
3. Muji Face Blotting Paper: £1.95, Muji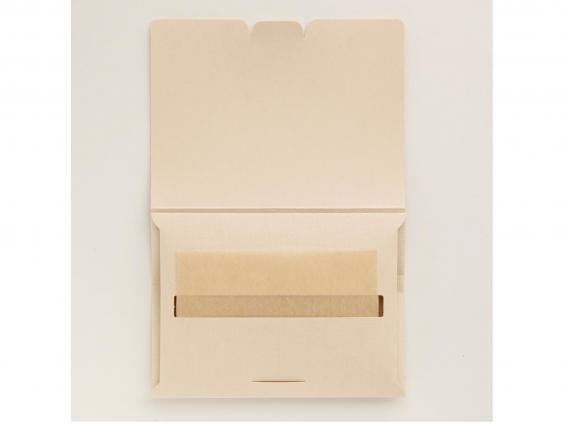 Nobody with oily or combination skin wants to get caught with an overly shiny face – and that's where blotting paper comes in. Out of the other brands we tried, we found the blotting paper from Muji, the Japanese minimalist homeware brand, to be the most effective for balancing your complexion by absorbing excess oil. It's made from 100 per cent pulp, making it thinner and more effective than a lot of Western brands, which use talc. This also means no nasty, powdery deposits are left on your skin. The blotting paper comes in a cardboard case small enough to slip into your bag (or even your pocket), which you can quickly whip out if you need to freshen up throughout the day. It works effectively so you shouldn't need to use it more than once daily.  
4. Dr Bronner Almond Pure-Castile Liquid Soap: £6.99 for 236ml, Feel Unique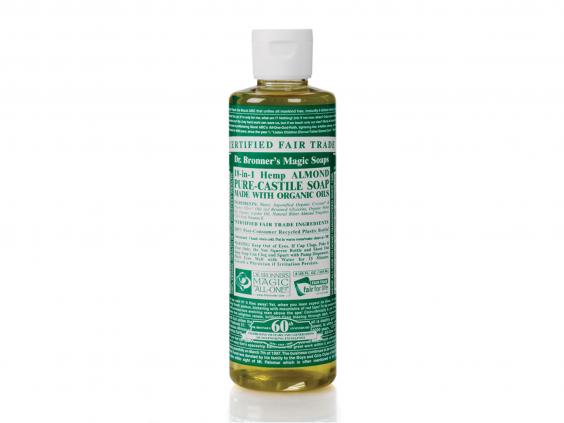 This fair trade-certified, multi-use liquid soap works as everything from face wash to shower gel to shampoo, and is even recommended for washing dishes, pets and laundry. It's made with natural, organic ingredients – Dr Bronner is an organic and fair trade company – such as coconut oil, olive oil, hemp oil and jojoba oil, which work to soothingly nourish your skin. While its possible uses are numerous, we especially love using this as a shower gel – it's cleansing without being moisture-stripping, which is particularly useful if you're having trouble with body acne. While £6.99 for a bottle of shower gel may sound expensive, this soap is concentrated, so you need only a fraction of what you'd normally use. This means one small bottle will last you several months, so a little really will go a long way.   
5. Muji Toning Water: £8.95 for 200ml, Muji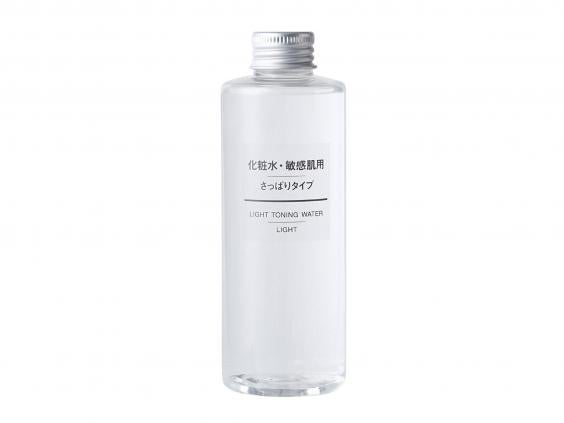 This toning water is the best way to soothe the skin, remove remaining dirt or make-up, and prepare your face for moisturiser. Our testers especially loved this toner as it felt the mildest on the skin. And given that it's fragrance-free, paraben-free and alcohol-free with no artificial colours or mineral oils, there's no wondering why. Just like the Dr Bronner's liquid soap, you'll only need to use a very small amount at a time, so a bottle of this is a great investment. 
6. DHC Deep Cleansing Oil: from £4.50 for 30ml, Escentual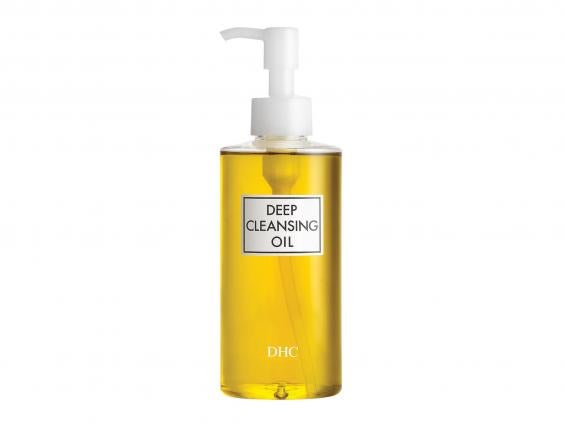 Make-up remover may be a toiletry-bag staple for many, but few people put much thought into which one they go for. Our absolute favourite is this oil-based product by DHC. It's really convenient to use, as all you need is your fingers (no cotton pads required) to massage a little onto your skin and easily melt away your make-up. It's also made from natural ingredients, and free from skin-irritating chemicals such as parabens and artificial fragrances. The oil-based formula means the skin's moisture levels aren't affected either, so it's great for all skin types. Available in three different volumes (30ml, 70ml and 200ml). 
7. Weleda Almond Soothing Facial Lotion: £11.90 for 30ml, AllBeauty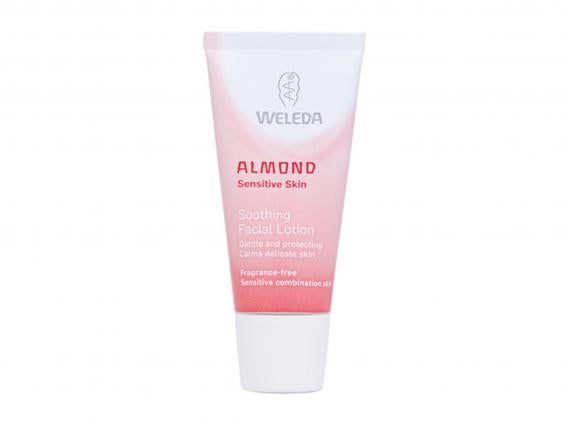 Our testers enjoyed this moisturiser for its lightly hydrating properties. It's particularly good for sensitive combination skin (skin that's partly oily and partly dry), as the almond oil in the cream works to soothe and moisturise the skin without clogging pores or depositing any excess oil. We loved how our skin felt noticeably softer yet not greasy after application, and the almond oil makes it smell fantastic too – think marzipan or amaretto. 
8. The Body Shop Seaweed Oil-Control Gel Cream: £13 for 100ml, The Body Shop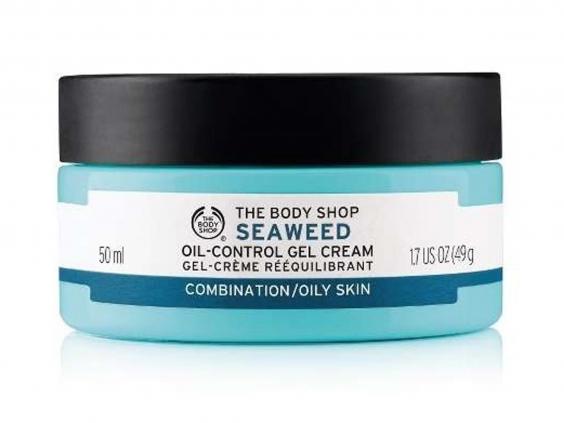 This gel-like cream is another great find for sebum-troubled skin. We found it was even more lightweight than the Weleda one above, so would recommend this for combination to oily complexions. The formula is rich in minerals thanks to seaweed harvested from Ireland, and it's wonderfully hydrating while effectively balancing oil levels in the skin and mattifying the complexion – that means no more shiny photo faces. It's a good value alternative to the more expensive skincare brands, without skimping on quality. 
9. Mario Badescu Acne Starter Kit: £30, Beauty Bay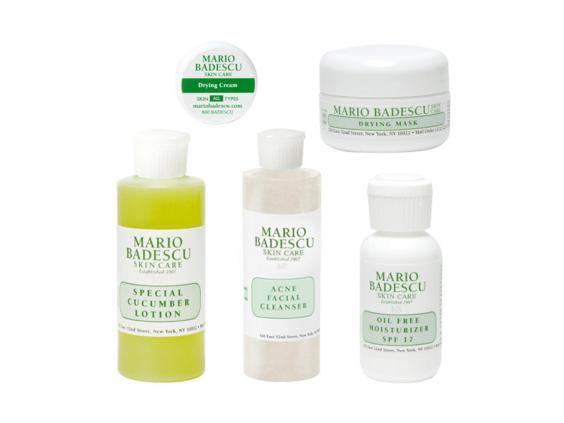 Beauty company Mario Badescu is definitely worth a mention here. Its products have become skincare staples in New York, particularly for dealing with problem skin, with regular customers including Jennifer Aniston, Gwyneth Paltrow and Sheryl Crow. What better introduction to the brand than this five-step skincare programme? This set contains all the essentials to combat blemishes and ensure a radiant complexion, including everything from a cleanser and refreshing cucumber lotion to an oil-free moisturiser. The drying mask is especially effective for acne on the back and chest, while the drying cream is perfect for targeting pesky pimples. While it may be a little pricey, this could be a great gift for your teenage son or daughter.
The Verdict: Skincare for teenage skin
The Muji toning water and Body Shop gel cream make great, wallet-friendly essentials. However, we absolutely love the Cure Natural Aqua Gel because of how unique it is as a product, and how miraculously it works.
IndyBest product reviews are unbiased, independent advice you can trust. On some occasions, we earn revenue if you click the links and buy the products, but we never allow this to bias our coverage. The reviews are compiled through a mix of expert opinion and real-world testing
Reuse content