The 40 best books of the decade, from The Testaments to Bring Up the Bodies
Martin Chilton, Olivia Petter and Ceri Radford had a tough task whittling down their list of defining books of the 2010s, but they settled on a good mix of veteran heavyweight authors and the voices of a new generation of writers
Sunday 08 December 2019 14:00 GMT
Comments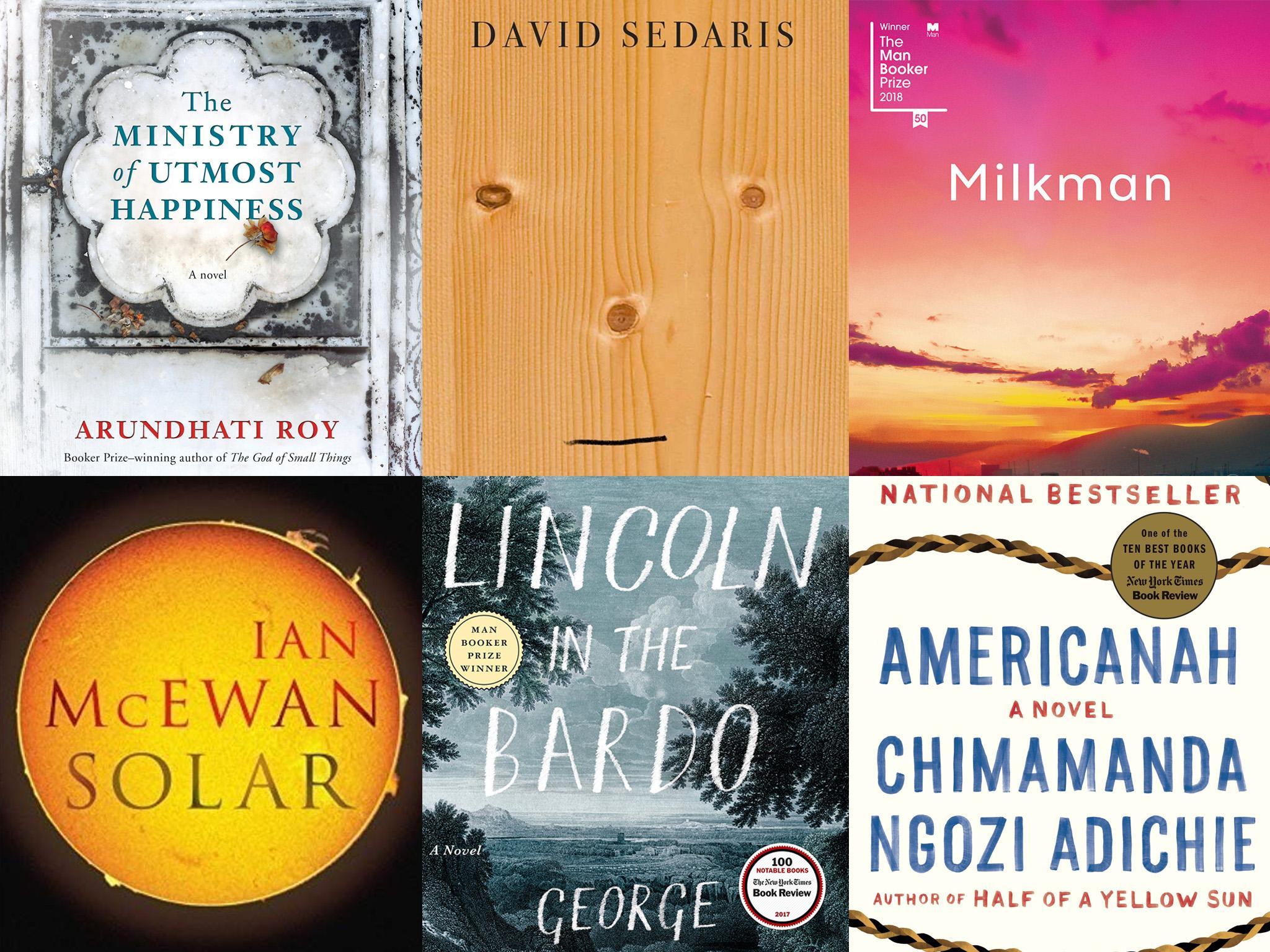 Selecting the books that can be said to have defined a decade as turbulent and introspective as the 2010s has been a tough task. But the fiction and nonfiction works here have entertained, challenged and moved us, and many of the books would be hailed as great in any era.
The extraordinary books chosen by our critics – Ceri Radford, Olivia Petter and Martin Chilton – span a vast array of settings and situations. The 40 books cover everything from a blood-tinged Tudor court to supernatural limbo, from India in the wake of the partition conflict to a painstaking study of 21st-century female desire.
As well as veteran heavyweight authors such as Julian Barnes, Toni Morrison, Ian McEwan and Margaret Atwood, there are the voices of a new generation of writers, including Sally Rooney and Emma Cline. Old or young, these brilliant writers have produced fiction that has absorbed our imaginations. Writers such as Helen Macdonald and Matt Haig have helped bring a deeper understanding of our common fates. David Sedaris made us think, wince and laugh.
We had to leave out scores of great contenders, so please let us know your favourite books of the past decade in the comment section at the end.
Books of the decade
Show all 40
40. Toni Morrison – God Help the Child (2015)
Toni Morrison died in August; her final novel, 2015's God Help the Child, displays her award-winning powers of elegant prose and imagination. Children are mistreated and prejudice abounds in this disturbing modern fairy tale set around the enigmatic character of Bride, who makes a mistake that has devastating consequences. (MC)
39. Ian McEwan – Solar (2010)
Solar, which was partly based on Ian McEwan's own experiences during a trip to the Arctic island of Spitsbergen, is a darkly comic novel. Against the backdrop of the battle against climate change, McEwan tells the story of middle-aged Nobel laureate Michael Beard, a self-serving physicist whose own world is in danger of meltdown. (MC)
38. Manning Marable – Malcolm X: A Life of Reinvention (2011)
Columbia University professor Manning Marable died on 1 April 2011, just days before the publication of his Pulitzer Prize-winning biography Malcolm X: A Life of Reinvention. Marable drew from letters, diaries and FBI files for a meticulous, incisive and balanced account of the life of the civil rights' leader. The book cuts through the myths to reveal Malcolm X in all his conflicted complexity. (MC)
37. Jodi Kantor and Megan Twohey – She Said (2019)
They wrote the story that changed the world and now they've explained how they did it. In She Said, the Pulitzer Prize-winning duo explain how they managed to barge through Hollywood's ironclad gates and break the Weinstein story, publishing allegations from several women accusing the disgraced producer of sexual assault in The New York Times. While the details are sparse in terms of sources and specific tactics, there are some startling revelations, including how Gwyneth Paltrow became a helping hand and the extreme lengths Weinstein's team went to in order to thwart both reporters and silence the alleged victims. (OP)
36. Emily Witt – Future Sex (2016)
Future Sex is perhaps one of the few nonfiction books about sex and relationships that came before #MeToo and somehow remains relevant today. Finding herself suddenly single at the age of 30, Witt immerses herself in the sexual subcultures of San Francisco, trying her hand at everything from polyamory to orgasmic meditation. It's a fascinating piece of work, one that illustrates Witt's talents as an essayist and gives plenty of room to many astute observations on sexual liberation. (OP)
35. Yuval Harari – Sapiens (2011)
Every now and then a book comes along that tilts your perspective on the world. This internationally best-selling phenomenon is one of them. Covering just about the entire sweep of human history, it makes you understand the fits, starts and savagery of progress. (CR)
34. Emma Cline – The Girls (2016)
The Girls is about exploring the appeal of being in a cult. Inspired by Charles Manson's murderous "family", the book serves up a more tense, richer depiction than Quentin Tarantino's Once Upon a Time in Hollywood, one that puts women at the centre, examining what motivates and captivates them. (OP)
33. Marlon James – A Brief History of Seven Killings (2014)
The Booker-winning A Brief History of Seven Killings, by Jamaican-born Marlon James, follows the lives and deaths of seven of the would-be killers in the failed 1976 assassination attempt on Bob Marley. The novel cleverly weaves fiction and fact – and the language has a musical rhythm. Some of the epiphanies in the book are linked to songs. (MC)
32. Raynor Winn – The Salt Path: A Memoir (2018)
Terminal illness and bankruptcy shouldn't make for an inspiring read but they somehow do in Raynor Winn's poetic, provocative memoir. After losing the family home, Winn and her husband set out to walk the South West Coast Path, shaking a fist at his grim diagnosis. It's as much a meditation on the power of nature as a political diatribe on the homelessness crisis. (CR)
31. Nina Stibbe – Love, Nina: Despatches from Family Life (2013)
There's deadpan and then there's Nina Stibbe, who proves herself the heir to Adrian Mole in this novel written in the form of letters to her sister from a child-minding job in London. A provincial girl grappling with the strange salads of the metropolitan literary elite, Stibbe is comic gold. (CR)
30. Patrick deWitt – The Sisters Brothers (2011)
The assassins Eli and Charlie Sisters were played by John C Reilly and Joaquin Phoenix in the film version of Canadian-born writer Patrick deWitt's second novel. The narrator Eli captures the lawless, unpredictable nature of frontier life in the mid-19th century. The Sisters Brothers is a compelling, unsettling tale of the Gold Rush era. (MC)
29. Gail Honeyman – Eleanor Oliphant is Completely Fine (2017)
Every office has its misfit, and this is the funny, deeply touching story of a woman whose aversion to social niceties and the work Christmas lunch hides a traumatic past. Common acts of kindness rekindle the protagonist in this beautifully told debut. (CR)
28: Anna Burns – The Milkman (2018)
Anna Burns became the first writer from Northern Ireland to win the Man Booker Prize, when she triumphed with The Milkman in 2018. Burns's challenging, intriguing novel presents an unnamed 18-year-old girl's perspective of her life during the Troubles in the Seventies. The 41-year-old paramilitary leader known as "the Milkman" is a memorably insidious character. (MC)
27. Sophie Mackintosh – The Water Cure (2018)
Thanks to Margaret Atwood and the state of the world, feminist dystopian fiction is having a moment and Sophie Mackintosh's The Water Cure is a notable contribution to the genre. It is perhaps one of the most creative of additions, cleverly weaving mystery and murder with sex and sisterhood, all while Mackintosh seduces the reader into her Shakespearean realm. (OP)
26. Anne Tyler – A Spool of Blue Thread (2015)
Anne Tyler is a master of stories about family life in middle-class America. A Spool of Blue Thread, the 20th novel from the author of The Accidental Tourist, adroitly shines a light on sibling rivalry, family secrets and the wounding power of grief. Her tale of four generations of the Whitshanks demonstrates again her gift for comic detail. (MC)
25. Anne Enright – The Green Road (2015)
The Green Road, by Dublin-born Anne Enright, is set in County Clare, a wild place geographically and emotionally. Enright's keen gift for observation is at play in this family saga based around Hanna, Dan, Constance and Emmet's Christmas return to the home that their scary matriarch, Rosaleen, is selling. A funny, painful tale of selfishness and compassion. (MC)
24. Amor Towles – A Gentleman in Moscow (2016)
The gentleman in question is Count Rostov, a bon vivant and aristocrat placed under house arrest in a fancy Moscow hotel after the communists seize control. His wit and enduring humanity make this charming, quirky novel sing. (CR)
23. Elif Batuman – The Idiot (2017)
When fact meets fiction, the result is almost always fascinating as the reader spends hours trying to discern which is which. Such is the appeal of The Idiot, Elif Batuman's debut novel, which tells the semi-autobiographical tale of a young woman studying at Harvard in the mid-Nineties. After pontificating on the purpose of email, she soon becomes obsessed with an enigmatic Hungarian student whose insouciance will leave you spinning in a state of total frustration. (OP)
22. Orhan Pamuk – The Red-Haired Woman (2016)
Nobel Prize winner Orhan Pamuk's 10th novel was the short, stunning The Red-Haired Woman, which is at once a fable and a gripping tale of youthful obsession, exploring protagonist Cem Celik's desire for the red-haired, enigmatic member of a theatre troupe. The father-son relationship in the novel also allows Pamuk to deftly explore the changing nature of Turkey. (MC)
21. Ariel Levy – The Rules Do Not Apply (2017)
A dazzling insight into the mind of one of The New Yorker's most prolific writers, Ariel Levy's memoir will seem relatable to all those who have at one time or another felt a startling sense of dissociation from their life, which is probably most of us. Levy's personal tragedies will leave readers reeling. There is one passage in particular that will stay with you for months in which Levy describes how she suffered a miscarriage on a hotel room floor while on an assignment in Mongolia. She was 19 weeks pregnant at the time and her son, born alive, died in her arms. It is a story of resilience to the highest degree. (OP)
20. Marilynne Robinson – Lila (2014)
Lila was the third novel in Marilynne Robinson's Gilead trilogy – following Gilead (2004) and Home (2008) – and tells, in unflinching terms, the story of Lila, the young woman who married the elderly Reverend Ames in a dusty Iowa town. Robinson writes beautifully and, as a sophisticated religious thinker, asks searching questions about faith and doubt. (MC)
19. David Sedaris – Calypso (2018)
There are few writers as gloriously strange, acerbic, funny and faintly ruthless as Sedaris, who once again mines his family history in this collection of autobiographical short stories. It includes a tale in which he feeds his own tumour to a snapping turtle. Enough said. (CR)
18. Chimamanda Ngozi Adichie – Americanah (2013)
Both a love story and a look at how racial divides play out in the UK and the USA, Americanah is as enchanting as it is thought-provoking. It's impossible not to root for Ifemelu, the clever Nigerian ingenue who ends up struggling to find a minimum wage job as she studies in America. (CR)
17. Julian Barnes – The Sense of an Ending (2011)
Julian Barnes's novella The Sense of an Ending is a subtle examination of the search for answers to life's unresolved relationships. The divorced sexagenarian protagonist Tony Webster, is thrown into emotional turmoil when he receives an unexpected bequest that prompts him to reconnect with a college girlfriend. He is forced to face up to "the accumulation, the multiplication, of loss". (MC)
16. Tara Westover – Educated (2018)
No matter how many documentaries you watch or books you read on Mormonism, it's almost impossible to understand such a community from the outside. Tara Westover opened people's eyes with Educated, explaining how she went from growing up in a Mormon fundamentalist family in Idaho to studying for a PhD at the University of Cambridge. It's an inspiring story of grit and determination that doubles up as an homage to the power of self-education and, well, reading. (OP)
15. Maggie Nelson – The Argonauts (2015)
Few things reinforce tired gender cliches like marriage and parenthood, so huzzah for Maggie Nelson with this subversive memoir. It subjects romantic love, pregnancy, motherhood and all the attendant tedious cultural baggage to an intensely intelligent, glittering critique. (CR)
14. Richard Ford – Canada (2012)
In Canada, retired English teacher Dell Parsons, the son of hapless bank robbers, looks back on the heart-breaking events of his teenage years and tries to "take account" of how his life was shaped. The settings include Great Falls, Montana, and Saskatchewan in Canada, but it's Richard Ford sure-footed journey over emotional terrain that is so utterly majestic. (MC)
13. Donna Tartt – The Goldfinch (2013)
A 13-year-boy survives a terrorist bomb that kills his mother at an art museum, and as he stumbles through the wreckage, he takes a small painting called The Goldfinch. The tiny relic of the Dutch Golden Age becomes a source of both solace and enigma in Tartt's superb, Pulitzer-winning third novel. (CR)
12. Jonathan Franzen – Freedom (2010)
Walter and Patty Berglund, the seemingly perfect couple who meet at college in the 1970s, are at the heart of Jonathan Franzen's fourth novel. The story of their unravelling marriage is explored in a rich, nuanced novel. Freedom is more than just a tale of wedded unbliss: it is about the messiness of love and longing in the modern world. (MC)
11. Elif Shafak – Honour (2011)
A sprawling, multi-generational tale of a Turkish family who make a new life in London, this novel has a so-called 'honour killing' as its centre of gravity. Shafak, a best-selling author in Turkey and many other countries, conjures up the hypocrisy that holds women to different standards, with devastating results. (CR)
10. Helen Macdonald – H Is for Hawk (2014)
When Helen Macdonald lost her father, she acquired a hawk. This idiosyncratic approach to grief makes for a lyrical, moving probe into both the process of mourning and our relationship with the natural world. (CR)
9. Margaret Atwood – The Testaments (2019)
Not just a novel but a fully fledged cultural phenomenon, the sequel to the Handmaid's Tale was met with midnight readings and fans decked out in the creepy red and white gowns from the TV adaptation of the original. A superb and suspenseful expose of misogyny and the moral ambiguity at the heart of a fanatical regime. (CR)
8. Jennifer Egan – A Visit from the Goon Squad (2010)
Time is a central theme of Jennifer Egan's vibrant A Visit from the Goon Squad, which interconnects stories involving Sasha, a kleptomaniac New Yorker in her mid-thirties, and her music business boss Bennie Salazar. The problems of relationships are explored in a witty novel that has interesting things to say about the loss of vitality in the digital world. (MC)
7. Matt Haig – Reasons to Stay Alive (2015)
There's a reason why Matt Haig's writing on mental health has earned him such high praise, with the Duchess of Sussex among his fans. And it all started with this bestselling memoir in which the children's fiction author describes falling into a deep depression in his early twenties that left him contemplating taking his own life. It's not an easy read, but in a society where suicide remains grossly misunderstood and gender stereotypes hinder men from speaking openly about their mental wellbeing, it's a crucial one. (OP)
6. Arundhati Roy – The Ministry of Utmost Happiness (2017)
Twenty years after her stunning debut The God of Small Things, Arundhati Roy followed up with the mesmerising The Ministry of Utmost Happiness. With biting ironic wit, Roy's epic dissects life in India in the wake of the partition conflict. The characters, including the transgender woman Anjum, are intimately drawn. Roy's novel challenges you to care about life. (MC)
5. Sally Rooney – Conversations with Friends (2017)
The feted 27-year-old author has acquired a reputation as a millennial literary powerhouse since her debut in 2017. While Rooney has gone on to publish a second novel, Normal People, which was shortlisted for this year's Man Booker Prize, Conversations with Friends remains her best work. With its snappy short sentences, sophisticated plot and characters so complex that it's hard to like any of them, the novel established Rooney as one of the most exciting new writers around. (OP)
4. George Saunders – Lincoln in the Bardo (2017)
Lincoln in the Bardo tells the story of a single night in the life of Abraham Lincoln – when his 11-year-old son was buried – through an experimental tale involving 166 narrators in the bardo, the transitional state between one's death and rebirth, according to Tibetan Buddhism. George Saunders' enchanting tour-de-force won the 2017 Man Booker Prize. (MC)
3. Lisa Taddeo – Three Women (2019)
In 2019, female desire warrants shrewd examination more than ever. Thank goodness, then, for Lisa Taddeo, who spent eight years documenting the sexual experiences of three very relatable but very different women. The result is a powerful collection of interspersed narratives that probe the most intimate corners of the female psyche. I can think of nothing like it. (OP)
2. Paul Beatty – The Sellout (2015)
An outrageous satire of contemporary race relations, Beatty's The Sellout tells the story of a black man called Bonbon who is seeking to reinstitute slavery and segregation. When it won the Booker, the chair of the judges compared Beatty to Swift and Twain. (CR)
1. Hilary Mantel – Bring Up the Bodies (2012)
The sequel to Mantel's Booker-winning Tudor tour de force, Wolf Hall, Bring up the Bodies did not let down the readers. Her immersive prose takes us back into the poetic, rigorous mind of the archetypal career politician, Thomas Cromwell. The subject is the stuff of school days – Henry Tudor's marriage to Anne Boleyn, and her fatal failure to produce a male heir. To allow another marriage and safeguard the stability of the country, Cromwell engineers Boleyn's downfall, constructing capital charges against the queen along with a few of his old enemies to boot. Despite the biggest spoiler in history, Mantel's novel is so finely pitched that we feel all the tension of the luxurious, blood-tinged Tudor court. (CR)
Join our commenting forum
Join thought-provoking conversations, follow other Independent readers and see their replies