The Independent's journalism is supported by our readers. When you purchase through links on our site, we may earn commission. Why trust us?
Dyson Black Friday deals 2023: The best offers available now
The annual event sees savings on the brand's cordless vacuums, air purifiers, hair tools and more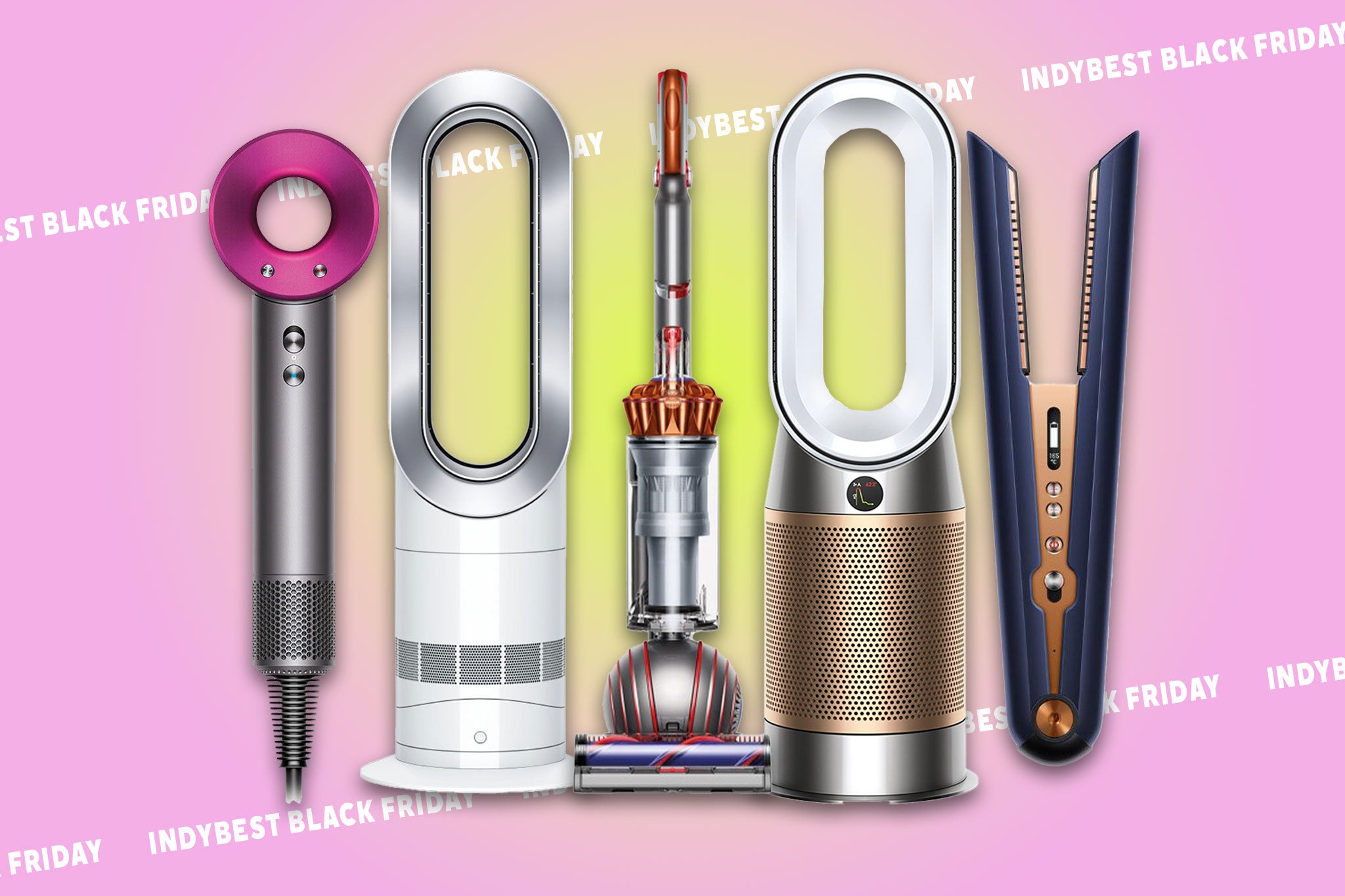 Dyson, the home appliance and hair-tool whizz, has a whole host of impressive discounts to hoover up this Black Friday. But the official website isn't the only destination for offers on the brand's bestsellers.
We've searched high and low to find you the top deals on Dyson cordless vacuum cleaners, air purifiers, and even its hotly sought-after hair tools – including the supersonic hairdryer. Third-party retailers, including Argos and Currys have also slashed the price of popular models. We've even seen an unmissable Dyson airwrap deal at eBay (we told you we are expert bargain hunters).
Follow live: The best Black Friday deals as they drop
This year's shopping event is already shaping up to be an impressive one, with plenty of our favourite brands and retailers taking part. Aside from Dyson, Coggles is delivering big discounts on designer fashion, while Cult Beauty and Lookfantastic are cutting prices on all things beauty related. Elsewhere, retailers are also getting involved with some impressive discounts available at Amazon, Boots and Very.
Whatever Dyson tool you're shopping for, it's here where you'll find the best Black Friday offers and discounts to take advantage of right now.
Read more: The best deals in Cult Beauty's Black Friday sale
Best Black Friday Dyson deals for 2023
Dyson airwrap multi-styler and dryer with presentation case and comb: Was £479.99, now £399.99, Johnlewis.com
This Black Friday deal will see you save £80 on a coveted hair tool bundle. If you're wondering what all the hype is about, our reviewer said Dyson has really "thought about every hair type, texture, and length" with this device, creating a "product that's as versatile and as inclusive as possible". The airwrap left our tester with a "bouncy blow-dry look" in no time at all – just 15 minutes, in fact.
One of the cordless vacuum cleaners seeing a hefty reduction in the Dyson Black Friday event is the V8. This model is one we're yet to test here at IndyBest, but it's been touted by the brand for being both lightweight and ergonomic. Featuring two power modes, it can be turned into a handheld model when you need it to be, and it's also designed to prevent 99.99 per cent of microscopic particles from escaping back into your home.
Dyson supersonic and a free presentation case, refurbished: Was £329.99, now £167.99, Ebay.co.uk
Another in-demand Dyson hair tool reduced for Black Friday, a refurbished supersonic hair dryer now costs less than £170. Discounted by 15 per cent, thanks to this eBay deal, then further reduced by 40 per cent, with the code "DYSONBF40", the model has been put through its paces in our review. Our tester described the hair dryer as powerful and versatile, adding: "It drastically decreases the amount of time spent drying your hair, and leaves it far shinier and healthier than the majority of hair dryers".
Dyson V12 detect slim absolute: Was £549.99, now £429.99, Dyson.co.uk
This is Dyson's most powerful, lightweight cordless vacuum cleaner, according to the brand, so you can be sure it'll boast plenty of cleaning oomph without the extra heft. There's a fluffy optic cleaner head on hand, to help highlight any dust that would otherwise go unnoticed, and a de-tangling motorbar, which is designed to prevent hairs from getting caught in the brushroll.
If a cordless vacuum is on your wish list, the V11 is reduced by £80, thanks to this Black Friday deal. With a run-time of up to one hour, three power modes, and an LED screen to keep you in the loop on the remaining run-time, it can be charged out of the way and placed in the wall-mounted dock. Plus, it's designed to reduce noise levels as you clean. What's not to love?
Dyson hot+cool jet focus: Was £399.99, now £299.99, Dyson.co.uk
A Dyson purchase that packs multiple features into one appliance, you can already pick up the hot+cool jet focus with a £100 discount, thanks to this Black Friday deal. The model comes with a sleep timer, a remote control for convenient handling, and you can use it to create the perfect environment, whether your room needs heating up or cooling down.
Dyson corrale straightener: Was £399.99, now £299.99, Dyson.co.uk
When we reviewed the Dyson corral straighteners, our tester was beyond impressed with this "truly innovative tool", which makes "styling your hair – whether that's straight or curly – a breeze, as you don't need to navigate around a wire." Right now, in the Black Friday sale, there's a saving of £100 to be had on the hair tool. Designed to work without relying on too much heat, the cordless tool can style your locks for up to half an hour once fully charged.
Dyson purifier hot+cool formaldehyde purifying fan heater: Was £599, now £549, Boots.com
There's a saving to be made on Dyson's hot+cool formaldehyde purifying fan heater (we know, it's a mouthful). When we reviewed the appliance, our tester said: "If you are looking to invest in a purifier and are keen to own a machine that triples up as a heater and fan, is easy to operate and looks great, it's unbeatable." Other features to note include night mode, oscillation and a filter that won't need replacing.
Dyson v15 detect absolute vacuum cleaner: Was £699.99, now £549.99, Currys.co.uk
This is one of Dyson's most powerful vacuum cleaners, and it earned the top spot in our review of the best cordless vacuum cleaners. For Black Friday, it has been reduced by £150. The 'detect' part of the V15's name refers to a light that shines in front of the vacuum to help you spot dust wherever you're cleaning. An LCD screen shows battery life, the mode you're using, and how much of each type of dust has been collected, based on particle size. The V15 comes with a bunch of accessories, including an anti-tangle brush to pick up hair and a wall-mounted docking station.
Our reviewer said: "For anyone with pets, lots of comings and goings or just lots of stuff, this is sure to be the niftiest, quickest and most user-friendly way to clean your home. It's a dream to use, and will make cleaning fun for even those who never pick up a vacuum."
Dyson ball animal origin vacuum cleaner: Was £329.99, now £229.99, Dyson.co.uk
For those with furry four-legged flatmates, this is the vacuum for you. With a powerful motor, this appliance promises to make light work of animal fur from all floor types. Despite being corded, it comes with up to 14m total reach and the Dyson ball design makes for a truly smooth ride. In our review of the best corded vacuums, our tester called it the best choice for pet hair, noting that you can "trust" this vacuum "to remove all traces of it from your home".
Dyson zone air purification headphones, ultra/prussian blue: Was, £749.99, now £549.99, Johnlewis.com
These may look as though they're straight out of a sci-fi movie but they're actually very real, and so is the £200 saving at John Lewis. "Pure audio, pure air, anywhere" is what this product is promising – and with eight active noise-cancelling microphones monitoring surrounding sounds, you can truly block out the world around you. The headphones also come with a contact-free visor that channels a continuous stream of purified air to your face, protecting you from city fumes, viruses and 99 per cent of ultrafine pollutants. In our review, our tester said it is "genuinely innovative, and tackling an enormous problem that is predicted to get worse".
Where to find the best Black Friday deals on Dyson products
As well as deals direct from Dyson, some of the best savings on the brand's products can be found at Amazon, Currys, eBay, Boots and Argos – so, it's worth making wish lists on each retailer's site, to keep track of the Dyson products you're after.
What were the best Black Friday deals on Dyson products last year?
During Black Friday 2022, you could save £150 on Dyson's bestselling V15 detect absolute cordless vacuum (now £549.99, Currys.co.uk) – dubbed one of the best cordless vacuum cleaners in our round-up. While there was just over £100 off the cyclone V10 absolute (£339.99, Dyson.co.uk) via Dyson's own store.
There were equally good savings on haircare, with nearly £100 off a refurbished Dyson supersonic hair dryer at eBay and a free case, paddle brush and dentangling comb on offer with every purchase of a brand-new supersonic hair dryer (£239.99, Dyson.co.uk) at Dyson.
What Black Friday deals can we expect on Dyson products in this year's sale?
If last year is anything to go by, we can expect hundreds of pounds reduced from Dyson's coveted cordless vacuums, as well as on its air purifiers, both through the brand's own site and through third-party retailers.
Plus, Dyson often offers accessories as part of its Black Friday deals – so, we can expect cases, brushes, extra attachments and more with purchases of hair tools.
Voucher codes
For the latest home appliance discounts and more offers, try the links below:
Want more bargains? Here's everything you need to know about Black Friday 2023