The Independent's journalism is supported by our readers. When you purchase through links on our site, we may earn commission.
12 best plastic-free beauty products that aren't adding to landfill
The cosmetics you use every day shouldn't be harming the planet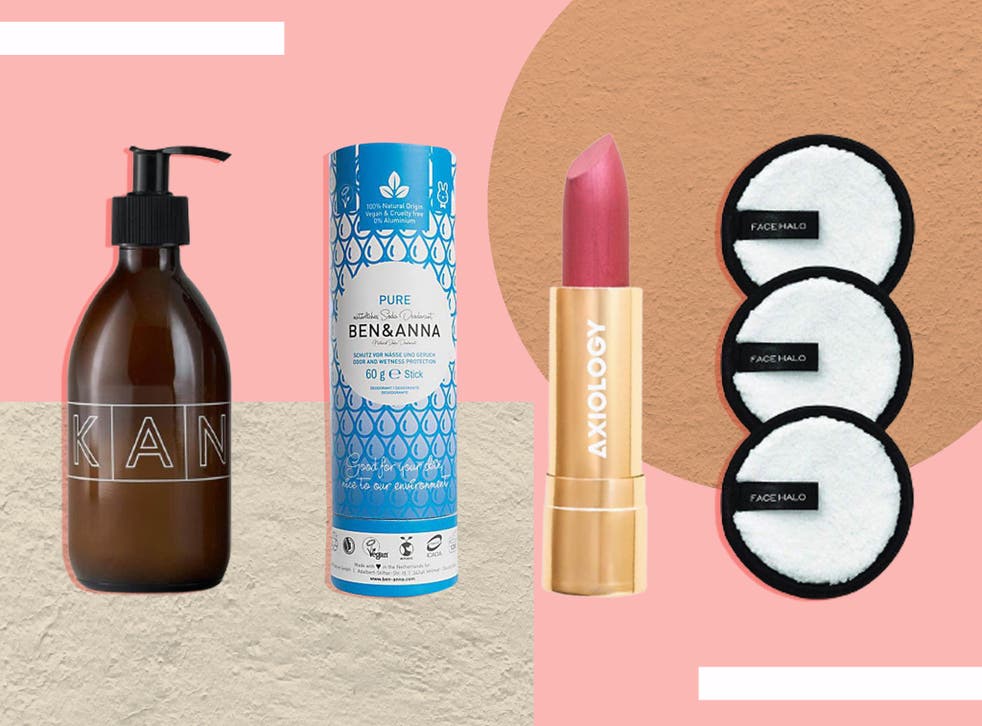 Take a look around your bathroom and you're sure to find a lot of plastic in the everyday products you use.
From toilet paper packaging to toothbrushes, deodorants and cotton buds, the material is so entwined with our lives that we barely notice it.
While doing Plastic Free July, we found that the hardest products to swap out were the beauty products and toiletries we used every day. But there are plenty of brands and small companies that are changing that as the plastic-free movement grows.
We've continued to incorporate these products into our routines over the past couple of months to give them a thorough testing.
We were amazed at some of the companies we found that not only eliminated plastic from their packaging, but also went above and beyond by donating to charities, refusing to test on animals, being free of palm oil, supporting women's cooperatives and reusing products that would otherwise end up in landfill.
Read more:
You can trust our independent reviews. We may earn commission from some of the retailers, but we never allow this to influence selections, which are formed from real-world testing and expert advice. This revenue helps to fund journalism across The Independent.
This Australian company began in 2012 and donates half (yes, that's right, half) of its profits to charities and projects, including WaterAid, which builds toilets across the globe. Currently, more people in the world have a smartphone than access to hygienic sanitation.
The brand doesn't use any virgin trees in this product – or inks, dyes or scents – and instead the loo roll is made from waste paper, like textbooks and old office materials. Each roll is three-ply and still nicely soft. They are individually wrapped in a thin piece of brightly patterned paper that keeps them dry, which is the most sustainable way to package them. We also love that it's a sign-up delivery service too, meaning you'll never have to awkwardly carry a bargain multipack home again. Thank goodness.
The plastic sticks that make up many cotton buds are one of the most commonly washed up things on British beaches after they've been flushed down the toilet. Now many brands have switched to paper or bamboo alternatives thanks to the #switchthestick campaign in 2016. These bamboo buds come in a biodegradable pack (not a plastic case) and they can be composted at home, too.
Wild refillable natural deodorant: Subscriptions from £12, Wearewild.com
We've been looking for a refillable natural deodorant for a while, and here it is. Firstly, the plastic-free refills are made from bamboo pulp, so they're also compostable, and the brand never tests on animals and is vegan too. Aside from that, Wild is a climate-positive company, meaning any carbon made during production is counteracted by planting trees. To do this, it has partnered with On A Mission, whose, well, mission is to fund sustainable reforestation projects that support local farmers and communities to plant trees.
As well as being kind to the planet, it's also kinder to your skin. It's free of aluminium and parabens – the former (usually found in antiperspirants) blocks your sweat glands, while this deodorant merely masks any odour caused by sweating.
There are four scents to choose from: rose blush, mint fresh, coconut dream, orange zest and bergamot rituals. We tested the bergamot rituals and loved its creamy texture that easily glides on underarms, without feeling thick and sticky or flakey like some other creams. The scent is mild and absolutely not overpowering. We found it protected us well, didn't leave us feeling sweaty at the end of the day (even after light exercise) and we didn't experience any unwanted odours.
The case is made from anodised aluminium and recycled plastic, and the whole box is the perfect size to fit through your letterbox. It's cheaper – and easier – to subscribe (for £12 you get the case and one refill), but if you want to make a one-off purchase, it's £25 for the case and three refills. Refills are then purchased in £15 packs of three (you can mix and match) to reduce excess packaging, and postage is free, too. If all that's not enough to convince you to make the swap, we don't know what is.
Kankan mandarin and clary sage hand wash starter set: £24, Kankan.london
This brand has clearly spent a long time thinking about all aspects of its business model, from its cleverly designed yet minimalist protective packaging to the fact it plants a tree for every can sold. But what we love most is that it's using aluminium cans for its refills.
Why? Because aluminium has the ability to be recycled near infinitely. It can be used and reused over and over and almost never lose any of its properties. This makes it a much better alternative to cardboard or glass, and of course, plastic, which can only be recycled a maximum of a handful of times before the material is useless. It's estimated that around 75 per cent of all aluminium ever made is still in use today. So Kankan uses aluminium cans to refill its glass handwash dispensers.
The handwash starter kit comes with the glass bottle and one can, and refills are £15 each. If you decide you don't want your glass bottle anymore, you can return it to the brand (labels are provided). We think the amber colour looks chic in the bathroom and we love the fresh and citric scent.
The handwash is pretty special too. Made in the UK, it has a long list of credentials including being free of palm oil and parabens and sulphates. It's also made with 100 per cent essential oils, including mandarin, lavender, lemon, patchouli and clary sage.
At the moment, the pump is still made of plastic, as most brands have found that no other material seems to work. The cans are also a touch too big to entirely fit into the glass bottle, so you'll have a little leftover, but this can be used as a shower gel, as the brand's short video shows.
We've come full circle – it's time to bring out your soap dish and stop buying shower gel in single-use plastic bottles. UpCircle is all about reusing, repurposing and re-loving. In short, it uses natural ingredients that would otherwise end up in the landfill in its products: think coffee grounds and chai tea spices. Everything is 100 per cent natural, free of palm oil and vegan, obviously. We love this chunky soap bar, which is actually a two-in-one product, as the repurposed chai spices act as a scrub. We just rub the bar all over and we reemerge from the shower feeling sparkly and with noticeably softer skin.
This brand takes its name from the word which means "the philosophical study of value" – and clearly it has many values, as it calls itself "evil free", believing that make-up shouldn't only be safe for humans, but for animals and the environment too. Each lipstick only has 10 ingredients (which it proudly lists on its site, from organic coconut oil to candelilla wax). The products aren't tested on animals and are vegan and free of palm oil, while the brand also donates to Orangutan Aid and other charities.
It comes in a recycled paper triangle packet from a women-run cooperative in Bali, and the outer bullet is made from aluminium and is completely recyclable. There are 30 shades and we tested "bonafide", which is a summery pinky-orange hue – we found it to be wonderfully creamy.
Face Halo make-up remover pads, pack of 3: £15.42, Amazon.co.uk
If taking your make-up off at the end of the day is something you hate doing, and you're fed up of using cotton pads that come in non-recyclable plastic bags and get through endless amounts of bottles of cleanser – or worse, packs of face wipes – these face pads from Face Halo solve all those problems at once. Incredibly, the large fluffy white pads only need water to remove make-up, so there's no chemicals, woo! And it's so quick and easy.
Yes, we were dubious too, but it works and takes off mascara sufficiently. We even used a cleanser afterwards to see if there was any stubborn make-up left behind, and there wasn't. We bent it in half to take off mascara without rubbing delicate skin. These can be washed up to 200 times in the washing machine and, once you're done with them, you don't have to throw them away – you can send them back to Face Halo to be recycled.
Currently, the packaging is made from recyclable plastic, but the brand is working on becoming entirely plastic-free. As these pads last so long, you'll certainly be cutting down on waste.
Ohne tampons: From £6.40 for 24, Ohne.com
Ohne tampons are organic, guaranteed by the Soil Association, unbleached (unlike most tampons) and are free of pesticides. The wrapper, box, shipping bags and applicator of the applicator version are also biodegradable. While the non-applicator tampons are wrapped in a thin layer of recyclable plastic (which it needs to prevent contamination), the company is working on finding a bioplastic. You can order mixed boxes of tampons to suit your periods, and money from each box contributes to providing young women in Zambia with menstrual education through The School Club Zambia.
As one of the first brands offering a totally plastic-free option for deodorants, this German company has designed a push-pop style cream stick, and it's a godsend. Coming in seven scents, we prefer the original one, "pure". They are all made from natural ingredients like shea butter, and aren't tested on animals. It's a smooth application and the product stops any odour from occurring. Once you've finished, you can recycle the cardboard after washing it.
This brand, founded by David Reccole, specialises in plastic-free make-up. Currently its compact bronzing powders, eye shadows, eyebrow powders, eye primers, blushes and shine-up powders are all plastic-free, while items that come in tubes or use wands still use a little plastic, but come in bamboo packaging.
The eye shadows have refillable pots and use sustainable and biodegradable bamboo outer materials that clip back together with tiny magnets. We tested the golden sand eyeshadow that's 100 per cent plastic-free and very easy to apply, giving a lovely light sheen to our lids. All the brand's products are non-toxic, natural, and cruelty-free too.
Paving the way in the zero-plastic toiletries market, and now offering 40 per cent of its range plastic-free, Lush launched its shampoo bars in 1988 and has 26 different fragrances to choose from. Our favourite is by far the blue seanik bar. After lathering the product up in your hands to apply, it leaves your hair clean, shiny and soft. If you're worried about keeping the bars dry and surfaces clean, you can buy a metal tin to keep it in for £2.50 (Lush.com).
Disposable plastic toothbrushes are a huge source of plastic waste. Swap yours out for a bamboo option that's sustainable and biodegradable. The bristles are made from BPA-free plastic, which is non-toxic. When you're done with it, remove the bristles and it can be decomposed at home.
The verdict: Plastic-free toiletries and beauty products
Who Gives A Crap toilet paper is made by such a great company: not only does it dump the usual non-recyclable plastic, but it donates money to charities that help build toilets around the world. We also love that it's a delivery and subscription service, too.
Wild deodorant is also a top choice for its excellent design and eco-credentials, from being cruelty-free to its compostable refills and the fact it's a subscription service, too.
Register for free to continue reading
Registration is a free and easy way to support our truly independent journalism
By registering, you will also enjoy limited access to Premium articles, exclusive newsletters, commenting, and virtual events with our leading journalists
Already have an account? sign in
Register for free to continue reading
Registration is a free and easy way to support our truly independent journalism
By registering, you will also enjoy limited access to Premium articles, exclusive newsletters, commenting, and virtual events with our leading journalists
Already have an account? sign in