The Independent's journalism is supported by our readers. When you purchase through links on our site, we may earn commission.
12 best plus-size bras
Lingerie in larger sizes can be super-stylish, as well as supportive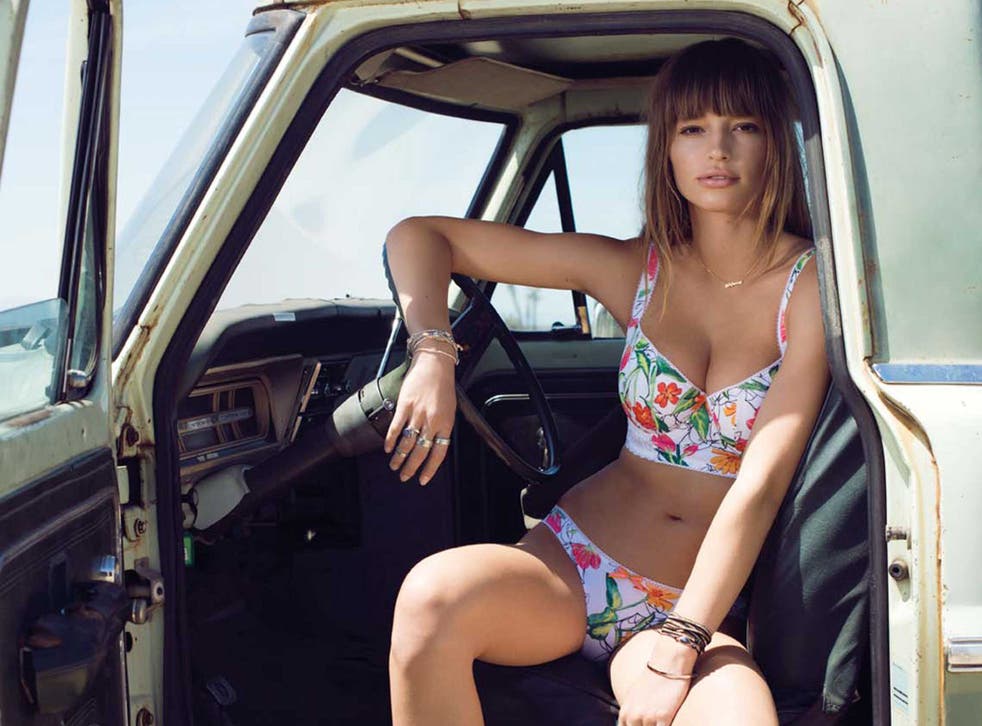 Buying a DD+ bra can feel like a trade-off between comfort and a pretty design, but with these bras you won't need to compromise.
To ensure you are wearing a correctly sized bra, it is a good idea to be measured in store at least once a year. Contraception, pregnancy and the menopause can all affect breast size.
When trying on a bra, make sure the wires at the side of the breast are flat on the rib cage - not digging into the breast - and that the wires at the front lie flat on the sternum with no gaps.
Julia Mercer, bra fit expert and technical manager at Marks and Spencer, says: "You will know you have a good fitting bra when you can lift your arms, the bra stays perfectly in place and it feels like you can forget you are wearing it."
1. Marcie Bra by Cleo: £27, Bravissimo
This pretty bra is as nice to look at as it is comfortable to wear. It comes highly recommended from a friend, who says: "This is the best bra I've ever had in my life. Please God, never stop making them." Available in a range of colours.
28D-38J
2. Panache Sports Moulded Bra: £40, Figleaves
This softly underwired sports bra is the perfect choice, providing comfort and resistance to breast "bouncing" while in the gym. There is a racer-back option if you don't want your bra straps showing under your work-out top, the lime green and leopard print trim adds fun detail.
38DD-40GG
3. Fantasie T-shirt Bra: from £32, Fantasie
A friend describes this as her number one, go-to T-shirt bra, giving excellent comfort throughout the day. The seam-free design doesn't show through your clothes and the smooth cup allows the bra to sculpt to your body, adapting to any hormonal changes in breast size.
30C-40H
4. Freya Utopia White Longline Bra: £36, Freya Lingerie
This pretty balconette bra offers extra support thanks to its thick straps and longline design. With six hooks at the back, there no danger of slippage. If you like the florals but not the style, it also comes in a balcony and half-cup version.
28C-38H
5. Freya Deco Strapless Bra: £32, Freya Lingerie
Freya's "Deco" range offers brilliant, fuss-free designs in a variety of colours that are ideal for day and evening wear. Another friend bought the strapless version for her wedding dress nearly five years ago and says it has lasted like new, "even the sticky rim hasn't worn off."
28B-38GG
6. Bravissimo Sophia Bra: £32, Bravissimo
This pretty half-cup bra is feminine while also giving good support. The two hook fastening increases to three hook for GG-HH cup sizes.
28DD-38HH
7. Debenhams Gorgeous DD+ Non-Padded T-Shirt bra: £20, Debenhams
Unlike other utilitarian-looking T-shirt bras, this Debenhams classic comes with a lace trim and bow at the front. The elasticated lace under-band doesn't scratch, and the bra is soft and comfortable to wear. Also available in nude and white.
30DD-40H
8. Miss Mandalay Paige Raspberry & Peace Balconette Bra: £40, Miss Mandalay
This semi-sheer bra is perfect for evening wear or a special occasion, but is also comfortable enough for throughout the day – should you want an extra boost. The cup shape gives your assets a boost and the clasp is daintier than some.
30DD-38GG
9. Limited Collection 2-Pack Large Spotted Non-Padded Balcony Bras: £18, Marks & Spencer
Excellent value for money, this two-pack double bra set comes in a fun, spotted design in black and bright pink. The Juliet bra shape is a good fit for larger cup sizes, and one of M&S's best-selling DD+ ranges.
32DD-40GG
10. Elomi Carmen Plunge Bra: £38, Elomi Lingerie
Despite its lacy appearance, this bra is soft and easy to wear. The plunge cup makes it feel modern, even in larger sizes, and there is also a hook and eye fastening if you want to turn the bra into a racer-back. Available in black and sand.
32D-46JJ
11. Masquerade Rhea Bandeau Bra: £33, Panache Lingerie
A good all-rounder that works as a T-shirt bra or under a party outfit, this bra has a nice, satin feel with an embroidered trim. Available in antique and black.
28D-38H
12. Royce Impact Free Sports Bra: £34, Royce Lingerie
This wire-free sports bra gives reassuringly full and supportive coverage. It's made from soft cotton, which is breathable and sweat-wicking to keep you cool even during intense workouts.
32G-40K
Verdict
The Marcie Bra by Cleo is as comfortable as it is pretty, making it ideal for everyday wear – or for more special occasions. Available in yellow, pink and purple, it offers excellent support and doesn't change shape in the wash. Matching briefs are also available.
Register for free to continue reading
Registration is a free and easy way to support our truly independent journalism
By registering, you will also enjoy limited access to Premium articles, exclusive newsletters, commenting, and virtual events with our leading journalists
Already have an account? sign in