The Independent's journalism is supported by our readers. When you purchase through links on our site, we may earn commission.
8 best period pants that won't cramp your style
Replace over 100 single-use sanitary products with just one pair of these eco-friendly undies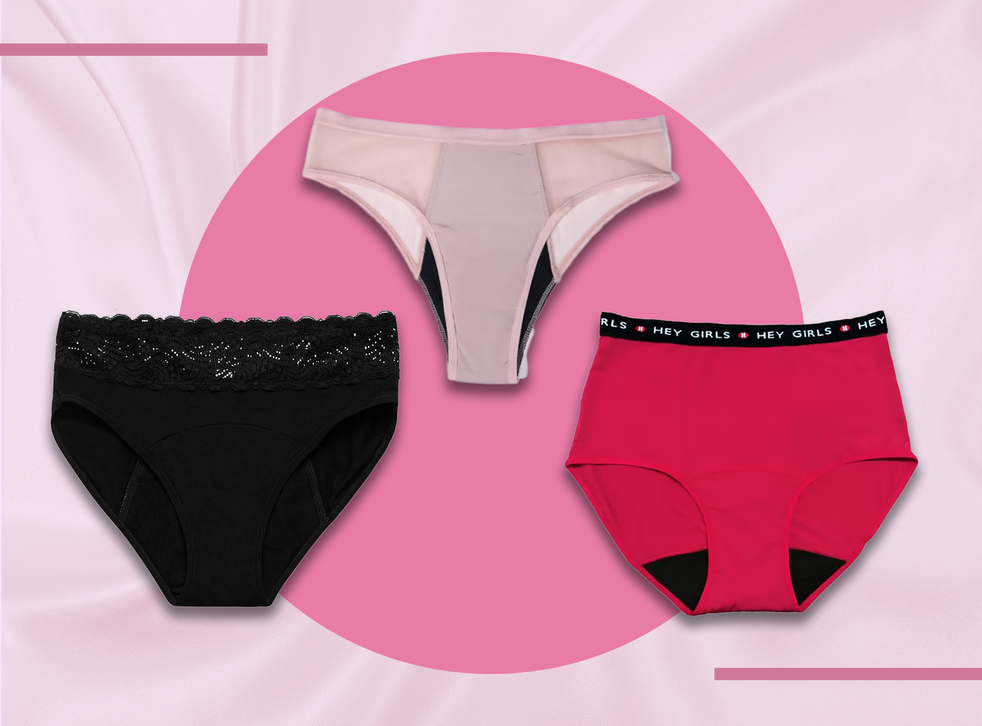 While once upon a time, the term "period pants" might have meant your ugliest – but most comfortable – pair of knickers to throw on during your period, it now means something a little more advanced. In recent years, the number of menstrual care brands launching or adding period-proof underwear to their line-up has grown.
"Reusable sanitary protection saw a rise [between 2018 and 2019] in usage whilst disposable products saw a decline," explains Emilia Greenslade, research analyst at Mintel. "This was largely down to the rise in concerns over the environmental impact of plastic," she says.
Although this increase in interest is good news, there's still a way to go, with Greenslade pointing out that usage of reusable products is still dwarfed by the large numbers opting for disposable pads and tampons. But, consider this statistic: a single pair of period underwear can replace 100 or more disposable pads or tampons, according to the Women's Environmental Network.
What women and others who menstruate choose to use during their period is completely individual and it's understandable that period pants might not work for everyone. However, we urge you to give them a try if you're curious, and even more so if you're dubious. Before we tried our first pair of period pants, we were too, and now they're the first thing we reach for when those tell-tale period cramps come calling.
Read more:
Like traditional knickers, there's a variety of options out there, from high waisted and bikini to boxer style shorts and even thongs. As everyone's flow is different, we'd advise experimenting, if you can, with different absorbencies, as well as trying them out for different activities (e.g. overnight, going out, during exercise).
Plus, there's no shame in mixing it up with other menstrual products – some prefer wearing period pants throughout the whole time they're bleeding, whilst others will opt for them when at home and then use a menstrual cup or tampon at other times.
In terms of the upkeep, you should be rinsing them out under cold water after use before popping them in the washing machine along with other laundry. Two things to remember though: firstly, don't use fabric conditioner, as this can adversely affect the materials and absorbent layers, and secondly, zip them up in a mesh bag if you have one to hand – just for added protection. Then simply air dry.
How we tested
We evaluated how these undies performed whilst we were on our flow, from lighter to heavier days and overnight too. We also considered look, feel, cost and how they washed, dried and fitted into our life. So whether you're a seasoned period pants user or looking to add a pair to your underwear drawer, here's our round up of the best period pants on the market.
The best period pants for 2022 are:
Period pants FAQs
Do period pants actually work?
While everyone's flow is different, and they won't be everyone's cup of tea, the short answer is yes, period pants do work. Although you may feel dubious about undies that claim to work just as well as your usual products, this is what they're designed for.
Thicker than normal knickers, they prevent leakages just as well as liners, tampons, pads or a cup. That said, just as these aren't always fail-safe, neither are period pants – so if you have a particularly heavy flow you may want to double up with a cup or tampon.
How often do you change period pants?
Although this will depend on the brand you go for, how heavy your flow is and where you are in your cycle, you'll be pleased to know that you can actually wear the same pair of undies all day. But again, this will be down to personal preference.
Generally though, they will need to be changed once they start to feel wet, as dry-feeling pants mean the blood is being held in the material rather than sitting on top.
The verdict: Period pants
We love our Wuka seamless midi briefs and highly recommend them for their silky soft feel, absorbency and how they eradicate any fears of VPL.
Hey Girls's mission to help those in need is also worth highlighting and its cherry red pants are a comfort on days when you're feeling really bloated. It's also worth commending Love Luna for making a budget-friendly pair of period pants to make reusable menstrual products more accessible.
Voucher codes
For the latest discounts on sanitary products, try the links below:
For more kind-to-planet period products, try our best reusable sanitary pads
Register for free to continue reading
Registration is a free and easy way to support our truly independent journalism
By registering, you will also enjoy limited access to Premium articles, exclusive newsletters, commenting, and virtual events with our leading journalists
Already have an account? sign in
Register for free to continue reading
Registration is a free and easy way to support our truly independent journalism
By registering, you will also enjoy limited access to Premium articles, exclusive newsletters, commenting, and virtual events with our leading journalists
Already have an account? sign in