The Independent's journalism is supported by our readers. When you purchase through links on our site, we may earn commission.
8 best laser hair-removal and IPL machines to use at home
Avoid the laborious task of regularly shaving or waxing with one of these smart devices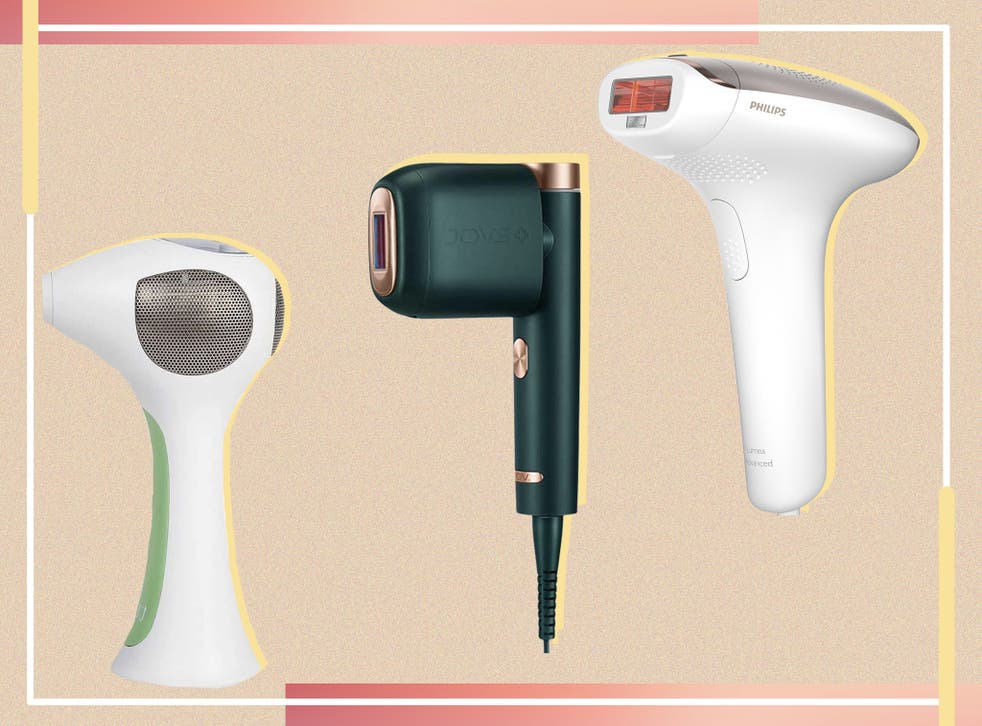 No longer reserved for just the A-list, laser hair removal has become so mainstream that modern technology now allows you to treat yourself safely and painlessly (almost) in the comfort of your own home. But, how does it work?
There are two types of machines available for home use, laser and intense pulsed light (IPL). Laser removal targets the hair's pigment (melanin) in your follicles; the laser beam converts to heat as it passes through the skin, which is then absorbed by the melanin present in the hair follicle. This heat damages the follicle at its root, which prevents regrowth over time.
IPL, on the other hand, is less painful, though not painless, than other methods, such as epilation. Like laser, it destroys the root of the hair over time, meaning you'll need less treatment as time passes. However, it's far less effective than laser as the energy it produces is emitted via a variety of light waves, making it more diffused and less powerful.
But this generally makes it cheaper than laser treatments. Due to the way IPL hits the skin, the intensity and speed of results will vary between individuals.
If you're tempted to give a device a go, it's worth planning when. Autumn or winter is the best time to start because your skin needs to be tan-free, whether natural or fake. And make sure you have a razor in your house as you'll need to prep your skin before and in between IPL sessions before you get zapping. The area you're targeting must be silky smooth for best results.
Read more:
Aftercare is just as important as pre-care: lather yourself in sunscreen after your treatment (even in the depths of winter) and avoid anything that can trigger sensitivity on your skin, such as perfumes, deodorants and hot showers for the first 24 hours after you've zapped.
Before opting for this type of hair removal, check the brand's skin and hair charts. Many do not work if your skin is dark or hair is light (blonde, grey, white or red). And don't be tempted to skip on the handbook, as they detail all instructions, including where you can and can't use the machines.
The best IPL and laser hair-removal machines for 2021 are:
Home laser and IPL hair removal machine FAQs
What is IPL hair removal?
IPL stands for intense pulsed light. It's a type of light therapy used to treat unwanted hair. It works by targeting a certain colour in your skin, and the higher the contrast between your skin and hair colour, the better, which is why it is often said to be most effective on those with light skin and dark hair. When the skin is heated, it destroys the hair follicle to prevent the hair from growing again, without burning the skin.
What is the difference between IPL hair removal and laser hair removal?
IPL is similar to a laser treatment. However, a laser focuses just one wavelength of light at your skin, while IPL releases light of many different wavelengths. Plus, the light from IPL is more scattered and less focused than a laser. They both, however, penetrate down to the second layer of your skin (dermis) without harming the top layer (epidermis).
Are home IPL machines safe?
The light from an IPL at-home machine is much less concentrated than salon treatments, and so they can be used safely in the comfort of your home, so long as you follow the manufacturer's guidance.
How often can you use a home IPL machine?
It actually depends on the body part that you're concentrating on. Most instruction manuals would recommend using the home IPL device once every four weeks in order to catch the new hair that is starting to return in its growth cycle.
For legs, it is once every eight to 12 weeks as the hair growth rate on this body area is much slower. It's worth noting if you're anxious to exceed these time frames, it won't speed up hair loss, in fact, it will probably do the opposite and may also lead to irritated skin.
How do at-home IPL machines compare to salon treatments?
Home IPL devices operate at a lower intensity than those used professionally, therefore, their ability to disable the hair follicle sufficiently is less than a salon treatment. However, it goes without saying that the convenience of being able to carry out the treatments at home, in your own time, is a game-changer for long-term hair removal. Plus, there is a substantial financial difference, as professional in-salon treatments tend to be very costly.
What to consider when buying an IPL hair-removal device
The number of treatment heads: If you plan on using the IPL device on small areas, such as your bikini line or face, check that it comes with an attachment that can work on this size of area – it'll be more efficient
Speed: The shorter the time between flashes, the faster the treatment will be
The number of flashes: This is the number of times the device can emit a flash of light – while most machines have a minimum of 100,000, once this runs out, you'll have to replace the lamp. For some devices, you'll be able to buy replacement heads, but others, notably the reviewed Sensica sensilight pro IPL hair removal device (£265, Currentbody.com), have an unlimited number of flashes
Skin and hair colour: Not all devices are compatible with all skin and hair colours, so it's worth making sure the IPL device you intend to buy is right for you. Similarly, keep an eye out for an automatic skintone sensor, which will mean the IPL device can detect the optimum intensity and safest settings for your skin tone
Cordless or corded machine: Some IPL devices are cordless, which can make them easier to use and transport
Treatment area size: Depending on the size of the area in which you want to treat, you'll want to consider the size and power of your IPL device. If you're treating a large area, such as your legs or torso, it's best to consider a machine that is not battery powered, as it can take a while to recharge cordless models
The verdict: Home laser and IPL hair-removal machines
Although this was a tough call to make, Jovs venus pro, the newest IPL device on the market, seems to have the extra bells and whistles that deserve to take the top spot. The innovation behind the machine and the fact that it can be doubled up as a skin treatment too, makes this well worth the expense.
Saying that, SmoothSkin's bare+ ultrafast device comes a very close second for fuss-free hair removal that is efficient and completely pain-free. It works equally well on the face and body and you'll notice a difference in a matter of weeks with upkeep being minimal, plus it looks pretty in your bathroom. Win, win!
Voucher codes
For the latest discounts on beauty and try the links below:
Ready to turn your beauty routine up a notch? Try one of our best derma rollers to rejuvenate skin and boost hair growth at home
IndyBest product reviews are unbiased, independent advice you can trust. On some occasions, we earn revenue if you click the links and buy the products, but we never allow this to bias our coverage. The reviews are compiled through a mix of expert opinion and real-world testing.