The Independent's journalism is supported by our readers. When you purchase through links on our site, we may earn commission.
8 best electric shavers for men to keep stubble at bay
Swap in messy manuals for a smooth operator that's gentler on skin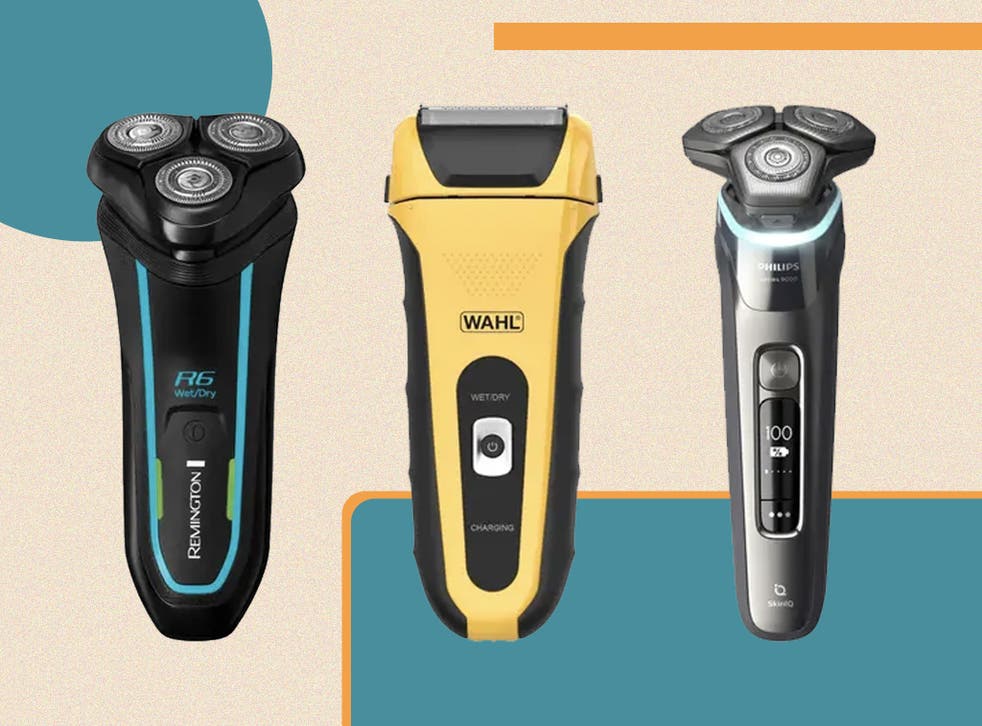 In the same way that The Beatles and The Stones divide music fans, electric shavers and traditional razors divide anyone who wants to shed some stubble. Both methods of shaving have their pros and cons: wet shaving might deliver marginally closer results but electric shaving is by far the simpler, quicker and less messy option.
Since electric shavers work by gently lifting stubble as they cut, and the blades themselves don't come into direct contact with the skin, they're also ideal for those with sensitive or blemish-prone skin, and for older gents with the odd wrinkle to navigate.
The fact that they're fast, safe and relatively mess-free makes them ideal for festivals, travel and for when you're generally time poor or just too lazy to bother with all the gubbins involved in wet shaving.
To get the most out of your shaver, use your fingers to stretch the skin on your face as you shave, resisting the temptation to press too hard, clean your shaver as instructed using the brush or cleaning station provided and change the blades and/or foils as instructed.
Above all, be patient – electric shaving is very different from wet shaving and irritation can occur in the first few weeks of switching methods, as the skin adjusts to a new approach. The good news is that this usually subsides after a couple of weeks so don't give up thinking it's not a method that suits your skin.
Read more:
So, now all you need to do is match the shaver to the man. Luckily, we think you'll find something to suit in our electric shaver shortlist – whether you're a total beginner or an electric aficionado.
How we tested
We put each shaver through its paces on two occasions – once on light, day-old stubble and again after several days' growth. Performance was key, obviously, but functionality, appearance, value-for-money, charging time and how they felt in the hand were taken into account too.
The best electric shavers for 2022 are:
Electric shavers FAQs
What are the different shavers?
There are two types of shavers you should know about: rotary ones and foil ones. Rotary shavers use rotating shaving heads (usually three) to slice through stubble at different angles, while foil ones have blades that cut from left to right that are concealed under a protective foil.
As a rule of thumb, rotary shavers are good if you have tough stubble while foil shavers are a little more straightforward, easier to master, and are better for those with softer or lighter stubble, who are new to electric shaving or have sensitive skin.
Each requires a different technique (you move using gentle circular motions with rotary shavers and back and forth swiping with foil ones) but the results are generally the same – a no fuss, super-smooth shave with the minimum of irritation.
The verdict: Electric shavers
Electric shavers are a bit like cars: you either see them as practical devices that get a specific job done or as things to covet because of their design, prestige and desirable features. As we discovered, you don't always get what you pay for – with cheaper models delivering a perfectly serviceable shave and more expensive ones sometimes over-complicating things. Although, we do recommend looking out for special offers on the premium ones as they're often heavily discounted.
If you're a beginner the Braun series 3 ProSkin ticks a lot of boxes and is worth a punt if you just want to try electric shaving, while the Braun's series 9 shaver is our absolute favourite.
Panasonic's premium performance shaver is also great for experienced shavers or those fancying an upgrade. And we have to give a special nod to the Philips OneBlade pro – a brilliantly versatile tool that deserves a place in any man's grooming armoury.
Voucher codes
For the latest discounts on men's grooming essentials, try the links below:
Keep your 'tache fresh with the best beard oils from Bulldog, Tom Ford and more
Register for free to continue reading
Registration is a free and easy way to support our truly independent journalism
By registering, you will also enjoy limited access to Premium articles, exclusive newsletters, commenting, and virtual events with our leading journalists
Already have an account? sign in
Register for free to continue reading
Registration is a free and easy way to support our truly independent journalism
By registering, you will also enjoy limited access to Premium articles, exclusive newsletters, commenting, and virtual events with our leading journalists
Already have an account? sign in