The Independent's journalism is supported by our readers. When you purchase through links on our site, we may earn commission.
15 best anti-ageing serums that target wrinkles, dark spots and dullness
These -reviving products will be the superheroes of your skincare routine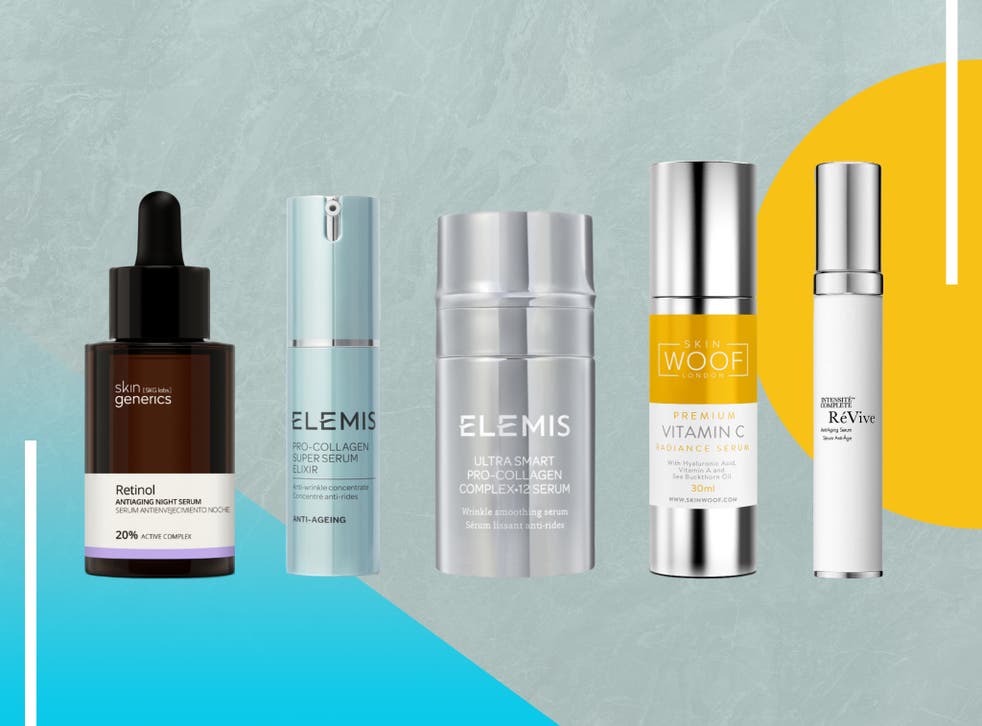 Packed full of active ingredients, serums are one of the most vital steps of your skincare routine – particularly when it comes to anti-ageing.
With many not realising their importance, these skincare saviours are the ones often left out of your regimen. Yet, it's such a simple step – nestling neatly between your toner and moisturiser, these potent formulas do so much more than a regular moisturiser.
Given the strength and density of the crucial ingredients in their make-up, they can perform skin-saving miracles – targeting fine lines, wrinkles, hyperpigmentation, dark spots and dullness – to ultimately achieve a more youthful look.
You'll want to look for serums with ingredients rich in vitamins, minerals and antioxidants. Serums with these tend to offer a more natural attempt at plumping, firming, and stimulating collagen production. It's also worth looking out for green tea, berries and marine-inspired skincare.
We also recommend using products that contain hyaluronic acid and retinol. The former not only hydrates the skin but simultaneously adds a smoothing and plumping effect, while the latter is considered the best anti-ageing ingredient around.
Read more:
Retinol gets to work on the surface of the skin, focusing on skintone and texture, as well as going deeper and stimulating cell renewal. However, exercise caution as those with sensitive or dry skin might find this causes irritation or flakiness.
You should also pay close attention to the texture of your serum. The lighter and faster to absorb it is, the easier it will be to add into your skincare routine. Plus, for those who have sensitive or oily skin, having a lighter-weight serum will definitely be a bonus as you'll want to minimise the feeling of the products you're piling on your face.
Still, with so many brands putting their best foot forward, it's hard to know which is the best. So, we've narrowed it down to the top 14, taking into account the different skincare anti-ageing concerns that each serum addressed.
The best anti-ageing serums of 2022 are:
What to look for in an anti-ageing serum
Retinol is widely considered by dermatologists as the best anti-ageing ingredient and can often be found in serums as it tackles fine lines and wrinkles. As it can cause irritation if used wrongly, it's important that you introduce it gradually into your skincare routine, applying only in the evening two to three times a week.
Additionally, hyaluronic acid is a popular ingredient thanks to its plumping effect. One molecule can hold a thousand times its weight in water and it helps to attract and retain moisture for the skin.
Antioxidants are another great choice as they have multiple benefits, from protecting against free radicals to preventing environmental damage. Vitamin C is one of the most common, but niacinamide, vitamin E, ferulic acid and green tea are also hardworking ingredients that can improve the appearance of skin.
The verdict: Anti-ageing serums
We can't fault the immediate glow achieved by Elemis's pro-collagen super serum elixir. It's also a fair price for such a prestigious brand – perfect if you're buying your first anti-ageing serum. Both Goldfaden MD's needle-less line smoothing concentrate and Dr. Levy's Switzerland booster serum are excellent choices if you're looking for something a bit extra. Both of these offer non-invasive skin treatments – although you certainly pay for these extra benefits.
Voucher codes
For offers on makeup and beauty products, try our discount code pages:
Give your skin an extra boost with one of these foundations for mature skin
Register for free to continue reading
Registration is a free and easy way to support our truly independent journalism
By registering, you will also enjoy limited access to Premium articles, exclusive newsletters, commenting, and virtual events with our leading journalists
Already have an account? sign in
Register for free to continue reading
Registration is a free and easy way to support our truly independent journalism
By registering, you will also enjoy limited access to Premium articles, exclusive newsletters, commenting, and virtual events with our leading journalists
Already have an account? sign in