The Independent's journalism is supported by our readers. When you purchase through links on our site, we may earn commission.
8 best derma rollers to rejuvenate skin and boost hair growth at home
Take fine lines, pigmentation and dull skin into your own hands with these hardworking tools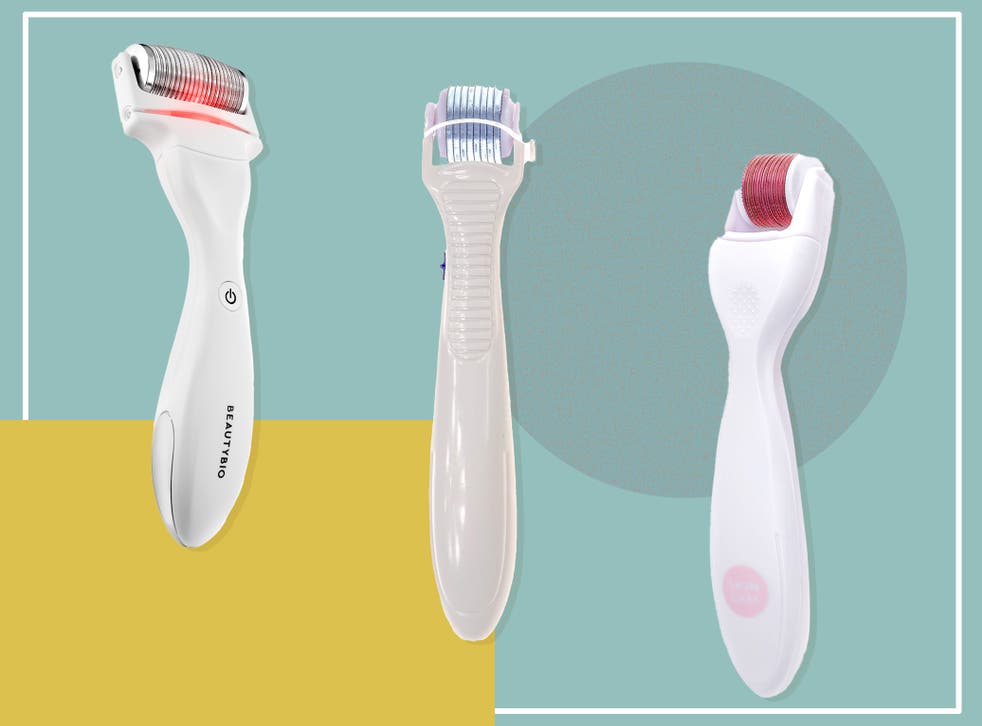 Devotees swear by microneedling (also known as dermarolling) for treating a host of skin concerns such as fine lines, dullness, acne scarring, stretch marks and even hair loss.
Microneedling is a minimally-invasive treatment that can be carried out at home or in-clinic by a professional. It involves the use of roller or pen, covered in ultra-thin needles, being passed across the skin. "The needles pierce the skin creating micro-injuries that trigger a healing response," explains aesthetic doctor Pamela Benito. "This kickstarts the production of new collagen, resulting in fresher, tighter, brighter and smoother skin, with less lines, pigmentation and scars."
The main difference between home-use and clinic-based dermarollers is needle length. "Clinics use medical grade needles that penetrate deeper – so you need a numbing cream prior to treatment. Home-use devices are made with duller needles that are between 0.2 to 0.5mm in length," explains Dr Benito.
Although dermarolling at home won't give you the same results as in-clinic treatments, it can still make a noticeable difference to your skin. "Use them at home for a deeper exfoliation and because microneedling creates open channels in the skin, it enhances the absorption of serums and moisturisers, making them more effective," Dr Benito says.
If you're considering buying a home-use microneedling device, be sure to use an accredited or genuine product from a licensed stockist and follow the manufacturer's instructions. First timers should start with a needle length of 0.5mm or less, using it once a week to begin with. And those with active acne, eczema, rosacea, pigmentation or sensitivity should speak to an expert before purchasing one.
Read more:
Since the product will be superficially piercing the skin, be diligent about cleansing the treatment area before starting and sterilising the device prior to and after each use to avoid infection. Be sure that your rolling technique is correct too. "Use a firm and even pressure and don't drag the skin," advises Dr Benito.
How we tested
We tested a range of home-use dermarolling devices designed to treat a variety of concerns. We assessed how easy they were to use, comfort levels and results. These are the ones we'd recommend.
The best derma rollers for 2022 are:
Skn derma roller
Best: For beginners
Rating: 9/10
This affordable device is perfect for anyone who doesn't want to commit to a regular microneedling routine or wants to try it for the first time. The roller looks sleek, feels light and is instilled with 0.3mm needles, which gently penetrate the skin and feel virtually painless. It can be used on the face, hands and also parts of the body to address issues such as stretch marks and keratosis pilaris. We used it on the fronts of the hands and noticed that hand creams were absorbing better. As a result, after just two weeks of consistent use, the hands had a noticeably smoother texture and appeared more youthful.
Teresa Tarmey microneedling kit 12 week programme
Best: For treating signs of ageing
Rating: 9/10
Designed by Kate Moss and Sienna Miller's facialist Teresa Tarmey, this program must be followed once a week over three months in order to see an improvement in issues such as fine lines, scarring, sun damage and dull skin. Inside the box are 12 single-use ampoules filled with a cocktail of niacinamide, glycerine, peptides, mulberry extract and vitamin C. There's also a reusable silicone mask and a dermaroller studded with 0.2mm needles. The roller is made by Genuine Dermaroller, a German company regarded as the leaders in microneedling.
You start by applying two thirds of the ampoule onto clean skin, then use the dermaroller in target areas in an upward and downward motion, left to right and diagonally for a few minutes. There's a useful step-by-step online tutorial for guidance.
You quickly become accustomed to the feel of the needles passing over the face. You then massage in the remaining peptide treatment and apply the reusable silicone mask, which helped soothe red and tingly skin. Redness had subsided by the morning and skin had that fresh from a facial glow. After week two, pores gradually began to shrink and skin texture was more refined.
Re:Brow brow roller
Best: For boosting eyebrow growth
Rating: 7/10
This nifty tool is perfect if you are experiencing brow loss, thinning or for those who have been overzealous with plucking. The roller has a small head containing 180 titanium microneedles measuring 0.25mm. The makers recommend using it two to three times per week after application of the brand's hair-growth enhancing brow booster serum (£35, Rebrow.co.uk).
The rolling action is said to aid in the stimulation of dormant follicles and promote the growth of new hair. When rolled over the eyebrows the area felt slightly sensitive, but there was no discomfort. And after five weeks of perseverance – we tested the device twice a week for six weeks – new growth had started to appear in some sparse areas that had previously been over threaded.
Patience is a virtue with this device and it may not work on those who have always had thin brows. If you once had fuller brows and want to restore them back to their former glory, this is worth a try.
BeautyBio rejuvenating scalp + fuller hair therapy
Best: For stimulating hair growth
Rating: 8/10
The main purpose of this kit is to promote hair growth for those afflicted with mild to moderate hair loss – be it the first signs of thinning or postpartum. It comes with a nutrient-rich scalp serum containing loquat leaf, rosebay extract, larch tree, camellia leaf extract and zinc, which have been selected to improve hair density, eliminate build-up and regulate oil production in the scalp.
The GloPro scalp microneedling tool has been ergonomically designed to hug the contours of the scalp and stimulate hair follicles. It also features red light technology to boost healing. After parting hair, the roller was passed back and forth, in parallel lines with the hair strands. This felt like a relaxing massage and we were impressed that it did not tug on the hair. You then rub in a couple of drops of the weightless serum.
We used the device for one month and found that scalp flakiness had disappeared, making this a good tool for eliminating product build up or dandruff. No new hair growth was visible; however, the makers say it may take two months of use to see results.
Skin Gym micro roller set 3 piece
Best: For treating the face and body
Rating: 7.5/10
This tool is relatively inexpensive considering that it comes with three different attachment heads, allowing you to treat the face and body. The body head contains 1,200 needles at 0.25mm making it easier to treat larger areas in less time. The face attachment meanwhile, has 600 spikes at 0.20mm, while the smallest head, for the delicate skin around the eyes and lips comes fitted with 240 needles at 0.20mm. Whichever area you are targeting, it can be used once or twice a week.
We tested the larger treatment head to treat stretch marks on the tummy and the smaller head on the lips, gently rolling the device vertically, horizontally and diagonally as instructed. We saw an instant difference in the lips – they appeared plumper and felt exfoliated. There was no major change to the skin on the stomach after two sessions, but our body cream sunk in beautifully.
After use, the device can be sanitised in boiled water and stored in the handy container it comes with.
Dr. Russo Blue LED pulsating dermaroller
Best: For combatting breakouts
Rating: 8/10
Developed by dermatologic surgeon Dr Luca Russo, this home-use micro-needling device was created to control oily and acne-prone skin. Safe to use daily across a cleansed face and neck, the roller is instilled with 540 ultra-fine titanium needles that cleverly pulsate and prick the skin while simultaneously emitting a blue LED light.
The blue light function is said to be useful for killing the bacteria that is responsible for breakouts, while the needling promotes skin density and reduces pore size resulting in less flare-ups. It did a super job at minimising pesky pores around the nose after just two sessions, and the blue light felt soothing. However, a word of warning to those with active acne or breakouts, you should refrain from using a dermaroller, as it can cause further irritation. This dermaroller is currently out of stock, but should be back soon.
FaceGym faceshot electrical microneedling device
Best: For an immediate glow
Rating: 8.5/10
Faceshot delivers a two-in one treatment – the microneedles painlessly pierce the skin creating pathways to aid penetration of the serum that it emits. It features 12 medical grade, stainless steel needles at 0.25mm. It comes with three single use microneedle cartridges and serum ampoules loaded with exfoliating glycolic acid and vitamin F.
Before use, we recommend watching the video that's activated by a QR code to help set up the device, which involves emptying the serum into the microneedle barrel and locking it into the tool. What's great about this is that it does all the hard work for you – delivering the right dose of serum through the needling action. And you'll know the session is over when the serum finishes. We also like the adjustable power setting with four levels of intensity, which allows you to tailor the treatment to your comfort levels.
Our skin was slightly tingly after the treatment and the most glorious glow emerged shortly after. FaceGym recommends using it every other day or once a week but, one downside is after you have used the device three times, you'll have to purchase more needles and vials (you cannot use any other serum in the device) – so that's an extra cost to consider.
Spotlight Oral Care smile rejuvenation system
Best: For rejuvenating the mouth area
Rating: 8.5/10
Frown lines, smoker's lines, jowls and sagging skin around the mouth area can be treated with this roller that is fitted with 3,000 dissolving microneedles loaded with moisture-attracting sodium hyaluronate and wrinkle-reducing acetyl hexapeptide-8. Designed by dentists, the three-step kit comes with four microneedling tips, a peptide-infused serum and four lip sheet masks.
Recommended for use once a week, the makers claim that you will see smoother, brighter and firmer skin in four weeks. During testing, we used it for ten minutes vertically, horizontally and diagonally on cleansed skin around the jawline and mouth area. We then applied the serum and we rolled again for a further ten minutes – until the needles dissolved. The dissolving needles are a great feature, as it takes away the guesswork and you know exactly when the treatment should end. Afterwards the soothing, lip shaped sheet mask was applied – it really boosted hydration in this often-neglected part of the face.
Although the tool is marketed for use around the mouth where it worked a treat, leaving the area tauter and smoother, we feel that it can also be deployed all over the face, making it a great all over treatment.
The verdict: Derma rollers
We like that the Skn derma roller can be used on the face and body with your own skincare, allowing you to tailor your treatment to your complexion concern. It comes at an affordable price point too, making it a good pick for first timers.
If you're already a microneedling fan and are looking for impressive results at home, or to maintain the look of professional treatments, try Teresa Tarmey microneedling kit 12 week programme, which includes a doctor-approved tool and facialist-designed skincare.
Voucher codes
For the latest offers on skincare and make-up, try the links below:
We tried the best face tools that massage, sculpt and lift, from facial rollers to LED masks
Register for free to continue reading
Registration is a free and easy way to support our truly independent journalism
By registering, you will also enjoy limited access to Premium articles, exclusive newsletters, commenting, and virtual events with our leading journalists
Already have an account? sign in
Register for free to continue reading
Registration is a free and easy way to support our truly independent journalism
By registering, you will also enjoy limited access to Premium articles, exclusive newsletters, commenting, and virtual events with our leading journalists
Already have an account? sign in