The Independent's journalism is supported by our readers. When you purchase through links on our site, we may earn commission.
10 best sheet masks that hydrate, brighten and soothe skin
Activate pamper mode with these self-care essentials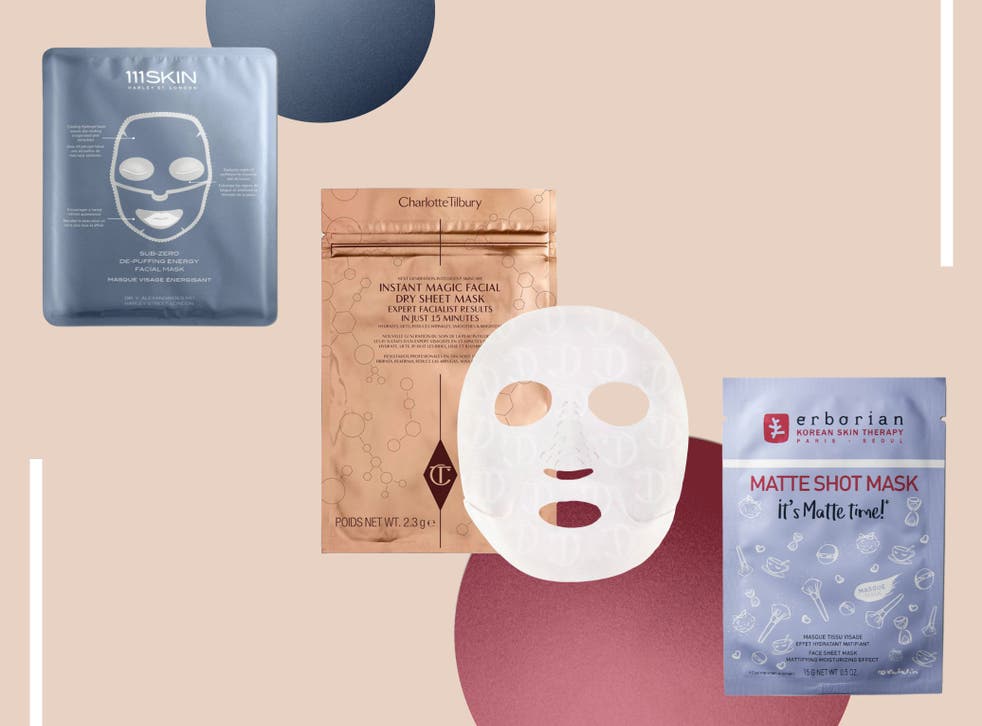 Just over a decade ago Korean beauty took the world by storm. But while 10-step skincare regimes might not have stuck here on our shores, the sheet mask has been firmly cemented as a staple in many a Brits weekly regime.
According to Bog Skincare founder Milana Mason, "sheet masks drip feed high dosages of actives into the skin, revitalising complexions in as little as 10 minutes. And unlike traditional masks they tend not to be time consuming messy affairs either as they are designed to fully penetrate the skin, so there is no need to wash, peel or scrub them off."
But with the sheer amount of masks on the market, how do you know which is the right one for you? "It's best to look for ingredients that combat your specific skin concerns, in the same way as you would when investing in other skincare products," Mason shares.
Whatever your concerns, be they acne, pigmentation, dehydration, sensitivity, or lines and wrinkles, we're sure you'll find what you're looking for in our round-up.
How we tested
We tested a vast amount of sheet masks formulated for as many skin concerns as possible, across a range of brands with varying price points. We judged each one on their ability to fulfil their designated purpose, alongside how easy they were to apply and how well they stayed in place.
Read more:
The best sheet masks for 2022 are:
ZitSticka press refresh mask
Best: Overall
Rating: 9/10
The jelly-eque hydrogel two-part mask is a little fiddly but once on, it sticks to the face and doesn't budge. Designed to boost hydration, unclog pores and exfoliate skin, the formula contains a trio of gold standard exfoliating acids, salicylic, lactic and glycolic. Plus, niacinamide to quell redness and balance oil production, as well as hydrating and strengthening hyaluronic acid.
What's really unique about this mask is that it leverages penetrative graphene tech. Not sure what that means? Essentially, graphene powder has the same far infrared waves as the human body, so when applied it increases the skin's conductivity (aka heat) to boost absorption and plunge the actives into the skin. After 20 minutes we noticed that our skin felt less bumpy and congested, but rather plump and smooth, while our spots weren't so apparent.
111skin sub-zero de-puffing energy facial mask
Best: For depuffing
Rating: 8/10
To truly put its depuffing skills to the test we tried this mask in the morning, post a boozy Saturday night. The hydrogel mask which feels a bit like rubber, is a clever material that absorbs and holds the formula so there is no dripping whatsoever.
Made of two parts, one for the upper face and one for the lower face, this mask, as the name suggests, imparts a major cooling sensation on application which woke us up as much as it did our skin. While the main ingredients like nonapeptide and tetrapeptide, plus caffeine, and citrus peel enzymes, all work to boost blood circulation, prevent water retention, hydrate and tighten the skin in 20 minutes.
We found it easy to apply and it stuck to our face like a second skin, which meant we didn't have to lie down when wearing it – although we opted to. It helped wave bye-bye to dark circles and helped recontour our face, depuffing around the eyes and cheeks, while deeply hydrating the skin, so it not only glowed but looked plump and smooth in all the right places.
Sanctuary Spa charcoal bubble sheet mask
Best: For detoxing
Rating: 7/10
Charcoal and oxygen tag team in this mask in a bid to deeply cleanse, balance oil, and make pores appear less visible, but did it work? We found the super moist two-part face mask pretty enjoyable to use – it had a spa like scent to it, and you can hear and feel it bubble away instantly – which made it feel like an ASMR session.
Our skin was drenched in liquid, which actually felt rather comforting and cocooning, but we had to adjust the mask back into place every few minutes as it did slip and slide around a bit due to the wetness. Constant moving it back into place meant that we couldn't get on with anything else while wearing it, but that did force us to relax, which is never a bad thing.
Once we removed the mask material, we massaged the excess product into the skin a little more, before rinsing our faces which is meant to wash away any dirt and pollution that had been clogging the pores. Post this 15-minute mask, our skin felt refreshed, hydrated, less oily (but you do have to cleanse before applying the mask so skin should already be balanced) and super clean. However, for areas of our skin that were very congested it was clear that it would take more than this mask to unclog our pores.
Meder EU-SEB normalising anti-acne mask
Best: For acne prone skin
Rating: 8/10
Harnessing the microbiome is one of the cornerstones of Meder's beauty philosophy and since bacteria plays a big part in the formation of acne, we were excited to give this mask a go. It's made from ecological and biodegradable golden bamboo, a material that not only has major stretch but also has the capacity to absorb a hefty dose of liquid – in this case, the active packed gel formula, which you'll find very little of left inside the packaging (unlike with other sheet masks we tested).
It's easy to apply, and feels really cold and refreshing on the skin. But, because it stretches to hook around the ears – to keep it as flush with the skin as possible – it could make some of the hairline wet. So, if like us you have curly hair, we don't recommend using this after you've had a blow dry and want to keep your roots from getting wet.
Unlike other acne formulas that don't consider the microbiome and are packed with exfoliating acids, this prebiotic rich mask contains of ingredients to treat all skin concerns. There's chamomile extract for its healing and calming anti-inflammatory benefits, and hyaluronic acid for deep hydration. Then there's reparative antioxidant rich green tea, anti-inflammatory and calming peptide Skinasensyl which helps to restore a healthy immunity, and aloe that creates an invisible protective layer on the skin, shielding it from harmful microorganisms.
After use, our skin looked well hydrated, felt soft to the touch and our spots looked far less red and angry. However, the idea behind this mask is that restoring and balancing the microbiome will help avoid conditions like acne. So, it's all about the long game here, and you'll see the best results if the rest of your skincare regime is microbiome friendly too.
Bog hydrate and revitalise organic face mask
Best: For sensitive skin
Rating: 8/10
Made out of lyocell and modal, a fabric duo known for its softness – and that's often used in sustainable fashion – this mask was feather light and felt like silk on our sensitive skin.
On paper the formula is equally as gentle, infused with a lightweight serum packed with the brands hero actives humic and fulvic acids, which are known to boost cell turnover, improve skin elasticity and tighten pores. It also contains a hefty concentration of natural antioxidants and minerals that help support and protect the skin. Add anti-inflammatory horse chestnut, protective resveratrol, hydrating hyaluronic acid and you've got a dream line-up for sensitive skin types.
The mask itself was easy to unfold and apply, fitted well and had a cooling sensation that we can only imagine helped to further calm our skin. After 15 minutes our complexion was visibly less red, and our dull lacklustre skin was now all aglow – which meant it definitely hydrated and revitalised as promised.
Medik8 ultimate recovery bio cellulose mask
Best: For repairing
Rating: 8/10
Made from bio-cellulose – a material that's formed from millions of tiny natural fibres tightly woven together – this mask is a micro-thin sheet resistant to breakages and tears. And with the ability to hold multiple times its own weight in liquid, we found that it was suitably drenched in liquid without being messy and slippery to the touch. It hugged our skin and when it came to our face, there was quite a bit of excess material on the sides, making us think that this mask would fit a range of face shapes and sizes well.
Medik8 doesn't scrimp on the serum, as there was lots left in the packaging, so we squeezed it out and applied it onto the mask, and then waited the obligatory 15 minutes. The serum formula is fragrance and alcohol free and enriched with deeply hydrating hyaluronic acid, so there was absolutely no irritation during testing. It also contains detoxifying minerals like zinc that help to regulate oil production, promote the skin's natural healing process, and reduce inflammation. While more minerals came by way of rockweed algae, which also helps repair and boost hydration in the skin.
After removing the soothing mask, we massaged the excess serum into our skin, and found we looked more refreshed than before application. Skin repair is hard to quantify, so we tested it again post a microneedling session and found that the redness we usually experienced for a day or two after was much improved.
MZ Skin hydra-lift facial treatment mask
Best: For firming
Rating: 7/10
Visually speaking, what's not to love about this Instagramable gold face mask? It's uber chic and has a faint rose scent that, with our eyes closed, made us feel like we were at a spa (and not lounging on the sofa). It was a little fiddly to take out of the packaging and we had to be careful to take one part out at a time, as we needed both hands to peel the mask away from the plastic backing. We also found that while the mask felt delicate, it had to be stretched to cover our face (but once we did that it stayed put) but before we discovered this trick we did find that the mask slid downwards.
Formula wise, it's a skin firming dream. Pure gold delivered through nano-technology penetrates deep down into the skin to boost repair, and protect the skin from free radical damage (one of the skin's biggest agers). Vitamin C helps to support collagen production and even out the skin tone, plus collagen helps to plump and add firmness to the skin. Hyaluronic acid hydrates, boosts elastin and protects collagen, while vitamin and mineral rich crispus extract from Irish moss seaweed repairs and moisturises.
Unlike other sheet masks, you have to rinse your face post removal, which does add an extra step, but nonetheless we felt like this was worth it. Our skin was radiant, plump and our skin felt firmer too.
Dr Dennis Gross C+ collagen mask
Best: For brightening
Rating: 8/10
Our skin majorly bore the brunt post catching Covid, which makes sense, as while the skin is the body's first line of defence, our body prioritises our most important organs before feeding the skin, nails and hair with the vitamins and minerals needed for them to thrive. So, when we finally tested negative, our complexion was lacklustre and in need of some TLC.
While this mask supports the skin's barrier thanks to niacinamide, firms thanks to collagen amino acids, and deeply hydrates due to humectant glycerin, it's the potent brightening agents – namely vitamin C – that caught our attention. Also known as ascorbic acid, vitamin C inhibits melanin production to even out skin tone and acts as an exfoliant too. And while a one-off dose of the stuff isn't likely to make any major changes to pigmentation, we absolutely noticed our dull lacklustre complexion was far more radiant post using this 15-minute biodegradable biocellulose treatment mask.
With three layers to contend with – the mask itself and two mesh layers on the top and bottom that both need to be removed – we found it was easiest to remove one layer of mesh, apply the mask and then remove the second. Once on it feels like a second skin, and even though it was drenched in serum, there was absolutely no slipping and sliding.
Vichy mineral 89 sheet mask
Best: For hydration
Rating: 8/10
Dehydrated skin should look no further, as we found this tissue mask to be saturated in some seriously skin-saving ingredients. From the volcanic mineral rich water from Vichy (yes it's an actual city in central France), to moisturising glycerin, sodium hyaluronate extracted from hyaluronic acid, and propanediol, an ingredient that increases the absorption rate of actives. All these combined totally rehydrated our skin to leave it plump and glowing.
While it stayed in place nicely for the 10 minutes it should be worn for, the packaging is a bit fiddly. You have to fold the sachet down the middle along the dotted lines, then press the sachet until the seal breaks, allowing the formula to make its way over to the side that holds the sheet mask. Once the mask is fully saturated you can then take it out and apply it to clean skin. This is a step we'd rather not have to bother with; however, the results outweigh the extra time it takes.
Charlotte Tilbury instant magic facial dry sheet mask
Best: For smoothing
Rating: 8/10
This mask has won a plethora of awards and we're not surprised. For starters it's a totally dry mask that can be used up to three times and is pretty high-tech if you ask us. The textile fabric is infused with tiny vectors of ingredients, from niacinamide and sea fern extract for radiance, a shea butter, mango butter and avocado oil blend for an injection of moisture, crocus bulb extract for luminosity, and host of peptides to smooth, plump and firm the skin.
To transfer these actives into the skin, we unfolded the mask, placed the pink side on freshly cleansed skin, looped the top and bottom hooks over our ears and then gently massaged over the top of the mask to activate it. It was impossible to know if we had massaged enough, or if the mask was actually working during the 15 minutes we had it on – but on removal it was instantly clear it had. Lines and wrinkles were less visible, our skin felt soft, smooth, and it glowed too. Over the course of the day the results improved thanks to the prolonged release of the ingredients into the skin – genius!
The verdict: Sheet masks
With a hefty dose of actives in one hit, a good sheet mask is well worth the extra 10 to 20 minutes a week. And while it's important to understand that they are certainly a potent addition, they won't make any major changes long-term. However, we were mightily impressed with the 10 we selected, especially the ZitSticka press refresh mask. Containing some innovative tech – plus, it didn't budge at all while we wore it – we felt that overall it was the most effective.
Voucher codes
For the latest discounts on skincare, try the links below:
For more skincare recommendations, read our guide to the best products for rosacea, from moisturiser to foundation
Register for free to continue reading
Registration is a free and easy way to support our truly independent journalism
By registering, you will also enjoy limited access to Premium articles, exclusive newsletters, commenting, and virtual events with our leading journalists
Already have an account? sign in
Register for free to continue reading
Registration is a free and easy way to support our truly independent journalism
By registering, you will also enjoy limited access to Premium articles, exclusive newsletters, commenting, and virtual events with our leading journalists
Already have an account? sign in