The Independent's journalism is supported by our readers. When you purchase through links on our site, we may earn commission.
11 best silk pillowcases that prevent frizzy hair and help reduce wrinkles
Settle in and snuggle up for some seriously sumptuous beauty sleep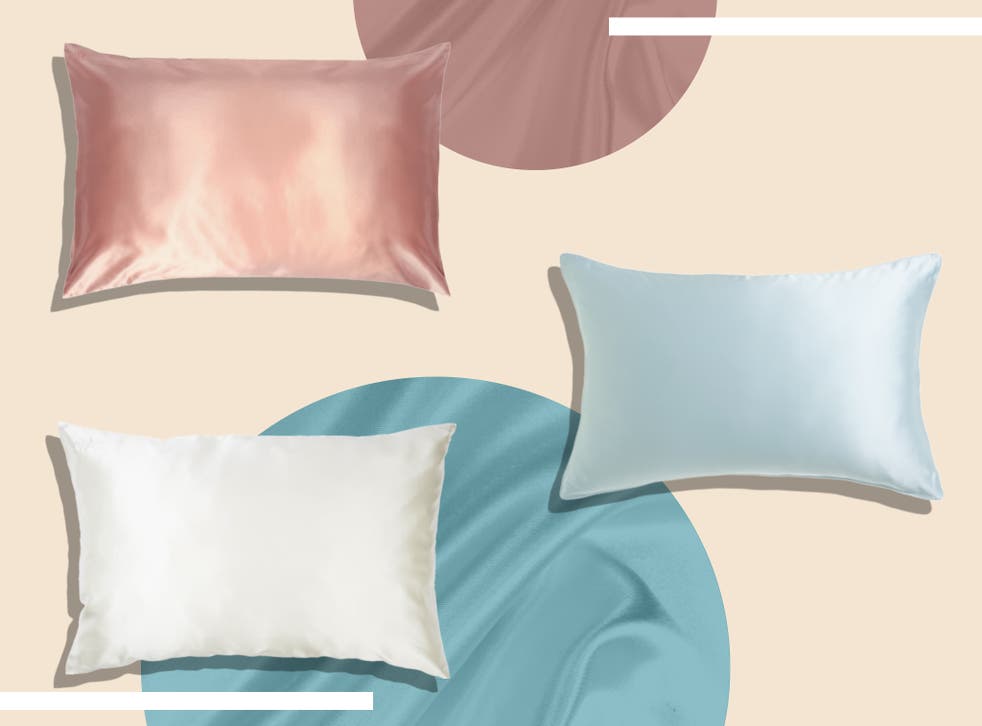 The easiest way to upgrade your bedtime beauty regime is with a pure mulberry silk pillowcase. Known for softening skin, their super-smooth texture helps you to avoid annoying pillow face creases.
Because they're less absorbent than a classic cotton pillowcase, silk pillowcases don't pull moisture out of your skin overnight, so your evening skincare soaks in well too. This is why silk pillowcases improve the appearance of fine lines and wrinkles, as they help to ensure optimum hydration levels are maintained.
They offer a frizz-fighting factor for your hair, as there's no static created as you toss and turn in the night – a big bonus if you're prone to flyaway bedhead. And if that wasn't enough, the breathable nature of silk helps to control your temperature, and it's antibacterial and hypoallergenic too.
But with so many silk pillowcases on the market, which one should you choose?
How we tested
We tested several 100 per cent silk pillowcases over a number of months, using the exact same bedding and sleeping conditions to ensure consistency. Our winners spanned different shade options and momme levels (also known as the silk thread's weight), and they're all machine washable. We also considered different price points to pinpoint the best value for money.
Read more:
From zip closures to envelope styles, piped finishes to smooth edges, read on for our definitive list of the best silk pillowcases.
The best silk pillowcases for 2022 are:
Silk pillowcase FAQs
Is silk or satin better for your hair?
You can buy pillowcases in either silk or satin and each has its advantages. They both have the same smoothing benefits, with the main differences between them being in their make-up: silk is a natural fibre, while satin is manufactured from other materials. However, satin still feels soft to the touch and can even feel smooth like silk.
It is also worth considering how much you want to spend on a pillowcase, as the price points are slightly higher when it comes to silk. A satin pillowcase is a great choice if you can't stretch to the price of a silk one, as it still offers some great skincare and haircare benefits over a cotton pillowcase.
Do silk pillowcases really make a difference?
In short: yes. When it comes to your hair and skin, a silk or satin pillowcase will help reduce the effects that friction from tossing and turning can cause, such as creases on your face and frizzy or tangled tresses.
How should you wash a silk pillowcase?
While it is best to check the washing care instructions that come with your specific pillowcase, the majority of styles can be washed either by hand or in a machine.
Silk pillowcase brand Slip recommends using a PH-neutral liquid detergent and/or fabric softener to prevent the material from hardening and to ensure that the temperature is kept below 30C. The safest method if your machine doesn't specify exact heat settings is either cold or just one level above.
A delicates bag is also optional, depending on your washing machine and whether or not it tends to grab items and tear them.
If you wish to maximise the life of your pillowcase, hand washing is the ultimate method but whatever you do, do not place it in a tumble dryer.
Which momme silk is best?
For silk pillowcases, a momme weight of 12 to 19 is considered good quality, while a momme range anywhere between 19 and 30 is deemed very high quality. Anything lower than 12 will not be as durable and will be prone to more damage and tearing. In our test, the top performers were 19 momme or higher.
The verdict: Silk pillowcases
This Is Silk's pillowcase is our standout winner for both temperature control capabilities and improving hair condition. Plus, it was a very good price.
Meanwhile, affordable buy Bouclème reduces flyaway frizz while feeling soft on skin. And, we also really rate the premium priced sumptuously breathable pillowcase from Slip.
Voucher codes
For the latest discounts on pillows, duvets and other homeware offers, try the links below:
Why not give your locks a little extra TLC with our best hair towel wraps and turbans
Register for free to continue reading
Registration is a free and easy way to support our truly independent journalism
By registering, you will also enjoy limited access to Premium articles, exclusive newsletters, commenting, and virtual events with our leading journalists
Already have an account? sign in