The Independent's journalism is supported by our readers. When you purchase through links on our site, we may earn commission. Why trust us?
30 petite clothing brands that don't come up short on style: Boden, Seasalt, Next and more
Good things come in small packages, and that includes these labels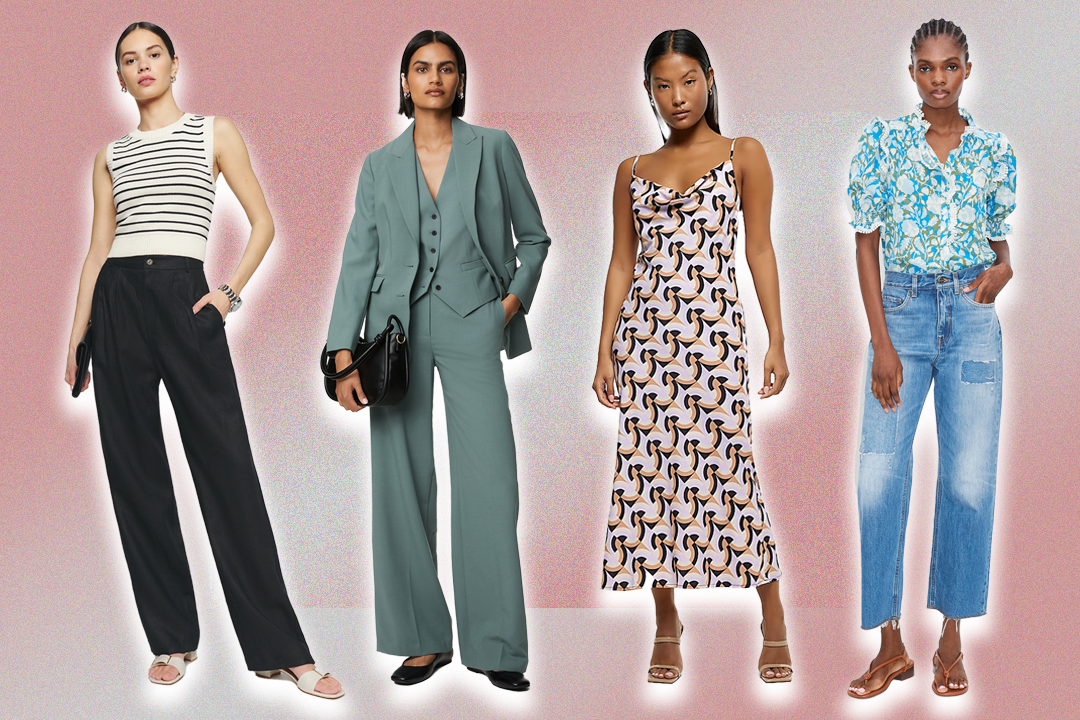 While we still have some way to go yet in terms of total body incusivity in fashion, in recent years we've been pleased to see a shift when it comes to catering a broader range of body shapes and sizes. This is good news for us girls that aren't your textbook 5ft 5in size 10 (hello, vast majority of the UK).
The reality is, though, not all brands are doing size-specific collections yet and it takes much more time and effort to shop for clothes that are outside the standard measurements. In the past, we've researched the best plus size brands, and the best tall clothing brands to make life a little easier, and now it's time we did the leg work for all the petite women out there – this one's for you.
So, what counts as petite? Well, traditionally it's those measuring in at 5ft 3in and under, and contrary to popular belief it has nothing to do with weight – just height. Ultimately, it comes down to the right proportions, which is why finding your equivalent size in standard collections doesn't always work. Speaking as a tester who's pushing 5ft 2in and has spent a lifetime rolling up shirt sleeves and avoiding maxi dresses and full-length trousers, it's frustrating.
Sure, there's styling tricks to count on, such as the famous French tuck (thanks Tan France), high waists and, of course, Bondaweb, the hemming hack that petite influencer Joanne of @petitesideofstyle swears by. But when it comes down to it, investing in clothes that are specifically tailored to our frame saves us a whole lot of will-it-won't-it-fit hassle in the first place.
For all its fast-fashion flaws, the high street really does come up trumps when it comes to shopping for petite clothing. Influencer Georgie, of @petitegeorgie, swears by Topshop (still available via Asos) – who remembers the Petite range, perfect for jeans in particular?–while Joanne relies on River Island and Next. As with plus size, online retailers such as Asos, Boohoo and Missguided have all started to offer an impressive range of petite styles on their websites.
There's more than the high street to turn to now as well. Zoe Anastasiou is a 5ft 1in fashion editor dedicated to discovering emerging and independent brands that cater to the petite market. Her go-tos? "The Shortlist and Reve The Label, are at the top of my agenda for new brands to try, while US cult favourite Reformation is my go-to for dresses with no tailoring necessary."
Whatever your needs, preferences and price range, this bumper directory of petite brands below should cover it. Keep scrolling and feel those frustrations start to melt away…
Best petite clothing deals this season
New Look petite off white satin bias cut midaxi skirt: Was £25.99, now £20, Newlook.com
Slip dresses and skirts are wardrobe staples that you can wear repeatedly, slinking from formal occasion wear to more casual daywear. Now on sale with more than 20 per cent off is this midaxi skirt in khaki, pink, black and this off white shade. New Look's bias cut silhouette sits high on the waist, so it would work well with floaty cropped tops and oversized linen shirts.
A pair of linen trousers is a must when the weather warms up. Made from dreamy looking 100 per cent linen, these vesta trousers are now reduced by more than £50. Coming in either oatmeal or black, with front buttons, pleats and belt loops for cinching you in at the waist, where the pair is intended to sit, this will be a wardrobe must-have in no time.
Karen Millen petite knit belted maxi dress: Was £69, now £55.20, Karenmillen.com
Another versatile style designed with petite sizing in mind, Karen Millen's maxi is cut into a racer back neckline for a casual look. It features a knitted belt for cinching in at the waist so you can feel put together and relaxed all at once – one for summer evening when you're dressing to impress. Right now, it's reduced by 20 per cent.
Boden cut out linen midi dress: Was £110, now £55, Boden.co.uk
Made from 100 per cent linen, Boden's cut out midi is now half price. The semi-fitted dress is finished with elegant cut out elements to flatter the waistline. With a high-neckline and a hemline that grazes the shins, you can dress it up with heels and down with strappy sandals.
Me & Em satin graphic tulip print tie shift dress: Was £275, now £192.50, Meandem.com
This bold satin shift dress will brighten your wardrobe with a bespoke cream, orange and purple pattern. Cut into a mini dress silhouette, this Me & Em style could be perfect for summer evenings paired with simple pumps and loafers, and at the time of writing it's happily discounted by 30 per cent.
Miss Selfridge petite long line denim short in black wash: Was £27.99, now £18, Asos.com
Designed with a frayed hem for a lived-in finish, these denim shorts are on sale with more than 30 per cent off. Featuring five pockets and cut into a high-rise, regular fit, the pair are also on sale in an equally versatile blue wash colourway, if you're looking for a lighter hue.
Petite clothing brands on the UK high street
Miss Selfridge
There's a huge range of everyday pieces available in petite sizes at Miss Selfridge, which is now sold via Asos, from biker jackets to denim. But the key selling point has to be the dress and occasionwear selection, with one of our favourites including a collared, button-up white sleeveless blazer dress (£21.50, Asos.com). Whatever your event, Miss Selfridge probably has a style for it – including lots of jumpsuits, which are so difficult to find for petites usually.
Shop Asos.com/miss-selfridge now
Missguided
There's currently an impressive 1,429 pieces in Missguided's petite section - talk about options. Highlights include plenty of chic tailoring, swimwear of all kinds and lots of cute day dresses you won't have to take up. For chic meets casual, this simple asymmetric button puff sleeve poplin dress (was £30, now £6, Missguided.co.uk) is now on sale.
Nasty Gal
For the latest street-style trends at a fraction of the usual price, Nasty Gal can't be beaten. With petite versions of all its bestselling styles, you won't have to feel like you're missing out this time. Think tracksuit co-ords in cute pastels, puff-sleeved dresses and wide leg trousers that actually fit.
Topshop
Topshop has long been known for its petite offering. As one of the first high street retailers to make it the norm to have tailored versions of its sellout styles, it's a relief that despite closing the stores and moving to Asos, you can still shop the brand's petite styles online. The denim is particularly good, so don't miss that.
Asos
More than anywhere else with affordable clothing, Asos makes it positively easy to shop for petites. Toggle to their clothing tab and find a huge selection under "shop by body fit". There's plenty to choose from courtesy of their own brand Asos Design, including some excellent denim pieces. We've got our eye on this high waist maxi skirt (£48, Asos.com) and mid-blue dungarees (£45, Asos.com), but the brand also excels when it comes to basics, too.But there's also a huge range from other retailers you might not think about, like Stradivarius and Noisy May, totalling more than 3,000 styles at our last count.
Next
Next has always been a reliable go-to on the high street for great quality pieces you'll keep in your wardrobe for seasons to come. Its petite section is no different, and it's easy to see that the brand has put a lot of thought into the design too. There's jumpsuits in shorter lengths as well as maxi and midi dresses designed to sit at the perfect lengths so that you can still nail these hugely popular trends whatever your height.
Boohoo
From outerwear to pretty dresses for every occasion, Boohoo is not one to miss for petite shoppers. There are hundreds of products on-site, all geared towards ticking off the latest trends, as well as the basics like denim and loungewear. Plus, you can't argue with the bargain prices.
River Island
River Island is just as good for petite as it is for standard sizing. All the brand's best styles come in petite versions. Go bold with geometric prints (£39, Riverisland.com) or plump for "less is more more" with the brands petite maxi satin slip dress (£43, Riverisland.com). There's a lot of great suiting, coats and denim to try too, and they all have a premium feel to them despite still being affordable.
John Lewis & Partners
Although not as extensive as its standard womenswear offering, there are a few petite brands, including Hobbs and Fenn Wright Manson, worth checking out at John Lewis & Partners. From demure occasionwear dresses for event season to office-appropriate workwear, it's a reliable option to have under your belt.
Marks & Spencer
M&S's sartorial greatness is a fact universally acknowledged, isn't it? Affordable, dependable quality, and on-trend with so much choice. Luckily for us, shorter girls their petite range has a lot to offer too. Most of their trousers and jeans now come in shorter lengths, and having tried them we can vouch for them being perfectly proportioned. The best thing about M&S's petite range though is that it's more size-inclusive than most, going up to a size 20 in most cases.
Oasis
Oasis excels in creating floral dresses that are perfect for everyday wear, and there is plenty on offer in its petite range too. If you dream of wearing a midi dress that's actually midi, don't miss this collection. Since the brand's recent relaunch under the Boohoo brand umbrella, it has also upped its trend game, with plenty of cute co-ords and smock-style blouses now on offer to elevate your wardrobe.
New Look
With a dedicated "petite" tab on the menu and more than 500 pieces on offer, New Look is not one to overlook when searching for clothes that suit if you're short. You can expect petite versions of the brand's bestsellers as well as unique pieces specifically designed for the line. We particularly love it for classics that might otherwise swamp smaller sizes, like a chic trench coat (£48, Newlook.com) and straight leg jeans (£14, Newlook.com).
Mid-range petite clothing brands available in the UK
Boden
One of the best new petite ranges we've come across is Boden's. It hasn't simply shrunk its best styles but brought out a considered collection of pieces that truly work for petite sizes. The jumpsuits are particularly good, and something that's difficult to make work in standard sizing when you've got a shorter torso and legs. The excellent quality makes it worth that slightly higher price tag.
Seasalt
If you're a fan of easy dresses and breton tops, look to Seasalt for your petite styles. Based in Cornwall, it doesn't get much more British than this. Highlights include petite raincoats (something that can easily swamp us shorter ladies), day dresses and wear-everywhere chinos.
Me + Em
Looking for clothes with a premium feel that don't break the bank? Be sure to check out Me + Em. We're big fans of its design-led take on smart style you can wear at work or at weekends, day or night. These are investment pieces but the quality is excellent and the designs are timeless enough to last you season after season. There is a handy section on the website dedicated to pieces that work well for petite sizes, all with clever adjustable lengths or smaller sizes.
Madewell
Madewell is a US import that now ships worldwide (don't worry, all duty and tax costs are included in the checkout price so you won't get any nasty surprises). Trust us though, these styles are worth the slightly longer delivery times. Known for its impeccable denim in modern shapes, Madewell also does a great relaxed dress. And there's now a petite section on the website that makes it easy for us shorties to shop from.
Paige
Always searching for jeans that work on your petite frame? Paige is one of the only luxury denim brands that has a dedicated petite range. You'll pay more for the designer name and premium quality, but when it comes to wardrobe staples like jeans that you know you'll wear again and again, it doesn't hurt to invest in one or two great pairs you can truly count on.For the look of vintage jeans, the brand's super wide high waisted Harper pair (£276.99, Paige.com) could be worth a look. Or you can lean into the nautical aesthetic with the white Leenah pair finished with front patch pockets (£254.99, Paige.com).
Reformation
Fashion editor favourite Reformation is the place to shop for sustainable petite dresses. Whether it's your wedding, your turn to be a bridesmaid, wedding guest or you've *finally* got a holiday coming up, most of Reformation's planet-friendly styles come in perfectly tailored petite sizes. There's also pretty co-ords and shorter length trousers too. Another brand that started stateside, you can now get free express shipping, free returns and duties and taxes are already included when ordering from the UK. So really, there's no excuse not to take a scroll.
J.Crew
Heading back to the office post-pandemic? You'll need a wardrobe update to match. Finding tailored clothes for petites is difficult to say the least, but J.Crew makes it easier. There are petite blazers, shirts and workwear-ready dresses, as well as day to day denim and holiday linens too. The only problem is finding the petite section online – you'll need to head to "all clothing" and select the petite size filter. Long-winded, yes, but this uncovers over 200 options so once you find it, you won't come up short (sorry…).
Karen Millen
Another high street hero saved by the Boohoo group in recent years, Karen Millen now has a strong online presence and a dedicated petite section to boot. We love its premium tailored pieces, luxe leathers and form-fitting dresses. This black belted dress (£60, Karenmillen.com) is simple but sophisticaed with its high split hemline, high neckline and short cap-sleeves.
Independent petite clothing brands
Jennifer Anne
Jennifer herself is 5ft 1in and decided to launch her eponymous line out of frustration after not being able to find smart clothing that fit her frame properly. This tailoring-focused line is perfect if you have an office job with a dress code as it's filled with work-ready dresses, jumpsuits and separates. It has also recently expanded into more relaxed loungewear, so if you're still working from home there's something here for you too.
Elma Lingerie
Petite girls still want to have fun, right? If you struggle to find beautiful AND sexy lingerie in petite sizes, don't miss Elma. These are handmade, made to order, and even bespoke (if that takes your fancy) garments designed specifically for petite frames. Plus, there are beautiful sleepwear options too, and the brand is only just getting started.
Little Women
A lingerie brand designed for those with smaller cup sizes which doesn't always go hand in hand with being petite, we know, but can often be the case so we wanted to include. Back sizes range from 28-44 and cups up to a B – if that's you, these designs are too beautiful to miss. From non-wired designs (£35, Littlewomen.com) to bras with padding (£35, Littlewomen.com), balconette options, briefs and more, there's lace aplenty.
Reve the Label
Founded in 2019, Reve the Label was founded to "inspire confidence in petite women of all shapes and sizes". Founder Maddison Ellen is petite herself and designs considered pieces that actually work on shorter frames. She's also added a "petite-curve" range to her line of slinky dresses in an effort to work towards diversifying the industry.
The Shortlist
"Born of the short girl struggle", The Shortlist is an exciting new launch for petites. Making small quantities of beautifully designed pieces all in the UK, the collection consists of dresses and skirts you want to wear to breakfast, lunch and dinner. It's a small edit for now but we see a bright future for this inclusive brand.
Shop Shoptheshortlist.co.uk now
Multi-brand petite clothing retailers
Friday Petite
Friday Petite claims to have the best petite clothing all in one place, and currently boasts an edit of everything from M&S and Asos to independent brands like LacunaFit, a great sportswear brand for petites.
Zalando
Basically an online department store, Zalando offers an excellent range of brands from high street to designer. The dedicated petite section is impressive with trend edits and advice on the latest drops, as well as over 4,000 styles from brands you probably won't find anywhere else. Designed with fringed detailing, these straight leg jeans (£38.99, Zalando.co.uk) from Cotton On are available in five wash variations. We've also seen some basics from Banana Republic, including a button down shirt (£47, Zalando.co.uk) and a crew-neck tanks (£19, Zalando.co.uk) – capsule wardrobe essentials.
Debenhams
Debenhams has revamped itself as a new online destination and now stocks six different high street petite brands with almost 1,000 products to choose from. Brands include Wallis, NastyGal and Dorothy Perkins, and between you and us – there's *always* discounts to be had, with up to 30 per cent off right now.
Vintage petite clothing brands
Offbeat Petite
Shopping petite doesn't have to mean forgoing sustainable brands and practices. New vintage destinations dedicated to curating petite styles are popping up, just like Offbeat Petite. Founder Kate Dooley always takes a tape measure with her when sourcing pieces to ensure they work for her customers shorter frames, as well as including full measurement details on-site to help you find the perfect piece.
Fierce Petite
Another petite focused vintage brand selling everything from retro shirts and dresses to reworked sportswear pieces that have been redesigned to extend their lifetime and work for petite frames. All measurements are included along with a detailed description of how they take them, so you can guarantee the items on your wishlist will work for you.
For comfort and support under your clothes, check out our round-up of the best online lingerie shops