The Independent's journalism is supported by our readers. When you purchase through links on our site, we may earn commission.
6 best beer dispensers so you can pour a draught pint at home
This is how to get a real brew on tap without going to the pub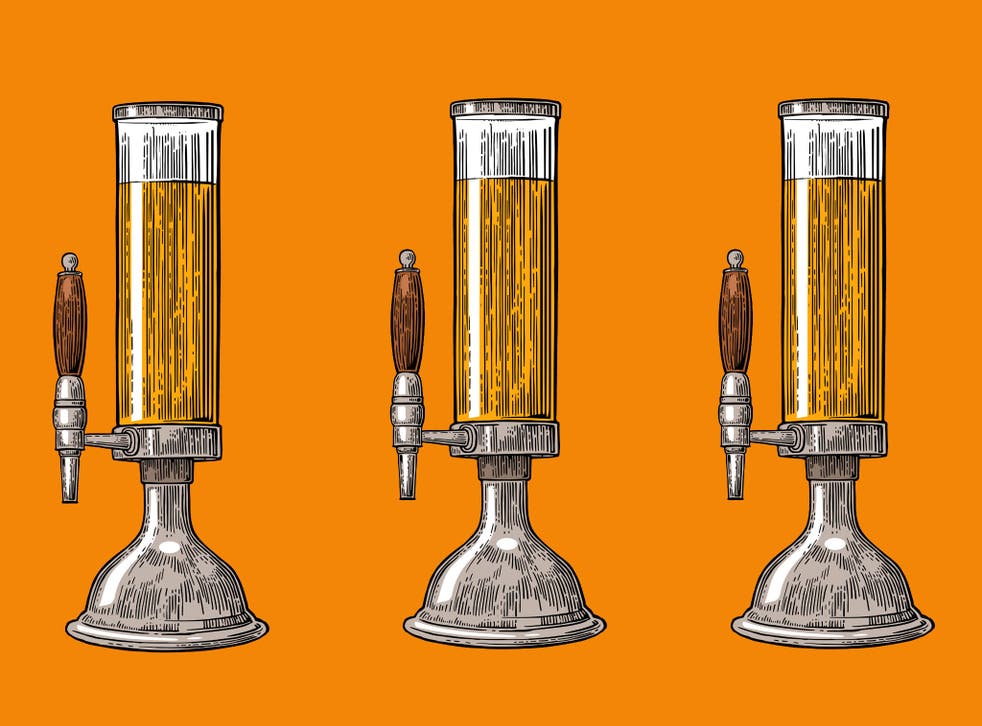 If you could murder a pint but do without the trudge to the pub, an at-home beer tap is the perfect addition to your night in.
With only 15 per cent of surveyed drinkers feeling pub prices are affordable, it's no wonder that at-home drinking is a booming business.
But gone are the days of a warm can of bitter or a lager straight from the bottle. Now, drinkers are fast becoming savvy to creating the pub experience in the comfort of their own kitchens.
Our selection of the best beer dispensers shows just how easy it is to pour perfection in a pint glass. Choose a simple plastic tap and tower dispenser for quick beer access, or go the whole hog and install a system to carbonate and chill your usual.
There are also some fantastic gadgets for helping pour an ordinary supermarket can or bottle to new, frothy heights. Just add pork scratchings.
Read more:
The best beer dispensers in 2021 are:
Home beer dispensers FAQs
What is a kegerator?
A kegerator is a refrigerator that's been specially designed to store, dispense and keep kegs of beer in a chilled environment so that it remains fresh and carbonated for longer. Components of a kegerator usually included a stainless steel keg, CO2 cylinder and pressure regulator, a tap, tower, drip tray, shank, faucet and faucet handle.
The most important part of the keg is the coupler, which differs depending on what beer you wish to dispense. For example, Beck's, Heineken, Amstel and Stella require a system S coupler while Guinness and Harp need a system U, so you'll want to consider which coupler is right for you.
How long will a keg of beer stay fresh in a beer dispenser?
The dispensation of CO2 and the right pressure conditions can keep unpasteurised draft beer fresh for about 45-60 days and pasteurised draft beer for about 90-120 days. Once dispensing keg beer, it will remain fresh for no longer than 8-12 hours.
Where do I fill a CO2 tank for a beer dispenser?
From camping trips to fish aquariums, CO2 is necessary for many things so it's easy to refill your kegs. You can refill CO2 bottles at most dealers for camping supplies, beverage shops and some DIY stores.
How to clean a beer dispenser
Most manufacturers recommend rinsing the tap unit every time you change the keg and surface cleaning the rest of the dispenser, using a damp cloth on the exterior and a dry cloth to clean the inside of the cooling chamber. Often, dish trays are dishwasher safe but always double check and handwash if not. Never fully immerse beer machines in water.
How to set up a beer pump at home
Most machines boast a plug in-and-go design with kegs that click in and can be easily hooked up to the tap. Others – such a the Fizzics machine (£119, Menkind.co.uk) – are battery or USB operated, while larger set-ups such as the CDA machine (£1,791.99, Tapsuk.com) require a DIY approach with drills as the pump is designed to be built into your kitchen.
The verdict: Beer dispensers
Though every home should banish the microwave and have a CDA integrated beer tap instead, we can't all afford this kind of domestic bliss. A clear winner, then, is the PerfectDraft system because of its ease of use, stylish looks, perfect-pouring pints and the ease with which you can change the kegs. Cheers!
Voucher codes
For offers on beer and other drinks, try our discount code pages:
Discover our favourite British beers for 2021, from ale to lager
Register for free to continue reading
Registration is a free and easy way to support our truly independent journalism
By registering, you will also enjoy limited access to Premium articles, exclusive newsletters, commenting, and virtual events with our leading journalists
Already have an account? sign in