The Independent's journalism is supported by our readers. When you purchase through links on our site, we may earn commission.
World Whisky Day 2022: The best Irish whiskeys to sip neat or on the rocks
We sampled a golden selection from the Emerald Isle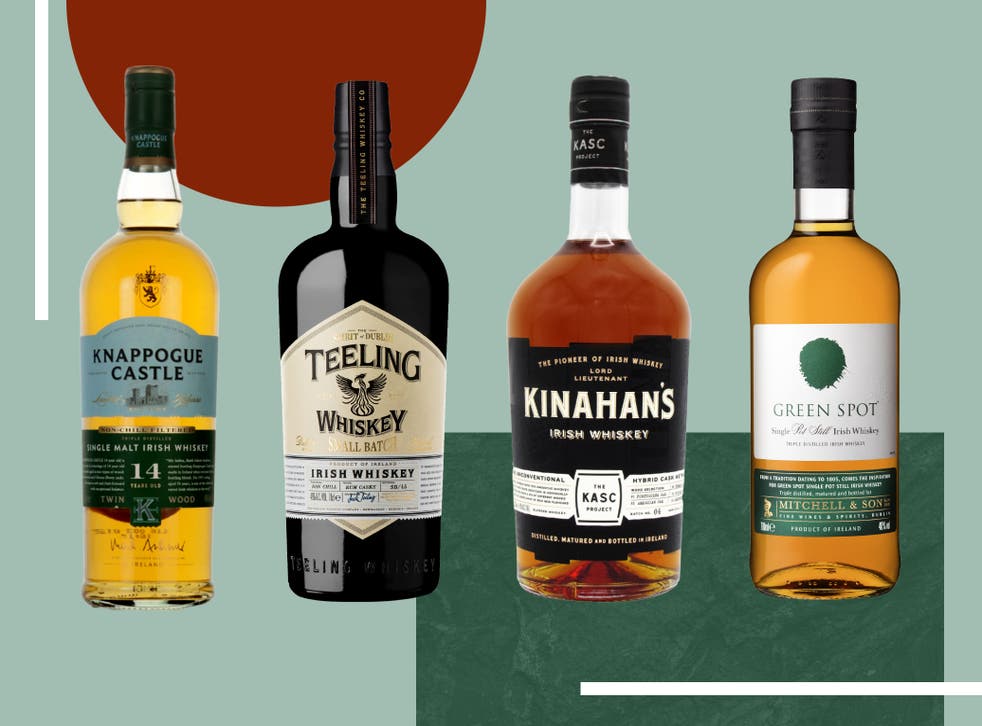 Irish folk band The Dubliners famously sang about having whiskey in their jar, and you'll fast be wanting to join them (on the whiskey, anyway) with this excellent selection. In fact, Ireland can even claim to have named the drink itself; the Irish "uisce beatha" means "water of life" and it's easy to see why.
Yet, Irish whiskey – spelt with that all-important "e" – sadly suffered something of a decline in the 19th century, with distilleries dwindling as fast as you can say "Sláinte". Happily, it's now undergoing a major revival.
From just two distilleries in 1966, the Irish Whiskey Association said 25 were open as of December 2019, with a further 24 in planning, and more opening all the time. That's a heck of a lot of taoscáns (the Irish word often used like the Scottish term "dram").
And while Irish whiskey is known as one of the oldest categories of drinks, and sometimes thought to begin and end with Jameson's, it is heartening indeed to contemplate the sheer variety, creativity, and modern innovation coming out of the Emerald Isle today.
Read more:
How we tested
Of course, the taste was paramount, and we made sure we gave the liquid time to reveal its true aromas and flavours beyond the initial, inevitable hit of alcohol. We diluted with a few drops of water to allow this. We gave bonus points for particularly distinctive, descriptive or intriguing packaging, especially as Irish whiskey presents more of an interesting variety than some (*cough* Japan *cough*).
We also considered whether the whiskey would be drunk neat (or with some water), or whether it would be extra well-suited to a mixer. Lastly, we gave extra marks for varieties with especially absorbing stories or heritage that we felt added to the rich history of Irish distilling, or which deserved a mention for their notable creativity. Affordability and good value for money were also factors. Here are our favourites...
The best Irish whiskeys for 2022 are:
The verdict: Irish whiskey
While The Sexton stood out for design, the Green Spot for its history, and the Writer's Tears for its sweet lightness, we had to give the ultimate prize to Kinahan's the kasc project for its sheer blend of complex flavours, originality, and innovative approach, at a fair price. As a whiskey to drink neat, this would be a solid choice, with notes that linger long after the first taste.
As a welcome counterweight to the more traditional options, we loved how it contrasted vividly to the still-excellent Teeling and woody Knappogue Castle.
Ireland may be better known for its rained-soaked greenery than blue skies, but George Bernard Shaw once described whiskey as "liquid sunshine" and that works just fine for us. If you need us, we'll be over here sunbathing.
Voucher codes
For the latest discounts on whiskey, spirits and other drinks, try the links below:
Looking to cut back on the booze? These are the best alcohol-free spirits you should try
Register for free to continue reading
Registration is a free and easy way to support our truly independent journalism
By registering, you will also enjoy limited access to Premium articles, exclusive newsletters, commenting, and virtual events with our leading journalists
Already have an account? sign in
Register for free to continue reading
Registration is a free and easy way to support our truly independent journalism
By registering, you will also enjoy limited access to Premium articles, exclusive newsletters, commenting, and virtual events with our leading journalists
Already have an account? sign in