The Independent's journalism is supported by our readers. When you purchase through links on our site, we may earn commission.
11 best gaming keyboards: React quickly in the heat of the moment
These accessories mix eye-catching design with precise performance and a great typing experience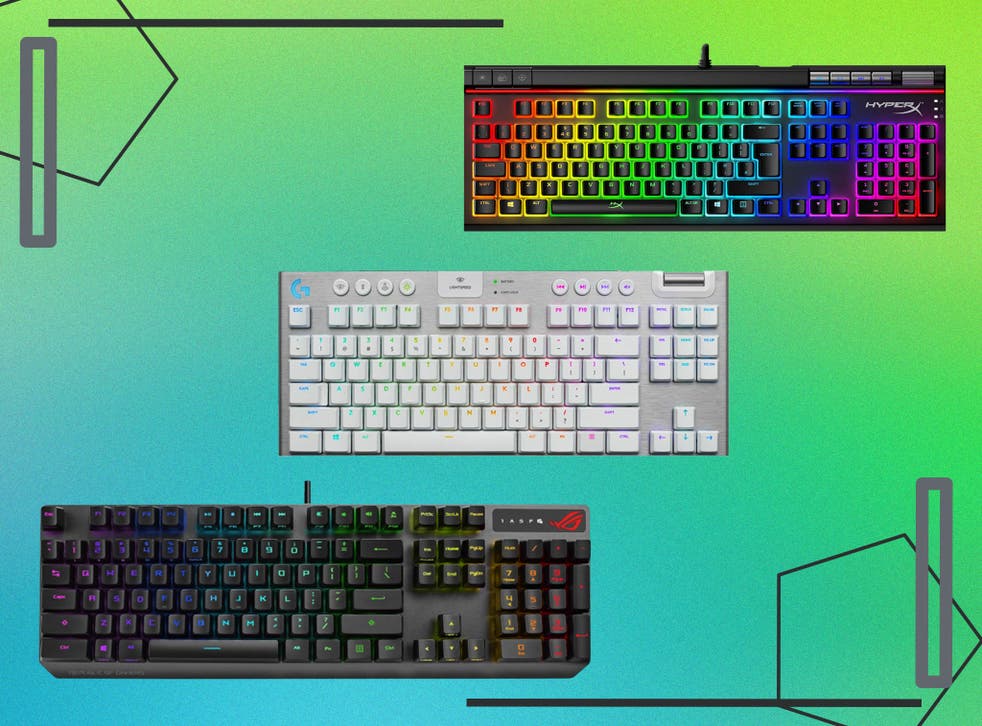 It's hard to believe that those designing early computer keyboards, based on the runaway success of the typewriter, would ever imagine a whole industry devoted to improving their performance for gaming. But in the 21st century, the keyboard and mouse is the chosen input combo for pro-gamers the world over, and as such there are plenty of options when shopping for the best keyboard.
While they can, of course, be used for regular word processing and web browsing, gaming keyboards are distinct from what you might find bundled with a PC for a handful of reasons. First, they're designed with gamers in mind, meaning they're incredibly responsive, allowing players to react quickly in the heat of the moment.
They also tend to have options like programmable keys (so that players can customise games to their liking), media shortcuts (for controlling music and video easily), and bright customisable RGB lighting that makes them more distinctive than your standard office keyboard. They may also have USB pass-throughs for accessories, and almost always let you push more keys at once than your average keyboard (something called "n-key rollover").
When buying a gaming keyboard, you'll quickly have to choose between mechanical or membrane. This refers to how the keys are built-in: mechanical keyboards have key switches that work independently of each other, while membrane keyboards all connect to the same circuit layer. In general, more expensive mechanical switches are regarded as better for gaming keyboards due to their responsiveness and durability, though their loud "clickiness" takes a little getting used to if you're used to a membrane device.
A lot of this will be down to personal taste, and different switches for mechanical gaming keyboards cater to resistance and sound tolerance – indeed, you can often choose which caps you want on the keyboard when you buy.
Read more:
How we tested
Still, in terms of overall feel, performance, features and style, these are the best gaming keyboards you can buy right now. We tested them over the course of a month with long-form writing and regular gaming breaks (mainly Hunt: Showdown and Cyberpunk 2077). When picking our favourites, we paid special attention to look, feel, key spacing, customisation and features to find our favourites.
The best gaming keyboards for 2021 are:
The verdict: Gaming keyboards
There's certainly an element of personal taste when picking the best gaming keyboard, but if space isn't at a premium, then for us the HyperX alloy elite 2 offers a great blend of style, customisation, easily reachable controls, and feel both when typing and gaming. At £140, it's well priced and a great all-rounder.
Other keyboards are worth considering, of course. The Huntsman V2 analogue combines Razer's longstanding build quality and features with the gamechanging introduction of analogue presses, but it comes at a cost that simply won't be worthwhile for most people. If you're on a budget, it's hard to fault the MSI GK50 elite, and if space is the main concern then the Asus ROG falchion should be your first port of call.
Voucher codes
For offers on gaming and tech products, try our discount code pages:
Need gaming gadgets that hold up under fire? Try the best gaming mice for speed, comfort and control
Register for free to continue reading
Registration is a free and easy way to support our truly independent journalism
By registering, you will also enjoy limited access to Premium articles, exclusive newsletters, commenting, and virtual events with our leading journalists
Already have an account? sign in