The Independent's journalism is supported by our readers. When you purchase through links on our site, we may earn commission.
9 best gaming mice for ultimate speed, comfort and control
Wireless or wired, lightweight and lightning-quick, these are the gadgets that hold up under fire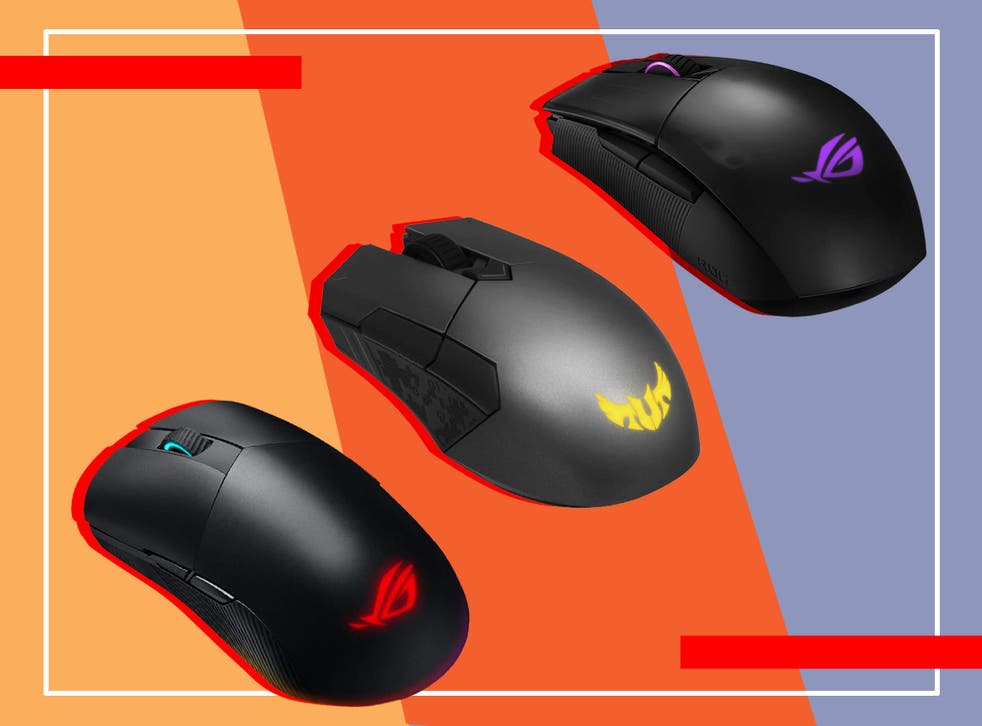 It's easy to assume that all mice work the same but that's actually very far from the truth now. When it comes to using one for gaming purposes, the difference between a regular mouse and a gaming mouse can be huge.
Predictably then, there are plenty of options out there when it comes to tracking down the best gaming mouse for your situation. Like with gaming keyboards, a gaming mouse can still be used for regular web browsing and everything else you might wish to do with your PC but they're also designed to be far more responsive.
With ergonomic layouts, additional programmable buttons and a sensitivity level that means you have a better chance of reacting quickly in a fast-paced game (assuming your mind can keep up), they're a worthwhile investment for avid PC gamers. That's why a handful of companies in particular have focused on the technology, refining the options available to players and ensuring there's something for every genre of game and purpose.
When buying a gaming mouse, there are plenty of things to consider. This includes whether you want a traditional wired style or a wireless one that will need charging at regular intervals. Both types have their own pros and cons, with the key to the best wired gaming mice being a long cable to avoid any chance of snags.
You'll also want to consider your budget, as it's possible to spend a small fortune on the latest gaming mouse – something only you know will know whether is worthwhile doing.
Read more:
There's also the matter of personal taste, as each mouse is shaped differently, accommodating different hand sizes and how bulky a device you wish to hold. Fortunately, most devices are now designed with both left and right-handed users in mind. Whatever you end up prioritising, these are the best gaming mice you can buy right now.
How we tested
We tested them over the course of a month, with regular gaming sessions including World of Warcraft, Overwatch, and Fortnite, among other more minor games. When picking our favourites, we paid attention to how comfortable they were to use, how responsive they were, along with how useful any additional features were.
The best gaming mice for 2021 are:
Gaming mouse FAQs
How to choose the best gaming mouse
Before you consider things like DPI and custom weighting, keep in mind that the best gaming mouse is the one that feels most comfortable in your hand.
Consider how you grip the mouse – do you use just your fingertips? Does the palm of your hand rest on the arch of the mouse? – then choose a mouse that's shaped around this grip style.
If your mouse feels too flighty and you find yourself consistently overshooting your targets, choose a mouse with an adjustable weight. These come with trays of weights that can be inserted to increase inertia, improving the smoothness of your cursor movements and reducing jerkiness.
Once DPI – or dots per inch, the resolution of the sensor the mouse uses to determine its position on the mat – goes above a certain threshold the returns on investment are diminished. All DPIs above 6,000-10,000 will feel the same in an FPS, with higher resolutions only really mattering when it comes to precise cursor movements in desktop apps.
After comfort, buttons are the most important factor in choosing a gaming mouse. They can replace the action of reaching to the keyboard to hit a button with a simple press of the finger.
What is DPI?
A higher DPI means the cursor will move further across the screen with less physical movement from you. The higher the better? Not exactly. It's important to find the right setting for you, which is why these gaming mice allow you to make adjustments so you can figure out what works best for how you play.
Are gaming mice worth it?
For esports champions playing at the highest level, where competition is tight and very little daylight separates the top competitors, choosing the best gaming mouse can mean the difference between winning and losing. But while a flashy gaming mouse isn't going to catapult us mere mortals into the premier leagues, a specialist mouse still has advantages over the cheap plastic brick that came with your Dell desktop 15 year ago.
If you're a dedicated FPS or MOBA player a gaming mouse is a worthwhile purchase. Customisable buttons that automatically adapt to suit whichever game you're playing offer quick access to in-game functions and abilities, giving you the edge in multiplayer matches, or just making your game a little more streamlined and fun.
Do you need a mouse pad to get the most from a gaming mouse?
You mostly need a mouse pad for the same reason you need a chopping board: to prevent wear and tear to the desktop surface underneath.
That said, the type of mouse pad you choose can have an effect on how well your gaming mouse performs, and while it technically works, the wood surface of your desk is not designed to be used with a mouse. The material of the mouse pad will interact with the base of the mouse to produce some degree of friction, and different materials will either reduce or increase this effect.
Low-friction fabric or plastic-based surfaces can improve accuracy and speed, though once your muscle memory adjusts to your own particular setup the differences between two similar mouse pads are marginal at best.
Is there a benefit to using a wired gaming mouse versus a wireless one?
Wired gaming mice transmit data with near-zero latency, that's the time delay between you moving the mouse and the cursor moving on screen. Wireless gaming mice take a few thousandths of a second to track your movements and transmit them over the air, which is imperceptible during normal activities but could conceivably make a small difference during fast-paced games.
Whether such a tiny input lag actually impacts on player performance hasn't been studied, but top-level professional gamers believe that it might. However, as wireless gaming mice have become lighter and latencies lower, even the best gamers in the world are moving towards wireless mice as their preferred peripheral.
The verdict: Gaming mice
The Razer viper 8K is the best of the bunch if you're keen to be as speedy as possible while enjoying a delightfully lightweight design. However, if you're on more of a budget, the Corsair katar pro XT will still thrill, thanks to a responsive design that should last you a long time no matter what games you play.
Voucher codes
For offers on gaming mice and other tech offers, try our discount code pages:
Looking for your next game but don't know where to start? Read our take on the best PC games to play right now
Register for free to continue reading
Registration is a free and easy way to support our truly independent journalism
By registering, you will also enjoy limited access to Premium articles, exclusive newsletters, commenting, and virtual events with our leading journalists
Already have an account? sign in
Register for free to continue reading
Registration is a free and easy way to support our truly independent journalism
By registering, you will also enjoy limited access to Premium articles, exclusive newsletters, commenting, and virtual events with our leading journalists
Already have an account? sign in