The Independent's journalism is supported by our readers. When you purchase through links on our site, we may earn commission.
Best two-in-one laptops
Stuck for choice between a laptop and a tablet? Look no further than this roundup of the best machines that combine the two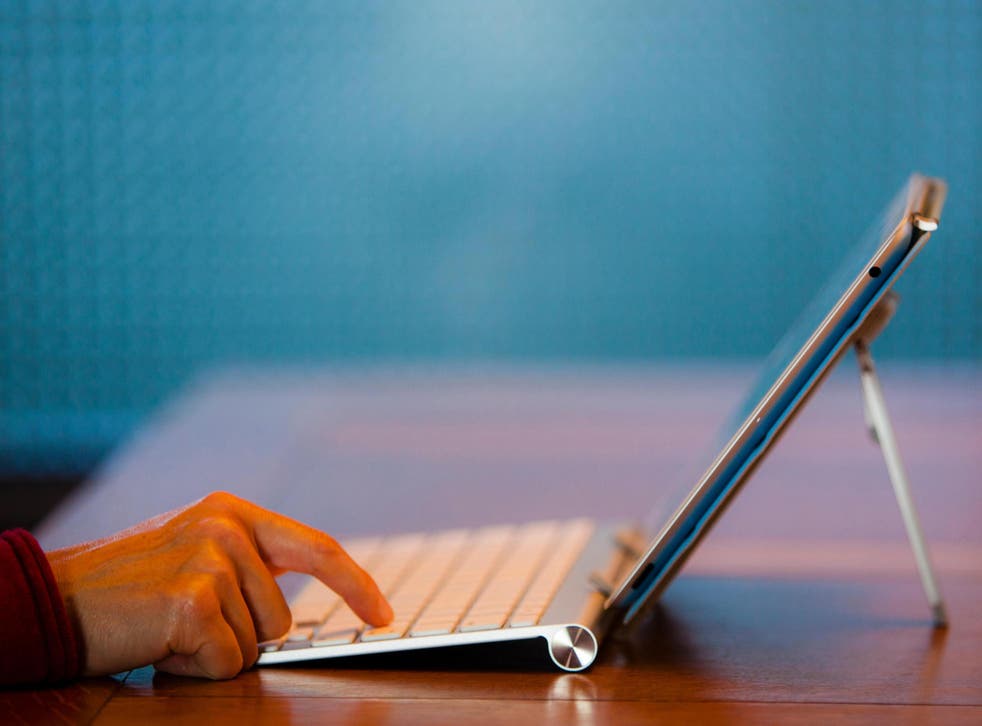 Sometimes it's hard to choose between a laptop and a tablet. You might want to draw with a stylus and tap the screen in a game, perhaps. Or you may need a keyboard so you can type a long document.
Two-in-one machines gives you the best of both worlds, with a keyboard that folds back through 180 degrees to sit on the back of the screen, creating a thick tablet.
In some cases, the display part detaches to be used in tablet mode. And several two-in-one's have other positions they can be used in, such as a in a tent position for watching videos, say.
Some tablets can be turned into two-in-one gadgets by the addition of a dedicated keyboard. These are known as hybrid laptops as well as falling into the two-in-one category.
The best examples include the Samsung Galaxy Book, the Microsoft Surface Pro and, since the radical upgrade to its software last autumn which means it functions almost like a fully-fledged laptop, the Apple iPad Pro. All have optional keyboards which attach magnetically and are transformative.
Battery life is an important consideration and manufacturers are now insisting their machines can manage impressive figures. But note that if you're online, running demanding programmes like games, say, and with stuff going on in the background that is using the processor heavily, you won't get anywhere near the times quoted here.
Microsoft Surface Book 2: From £1,149, Microsoft
Display size: 13.5in
Keyboard removable? Yes
Touchscreen? Yes
Battery life 17 hours
Storage 128GB​
The slickest two-in-one machine is made by software manufacturer Microsoft as part of its outstanding if small range of hardware.
This is the second edition of the Surface Book which matches a striking design – magnesium build and cool hinge between lid and base – with impressive power and attractive display. Though the outside looks like the previous model, a significantly improved processor and other components inside have helped add to its already strong performance.
The screen section removes with a simple click and provides an excellent tablet mode – though since some of the computer power and battery reside in the base, it functions better when both sections are assembled.
The keys on the keyboard are well spaced and have plenty of travel and the trackpad is much bigger than most Windows laptops offer. As with the Pixelbook below, a stylus is available for the Surface Book 2, called Surface Pen, available in burgundy, platinum and aqua colour finishes. It's sold separately for £99.
Battery life is strong and this is a powerful, speedy machine – though it's not cheap. A model with a larger screen, 15 inches, is also available.
Google Pixelbook: From £749, Google
Display size: 12.35in
Keyboard removable? No
Touchscreen? Yes
Battery life 10 hours
Storage 128GB
Google's laptop measures 10.3mm thick when closed. It has a 12.3in display which rotates round to the back for tablet use, though it doesn't detach. This laptop uses Google's own Chrome operating system, originally designed to be continuously connected to the internet but now very capable when not online, too. It also works with Android apps.
It looks and feels very slick, with features such as the gently backlit, quiet-to-type-on keyboard which is extremely comfortable and good to use. For drawing onscreen there's a capable, responsive and elegant stylus, the Pixelbook Pen (£99 extra, mind, but definitely worth having).
Google Assistant, the company's voice-activated helper, is built in, with a dedicated key to wake it. Battery life is as long as a tablet with 10 hours quoted. Additionally, you can charge the battery for 15 minutes to get 2 hours' use.
You can customise your Pixelbook by choosing a model with more storage, 256GB for £1,199; or a faster processor, extra RAM and 512GB of storage for £1,699. Note that though this is a Chrome OS machine, it may be about to become more versatile as there are rumours it will one day run Windows as well.
Lenovo Yoga 920: £1,199.95, John Lewis
Display size: 13.9in
Keyboard removable? No
Touchscreen? Yes
Battery life 15.5 hours
Storage 256GB
The Yoga 920 is well built and feels solid, though it's also pleasingly thin and reasonably light. Hinges go all along the edge, looking stylish and allowing the 920 to fold completely flat and then back on itself through 180 degrees.
The screen doesn't detach but the Yoga 920 is thin enough that it's easily manageable with the screen folded back on itself. Lenovo's Active Pen stylus is attractive and effective, and comes with a holder to attach to the computer. This does not make it impossible to lose, please note.
The display, at 13.9 inches, is a good midway point between 13in and 15in models and the screen itself looks very good. Dolby has had a hand in audio quality and that's also very strong.
Acer Chromebook R 11 CB5-132T: £229.99, Currys
Display size 11.6in
Keyboard removable? No
Touchscreen? Yes
Battery life 9.5 hours
Storage 32GB
This is another Chromebook and it's keenly priced. It bends back on itself but does not resolve into two parts and is well constructed throughout. The finish can be a little plasticky, but it feels good and the metal panel on the top looks classy.
The display is bright and detailed, too. Chromebooks sometimes have limited storage on board, as here, because the 100GB of free Google Drive storage in the cloud is where you'll keep most stuff. This keeps the cost down.
As does the choice of processor which is by no means slow but lacks the real performance grunt of the Pixelbook above. Battery life is good, not least because Chrome OS is known for being efficient. As smaller laptops go, this is a highly affordable, decent machine.
HP Envy x2: From £999, HP
Display size: 12.3in
Keyboard removable? Yes
Touchscreen? Yes
Battery life 22 hours
Storage 128GB
HP quotes a huge battery life for this machine. Even if the actual time between charges is a couple of hours short of that, it's still tremendous and obviously more than you could use at one sitting unless you were on a flight to Australia, perhaps.
It works more like a tablet with keyboard attached, like the Surface Pro, than a standalone laptop and the keyboard doubles as a kickstand and protective case, complete with clip for the stylus.
It has a slot for a 4G sim card, so you can use it to stay connected almost everywhere. It's also light and thin enough to make it especially portable.
Apple iPad Pro: From £619, (Smart Keyboard £159), Apple
Display size: 10.5in
Keyboard removable? Yes
Touchscreen? Yes
Battery life 10 hours
Storage 64GB
The iPad Pro is a tablet which, by the addition of the Smart Keyboard and Apple Pencil stylus, both sold separately, offers capabilities absolutely on a par with a regular laptop.
It wasn't always like this, but the addition of multitasking features, a dedicated Files app for storage and useful software programmes for word processing, spreadsheets, presentations and more have changed the game.
The high-resolution display and super-slim profile you'd expect from an Apple tablet help to make this a valid laptop alternative, especially if you opt for the larger model with a 12.9in display. You can also choose a wi-fi only model or one with cellular connectivity if you want to install a sim card.
The detachable keyboard is not backlit but it's extremely comfortable and highly usable. Similarly, the £89 stylus is elegant and effective. The iOS operating software means there are over a million apps available for the iPad Pro.
Microsoft Surface Pro: From £749 (Type Cover Keyboard £124.99), Microsoft
Display size: 12.3in
Keyboard removable?
Touchscreen? Yes
Battery life 13.5 hours
Storage 128GB
This is a tablet, running Windows, which really comes into its own when you team it with the Type Cover keyboard, which is a comfortable QWERTY that's been considerably improved over its previous version.
The display is one of the best on test, looking gorgeous and colourful, richly detailed and sharp. The Surface Pro has a built-in kickstand so you can angle the screen as you need it, as effective for watching video as for lying it flat and typing on if you don't have the Type Cover to hand.
Surface tablets have always exhibited real versatility and this is the most advanced yet. It's also the best looking Surface so far and matches lightweight with serious power inside.
Samsung Galaxy Book: From £1,099, John Lewis
Display size: 12in​
Keyboard removable? Yes
Touchscreen? Yes
Battery life 11 hours
Storage 128GB
Samsung's tablet with a (very comfortable) detachable keyboard is highly versatile. Both the keyboard and S-Pen stylus are included in the box. This hybrid doesn't have the high-quality build of some models here, but this is an attractive machine with a lot going for it.
The display is excellent, making movie playback look amazing, and everything else look the best it can. The design of the Galaxy Book is similar to Samsung's tablets, which is no bad thing. Samsung's knowhow at matching components for strong performance is in evidence here and this is a highly competent machine.
Samsung Galaxy Tab S4: From £599.99 (Book Cover Keyboard £119), Samsung
Display size: 10.5in
Keyboard removable? Yes
Touchscreen? Yes
Battery life 16 hours
Storage 64GB
The new Samsung Galaxy Tab S4 (currently available to pre-order) is a highly accomplished tablet with an accompanying keyboard available separately. It also comes bundled with a sophisticated stylus, the S-Pen.
Unlike the Galaxy Book above, this one runs on Android, the operating system familiar from many smartphones. The display is Super Amoled, a technology Samsung knows well, and it looks remarkably good: pin-sharp, bright and vivid.
As well as the keyboard, Samsung has a programme called DeX which lets you dock your tablet with a full-size monitor and use an external keyboard and mouse if you wish, though again these are accessories available separately.
It's fast and effective, not least because it has more active memory than some rivals and unlike the iPad Pro, there's no fingerprint sensor, which makes for smaller bezels on the display.
Instead, it uses Intelligent Recognition, which is a combination of facial recognition and iris scanning. A model with a sim card slot for 4G connectivity is also available, for £649. It goes on sale on 10 August, but those who pre-order can snag the keyboard cover free.
Dell XPS 15: From £1,699, Dell
Display size: 15.6in
Keyboard removable? No
Touchscreen? Yes
Battery life 15 hours
Storage 256GB
Narrow bezels round the display mean Dell can boast this is the smallest laptop there is which offers this size screen. That screen is certainly big, and while it looks good, there's also a model with a 4K display which is even better.
The slim bezel at the top of the screen means the webcam has been moved to the base, near the hinge, which can mean video calls feel like they're pointing up your nose. Dell also says it's the slimmest laptop for its size and it feels very svelte.
This laptop is also a strong performer that is fast and responsive whether you're typing documents or something more power-hungry, like editing video. Note that if you are doing something demanding power-wise and you've plugged in to the wall, the built-in fans are quite loud.
The Verdict: Best two-in-one laptops
Do you want a laptop that's so versatile the screen folds round the back, or even more, so the screen comes right off? If the former, the Microsoft Surface Book 2 is the best choice: powerful, beautifully designed and reliable.
And the Google Pixelbook is also fantastic, though it runs on Chrome OS only, even if there are strong rumours that may change one day.
If the latter, well, there's a lot of machines to choose from, including the Surface Pro which is powerful and has a wonderful display.
Register for free to continue reading
Registration is a free and easy way to support our truly independent journalism
By registering, you will also enjoy limited access to Premium articles, exclusive newsletters, commenting, and virtual events with our leading journalists
Already have an account? sign in
Register for free to continue reading
Registration is a free and easy way to support our truly independent journalism
By registering, you will also enjoy limited access to Premium articles, exclusive newsletters, commenting, and virtual events with our leading journalists
Already have an account? sign in