The Independent's journalism is supported by our readers. When you purchase through links on our site, we may earn commission. Why trust us?
The Ted Lasso season finale is upon us, here's where to watch it in the UK
The 12th episode of the third and final season might be AFC Richmond's last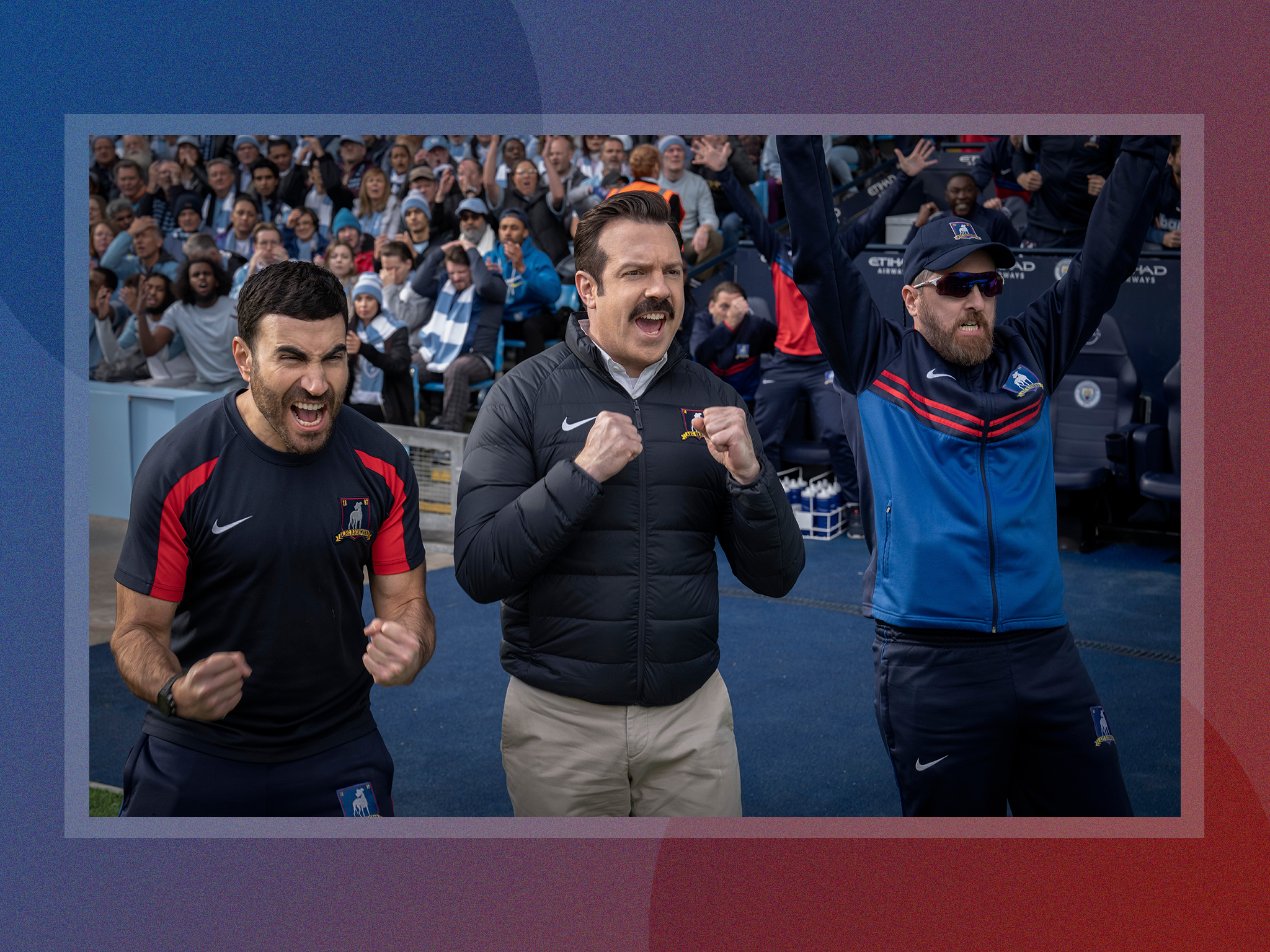 The hit Apple TV+ comedy Ted Lasso is about to come to an end for another season, or potentially even forever, when the streaming service drops the 12th and final episode of season three next week.
The show, about the overly optimistic, always jovial American coach Ted Lasso (Jason Sudeikis) turned Premier League football manager, has been nominated for a gazillion Emmys and is arguably the show that put Apple TV+ on the map.
The penultimate episode of the show, which premiered on 24 May, ended on a cliff hanger, with Ted revealing to Rebecca in his office that he had a "truth-bomb" to deliver, and it might be that he's decided to leave AFC Richmond.
Ahead of the finale, reputable Apple insider Mark Gurman revealed that Apple is reportedly about to start selling the Nike/Ted Lasso merchandise directly through its online store for the first time in early June. The AFC Richmond kit and associated apparel is currently out of stock on Nike's website.
Just like our fictional Independent colleague Trent Crimm, we've got all the details on when and where you can watch the 12th and final episode of Ted Lasso season 3, and whether the third season will be its last.
How to watch 'Ted Lasso' season 3 episode 12 in the UK
The Ted Lasso season 3 finale will premiere on Apple TV+ on Wednesday 31 May at 5am here in the UK. Episode 12 is titled So Long, Farewell and lasts roughly an hour. The official plot synopsis simply reads: "AFC Richmond play their final match of the season". But will it be AFC Richmond's final match ever?
Will 'Ted Lasso' season three be its last?
That's the question everyone's asking. Things seem to be leaning that way, given comments Sudeikis and other cast members have made in the past, and the events that occurred in episode 11. But Apple TV+ has seemed surprisingly reluctant to confirm whether season 3 is the last itself.
In March 2023, Sudeikis essentially confirmed that it would be the end of the show in and interview with Deadline. "This is the end of this story that we wanted to tell, that we were hoping to tell, that we loved to tell," Sudeikis said. "The fact that folks will want more and are curious beyond more than what they don't even know yet – that being season 3 – it's flattering."
"Maybe by 31 May, once all 12 episodes of the season [have been released], they're like, 'Man, you know what, we get it, we're fine. We don't need anymore, we got it.' But until that time comes, I will appreciate the curiosity beyond what we've come up with so far," Sudeikis added.
Brett Goldstein, who plays Roy Kent and is the co-writer of the show, also said similar in an interview with The Sunday Times in June last year. When asked if season three was the end, he told the paper: "We are writing it like that. It was planned as three".
Fans are speculating that if Ted Lasso season three is going to be its last, Apple TV+ might release a spinoff show in the world of AFC Richmond, but without Ted Lasso himself. That's yet to be confirmed, but we'll let you know if we hear more. For now, you can watch all three seasons of Ted Lasso on Apple TV+.
Voucher codes
For the latest discounts on TVs and other tech offers, try the links below:
Your TV doesn't support apps? Give it a new lease of life with one of the best streaming devices
Compare the best broadband and tv deals with Independent compare