The Independent's journalism is supported by our readers. When you purchase through links on our site, we may earn commission.
12 best PS5 accessories that will enhance your gaming experience
From controllers to memberships, here's everything you need to give yourself a gaming edge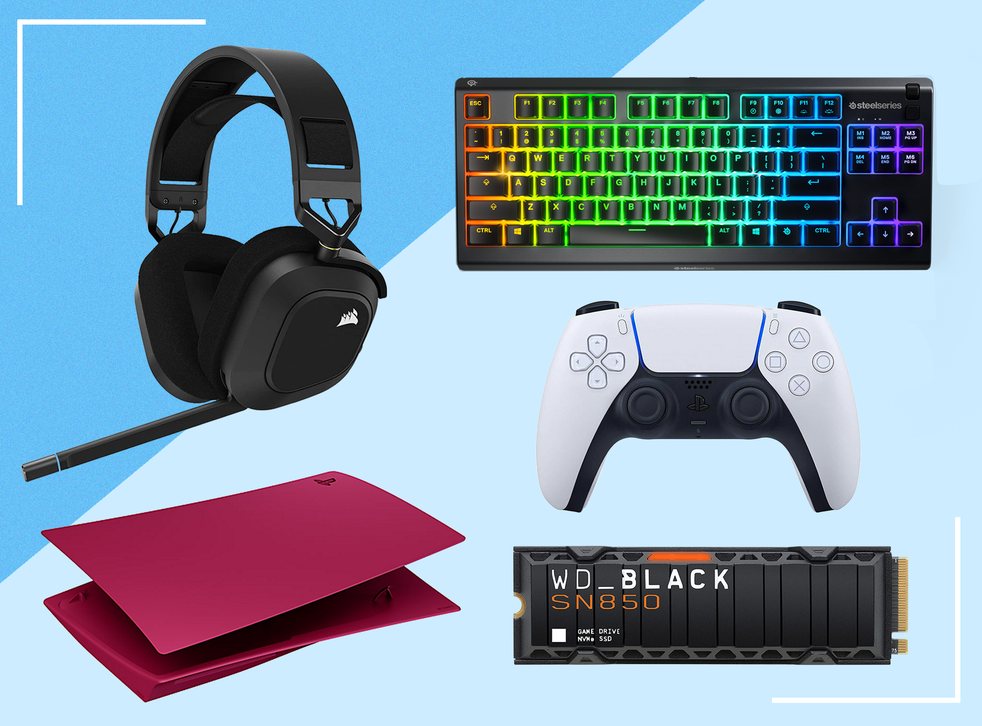 The PlayStation 5 comes with the essential accessories you need, whether you buy the digital or disc edition of the console. Including a controller, HDMI 2.1 cable, and power leads is – in theory – all you need, but that's only half the story.
Do you plan on gaming with friends and family on the same console? Then, you need a second controller. Alternatively, if you want to play online, a pair of gaming headphones can help, while a media remote can turn your PS5 into an all-in-one streaming device.
The PlayStation 5 accessories field is still fairly slight but there's a growing number of useful accessories that will enhance what you can do with it.
You may have also found that you're running out of storage space now that you've owned your PS5 a while. That's where support for internal hard drives is hugely helpful, providing you purchase the right one.
Before diving in and buying everything, it's important to think about what you actually need. Not every gamer will need everything here, so prioritise what you need most. For instance, if you solely play games online, an extra controller isn't much use and a new cover case is fun but hardly essential. Here are some ideas of what may work for you.
Read more:
How we tested
We tested a range of the PS5 accessories over a number of weeks (and in some cases, months) while playing games on the system, including Overwatch, God of War, and Fortnite in attempt to find the best add-ons you can buy right now.
The best PS5 accessories for 2022 are:
The verdict: PS5 accessories
The Sony PlayStation 5 dualsense controller is the best choice for the majority of users thanks to it giving them a way to play games with others on the sofa. It's a well-designed controller that feels good in your hands and provides some unique features such as its pressure sensitive triggers and haptic feedback that just don't feel the same elsewhere.
The dualsense controller is also available in a range of colours, including red (£59.85, Shopto.net), blue (£60.85, Shopto.net) and pink (£64.99, Amazon.co.uk). However, these are more expensive than the regular white and black model, with a recommended retail price of £64.99.
When your controller is so vital to your ability to do anything on the PlayStation 5, it makes sense then that the Sony PlayStation 5 dualsense charging station is the next most essential accessory. It'll keep your setup looking tidy while also making it miles easier to recharge your controllers.
Voucher codes
For discounts on gaming products and offers on consoles, try the links below:
After Sony's elusive PlayStation 5 console? Here's where to buy a PS5, restock updates and how to pre-order in the UK
Register for free to continue reading
Registration is a free and easy way to support our truly independent journalism
By registering, you will also enjoy limited access to Premium articles, exclusive newsletters, commenting, and virtual events with our leading journalists
Already have an account? sign in
Register for free to continue reading
Registration is a free and easy way to support our truly independent journalism
By registering, you will also enjoy limited access to Premium articles, exclusive newsletters, commenting, and virtual events with our leading journalists
Already have an account? sign in