The Independent's journalism is supported by our readers. When you purchase through links on our site, we may earn commission.
10 best summer duvets to keep you cool even on the balmiest nights
From silk to wool, beat the heat with these lightweight and breathable coverings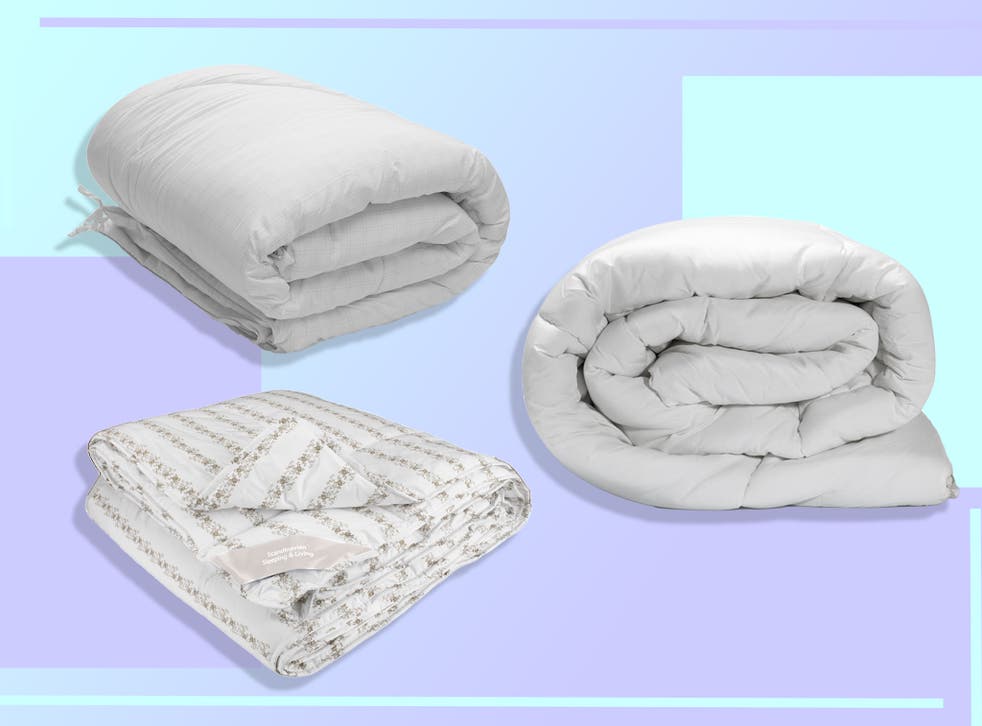 Complaining about the weather is as British as fish and chips. We moan about the rain, and then when the sun shows its face, we complain we're too hot. Fans disappear from shelves and we go about our days like a bear with a sore head because we say the heat kept us up all night.
Attempting to survive on a few hours of sleep is no fun but we'd better get used to hotter days. Heatwaves, like the one in summer 2018 when temperatures peaked at 35.3C, are now 30 times more likely because of the climate crisis.
This year, the Met Office updated its heatwave temperature thresholds across eight counties ahead of the summer in response to global warming. Six counties, including Surrey, Buckinghamshire and Bedfordshire, are moving from a 27C threshold to 28C, Lincolnshire from 26C to 27C and East Riding of Yorkshire from 25C to 26C.
Sleeping with one leg out of the covers just won't do if you're under a heavy duvet. A summer duvet is a must. These lighter, thinner versions should provide just the right amount of coverage without adding too much weight or heat and, above all, they should be breathable.
With summer just around the corner, now is the time to get your bed warm weather ready.
Read more:
How we tested
April's warm days created the perfect conditions for testing these summer duvets. Each has been used for several nights to allow us to figure out how well they could provide comfort and cover in summer without adding too much heat or weight. Besides how they helped us sleep, we've rated each on the quality, filling, materials used and ease of care.
The best summer duvets for 2022 are:
Summer duvet FAQs
What type of duvet is best for summer?
When it comes to choosing the perfect summer duvet for you, it's important to consider the material it is made of. Natural duvets, like those that have duck and goose feather filling as well as down, tend to be more insulating, which means they can feel much warmer with less filling. But, if you pick one with a low tog, it could still be suitable for the summer months as they are remarkably breathable. When your duvet has a higher down-to-feather ratio, it will be more lightweight.
Wool duvets are chunkier, denser and hypoallergenic. And, while they are typically reserved for winter, they retain air well, which can keep you cool in the summer too.
Alternatively, synthetic duvets are filled with hollow fibres or microfibres. The former is more effective at trapping warmth, while the latter is a higher quality option that mimics down filling but with a more lightweight feel, which makes them great choice for those who want lighter duvets, or suffer from allergies.
What tog is a summer duvet?
The higher the tog rating, the warmer the duvet. So, when shopping for a summer duvet for your bedroom, an ideal tog rating is 4.5 or less.
However, you can also buy specially designed cooling duvets that are perfect for summer, which can measure up to 11 tog.
Do duvets keep you cool in summer?
Sleeping in the heat can affect even the deepest of sleepers and, while some people simply choose to sleep under a sheet during the summer months, there are others who still prefer to use a duvet.
If you fall into the latter category, the good news is that it is possible for a duvet to keep you cool. The weight, or tog, of the duvet will play a significant role, so make sure to invest in one that measures no more than 4.5 tog, or choose an all-seasons duvet that you can alter depending on the weather.
Some more high-tech styles are even made with Nasa-designed thermoregulating technology that help regulate your temperature by absorbing heat away from your body, and then returning it to you if you happen to get a chill.
The cover you use matters too, as some fabrics will help to keep your body at a more consistent temperature through the night than others. Linen and cotton are both ideal for sleeping in the heat as they are woven from natural fibres that breathe really well, which is key for staying cool.
However, linen is often the top choice as it is also a natural temperature regulator and insulator, which means it actually keeps you cooler in the summer and warmer in winter.
The verdict: Summer duvets
It may seem strange that the very idea of our best overall buy cancels out the idea of having separate winter and summer duvets, but it really wowed us with its quality and smart features. The Simba hybrid duvet is definitely the one we'd recommend to people who lack the space to store a second duvet when the other is in use, and we think the eco-credentials are brilliant. It's the kind of duvet that's got us wondering where it's been all our lives.
For ultimate luxury during the summer months, we'd choose the Feather and Black Hungarian goose down duvet, which is beautifully made and brilliant for temperature regulation, and the Sleep.8 S8 cooling sensation thin duvet for those who are not fans of down and feather.
Voucher codes
For offers on homewares and discounts on bedding, try the links below:
If you're struggling to get a good's night kip at the moment, here's our guide to the best sleep aids
Register for free to continue reading
Registration is a free and easy way to support our truly independent journalism
By registering, you will also enjoy limited access to Premium articles, exclusive newsletters, commenting, and virtual events with our leading journalists
Already have an account? sign in
Register for free to continue reading
Registration is a free and easy way to support our truly independent journalism
By registering, you will also enjoy limited access to Premium articles, exclusive newsletters, commenting, and virtual events with our leading journalists
Already have an account? sign in