The Independent's journalism is supported by our readers. When you purchase through links on our site, we may earn commission.
14 best car seats: Keep your child safe and secure in one of these carriers
Steer yourself in the direction of one of these boosters to keep little ones safe on every journey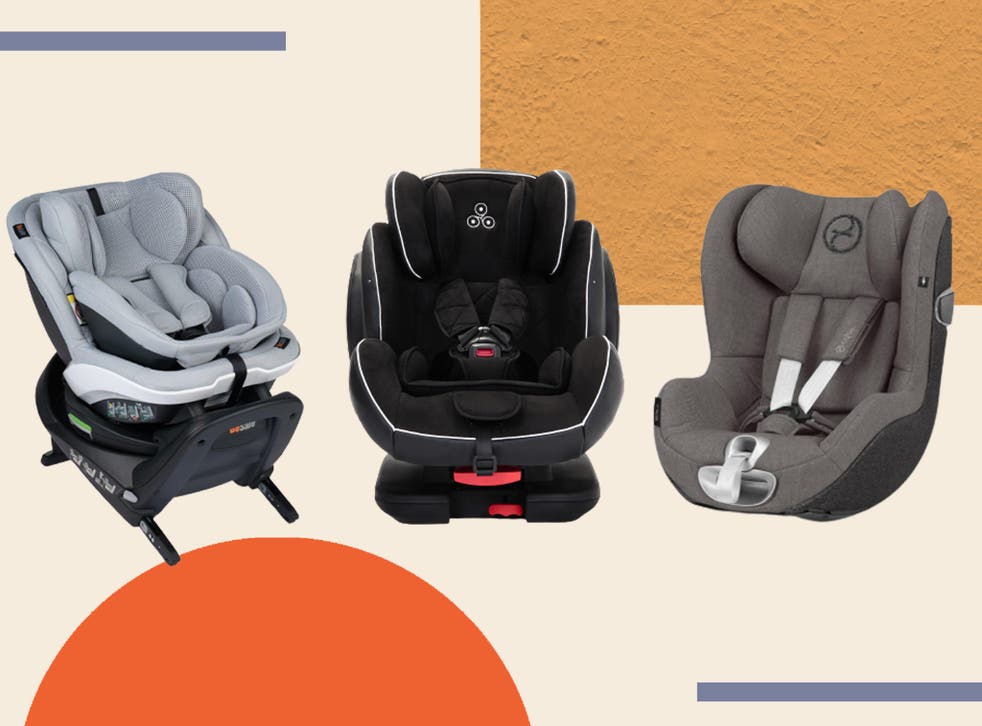 Becoming a parent is pretty bamboozling. There is so much information. Always. Everywhere. Car seats is a particular area where the information and choice can feel overwhelming.
Yep, there are a lot of car seats out there, and a lot of jargon to go with it. But fear not, help is at hand – we've put together an easy-to-understand guide and tried many, many car seats to find the best ones.
So what are the main things to think about when buying a car seat? Let's start with the legal bit. It is the law that all children must use a car seat to travel in the car until they're 12 years old or more than 135cm tall – whichever comes first. Yep, you're in it with car seats for the long haul, so it's best to get to grips with it all.
Rebecca Needham, Road Safety Officer for England at Royal Society for the Prevention of Accidents (RoSPA) says, "The child seat you choose must conform to the United Nations standard [ECE Regulation 44.04 (or R 44.03) or to the new iSize regulation, R129 – more on that later], be suitable for your child's weight and size, be compatible with the vehicle or vehicles it will be fitted in and lastly be correctly fitted according to the manufacturer's instructions."
Most car-seat manufacturers have somewhere on their website where you can check if a seat is compatible with your car. It's really important to check this before you buy. Some retailers will also fit your car seat for you.
Read more:
It's recommended that babies don't sit in their car seat for longer than two hours at a time. So if you go on long car journeys, be sure to take regular breaks. And it isn't recommended to buy a second-hand car seat because you wouldn't know their history and they might've been in an accident, plus seats degrade with use and time.
We tested a huge range of car seats to find the very best. We tried them in different sized cars to see how much space they took up, and we tried multi-age seats on different aged children.
We installed them and uninstalled them – looking at how easy the process was, and we literally weighed them up to see how easy they were to lug about. All this has meant we can safely say these are the best of the best car seats you can buy.
The best car seats for 2021 are:
Car seats FAQs:
Fran Vaughan, managing director of Ickle Bubba, answered our questions:
Safety standards explained
Car seats used in the UK must adhere to two standards: ECE R129, which is the latest regulation, or ECE R44. You can choose which type you want to go with.
Car seats that adhere to ECE R129 are called iSize seats. These seats are fitted against your child's height and ensure children are rear facing until they're 15 months old. Rear-facing travel is optimal for babies and children because it offers more protection for their necks if a collision does occur. All iSize seats have Isofix as standard and have side-impact collision testing as part of the approval process.
ECE R44 seats are fitted based on your child's weight. Many allow your child to face forward from 10 months, and some allow you to fit the seat using just a seat belt. This is handy if your car doesn't have Isofix fixings. These seats aren't required to have side-impact collision testing as standard.
What is Isofix?
Isofix is a way for a car seat to be secured into your car. It's designed to make fitting the seat easy, as research shows many older car seats are fitted incorrectly, which makes the seat unsafe. Car seats with Isofix have connectors that come out of the back of the seat and slide into your car's Isofix fitting points. Many seats then have a green indicator or lights (usually in the base) to let you know the seat is securely fitted in place. Isofix anchors the car seat to the chassis of the car, locking it in place more securely than if you were to use just a seat belt. Often an additional top tether or support leg is then used to stop the seat tipping forward.
How do I know when my child is too big for their car seat?
Figuring out when your child is ready for the next size of car seat is relatively straightforward. With iSize seats, it's based on height:
iSize baby – suitable from birth to 85cm (this tends to be around 15-18 months)
iSize baby and toddler – suitable from birth to 105cm (this is around four years of age)
iSize toddler – suitable from 65cm to 105cm (around 15 months to four years)
iSize child – suitable from 100cm to 135cm (around four years to 12 years of age, when they aren't required to travel in a seat any more)
For the R44 seats, seat sizes are based on weight and go up in groups:
Group 0/0+ – suitable from birth to 13kg (up to about 15 months)
Group 0+/1 – suitable from birth to 18kg (up to about 4 years)
Group 0+/1/2 – suitable from birth to 25kg (up to around 7 years
Group 1 – suitable from 9kg up to 18kg (from about 9 months to 4 years)
Group 1/2/3 – suitable from 9kg up to 36kg (from about 9 months to 12 years of age)
Group 2/3 – suitable from 15kg to 36kg (from about 9 months to 12 years of age)
Group 3 – suitable from 22kg to 36kg (from about five years to 12 years of age)
Your child may not fit the seat based on their age. It really depends on their weight or height, so it's important to measure or weigh your child to check.
Multi-group seats are great for those who have different age children using the seat, such as childminders or grandparents.
Why are car seats for babies' rear facing?
It's generally much safer. When babies are sitting in a rear facing car seat, the shell acts as a protective shield and absorbs any force, should there be an accident. As a result, the impact would spread over the whole area of the child's back, neck and head, putting significantly less strain solely on the babies' neck.
What age should kids start to sit forward facing?
Legally, kids should only turn forward facing once they weigh 9kg and at this stage they will sometimes require a new car seat depending on the model. However, many studies have recommended that children should stay rear facing for longer than the legal requirement and in some cases up to four-years-old.
Will I need a base to fit the seat into my car?
When it comes to safety testing, car seats in the UK have to conform to one of two standards: ECE R129 is the newest European-wide regulation, known as i-Size. This runs alongside the existing ECE R44 regulation, and parents can choose either seat type to use.
i-Size uses your child's height for fitting, and in order for a car seat to be i-Size compatible, it must be used with an Isofix base. Other car seats that far under the ECE R44 regulation are split into groups based on weight, and don't need a base.
What tips do you have for buying car seats at the various different stages?
Monitor the weight and height of your child regularly to ensure you are using the correct car seat. Don't rely on visual indicators only.
What's the most important thing to look for in a child's car seat and why?
Check that it meets ECE safety standards. A sticker is normally located on the car seat to indicate this. Also, make sure the car seat is compatible with your vehicle. Most are universal fitting, but it's best to check before you purchase.
The verdict: Car seats
The Silver Cross motion is hard to beat – it covers all ages and offers great protection, plus feels really premium.
Voucher codes
For the latest offers on baby tech and other kids' essentials, try the links below:
We tried the Artipoppe zeitgeist baby carrier owned by Princess Eugenie – read our review to find out what we thought
Register for free to continue reading
Registration is a free and easy way to support our truly independent journalism
By registering, you will also enjoy limited access to Premium articles, exclusive newsletters, commenting, and virtual events with our leading journalists
Already have an account? sign in
Register for free to continue reading
Registration is a free and easy way to support our truly independent journalism
By registering, you will also enjoy limited access to Premium articles, exclusive newsletters, commenting, and virtual events with our leading journalists
Already have an account? sign in