The Independent's journalism is supported by our readers. When you purchase through links on our site, we may earn commission.
9 best kids' roller skates and blades that they won't want to take off
Our little testers spent hours zooming around the park and house to find the top performing pairs for both beginners and advanced skaters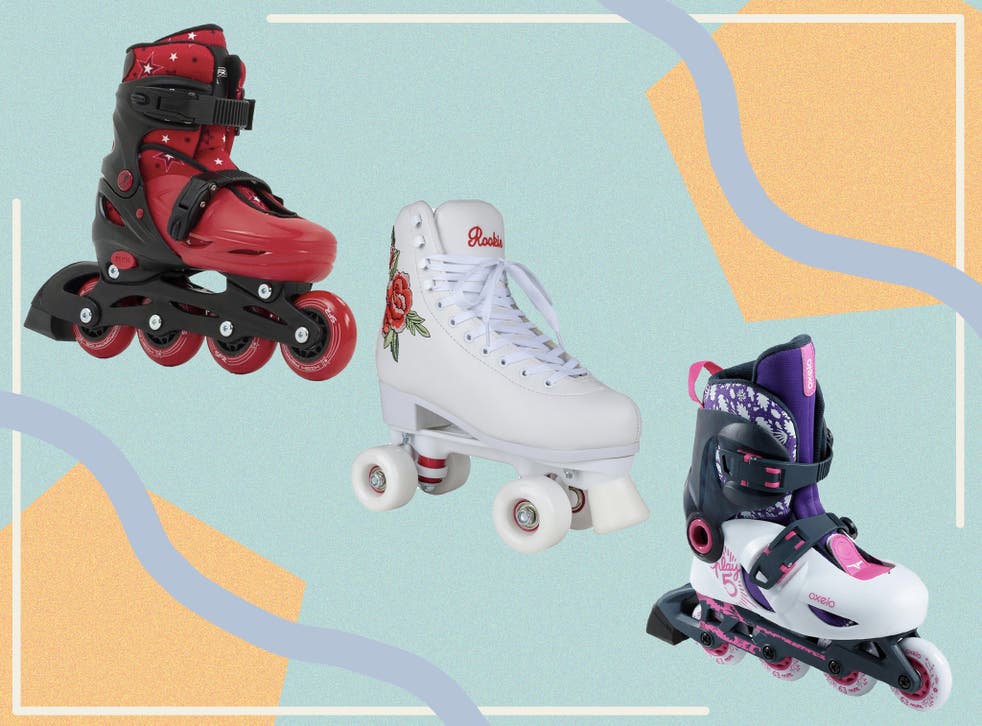 We know we're not alone in pleading with our children to leave the house – all the more important when it's cold, wet, or the kids aren't getting their usual dose of fitness due to school and camp closures.
We may have found the ideal solution for encouraging them to stay active, and keep it fun: roller skating and rollerblading (also known as inline skating).
The roller skating revival has been a peak lockdown obsession for TikTok and Instagramming teens ogling viral roller skaters Ana Coto and Oumi Janta, whose dreamy, pastel-hued vids showcase skate life in all its athletic, grooving glory.
It's not too early for kids aged five and up to get started in skating (even three-year-olds who are keen, and proficient at scooting, can give it a go). Both roller skating and inline skating offer low-impact aerobic benefits, helping improve fitness much like jogging, while developing leg and core strength in kids. 
Read more: 13 best kids' shoe brands that don't sacrifice style for comfort and support
Plus, these activities don't require a parent to lug a bike around when a child decides they've had enough.
Prices for popular brands vary widely, starting in the £20 range for budget blades and costing upwards of £100 for designer varieties. Note: some of the pricier pairs are built to last, with replacement parts you can purchase, so you won't have to buy a whole new pair if a part breaks. With roller skates and rollerblades typically sized to accommodate kids for a few years, children can get quite a lot of wear out of each pair, plus they can easily be passed down to younger siblings. 
Having half-heartedly attempted to teach the kids to skate a few times before, we've learned that it does take a bit of practice. And don't let the cold stop you – in fact, ice skating and skiing will complement rollerblading beautifully. 
If you're not sure whether to go for roller skates or inline skates, think about why you want the kids to learn: roller skates have more surface area contact, so they're easier to use on wooden floors, but trickier on bumpy surfaces outdoors.
Read more: 9 best kids' audio players that helps reduce screen time
Andreas Kolattek has been teaching rollerblading for the past 25 years and works with London-based Zebra Skate Camp, which runs camps and 1:1 sessions. He says: "The main reason we concentrate on inline skating in the camps is because most parents want kids to use skating as a form of transport instead of a bike. Rollerblading is much easier outside than roller skating."
Rollerblades aren't just better for outside surfaces, they can also pick up more speed as you become more advanced. Kolattek likens inline skates to motorbikes thanks to their ability to go faster, while roller skates are more like cars – stable, yet slower. Having racked up an impressive 300-plus-minutes with the roller skates and rollerblades in our round-up below over the past month, our kid-testers have become pretty proficient on both types of wheels.
Whether you choose roller skates or rollerblades for your child, there's one key thing to remember: safety first. "Wear every piece of safety gear," says Kolattek. You should have nine pieces of kit in total: A pair of skates or blades, a helmet (bike or skate helmets work equally well), two knee pads, two elbow pads and two wrist pads. Wrist injuries are the most common issue to watch out for when inline skating.
Taking your wheels outside? Find a smooth, flat, area away from traffic, without any unexpected inclines or declines. If you have a specialist offering lessons nearby, try one – rollerblading and skating require a higher skill threshold for kids to master on their own, compared to a sport like running.
One final tip from Kolattek: if your child is on the cusp sizing-wise, get them the larger pair. 
We've had great fun testing these skates and blades around the house and in our local park. In a few weeks, our kid-testers evolved from total beginners to eager, confident, independent skaters – and we've never seen them so excited to get out of the house. Before 8am, no less.
 You can trust our independent reviews. We may earn commission from some of the retailers, but we never allow this to influence selections, which are formed from real-world testing and expert advice. This revenue helps to fund journalism across The Independent. 
The verdict: Kids' roller skates and rollerblades
Decathlon's Oxelo inline skates tick every box for us: they're well-priced, sturdy and look good, making them a brilliant choice for skating newbies. If you've got the budget, then Micro Duality inline skates have it all when it comes to quality, looks, comfort and long-lasting potential. Roller skaters looking for style and substance should go for Rookie's artistic Rosas – stunning to look at, easy to skate in and well-priced.
Homeschooling? We've found everything you need when teaching your child from home during lockdown
Register for free to continue reading
Registration is a free and easy way to support our truly independent journalism
By registering, you will also enjoy limited access to Premium articles, exclusive newsletters, commenting, and virtual events with our leading journalists
Already have an account? sign in
Register for free to continue reading
Registration is a free and easy way to support our truly independent journalism
By registering, you will also enjoy limited access to Premium articles, exclusive newsletters, commenting, and virtual events with our leading journalists
Already have an account? sign in