The Independent's journalism is supported by our readers. When you purchase through links on our site, we may earn commission.
BBC's educational expansion: Everything you need when teaching your child from home during lockdown
The right resources can help hugely when it comes to homeschooling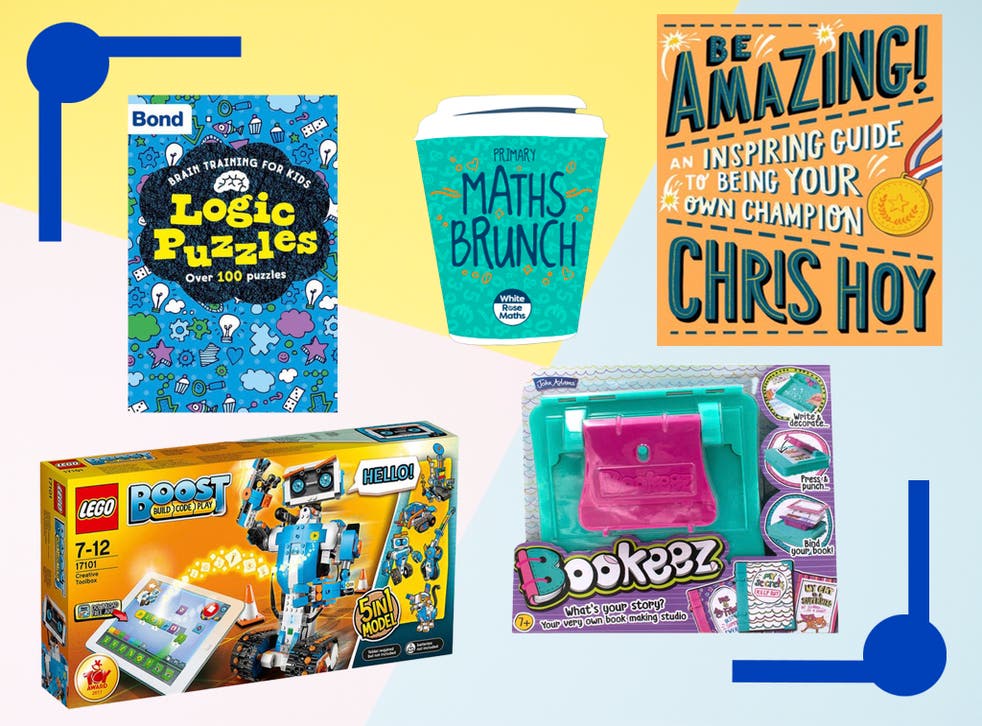 On Monday 4 January, prime minister Boris Johnson announced that all schools in England will close until at least mid February as part of a third national lockdown. 
Johnson explained that schools act as "vectors of transmission" for coronavirus, and that teachers and students must return to online learning. Similar restrictions have been put in place in the rest of the UK.
Many in London and the South East were already prepared for closures after previously being put into tier 4, but the prime minister's announcement will now affect far more families, with all children except the most vulnerable and those of key workers unable to attend school. The disruption means GCSEs and A levels will not take place this year. 
Despite parents and carers getting plenty of experience during the first lockdown in March 2020, the news of closures won't be easy. Families will once again struggle to juggle home education with working. After the news of the latest lockdown, the BBC announced it will deliver its biggest education offer in its history in order to help support children's learning at home.
The broadcaster will use its platforms, including BBC Two, CBBC, BBC Red Button and BBC iPlayer, to show three hours per day of educational TV from Monday 11 January, including live lessons and BBC Bitesize Daily, as well as other educational programming such as Our School and Celebrity Supply Teacher and much loved titles such as Horrible Histories, Art Ninja and Operation Ouch.
The Bitesize Daily lessons are 20 minutes long and will cover all age groups from five years+ to 14. They were previously online only, so this is the first time they can be accessed via terrestrial TV.
The offline nature of what the BBC is offering is hugely important: The Lloyds UK Digital Consumer Index Report 2018 states that 12 per cent (700,000) of children aged between 11 and 18 in the UK don't have access to the internet at home from a computer or tablet.
The Office for National Statistics comments that there is becoming "a digital divide between those who have access to information and communications technology and those who do not, giving rise to inequalities in access to opportunities, knowledge, services and goods".
Tim Davie, BBC director general, said: "Education is absolutely vital – the BBC is here to play its part and I'm delighted that we have been able to bring this to audiences so swiftly."
What will be available on the BBC?
BBC Two will cater for secondary students with programming to support the GCSE curriculum, with at least two hours of content each weekday. Content will be built around Bitesize Daily secondary shows, complemented by Shakespeare and classic drama adaptations alongside science, history and factual titles from the BBC's award winning factual programming units.
Bitesize Daily primary and secondary will also air every day on BBC Red Button as well as episodes being available on demand on BBC iPlayer.
As well as what the BBC is promising, we've got some more great resources to get you feeling confident that you can handle further weeks of home education if required, including educational games, Stem toys, and arts and crafts for primary aged children. You can also leave the kids to get on with many of these options on their own.
You can trust our independent round-ups. We may earn commission from some of the retailers, but we never allow this to influence selections, which are formed from real-world testing and expert advice. This revenue helps us to fund journalism across The Independent.
Activity books
If you want to make sure your child isn't looking at a screen all day, some physical workbooks will offer a bit of variety.
Science will never be boring again if you plump for Ada Twist's Big Project Book for Stellar Scientists (£7.99, Wordery), which won our best buy award for the best educational activity book.
There are lots of experiments and activities to carry out (it's best for kids aged five years and above) and our reviewer said: "Though this book is absolutely not just for girls…. it does have a rich theme of female empowerment running through its pages."
For children in the upper years of primary school (aged eight and above), this book of logic puzzles (£4.99, BrightMinds) should keep them occupied for a while.  
Our reviewer said: "Despite being quite tricky in places, the puzzles come with unthreatening names such as 'word sandwiches' and 'riddle and rhyme'. A perfect boredom buster for kids from the age of about eight, ideal for long car journeys and airports." Or long days at home, we're guessing.
PE lessons
Joe Wicks, aka The Body Coach, has announced his live morning exercises will return for the second school closure. Sessions will start on Monday 11 January on his YouTube channel and will be at 9am on Mondays, Wednesdays and Fridays. 
You don't need any specific equipment: just get ready to watch the kids expend some energy and get a bit sweaty. And of course, you can join in too.
Stem toys
Lessons and workbooks are great for those "head down" times of the day, but your child can also learn while having lots of fun if you get the right Stem toy.
They don't come much better than this Sphero mini activity kit (£79.99, Amazon) for children aged five years and above. 
The kit comes with a robotic ball, construction set, cones and little skittles. There are 15 activity cards with challenges of varying difficulty, each designed to trigger Stem thinking.
The ball connects to an app on your phone, which can be used to programme its movements around the various assault courses you have created, whether it's navigating a maze or hitting the skittles. There's enough to do with this gadget that you'll get it out again and again.
Our tester of the best Stem toys was really impressed with this set, saying: "Who would have thought it would be possible to fall in love with a robotic ball? This golf-ball-size one from Sphero is strangely disarming, particularly because we put it through its paces." 
If you have a younger child (aged four and above), and would rather avoid anything that requires an app, these super octons (£18.45) could be worth a look. 
The set contains 168 pieces in a mix of shapes. You slot them together to make, well, whatever you want. Our tester said: "The manual suggests trees, robots and scorpions. We found that we rarely followed the instructions and readily created our own wacky creature family."
Motivational reads
Hopefully your child might be able to carve out some reading time during the school day, and, if so, there are some lovely positive reads for kids out there, like Olympian Chris Hoy's Be Amazing: An Inspiring Guide To Being Your Own Champion (£9.99, Waterstones), which is in our rundown of the best motivational books for kids.
Our reviewer said: "Hoy includes lots of personal stories and is brilliant at urging youngsters to believe in themselves, have the confidence to take on new challenges and learn from their mistakes."
For younger kids (aged three and above) Simon Philip and Lucia Gaggiotti's I Really Want To Shout (£5.99, Waterstones) could be just the ticket.
It's a rhyming picture book which teaches children that everyone gets angry sometimes, and it can be hard to know what to do. "The answer, it turns out," says our reviewer, "is 'breathing slow and deep', talking, and even bouncing like a kangaroo 'while playing songs on a kazoo'. "
Coding toys
Perhaps your child is a keen coder, or eager to learn about it, in which case you might want to invest in something like this Lego boost toolbox (£149.99, Lego). 
The kit is aimed at children aged seven to 12, and you can make five robots and vehicles with it. Our tester of the best coding toys really liked it, saying: "Kids learn mechanics thanks to the building stage, and programming through the dozens of challenges in the app for which users must direct the robots to complete various tasks. All without realising they are learning at all – genius."
Creative activities
The artistic side of learning can help your child find their creativity. For keen crafters, this Bookeez set (£15, Argos) lets them bind their very own book, which they can then use for lessons, or maybe to keep their own home school diary in. 
It made our round-up of best kids craft sets for 2020, with our reviewer noting: "The joy on our tester's face once her story – about bats, since you ask – was bound and ready for distribution to her dolls was pretty priceless. Bookeez is absolutely manageable for children aged seven or eight to get on with alone – which is obviously a total boon, particularly for parents who need half an hour or so to themselves."
For slightly younger children (around five years) this superhero mask kit (£13.95, Cotton Twist) could fit the bill. 
The kit comes with everything needed to make brilliant masks, and our reviewer liked it because of its ease, saying: "Our tester absolutely loved this set, not least because of how accessible it was for her to use, therefore very little parental interference needed." Again, perfect if you need your child to do something unsupervised so you can put your focus elsewhere.
Online resources
If you do have internet access, and a laptop that your child can use, and are happy for them to be in front of a screen for part of the day, the good news is there are lots of online resources to choose from. We particularly liked Twinkl because of the wide age range it's suitable for. 
If you're keen to have a maths focus every day, getting some help is a good idea. Maths can be particularly hard to teach if you're not that adept at it yourself, and, even if you're fairly numerate, you might find the way your kids are taught things like fractions is very different from the way you learned it.
This can lead to confusion if you're trying to do lessons yourself. That's why we recommend White Rose Maths. As our reviewer of the best online resources for homeschooling explained: "Made up of a group of teachers and mathematicians, here you'll find five free maths lessons for children (Years 1-8) and each lesson comes with a video that you can watch on your own to understand the lesson first."
Check out our dedicated kids section for even more reviews of the best children's products
Register for free to continue reading
Registration is a free and easy way to support our truly independent journalism
By registering, you will also enjoy limited access to Premium articles, exclusive newsletters, commenting, and virtual events with our leading journalists
Already have an account? sign in
Register for free to continue reading
Registration is a free and easy way to support our truly independent journalism
By registering, you will also enjoy limited access to Premium articles, exclusive newsletters, commenting, and virtual events with our leading journalists
Already have an account? sign in