The Independent's journalism is supported by our readers. When you purchase through links on our site, we may earn commission.
8 best family tents for your next camping adventure, from yurts to multi-room models
We uncover luxurious larger models for staycations and beyond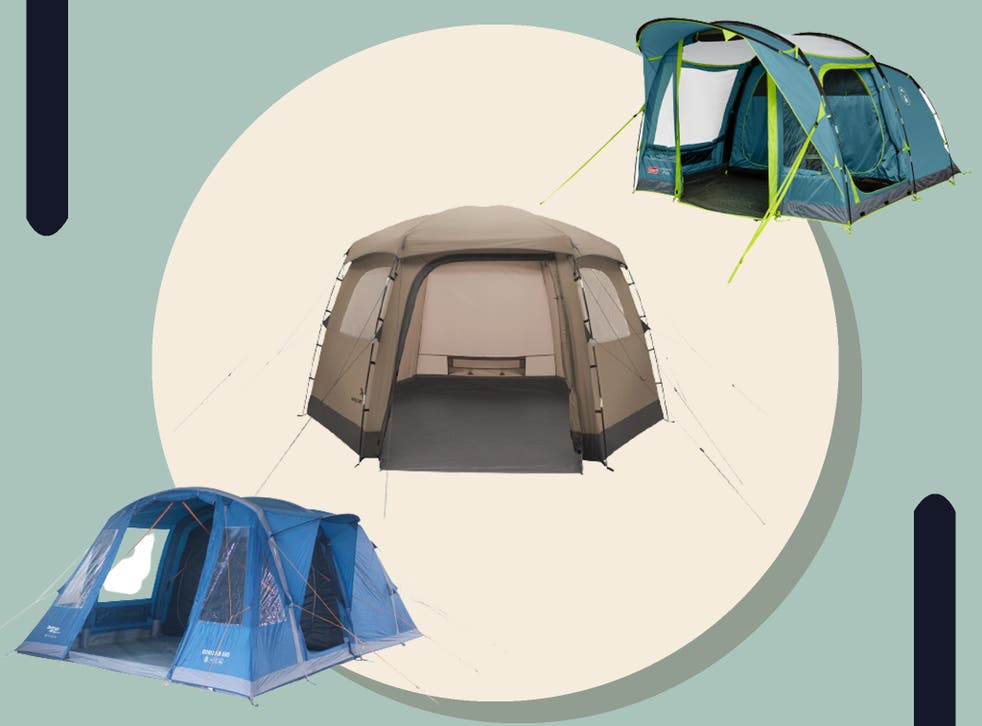 Whether you're planning a staycation in the UK or heading further afield for a sunny camping trip, now is the perfect time to invest in a family tent that will sleep your whole clan in comfort.
Camping is a popular choice of holiday among explorers, particularly during spring and summer when you can spend your mornings soaking up the fresh country air and star-gazing at night by the warmth of a bonfire.
Wherever you're headed this year, a good family tent should be top of your packing list as, unlike one or two-person models, they are far more spacious, roomy and customisable, sleeping up to eight people (or more) in as many bedroom configurations as you need.
Tunnel tents are the standard: they are normally long (but still tall) and typically have compartmentalised living and sleeping areas that you access through a main entrance. We also included some yurt and tipi-style tents, which are ideal for families that need to sleep in one room, or who enjoy having more communal space.
If your family likes to pitch for a week or more, look for a heavier, multi-compartment tent with weatherproofing, plenty of guying options and living space. You're not going anywhere, so you might as well be as comfortable as you would at home. If you plan to move around – or even hike – look for a lighter tent, or an airbeam (instead of poled) tent that inflates and deflates quickly and needs fewer people to set it up.
Read more
Unless specified, they are also very heavy – up to 41kg in the range we tested – so you will need to camp by your vehicle or pack a trolley if you need to travel across the site. Some of these tents are old favourites that have survived multiple camping trips with pets, toddlers and teenagers, while others have been put through their paces in the full range of unpredictable English spring weather.
Because one family's "glamp" might be unliveable for another, we've included a wide range of options across the models we tested.
Whether you're raring to get glamping or planning your first family trip, these are the best tents to keep you comfortable whatever the weather.
The best family tents for 2021 are:
The verdict: Family tents
It comes with a price tag, but there's no escaping how incredibly comfortable and secure Outwell's new Jacksonville 5SA tent is. It has enough room for proper camping beds and a kitchenette inside.
Coleman still makes the best blackout rooms we've slept in – the Coleman castle pines model is a brilliant tent for a family trying out camping together for the first time.
Voucher codes
For more outdoor and sporting deals, try the links below:
Now you've got the tent here are the rest of the camping essentials you need for your next trip
Register for free to continue reading
Registration is a free and easy way to support our truly independent journalism
By registering, you will also enjoy limited access to Premium articles, exclusive newsletters, commenting, and virtual events with our leading journalists
Already have an account? sign in
Register for free to continue reading
Registration is a free and easy way to support our truly independent journalism
By registering, you will also enjoy limited access to Premium articles, exclusive newsletters, commenting, and virtual events with our leading journalists
Already have an account? sign in