The Independent's journalism is supported by our readers. When you purchase through links on our site, we may earn commission.
10 best women's waterproof jackets to beat every drizzle and downpour
From trendy trench coats to sportier styles, these wet weather heroes are the real deal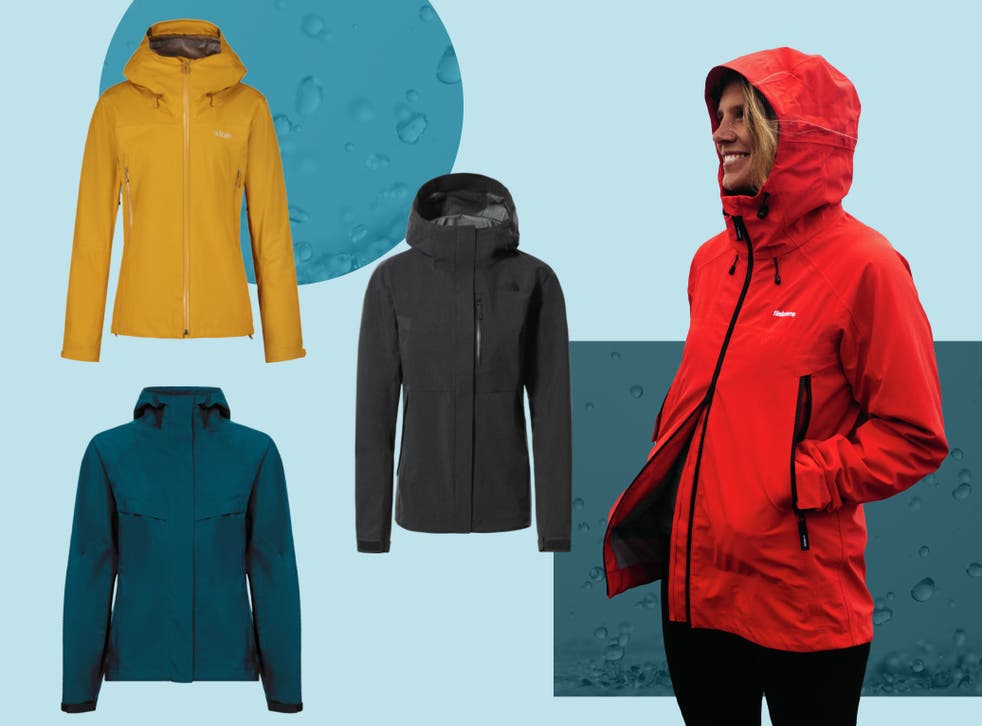 A good waterproof can be expensive, but you'll find that buying the very cheap ones is a false economy as (a) they don't perform very well and (b) you'll need to buy another one in a few years. But if you look after a high-quality waterproof it can last for decades, so see it as an investment piece.
A jacket's hydrostatic head (HH) rating will tell you how waterproof it is – the minimum to be considered rainproof is 5,000mm, which would be able to tolerate being caught out in the rain for a while. At the other end of the scale, 20,000mm or higher will keep you dry, no matter what, and in between the two will suffice for day-to-day waterproofing.
Breathability is also a major consideration. If you want to run in it or exert yourself heavily such as hiking up mountains, it will quickly start to feel clammy if it's not very breathable. If you're walking the dog, you don't need to worry so much. Many brands will rate the breathability between 5,000g/m² and 15,000-20,000g/m² with the latter being best.
You also want your jacket to be "seam-sealed", which means that it stops water seeping in, and ideally, you'll want it to have three layers – an outer layer, the membrane and a fully bonded inner layer.
The environmental cost of waterproof jackets can be high, with the chemicals used for waterproofing (PFCs) being known to damage the environment, not to mention the impact of the materials used and what happens to them once you're done with it. Many brands are going some way to rectify this, so we've chosen several jackets with good eco credentials.
Read more:
How we tested
We tested through December and January, putting the jackets through their paces for the uses they were designed for – for instance, those designed for hiking in the hills were taken for long walks on wet days. We were looking for jackets that kept us dry (obviously), but we also considered the fit – that is, did they need (and allow) for layers underneath. We also looked for warmth and wind protection, breathability and detailing such as hood design and sleeve length.
The best women's waterproof jackets for 2022 are:
The verdict: Women's waterproof jackets
Rab knows it stuff when it comes to protecting you in the great outdoors, and its arc eco waterproof jacket is no exception. It does all it needs to do, while remaining lightweight enough to carry around if you don't want to wear it. The Finisterre jacket is also a great investment – high performance and more substantial for a little warmth, it also offers a good amount of space for layering underneath.
Voucher codes
For more outdoor and sporting deals, try the links below:
To face heavy showers without losing face, read our review of the best waterproof mascaras that won't smudge, crumble or smear
Register for free to continue reading
Registration is a free and easy way to support our truly independent journalism
By registering, you will also enjoy limited access to Premium articles, exclusive newsletters, commenting, and virtual events with our leading journalists
Already have an account? sign in
Register for free to continue reading
Registration is a free and easy way to support our truly independent journalism
By registering, you will also enjoy limited access to Premium articles, exclusive newsletters, commenting, and virtual events with our leading journalists
Already have an account? sign in