The Independent's journalism is supported by our readers. When you purchase through links on our site, we may earn commission.
10 best alarm clocks
Waking up is never easy, so choosing the right alarm clock is key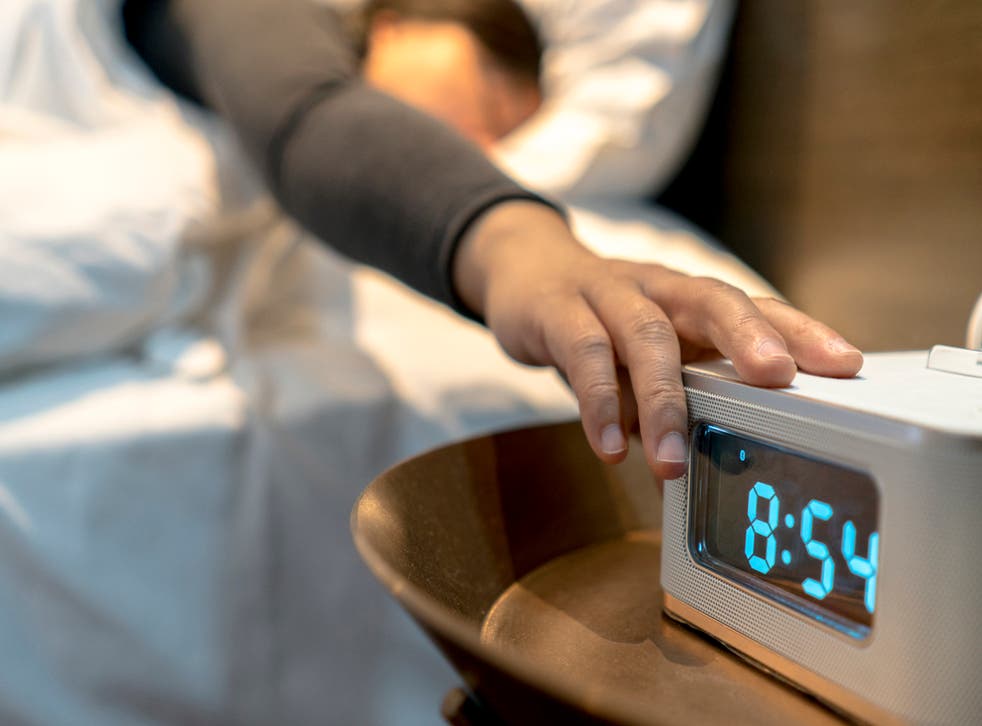 Waking up is never easy. So, do you need something gentle that rouses you kindly or will you sleep through anything other than clanging bells and big noise?
Do you want something discreet and mechanical, or an electronic device which updates itself every time Daylight Saving Time comes and goes? Perhaps you can manage without a radio, or maybe you'd prefer a radio with all the music you can get, such as from a smart speaker or one that can play tracks from your smartphone or tablet wirelessly? There are alarm clocks which wake you gently with light, or send you to sleep with white noise.
You can trust our independent reviews. We may earn commission from some of the retailers, but we never allow this to influence selections, which are formed from real-world testing and expert advice. This revenue helps to fund journalism across The Independent.
1. Amazon Echo Spot: $129.99, Amazon
BEST BUY
Dimensions: 4.1 x 3.8 x 3.6ins
Weight: 0.93lbs
Mains or battery: Mains
Radio: Internet
How many alarms? Multiple
If you're choosing an alarm clock then it might as well be a smart one. The Spot is the latest gadget from Amazon to contain its smart personal assistant, Alexa. The circular 2.5in screen is big enough to see clouds or sunshine when you ask her what the weather's like or when having video calls with other Echo users. This means that it has a camera on it, too, which you may not feel comfortable having next to your bed. However, there's a button to turn the camera and microphone off. About the size of a baseball, the Spot is effective and versatile, capable of being much more than just an alarm clock. It's easy to set up and can do everything from reading you a news briefing to telling you a joke, setting a timer and multiple alarms. You can choose to wake up to any song from Amazon Music or Spotify, if you wish. The brightness of the screen doesn't dim according to the ambient light but can be dimmed manually or on a schedule.
2. iHome iBT29BC: $49.95, Amazon
Dimensions: 6.03 x 5.28 x 6.03ins
Weight: 1.37lbs
Mains or battery: Mains with back-up battery
Radio: FM
How many alarms? Two
What color do you want your alarm clock to be? With the iHome, you don't have to decide. It changes through six different shades and has six wake-up modes so you can opt for color-changing sequences or turn them off entirely. There's an FM radio but you can also stream music from a smartphone by Bluetooth. You can also charge your phone from the clock's USB charging port. The audio quality is good and FM reception is strong. It's small enough to fit most bedside tables and it's fun.
3. Philips HF3510 Wake-up Light: $119.95, Amazon
Dimensions: 7.9 x 10.6 x 10.3ins
Weight: 2.7lbs
Mains or battery: Mains
Radio: FM
A gentle, slowly growing light that mimics the subtlety of sunrise is a delicate and natural way to wake. Philips makes a range of Wake-Up lights and this one gently increases the light over a 30-minute period in a warm, yellow hue that feels natural and pleasant. You can also wake to FM radio or three nature sounds, such as bird song, with or without plinky-plonky instrumental music and waves lapping the shore as seagulls fly. Before you go to sleep you can set the light, which also works as a bedside reading lamp, to dim slowly. The LEDs inside are not replaceable but are designed to last for many years. The control buttons can be fiddly but you can also snooze the alarm noise by touching the screen.
4. JBL Horizon FM Dual Alarm: $99.99, Best Buy
Dimensions: 6.3 x 7.2 x 3.4ins
Weight: 1.96lbs
Mains or battery: Mains with back-up battery
Radio: FM
How many alarms? Two
The JBL alarm's audio skills are consistently good and although this is a small gadget, it has sound that can fill the bedroom. However, although it's little, it's heavier than it looks. As well as the FM radio, there are other options to wrench you from your slumbers. Like music streamed by Bluetooth from your phone, say – and there are two USB sockets so you can charge that phone overnight, too. There's a more traditional buzzer and, less conventionally, an LED light which gently brightens the room. The screen has clear, sharp digits and an ambient light sensor dims it automatically in a darker room.
5. Sony AM/FM Dual-Alarm ICFC1TBLACK: $29.99, Best Buy
Dimensions: 4 x 4 x 4 ins
Weight: 1.1lbs
Mains or battery: Mains with back-up battery
How many alarms? Two
The strengths of this compact radio alarm include a bright, easy-to-read LCD with large digits. When you turn it on for the first time it shows the time – it defaults to Eastern Standard Time and you must press a number between 1 and 7 to switch it to the appropriate zone from Newfoundland to Hawaii. From then on, it looks after itself, updating automatically on days the clocks go forward or back. It has an adjustable snooze feature – tap once for 10 more minutes of shuteye, twice for 20 minutes and so on up to an hour. The screen brightness has three settings but does not dim automatically when you turn the lights out.
6. RCA Digital Alarm Clock RCD30: $11.47, Amazon
Dimensions: 5.1 x 3.25 x 2.03ins
Weight: 0.55lbs
Mains or battery: Mains
Radio: No
How many alarms? One
This is one of the simplest alarms you'll find – and one of the cheapest. The large red numerals are exceptionally easy to read and can be set to a high or low brightness level. The clock only shows the time in a 12-hour format, which some may not like. There's only one alarm and the only sophistication is a nine-minute snooze button. And that's it. Simple, but effective.
7. Sonic Alert SBB500SS Sonic Bomb: $29.99, Amazon
Dimensions: 7 x 7 x 6ins
Weight: 1lb
Mains or battery: Mains
Radio: No
How many alarms: Two
Think you can sleep through anything? Try this clock. The alarm is loud – 113 decibels to be precise – and the screen features enormous bright red digits and pulsating lights. This is not a gentle way to wake up but it's designed for people who need something more assertive. There's one more way the Sonic Bomb is likely to work: a wired pad goes under your mattress or, if you really, really need help, under your pillow. When the alarm sounds, the pad shakes violently. Not only can you feel it but it has the advantage that it's not as loud as the alarm, which may be handy if you have roommates. Not smart and definitely not subtle, but that's the point.
8. iLuv Smart Shaker: $19.99, iLuv
Dimensions: 3.5 x 7.88 x 3.5ins
Weight: 0.15lbs
Mains or battery: Battery
Radio: No
The Smart Shaker is a round, white disk (or you can choose pink, black, green or powder blue) and is placed under your pillow. It's set and controlled from your Apple or Samsung smartphone. As the name suggests, it'll vibrate you awake, although there is an alarm tone as well if you wish. When it's set to vibrate only, the idea is it'll wake you but nobody else, and certainly not the whole house. It's battery-powered and lasts up to a month before it needs to be recharged. There's no screen on the SmartShaker so using a smartphone to set it is essential, although once you've set the alarm it doesn't need the phone to function.
Dimensions: 5.39 x 6.8 x 2.8ins
Weight: 1.37 lbs
Mains or battery: Mains
Radio: No
How many alarms? Four
This is a smart, versatile alarm clock – but you do need a smartphone to control it fully, using an app to set the alarm. The first thing you notice is the clear digital display and two USB sockets so you can charge your smartphone and tablet while you sleep, but there's a lot more. To help you get to sleep, it can generate white noise (choose from ocean, forest, wind or rain scenes as well as a regular fan) and then to wake you up you can choose from a sunrise-simulating wake-up light or music from your phone, Apple Music or Spotify.
Dimensions: 4.5 x 3.4 x 1.8ins
Weight: 0.34lbs
Mains or battery: Mains with back-up battery
Radio: No
How many alarms? One
This is the ideal alarm clock for when it's just too much trouble to turn your head to the side to see what time it is. Just open your eyes (you can do that much work, right?) and you'll see that the clock has projected the time on the ceiling above you in soft red digits. The alarm starts reasonably enough but gets louder quickly but there's no radio here. Oregon Scientific calls this an atomic clock, but don't worry, there's no radiation here, it just means it's accurate to within one second and is updated daily via radio signal. This also means it adjusts for daylight savings. It's a funky design and if you want to know the temperature, the screen displays that, too.
VERDICT
The range of alarm clocks available is pretty impressive, from the traditional, like Sony's cube-shaped ICFC1TBLACK, to the super-smart. Amazon's Echo Spot is well-made, dinky and versatile, while the JBL Horizon has the best audio quality. The hard-of-waking will need the Sonic Alert Sonic Bomb or the iLuv SmartShaker. Or, for a different wake-up experience, a clock that wakes you with light is worth trying. Both the Beddi Glow and JBL Horizon are good but the Philips HF3510 is the real standout, light-wise.
Register for free to continue reading
Registration is a free and easy way to support our truly independent journalism
By registering, you will also enjoy limited access to Premium articles, exclusive newsletters, commenting, and virtual events with our leading journalists
Already have an account? sign in
Register for free to continue reading
Registration is a free and easy way to support our truly independent journalism
By registering, you will also enjoy limited access to Premium articles, exclusive newsletters, commenting, and virtual events with our leading journalists
Already have an account? sign in