The Independent's journalism is supported by our readers. When you purchase through links on our site, we may earn commission.
9 best men's hiking boots and shoes
Find footwear for everything from lowland strolls to high-altitude treks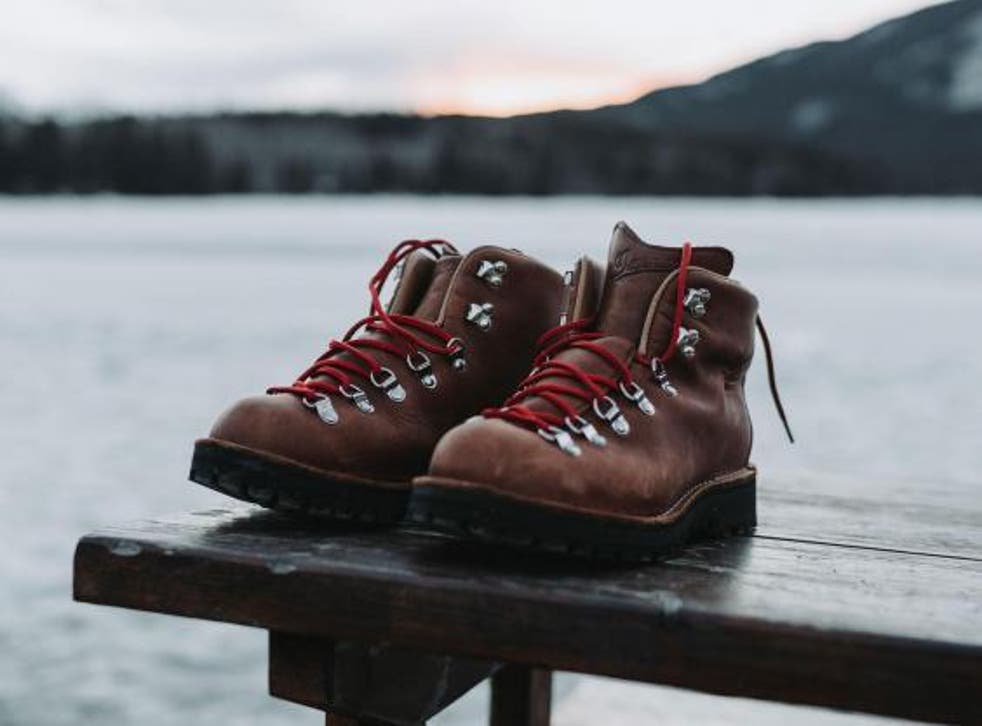 If you spend money and time buying just one bit of an outdoor kit, make it a good pair of hiking boots – they're worth their weight in gold. We've tested out multiple pairs to bring you our nine favorite models, all ready to tackle any weather.
When shopping for hiking boots you need to ensure they fit perfectly, so it's worth trying lots of pairs on in person – a good outdoor shop will be able to suggest multiple models and check that the ones you buy really fit your feet. Look for a pair that feel snug and supportive but not too restrictive, without any tightness or rubbing anywhere on your foot but especially around the heel. Your toes should be able to wiggle freely but your foot shouldn't slide in the boot. Lace the boots up tightly and check that your ankle feels supported. It's worth taking along your usual hiking socks when trying on boots.
A well-made hiking boot should be two things – waterproof and breathable. Most models are made with either leather or synthetic fabrics, or a mix of the two – leather offers more warmth in cold weather and is naturally waterproof, but can be stiffer, heavier and tougher to break in. Synthetic fabrics are lighter and more breathable, but tend to offer less warmth. Fabric boots can feel rather like wearing trainers, and are a more versatile choice – you can wear them for other sports and pack them more easily, too. You'll also find both hiking boots (with high-cut ankles) and hiking shoes (with low ankles) on the market. If you can afford to, you'd do well to own both a warm leather pair of high-cut hiking boots for cold weather and a fabric low-cut ankle hiking shoe for spring and summer and for travelling.
Any hiking boot worth its salt will use waterproofing technology to create a barrier against the weather – these are sometimes branded, with Gore-Tex a popular and reliable choice. Some boots give their waterproofing rating in millimetres, and anything more than 5,000mm should protect you in heavy rain. Avoid any boots that only claim to be water-resistant – you'll just end up with wet feet on rainy days. Hiking boots sport thick, bouncy rubber soles – look for a lightweight, bouncy sole with deep lugs for good grip. Vibram and Michelin soles, found on more expensive boots are both excellent. It's worth spending as much cash as you can afford on your new boots, and it's always worth getting them repaired when broken and re-waterproofed when water starts to seep in. If you care for them, a good pair of hiking boots can last a lifetime.
Merrell Moab 2 GoreTex Low: $140, Merrell
Weight: 0.93lbs
Waterproofing: Gore-Tex
Sole: Vibram
Material: synthetic leather
Colours available: grey, blue and black
Sizes available: 6.5-15
There's a generous cut to the Moab 2 that makes it great for wide feet and gives it a forgiving trainer feel. Don't be fooled – it's actually a tough hiking shoe. Cushiony heels, Gore-Tex waterproofing, rugged stay-put laces and great grip even on slippy terrain made us feel comfortable trusting it in serious weather, and it's light, breathable and versatile enough to wear to the gym or down the bar. A good choice if you don't wear leather, as the suede is a synthetic substitute.
Regatta Samaris II Mid: $65.99, Amazon
Weight: 1.01lbs
Waterproofing: IsoTex
Sole: X-LT
Material: nylon
Colours available: orange/grey
Sizes available: 6.5-12
"Waterproof. Breathable" reads the Samaris' simple label, and we were pleased to find both claims backed up on test in the wet Irish mountains. Regatta's own IsoTex technology is effective against both prolonged rain fall and stiff winds, and we found the boots as breathable as other, pricier boots we tested out. The Samaris do feel a little plasticky to touch and wear, and they don't have as deep lugs on the soles as we'd like, but otherwise it's a winner and a total bargain for the price.
Aku Alterra Gore-Tex: $249.95, Aku
Weight: 1.47lbs
Waterproofing: Gore-Tex
Sole: Vibram
Material: suede
Colours available: brown, grey, sand
Sizes available: 35-48
Aku's Alterra is designed and produced in Italy, which explains its good looks. The mix of suede and fabric also feels sumptuously soft to wear, and we liked the classic mountaineering boot styling. The high ankles are both supportive and flexible and our tester rated the stiff toe and ankle boxes, great for rough terrain. Gore-Tex keeps the Alterra fully waterproof in a storm and they offer great warmth without compromising on breathability and weight.
Mammut Ultimate Pro Low: $112.95, Trekk Inn
Weight: 0.77lbs
Waterproofing: Gore-Tex
Sole: Gripex
Material: soft shell
Colours available: black
Sizes available: 7-12
The Ultimate Pro is on the expensive side for a low-cut hiking shoe but our tester reckoned it's worth the splurge if you're into summer trekking and tend to overheat in high-cut boots. Gore-Tex technology looks after the waterproofing on a surprisingly soft and flexible trainer-like shell that doesn't weight you down at all. We also found the Ultimate Pro impressively grippy, even on wet rock. Ideal for travelling and fast-paced warm weather trails. Pity they look a tad on the orthopaedic side.
Danner Mountain Light Cascade Clovis: $380, Danner
Weight: 1.93lbs
Waterproofing: Gore-Tex
Sole: Vibram
Material: full-grain leather
Colours available: multiple colours available
Sizes available: 6.5-13
The other boots in this roundup are all smart, sensible choices, but are hardly sexy to look at. If you value style as much as substance, you may find Danner's seriously handsome Mountain Light hard to resist. The butter-soft leather, bright red laces and retro style look and feel fantastic to wear, and the technology is all there too, with Gore-Tex waterproofing keeping our feet dry even in bogs and bouncy Vibram soles compensating for the Mountain Light's heavier weight. Wide and narrow widths are available.
Brasher Country Walker: $140.14, Amazon
Weight: 1.56lbs
Waterproofing: waterproof
Sole: rubber
Material: leather
Colours available: brown
Sizes available: 7-12
A real favorite among hikers, and for good reason, the Country Walker is a solid, sensible, no-fuss leather boot that's ideal for wear anywhere. It takes a week or two to break in the Country Walker, but then you've got a boot fitted to your foot for life. In cold and wet weather they're reliably warm and comfortably solid yet surprisingly breathable, and if the soles are on the heavy side on longer walks, they do offer a great deep grip on wet terrain. Swap to a fabric boot in summer.
Vivo Barefoot Tracker: $250, Vivo
Weight: 0.99lbs
Waterproofing: waterproof
Sole: rubber
Material: leather
Colours available: brown and black
Sizes available: 6-14
You'll either love or loathe the concept of barefoot running and Vivo Barefoot's mission to connect feet with ground and change how we place our feet by removing heel supports, putting the sole of your foot more into contact with changing terrain. If it is your bag, you'll definitely rate these light Tracker boots. Despite looking flimsy, they perform excellently, are fully waterproof and have the most flexible yet still grippy sole we tested. We didn't find the luxe-feeling leather outer as warm as other boots claiming to be for winter use, and would keep the Tracker for spring-autumn wear – it's are also so flexible it's a cinch to stuff in your rucksack on backpacking trips. The Tracker sizes small, so go one size up.
Keen Revel III: $160, Keen
Weight: 1.27lbs
Waterproofing: Keen.Dry
Sole: rubber
Material: nubuck leather
Colours available: grey and brown
Sizes available: 6-14
The Revel III is solidly in the cold-weather camp, and we reckon you'd quickly overheat on balmy summer days in them. In freezing temperatures, though, their thermal lining, approved to wear in down to -30C, comes into its own, and they feel warm, comfortable, grippy and light even on long hikes in snow. Our tester put them through their paces on wet Dartmoor and in the Arctic and reckons they're top pick for winter and autumn use.
Salomon Quest GTX: $230, Salmon
Weight: 1.41lbs
Waterproofing: GoreTex​
Sole: Contagrip
Material: Nubuck leather
Colours available: grey
Sizes available: 7-12.5
There's lots to praise in this great all-rounder of a boot. The solid high ankles are excellent if you tend to roll or sprain yours, protecting them even on uneven ground. They're reliably waterproof and breathable, and a boot that can go from the cold and wet spring weather to balmy summery hikes without breaking (you) into a sweat. And they're light and bouncy enough to feel almost like sneakers. Our tester's only niggle? The slippy laces just don't stay put, but then you could always replace them with better ones.
The Verdict: Men's hiking boots
The Merrell Moab may be a hiking shoe rather than a boot but its excellent performance, fit and waterproofing gets our vote for the Best Buy. If you're after a high-cut boot, we rate Salomon's Quest and the Aku Alterra. The style-conscious can look no further than Danner's creations. On a budget? Regatta's Samaris offers fantastic value.
Register for free to continue reading
Registration is a free and easy way to support our truly independent journalism
By registering, you will also enjoy limited access to Premium articles, exclusive newsletters, commenting, and virtual events with our leading journalists
Already have an account? sign in
Register for free to continue reading
Registration is a free and easy way to support our truly independent journalism
By registering, you will also enjoy limited access to Premium articles, exclusive newsletters, commenting, and virtual events with our leading journalists
Already have an account? sign in