The Independent's journalism is supported by our readers. When you purchase through links on our site, we may earn commission.
Best juicers
Squeeze out every ounce of nutrience and live your healthiest life with these exceptional machines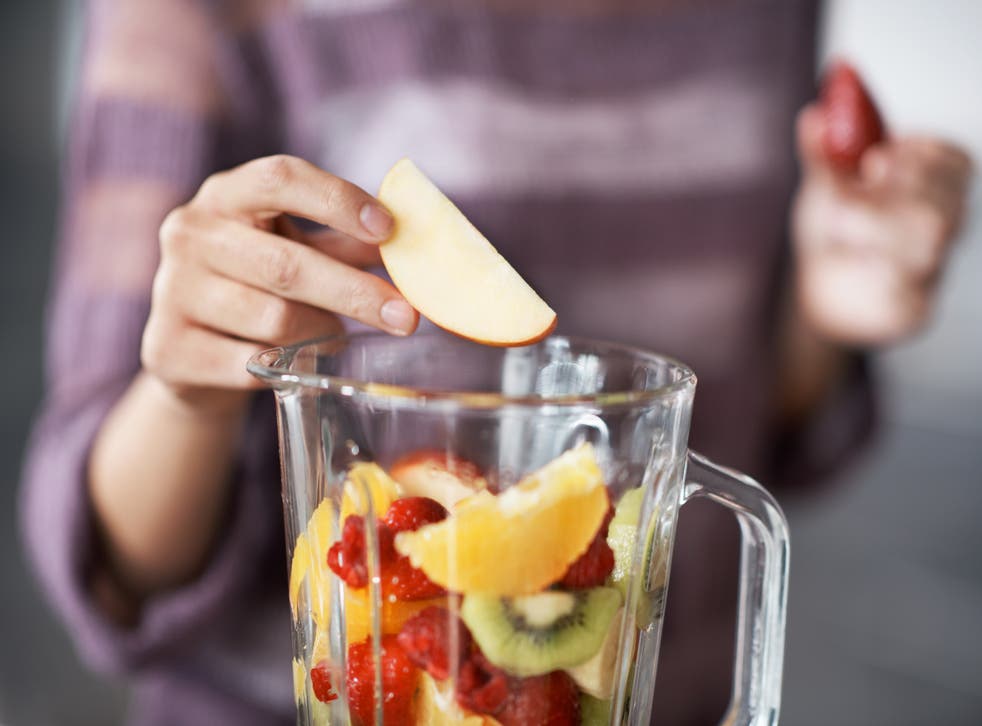 Juicers are like cousins—there are lots of them and you're not quite sure who's who.
Before investing in a juicer, it is crucial to distinguish between the two types of juicers on the market—centrifugal and masticating.
Centrifugal juicers are the most popular (and cheapest) option, perfect for beginners. Identifiable by a strainer basket with blades at the base, these easy-to-use juicers chop fruits and vegetables into fine pieces by spinning them at high speeds to separate juice from pulp. While you might save money by purchasing this type of juicer, the centrifugal juicer tends to yield less juice, resulting in more money spent on produce.
Masticating juicers also referred to as "cold press" or "gear" juicers, tend to be more of an investment designed for the avid-juicer. With a distinct spiral auger, these juicers grind up fruits and vegetable before pushing them through a strainer at a lower speed. Slower juice extraction preserves nutritious enzymes and nutrients and leads to a higher juice yield with an increased concentration.
Ultimately, the perfect juicer is one that fits your schedule and feeds your motivation to produce juice routinely. We tested popular juicers on the market based on quality of the model and extracted juice, feasibility of production and cleanup, and versatility.
Hurom H-AA Slow Juicer: $373, Amazon
This sleek juicer checks all of the boxes—ultra-quiet, practical size, and high juice yield. The H-AA quickly extracts juice from soft fruits, tough vegetables, leafy greens, nuts, and tofu. But the biggest advantage of this slow juicer comes after the juicing—cleanup. No need to separate parts between juice recipes since an interior spinning brush cleans the chamber and strainer as you juice, resulting in minimal clogging and increased juicing efficiency.
Tribest Greenstar Elite GSE-5000: $499.99, Amazon
Calling all green juice addicts! This could be the horizontal masticating juicer for you. The model's twin-gears mimic the grinding process of molars; ensuring every last drop of juice is squeezed out of even the densest of leafy greens like kale, wheatgrass, and spinach. But the high yield of juice from nearly everything comes at a cost—the model is extremely heavy and requires intense scrubbing to remove pulp from the twin gears and screens after use. If you're truly dedicated to ensuring all of the liquid is stripped from your produce, the quality and amount of juice is worth the extra scrubbing time.
The BLACK+DECKER 400-Watt Juice Extractor: $39.25, Amazon
This centrifugal juicer is ideal for the consumer concerned with both time and budget. It works extremely quickly for the price and the simple design makes clean up a breeze. Be sure to cut your produce small enough so that it fits in the chute to avoid jamming the machine. At under $40, the juicer lacks the additional accessories and special features that you'd get with a slightly pricier option.
Breville Juice Fountain Compact: $99.99, Bed Bath & Beyond
"Small but mighty" perfectly describes this lightweight powerhouse of a juicer. By collecting pulp within the unit itself, you save precious countertop space while still producing a high quality juice. The extra-wide feed chute, which can accommodate whole fruits and vegetables, cuts preparation time in half. But with power comes responsibility—don't lift the food pusher too fast or the machine has a tendency to spit out small pieces of fruits and veggies.
Super Angel Plus Juicer: $1,549, Harvest Essentials
If you're a serious juicer, this machine is worth the hefty price tag. Sporting a 3 horsepower motor, this juicer earns its title as one of the most powerful juicers on the market. With slow, masticating twin gears, the model is ideal for thick produce and low oxidation levels, meaning less foamy juices and more pure, enzyme packed juices that can survive a few days in the fridge.
The Original Healthy Juicer: $64.95, Amazon
Get the most out of your greens without braking the bank for an electric juicer. This manual device specialises in wheat grass, kale, spinach, and any green you can think of. While it can still juice things like carrots, it's not the most effective.Super simple to use, simple to store, and most importantly, super simple to clean. There is also a oddly satisfying feeling while you crank and juice with your own muscle, and it ads a certain pride while drinking that deliciously healthy nectar!
Black+Decker 32oz Citrus Juicer: $12.96, Amazon
Maybe the only electric juicer worth buying at this price. Saving money feels nice, but it means nothing unless the machine comes with all the necessary functions. It does, nothing fancy or revolutionary, but it juices citrus very well, one at a time, comes with pulp control, and the measurements are clear and useful. What you need for juice and nothing more.
Omega J8006: $250.20, Amazon
A juicer is nice, but sometimes I feel like making some home made peanut butter, or pasta, or baby food, or just about anything! This machine is versatile. Buy for the juice and end up using it for everything. Slow powerful masticating action, reliable, near silent, and it goes above and beyond.
Breville 800JEXL Juice Fountain Elite: $239.96, Amazon
The Elite name is earned here. Powerful and fast. Any serious juicer would be proud to own this piece of juicing technology. It has all the bells and whistles. Dual speeds, a hard food and soft food option, and speed, did I mention speed? Think the other Breville option, only more expensive, and better in every way shape and form.
The verdict:
If you're committed to a juicing lifestyle, the Hurom H-AA Slow Juicer is the perfect addition to your kitchen. It's practical from assembly to disassembly to reassembly. Kale and orange lovers alike will fall in love with this product and how easily it fits into a daily routine. For those who jump from health fad to health fad, we recommend the affordable Breville Juice Fountain Compact which extracts a pure, nutrition filled product for a great price. ​
IndyBest product reviews are unbiased, independent advice you can trust. On some occasions, we earn revenue if you click the links and buy the products, but we never allow this to bias our coverage. The reviews are compiled through a mix of expert opinion and real-world testing.
Register for free to continue reading
Registration is a free and easy way to support our truly independent journalism
By registering, you will also enjoy limited access to Premium articles, exclusive newsletters, commenting, and virtual events with our leading journalists
Already have an account? sign in