The Independent's journalism is supported by our readers. When you purchase through links on our site, we may earn commission.
10 best diaries for 2016
Prepare for the year ahead with a handy pocket planner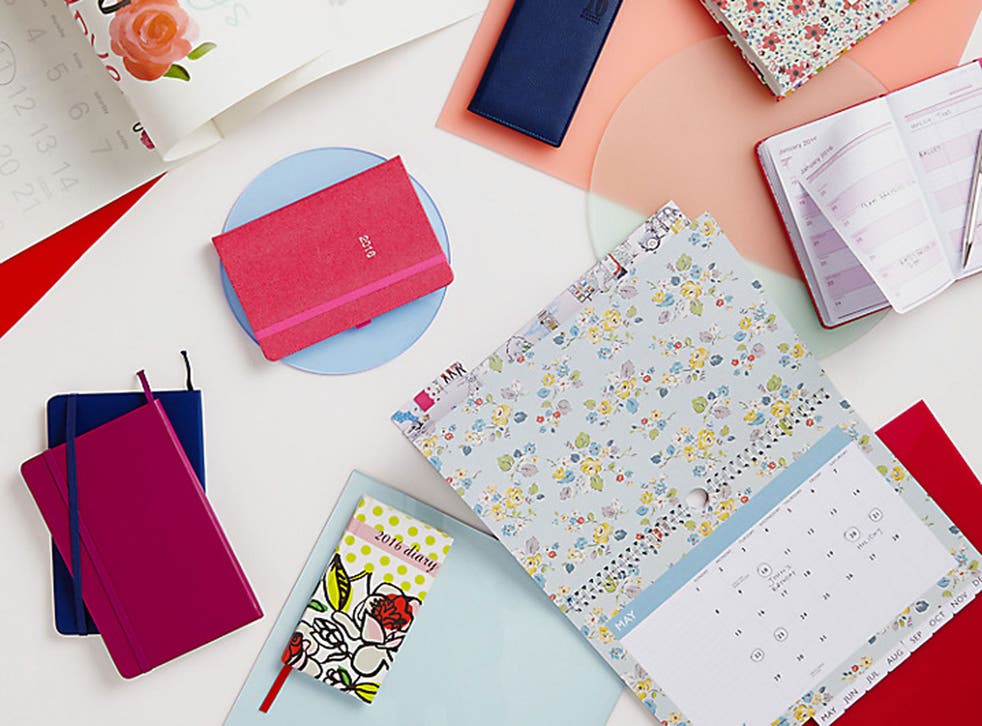 Writing things down in a physical diary can be easier to keep track of than an online calendar – and many diaries can offer more than just a place to jot down appointments. We've found a range from sleek, pocket-sized products to those with more room for planning. There are choices with little extras – from poetry to colouring-in – as well of those that make great bespoke gifts.
1. Moleskine Weekly Notebook: £16.50, John Lewis
We've long been fans of the Italian company's sleek and well-thought-out diaries. Our pick of the selection is this notebook, featuring the days on the week on one side, with space for notes on the other. Opt for one of the dark covers that won't show too many marks over the year.
2. Refillable Vintage Map: £45, Atlas and I
A refillable leather diary is an investment and this one makes a lovely gift. The cover's printed with a vintage map of your choice (just state your preferred area and post code at checkout). You can choose the page layout and it comes in two sizes.
3. Monkton 'The Meaning of Life': £8.79, Campus Gifts
This A5 hardcover diary is the latest collection of Giles Andreae's witty musings; a combination of fun illustrations and quirky philosophy on a week-to-view format.
4. Posh Colouring: £10.99, Calendar Club
Adult colouring books have been flying off the shelves this year. They say that it works as anti-stress therapy, so if looking at your schedule brings you out in a cold sweat, this could be the one for you. You get a week-to-view format and designs to colour-in as you schedule appointments.
5. Faber Poetry Diary: £9.02, Wordery
This Faber diary is something of a publishing industry institution. The content's based on Faber's influential poetry list that began in the 1920s and features writers past and present, from the likes of Blake and Wordsworth to Simon Armitage and Emily Berry. With a week-to-view layout, you get a different work for every seven days.
6. Malden organiser: from £82, Filofax
The Filofax brand is synonymous with organisers. We like this simple purple leather one with stitched detail that comes with useful inserts including a week-to-view diary, contacts pages and note paper. There are also card slots and a zipped pocket so it can double-up as a wallet. This can be refilled every year, so think of it as an investment.
7. Letts Milano: £8.99, John Lewis
This smart-looking, slim diary with a padded cover keeps things simple. You get a week to view and although there's not loads of space, there's enough for short notes.
8. Laura Ashley: from £6.99, Calendar Club
Laura Ashley's homeware designs are influenced by the British countryside and this pretty diary follows suit. It has a thick, textured cover and is available in A5 and 'Slim' versions, both with a week-to-view layout and extra space for notes.
9. Papuro Amalfi: £34.90, Pen Heaven
We love this leather wrap diary handmade in Florence. You get a page for each day, so there's space for lots of appointments or notes. The size is in between A5 and A6, it comes in five colours and you can get it embossed with a name or initials if giving as a gift.
10. Monochrome Pocket: £29, Wolf and Badger
If you're after something classic but chicer than average, we like this monochrome pocket-sized diary from the stationers that specialises in English-made desk accessories. The cover is embossed card and inside you get thick cream paper with luxe-looking gilt edges.
Verdict
Monkton's 'Meaning of Life' diary is a fun and inexpensive addition to your desk or bag, and the daily musings will make you smile. For a present, we like Atlas & I's bespoke vintage map option. If planning's the aim of the game, Moleskine's diaries have clever formats that leave plenty of room for appointments and extra notes.
Register for free to continue reading
Registration is a free and easy way to support our truly independent journalism
By registering, you will also enjoy limited access to Premium articles, exclusive newsletters, commenting, and virtual events with our leading journalists
Already have an account? sign in
Register for free to continue reading
Registration is a free and easy way to support our truly independent journalism
By registering, you will also enjoy limited access to Premium articles, exclusive newsletters, commenting, and virtual events with our leading journalists
Already have an account? sign in