7 best Barcelona guide books
Make the most of your Catalonian escape with a backpack-friendly travel companion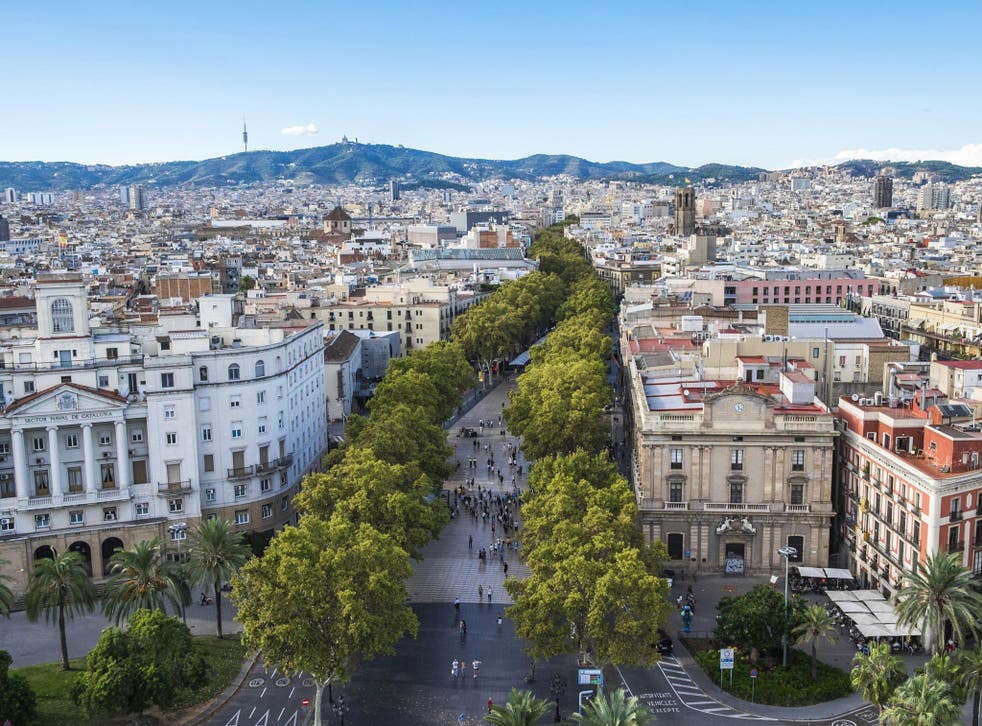 When the Summer Olympics rolled into Barcelona in 1992, everything changed. Buoyed by the influx of interest and investment that the Games bring, the city's urban landscape was transformed, and displayed proudly for the world to see. The Catalonian capital has since become one of European tourism's strongest pulls, with over eight million people paying a visit each year.
And as cities go, it ticks most of the boxes: inimitable architecture, world-beating food, vibrant arts, glorious weather and a great big beach to finish it all off.
But, as with any great city, it can be a daunting task trying to draw up an itinerary, pencilling in the must-sees, unearthing the hidden gems, all while avoiding the inevitable tourist traps. But these books will help you do just that. Whether you're packing as much as possible into a weekend excursion or have a fortnight to explore at leisure, let these guides help you plan the ideal trip.
We went looking for guides that were easy to use and genuinely informative. All of our picks can be easily packed into a rucksack, so the information is always on hand. No wifi? No problem.
Happy exploring.
1. Lonely Planet's Best of Barcelona: £13.99, Lonely Planet
One of the best known names in travel, Lonely Planet prides itself on guides that are written with the authority of a local and scattered with gems of insider knowledge. This one, updated for 2017, is a slightly condensed version of the full Barcelona guide and still manages to cover just about everything you need to know. It picks out around 30 of the city's must-sees, with oodles of information on each one, including nearby attractions, and also points you towards some of the newest attractions – like the craft breweries popping up all over the city. Elsewhere, there are recommendations for shopping, nightlife, restaurants, culture and sport, all helpfully organised by location. And if that wasn't enough, the so-called survival guide at the back of the book tells you everything from the opening hours of banks to how big of a tip to leave in restaurants.
2. The 500 Hidden Secrets of Barcelona by Mark Cloostermans: £13.95, Luster
Not all that fussed about the Sagrada Familia? If you really want to get under the skin of a city, the 500 Hidden Secrets series, which covers a number of cities from Havana to Ghent, all written by people who know the cities inside out, is ideal. It's an innovative and refreshing take on the traditional travel guide, split into various lists of five. This isn't the guide you'd use to plan your entire itinerary – rather, it's one to flick through before a trip, making notes of places you want to stop off at. The lists range from the somewhat ordinary (five restaurants to try experimental cuisine, or five breathtaking viewpoints) to the downright peculiar (five weird and lavish porter's lodges, anyone?). Each entry is numbered, corresponding to maps at the beginning of the book, and accompanied by a paragraph of information, as well as address and phone number.
3. Wallpaper* City Guide Barcelona: £6.95, Phaidon
No trip to Barcelona is complete without time spent admiring the architecture of Gaudi – in fact, you'd have to go some to avoid it. And if gazing upon the more aesthetically pleasing parts of the city is high on your to-do list, pick up a copy of this guide from the design-led magazine Wallpaper*. Small and light enough to discreetly slip into a backpack but packed with information, it's split into sections focusing on the best architectural landmarks, hotels, galleries, restaurants, bars, shops and out-of-city escapes. To sum up the Wallpaper* approach to city breaks, check out its proposed 24-hour itinerary – you start in an artisan coffee shop, take in some art and architecture, make time for a 43rd-floor spa retreat, and end up in an art deco bar. A nice addition: there are pages at the back (blank, lined and boxed) for you to jot down any inspired thoughts or sketches as you roam.
4. Barcelona City Cycling Guide by Rapha/Thames & Hudson: £4, Thames & Hudson
Getting around a city is often best done on two wheels – it helps you get a real feel for the place, as well as avoiding public transport costs or any lengthy walks. Barcelona has plenty of flat ground for the casual sightseeing cyclist, but is surrounded by hills for those who want a challenge. And if you want a guide to both, grab this guide, a collaboration between cycling gear specialist Rapha and the publisher Thames & Hudson, who have published seven other City Cycling Guides together. Relaxed yet comprehensive, it sets out a rough, cycle-friendly route around four different neighbourhoods with a nicely written blurb, explaining the main sites, and a marked-out map. Each section has top recommendations for where to grab food, a drink or wifi, and the maps are labelled with bike shops, in case of any inopportune punctures. There's also a short but helpful section for those looking to properly race or train, as well as essential info for cycling in the city (on etiquette, safety, bike hire and so on). A pleasant alternative to the formulaic city guide.
5. The Rough Guide to Barcelona: £13.99, Rough Guide
Another one of the most trusted guides in travel, this is the 11th edition of the Rough Guide to Barcelona. But don't let that name fool you – this is another of the all-in-one guides, which has information on everything from the average cost of taxis to travelling with disabilities. The main part of the book is split up into 12 sections covering different neighbourhoods and places of interest. Each one is accompanied by a colour-coded map, although there's no pull-out map of the entire city. Within in each section is an introduction to character of the place, as well as all the information you'd expect (description, opening hours, addresses, and so on). There's plenty of local knowledge dropped throughout, which is invaluable.
6. DK Eyewitness Travel Guide: Barcelona & Catalonia: £12.99, DK Publishing
For the traveller that wants to immerse themselves in Barcelona's rich history, the DK Eyewitness guide is the one to go for. There's a chunky section on the city's cultural background, which will give you a good grounding of knowledge before diving into the sightseeing once you arrive. Once you are in Barcelona, the numerous annotated illustrations of some of the best areas will help you find your way around, as will the large pull out map of the city centre and Metro network. The suggested guided walks are timed and helpful for planning the different areas you want to see. Of all the guides on our list, this is probably the most detailed when it comes to information on Catalonia beyond the city limits, so it's useful for any day trips.
7. Herb Lester Barcelona at Ease: £4, Herb Lester
This cross between an illustrated map and whistle-stop city guide looks good enough to serve as a souvenir once your trip has come and gone, and would probably do well to be paired alongside a more comprehensive guide. It focuses on a central section of Barcelona which is entirely walkable (from one side of the map to the other should take no longer than 45 minutes on foot) and covers sightseeing, eating and shopping. It'll take you from a café whose hardly alluring façade belies the world-famous sandwiches it serves, to a tucked away purveyor of Japanese fabrics, as well as some of the big hitters. The map itself isn't wholly practical, but features addresses, so Google Maps could come in handy. Each entry is accompanied by opening days and hours, as well as a paragraph of information.
The Verdict: Barcelona guide books
If you're only going to buy one guide for the entire trip, make it Lonely Planet's Best of Barcelona. It covers all bases and then goes above and beyond, with a clear, easy-to-navigate layout and some excellent recommendations. We also enjoyed the 500 Hidden Secrets of Barcelona, with its refreshing approach and anything-but-ordinary suggestions. Combine those two guides together and you're bound to have a trip to remember.
All prices are RRP
IndyBest product reviews are unbiased, independent advice you can trust. On some occasions, we earn revenue if you click the links and buy the products, but we never allow this to bias our coverage. The reviews are compiled through a mix of expert opinion and real-world testing.