The Independent's journalism is supported by our readers. When you purchase through links on our site, we may earn commission. Why trust us?
The best sustainable clothing brands for women you should bookmark now
These are the eco-friendly and ethical labels doing good for the planet and its people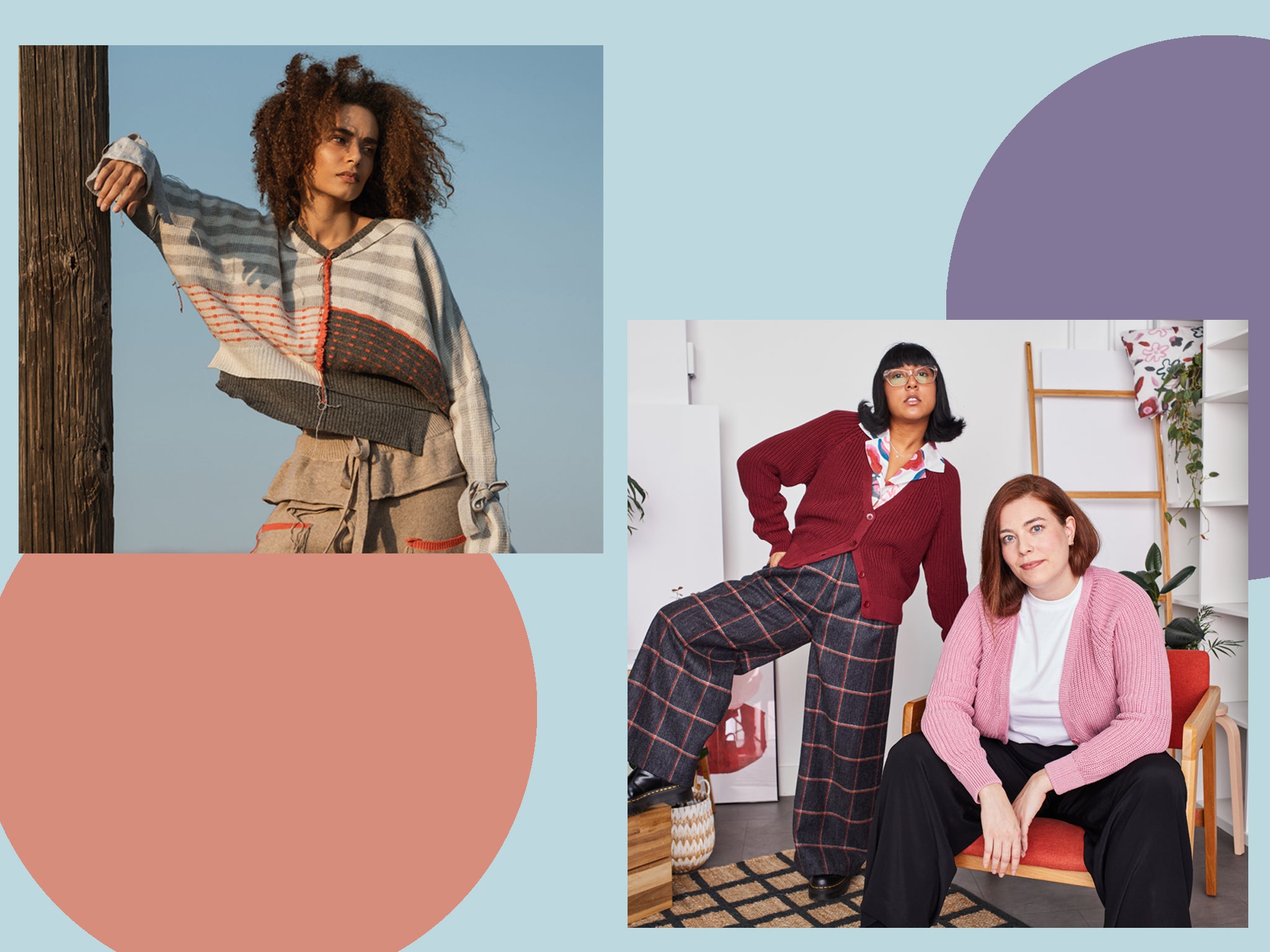 When we buy clothes, the most important things are how they make us look and how they make us feel. That's what will ultimately determine what we buy. But, did you ever consider that the brands you choose say a lot about you – that what a brand stands for should also be a major consideration?
Are their clothes made in sweatshops that are rife with abuse or in factories that offer good working conditions and opportunities? Are they using fabrics and dyeing processes that are toxic or kind to the planet? (Note: Recycled plastics may be kinder but they are not kind enough!). The real sweet spot is to find the brands that offer both these things: clothes that make you look and feel good and that are made ethically and sustainably – and that's exactly what we've tried to do here.
Sustainable fashion is complicated for many reasons. A big one is because greenwashing in the fashion industry is rife. Research shows clothes are among the items most at risk of being produced through modern slavery in an industry where women make up a staggering 80 per cent of the global workforce. Yet, brands think nothing of selling T-shirts emblazoned with feminist slogans, that are produced in factories by disempowered garment professionals.
Similarly, many brands make bold environmental claims about the few good policies they have while staying silent about the many not-so-great practices their brand is ultimately built upon.
So, on the one hand, sustainability in fashion is complicated and hard to unpick. But, on the other hand, it's actually pretty simple.
There are some brilliant brands that are working hard to improve both sustainability and ethics in fashion. They make less clothes (dropping a new collection every week is a massive no-no), they use more sustainable materials (we've listed brands that mainly use natural fibres in this list), and many of them ensure all in their supply chains are paid better wages than the industry demands.
Full disclosure: they're not perfect, but we're all operating in a far from perfect world. What they do have is ethics and sustainability at the heart of their business, not a side eco-range within an otherwise unsustainable brand. And, bags of style. So, you can feel good about shopping and support the incredible work these brands do.
Lora Gene
Lora Gene creates pieces of timeless elegance for those who appreciate attention to detail. The collections offer intelligent tailoring combined with a feminine style.
Founder Lora Nikolaeva is a fashion disruptor in business and in attitude, she says: "Women urgently need us to normalise the perception of what women should look like and reflect the real world without twisting size, shape or colour. Next to this, and equally important, I'm adamant that our brand acknowledges the complex skills and hard work behind garment making."
The brand has its own manufacturing facility in Sofia, Bulgaria which pays its tailors a living wage.
Birdsong
Birdsong came to life as a feminist brand making slogan tees. But over the years its style has matured to more thoughtful wardrobe staples with edgy silhouettes, bright colours and original prints, though its ethos remains the same.
The brand works with expert makers who face barriers to employment in the UK – from artists and printmakers to seamstresses and painters – and pay them a London living wage to bring its creations to life.
Operating as a social enterprise, Birdsong's packaging and postage are also done by a charity supporting adults with learning disabilities – and it pays living wages to them, too.
Sabinna
Sabinna is a female-led brand and its goal is to shift the perception of what sustainable fashion can look like, through its focus on bold prints, statement pieces and timeless silhouettes. If you're into crafty details, look out for the brand's handmade brooches or hair clips, hand-knitted jumpers or funky accessories.
Transparency is at the core of the business and the brand works hard to give its customers the power to make informed decisions, by educating them about ethical fashion and consumption and combatting greenwashing. For the past two years, Sabinna has been actively working on three things: eliminating synthetics from its products, expanding its size range and communicating price transparency.
Gung Ho
Gung Ho allows you to wear not only what you love, but also what you believe in. Founder Sophie Dunster's designs boldly and cleverly illustrate the important issues of our times, be it human displacement or the problem of ocean plastics.
It goes without saying the brand's materials are sustainably sourced. Excitingly, its new bespoke made-to-order collection allows you to pick the style, fabric and print you want – and it will be made-to-order for you, in London.
Mud Jeans
Mud does jeans, and it does them really well. Brilliantly, every pair can be sent back to be recycled into a new pair. Mud also gives customers the option to rent pairs of jeans with its "lease a jeans" concept. A monthly subscription fee of €9.95 (around £8.60) means you can order and wear any pair of jeans for 12 months, after which you can trade them in for a new pair.
Mud's philosophy is that without data or third-party verification, there is no proof of sustainability – so the brand holds an impressive amount of certifications and frequently visits its factories.
People Tree
One of the pioneering ethical fashion brands, People Tree has stuck to its principles of fairly and sustainably made clothing for around 30 years now. For every item listed on its site, it details where the garment was made and the positive impact it has had.
Behind the scenes, the brand is working on a living wage analysis with the World Fair Trade Organization, as there is no real defined living wage in most of the countries they work with. However, People Tree ensures it pays above the minimum wage.
The brand's clothes have a timeless quality to them, but more trendy designs are definitely making their way into the collection.
No Nasties
No Nasties offers everyday, easy-to-wear essentials made from 100 per cent organic cotton. The brand promises ethically and transparently made garments in fair trade factories; its chosen factory works closely with an organic cotton farmers co-op so it has rare traceability. Located in India, No Nasties is a pioneering largely female-run company that supports its employees with further education opportunities or advances and interest-free loans for any personal/unforeseen expenses as needed as well.
Valentina Karellas
Designer Valentina Karellas creates high-quality, bold, statement knitwear from surplus yarn, so each design is a unique combination of threads. She handknits tube dresses in bold blocks of colour that are perfect for summer, and also offers refined yet brightly coloured beanies and mittens that will keep you stylish and warm in winter. We love that Valentina Karellas keeps the loose strands of yarn on her designs to highlight the brand's zero-waste ethos and the rawness of her knits.
Visit Valentinakarellas.com now
Leticia Credidio
Leticia Credidio is a luxury sleepwear and loungewear brand made by an Italian-Japanese-Brazilian designer of the same name. Credidio's designs are heavily inspired by the natural world, with collections influenced by the ocean and winter birds.
All of Credidio's garments are hand-crafted in Italy by a family-run atelier using organic (GOTS-certified) and sustainable fabrics. And for extra plus points, all the packaging is made from discarded fabrics from a recycling centre in London.
Rapanui
Rapanui is a great brand for lovers of the great outdoors; even Sir David Attenborough gives the brand his seal of approval. It offers all the basics, such as T-shirts, jumpers, knickers and socks made from 100 per cent organic cotton. It even sells them in bundles, so shopping couldn't be easier.
Rapanui operates as a social enterprise on the Isle of Wight, helping to combat youth unemployment. Plus, it powers its UK factory using renewables and uses a closed-loop water system for dyeing clothes that filters water so it's pure enough to drink.
Visit Rapanuiaiclothing.com now
Komodo
Also featuring in our round-up of the best sustainable menswear brands, Komodo aims to liven up your sustainable wardrobe. As part of this commitment to sustainability, the garments have a long life span and funky design elements are mixed with classic styling elements.
Asket
Asket is one of the biggest brands on this list, with more than 400 processes and facilities involved in the production of its garments. Unlike most big brands it already publishes details of 93 per cent of its supply chain (up 6 per cent from last year) – from raw materials to cut and sew factories. The brand prefers to focus on responsibility and refuses to design for fashion seasons, instead creating timeless items that can be worn again and again.
Vildnis
Vildnis translates to "Wildness" in Danish and this-ethos runs through the brand, from designs inspired by the beauty of the natural world to its commitment to sustainable manufacturing and materials throughout its collections. "Why would anyone support pollution, exploitation of workers and animal cruelty?" asks founder Ulla Vitting Richards.
The thing we love most about Vildnis is that the brand is out to make ethical fashion the norm; it works to a triple bottom line – holding itself accountable to social and environmental goals as well as financial ones. All workers in the factories the brand partners with are paid above the state minimum wage, and it continues to lobby to increase this to a living wage. Vildnis also proves sustainable style can be wild, free, sexy and rebellious.
Rifo Lab
Rifò's knitwear is made to order in Italy, primarily using recycled cashmere and wool in its collections. In the Tuscan dialect "Rifò" means redoing. Rifo Lab represents the local artisans who have been recycling old clothes for more than 100 years.
Want to learn about more brands doing good? Read our guide to the ethical and sustainable B Corp companies