10 best South West beers
The region is home to some nationwide favourites as well as bold up-and-comers, and these are the best of them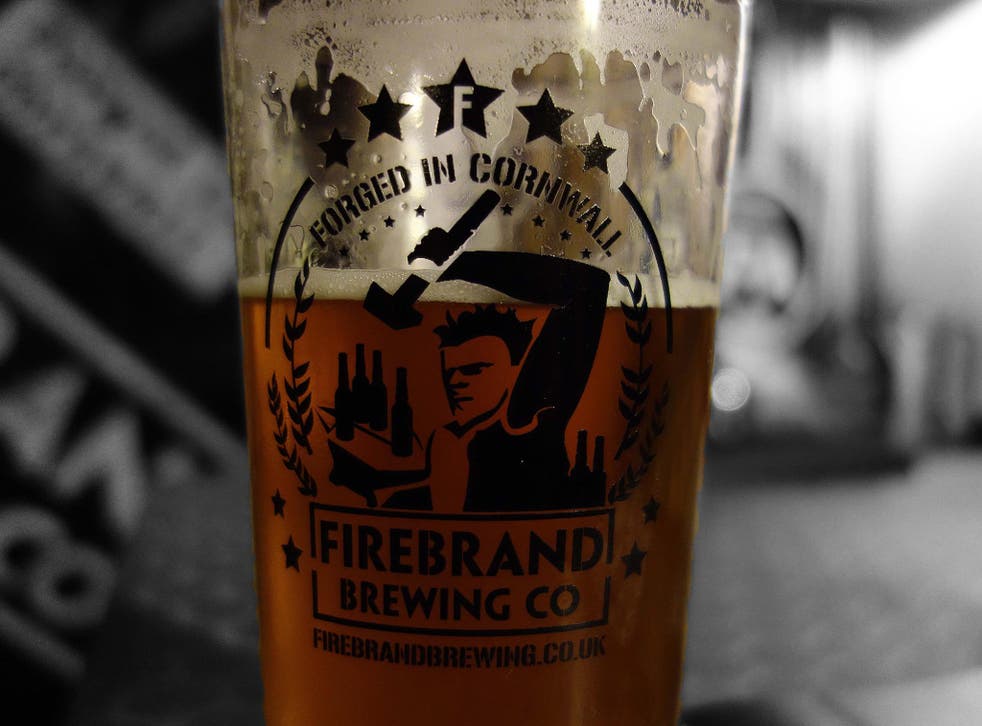 Join us on a tour of Dorset, Devon and Cornwall, three counties with a strong brewing tradition, where established names share bar space with a host of newcomers, many of them vying for attention on a national basis.
Leading the charge is Sharp's, a brewery from Rock, Cornwall that, with help from investment from Molson Coors, has seen its Doom Bar bitter become an established feature in pubs and supermarkets throughout the land (we would also recommend seeking out its special ale, Sea Fury, a mighty, muscular, fruity and bitter traditional ale).
Hot on the Cornish heels of Sharp's are the likes of St Austell, Skinners, Keltek and Harbour, while Verdant leads the charge of the new breweries, with Black Flag and Firebrand rapidly gaining ground.
While Cornish beer is making a big noise nationally, neighbouring Devon is much quieter about what is has to offer. Otter, Hunter's and Dartmoor are probably the most well-known but there are numerous microbreweries creating waves locally that could soon reach a wider attention.
Dorset has a happy mix of new and established breweries – Palmers can claim a heritage that goes back to the 19th century while, of the newer outfits, Wimbourne's Eight Arch looks the most likely to reach a wider audience.
We've guzzled our way through plenty of the aforementioned breweries' wares to come up with a list that we think is typical of the region's output: a heavy dose of tradition with a good smattering of the modern, which we hope will help spread the word of the great brewing work being done throughout the South West.
1. Palmers Tally Ho!, 5.5%: £2.59 for 500ml, Waitrose
This full-bodied, chestnut-brown booze has been sold in bottles since 1949 and it has a maturity to the flavours that are worthy of the "old ale" style. It's a complex beast, inspiring an array of tasting notes that include oak, dried fruits, caramel and festive spice – most of them thanks to the rich, roasted malts that also give it a comforting boozy quality. It has a moderate but piercing bitterness with a dash of pepper to finish. Proof that old ales can still be good ales.
2. Firebrand West Coast Session IPA, 4.5%: £2.55 for 330ml, Eebria
Session IPA is a style currently on most breweries' "must-make" list, offering the brewer a chance to confidently play with its favourite hops while not frightening off potential new drinkers with super-strength booze. Launceston's Firebrand has opted for Mosaic and Equinox in this fruity little number, which entices with tropical and lime aromas and packs a powerful surge of bitterness that smashes through the juicy mango and citrus flavours.
3. St Austell Eureka, 4.9%: £30 for 12 x 500ml bottles, St Austell
St Austell's Tribute and Proper Job have been riding high in best beer lists for years (the latter recently hit the top slot in our round-up of the best traditional beers) but we're turning to a new brew for this round-up. It started out as one of the brewery's "small batch" series of experimental ales but has since migrated to the "regular" category. Initially brewed in collaboration with Thornbridge, it features the new Eureka hop which lends lots of bitter citrus, currant and punchy herb flavours to the amber malt body. We're hoping more breweries have their own Eureka hop moment.
4. Exeter Avocet, 3.9%: £2.59 for 500ml, Riverford
Exeter Brewery's Avocet is the ideal beer for anyone in need of a change from giddily boozy, hop-heavy beers. It's a very pale golden ale, soothingly soft with light touches of lemon and honey that will ease the palette back to normality, with additional refreshing qualities coming from a dry, subtle bitterness. It's a simple pleasure, with the added goodness of being made from organic ingredients.
5. Verdant Headband, 5.5%: £3.99 for 500ml, Honest Brew
Falmouth's Verdant is the new darling of Cornwall's brewing scene and this psychedelic-looking can of beer is a good example what it's all about. It's a very modern, juicy American Pale Ale, loaded with pineapple and mango hop flavours and a grassy, herby bitterness. There's a sweet touch to the slick malt base that helps accentuate the fruitiness, as if every last drop of juice has been squeezed from the beer's ingredients. Tasty stuff.
6. Otter Ale, 4.5%: £1.65 for 500ml, Morrisons
This Devon drop is the kind of product new "craft ale" fans might turn their noses up at: a brown English bitter. We've been enjoying its easy-going nature for years and still look forward to reacquainting ourselves with its malty charms – slightly sweet, a little bit toasty and with a full, fruity malt flavour. The hops play second fiddle to the grains, adding a rustic, earthy bitterness to the finish and neatly rounding off the fruitiness in the malt. To us, and its many admirers, this well-made, traditional brown bitter is very much a craft ale.
7. Gyle 59 Nettle IPA, 5.3%: £2.50 for 500ml, Gyle 59
Gyle 59 is one of Dorset's best kept secrets. The brewery's range of beers is exceptional, combining tradition with innovation, but its products are less well-known the further north you travel. This nettle IPA is one of its more unusual beers (see also an Elderberry Stout) – a light, crisp IPA with the hoppy bitterness leaning towards the piney and herbal end of the flavour spectrum. The addition of nettle tips to the brewing process gives it a novel twist – the flavour imparted by the stinging leaves isn't obvious but the finished beer has enough of a distinctive taste to know they've had some effect.
8. Badger (Hall and Woodhouse) American Adventure, 6%: £2.19 for 500ml, Waitrose
Hall and Woodhouse is a family business with a few hundred years of brewing under its belt and its Badger beers are mostly brewed along traditional lines. There's a familiarly sweet, bready grain and peachy aroma that runs through many of the lighter beers and a rich fruitiness to darker brews (Poacher's Choice is well worth sniffing out). An American Venture sees the brewery embracing contemporary beer trends with some more dominant hopping from US varieties that bring juicy orange and spicy bitterness to the fore without wiping out the familiar Badger flavours. A great marriage between tradition and the new beer world.
9. Harbour Session IPA, 4.3%: £2.39 for 330ml, Honest Brew
Harbour is another Cornish brewery with a big nationwide reputation thanks to its exciting range of modern ales, many of them boldly flavoured limited editions. This Session IPA is at the gentler end of its range, possessing a fresh hop taste but with less intensity than many of its contemporaries: a moderate bitterness and zingy grapefruit notes mingle behind the senses rather than stomp all over the palate like some of the showier beers around. The hops may well be turned down a notch but the quality is high, making it a worthy brew for a wide range of beer drinkers.
10. Skinners Pennycomequick, 4.5%: £5.80 for 3 x 500ml, Skinners Brewery
Skinners, founded in 1997, has recently upped its marketing game with some new packaging and some innovative promotions, so expect to see its beers become a more common sight far beyond its Truro base. Cornish Knocker and Betty Stogs are its hugely popular bitters, but we've decided our list needs a black brew and this stout fits the bill. It's not a thick, heavy stout in the Guinness mould, but a dark roasted ale with a less viscous body and a sweet toffee and coffee flavour. A nice fruitiness helps brighten it up while a low bitterness emerges through the smoky dry finish. A fine stout that can be filed under "easy drinking".
The Verdict: South West beers
Verdant and Firebrand are just two breweries with a great modern touch, but we think it's expertly crafted traditional ales like Palmers Tally Ho! that the South West does best.
Nick Moyle is one half of the Two Thirsty Gardeners. Their book, Brew it Yourself, is out now
IndyBest product reviews are unbiased, independent advice you can trust. On some occasions, we earn revenue if you click the links and buy the products, but we never allow this to bias our coverage. The reviews are compiled through a mix of expert opinion and real-world testing.