The Independent's journalism is supported by our readers. When you purchase through links on our site, we may earn commission.
6 best balsamic vinegars to always have on hand in your cupboard
Drizzle it over salad, enjoy it with ciabatta, marinate vegetables, or use it to add depth to a sauce – this versatile staple is a cook's best friend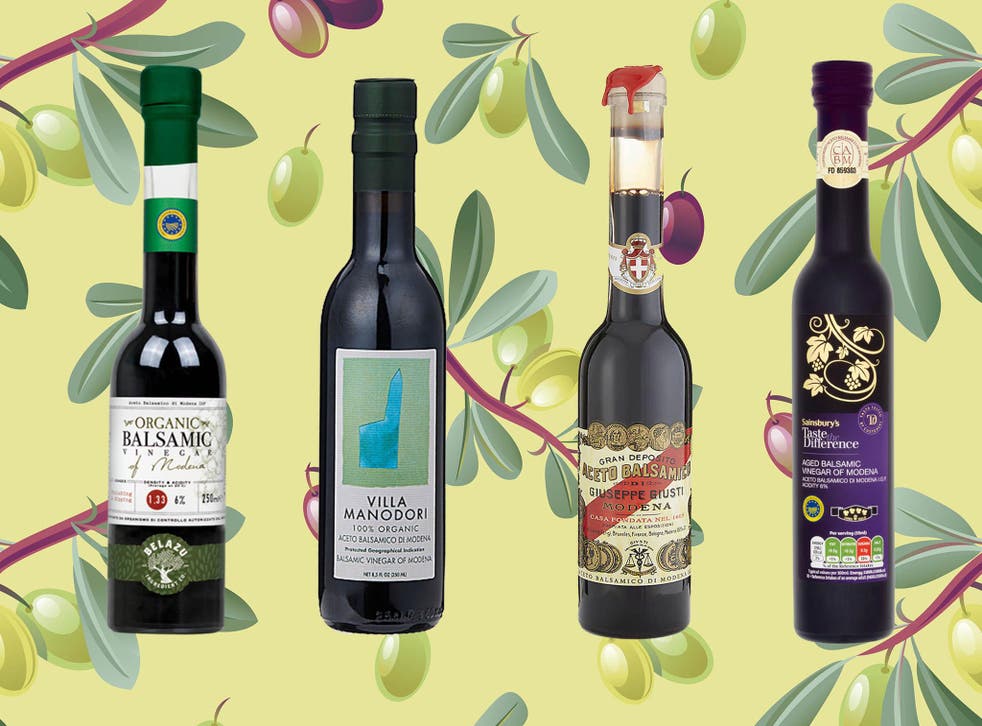 A great balsamic vinegar is a true store-cupboard staple – best kept on standby, ready to spruce up sauces and swirl over starters.
But with so many on offer, at such staggeringly different price points – how do you know the best one to buy? Before even tasting balsamic vinegar you'll be able to glean a lot of information, just from looking at the ingredients and the label.
For example, if you read Aceto Balsamico Tradizionale (Traditional Balsamic Vinegar) di Reggio Emilia and D.O.P. ("Protected Denomination of Origin") you are guaranteed the ingredient's quality, you'll know it's been through a very rigorous process, and you'll have a place of origin.
The only ingredient is grape must (freshly crushed fruit juice), mostly from trebbiano grapes, which is then left in a variety of different wood casks – oak, chestnut, cherry, mulberry, ash, and juniper – all of which will impart their distinctive flavours whilst the liquid slowly matures for at least 12 years.
Expert tasters then decide on its ranking with classification following a very strict quality criteria for both production and end product appearance, aroma and taste. It only comes in 100ml bottles, and it is an incredibly precious product. In short, you can expect this to be pretty expensive.
Another label to look out for is Aceto Balsamico di Modena IGP Invecchiato (IGP – Protected Geographical Indication meaning the product must come from a specific area surrounding Modena). This is made using age-old craft techniques, blending regional grape-musts mixed with a small percentage of wine vinegar.
The mixture then slowly ages in oak casks and in the finished product acidity must be below 6 per cent. Italian regulations actually forbid to state the years of ageing on the label, just look for the word "invecchiato" (aged). This is certainly a more affordable option for most shoppers.
As for personal choice, it really depends what you'll be using it for – balsamic vinegar is an ultra-versatile ingredient. Delicious used in salad dressings, it can also be drizzled over soft and hard cheeses, meat, pasta and risottos. Equally delicious but something you might not have considered is pairing it with ice-cream, panna cotta and fresh strawberries.
And just when you thought this miracle product couldn't get any better, apparently a teaspoon of balsamic vinegar at the end of a meal aids digestion! Try a spoon of the thicker styles at night, just before bed.
When taste-testing our vinegars, we were looking for a smooth balanced flavour, combining acidity and sweetness with plenty of depth. We tried them all neat as well as in a variety of dishes.
When considering which to buy, we'd suggest thinking about how you're most likely to use this product. Thinner styles are better suited to everyday use, whilst thicker versions are best saved for the finishing touch to very special dishes.
You can trust our independent reviews. We may earn commission from some of the retailers , but we never allow this to influence selections, which are formed from real-world testing and expert advice. This revenue helps to fund journalism across The Independent.
Il Borgo del Balsamico Italian balsamic vinegar Modena IGP yellow label 250ml: £16, The Red Beetle
The Red Beetle travels around Italy, sourcing authentic ingredients from local suppliers and then pop them on itslovely website for us to buy here in the UK. As you might expect, it has a truly delicious array of goodies, including a top selection of balsamic vinegars. The Il Borgo del Balsamico brand has a nifty colour code which makes selecting the perfect one for you very easy. The yellow one we've awarded our Best Buy to is the perfect option for everyday use.
It's great for fresh salads, can be used to marinate fish or they suggest adding to tempura and eggs benedict as a slightly more unusual (but no less delicious!) way to use this lovely ingredient. The orange one from the same range is slightly thicker, so better suited to adding at the end of a sauce or on top of ravioli, while the red is the top of the range – velvety, thick and silky in consistency, it's aged in oak for years, and should be saved for the most special dishes.
Belazu organic balsamic vinegar of Modena IGP 250ml: £16.45, Belazu
Belazu have a great reputation when it comes to sourcing the best ingredients from across the Mediterranean and this organic balsamic vinegar from Modena is no exception. Matured in a mix of oak, chestnut and juniper barrels for up to 30 months, the resulting dense liquid has taken on a deep colour and a well-rounded, balanced yet highly complex flavour. Elegantly smooth with an obvious sweetness, we'll be teaming ours with strawberries and ricotta or mopping it up with crusty bread.
Guiseppe Guisti 5 gold medals Cubica balsamic vinegar 250ml: £42.99, Selfridges
This may be a little more than we'd normally spend on balsamic vinegar but this is a very special product with a price tag to match. Highly concentrated with notes of black cherries, baked plums, cinnamon and nutmeg, the liquid is aged in small antique barrels which date back to the 1700's. As such only a very limited quantity is available each year. Add a drop or two at the end of your dish to really savour the complex flavours. The elegant bottle is finished with a red wax seal and the label depicts the 5 gold medals in its name. It's the champagne equivalent in our round-up – best saved for special occasions.
Odysea balsamic vinegar of Modena 250ml: £7.95, Sainsbury's
Aged for a minimum of 10 years, this is a velvety smooth vinegar, made with a blend of grape varieties. It's a thicker style and works a treat in tomato-based sauces, with a dark brown chestnut colour which would also create a satisfying swirl on top of risotto. Well balanced acidity, a slightly earthy complexity and a light sweetness – its' all we could ask for from a balsamic at this price.
Sainsbury's Taste the Difference balsamic vinegar of Modena 4 Leaf 250ml: £10, Sainsbury's
With a pleasing viscosity and slightly sweet finish, Sainsbury's "four leaf" balsamic is at the top of its range. When trying other supermarket own-brand balsamic vinegar's around the same price, this tasted significantly more premium than the rest. A very good sweet to tart ratio that will work well in sauces and for dipping.
Fortnum & Mason 20 year-old balsamic vinegar 100ml: £40, Fortnum & Mason
Rich, thick and luxurious, but then what else would you expect from royal warrant holders, Fortnum & Mason. This vinegar has been aged for an impressive 20 years, and in that time has taken on the complex earthy notes from the wood it's been aged in – in this case oak, mulberry, chestnut, cherry and juniper. Thankfully a little goes a very long way, so just add a drop our two over freshly steamed asparagus and serve as a sumptuous starter, which is guaranteed to impress guests.
The verdict: Balsamic vinegars
The Red Beetle's Yellow Label balsamic vinegar comes out top for us, as we think it's a great quality product at a sensible price, making it perfect for everyday use. However, if you're looking for something slightly thicker and better for dipping, Belazu's balsamic is perfect for the job. It's more pronounced flavours made this a very memorable product that we can't wait to cook with again.
Register for free to continue reading
Registration is a free and easy way to support our truly independent journalism
By registering, you will also enjoy limited access to Premium articles, exclusive newsletters, commenting, and virtual events with our leading journalists
Already have an account? sign in
Register for free to continue reading
Registration is a free and easy way to support our truly independent journalism
By registering, you will also enjoy limited access to Premium articles, exclusive newsletters, commenting, and virtual events with our leading journalists
Already have an account? sign in