The Independent's journalism is supported by our readers. When you purchase through links on our site, we may earn commission.
9 best video doorbells for upgrading your home security system
From battery-powered to wired models, we tested for audio and picture quality, handy features and ease of set up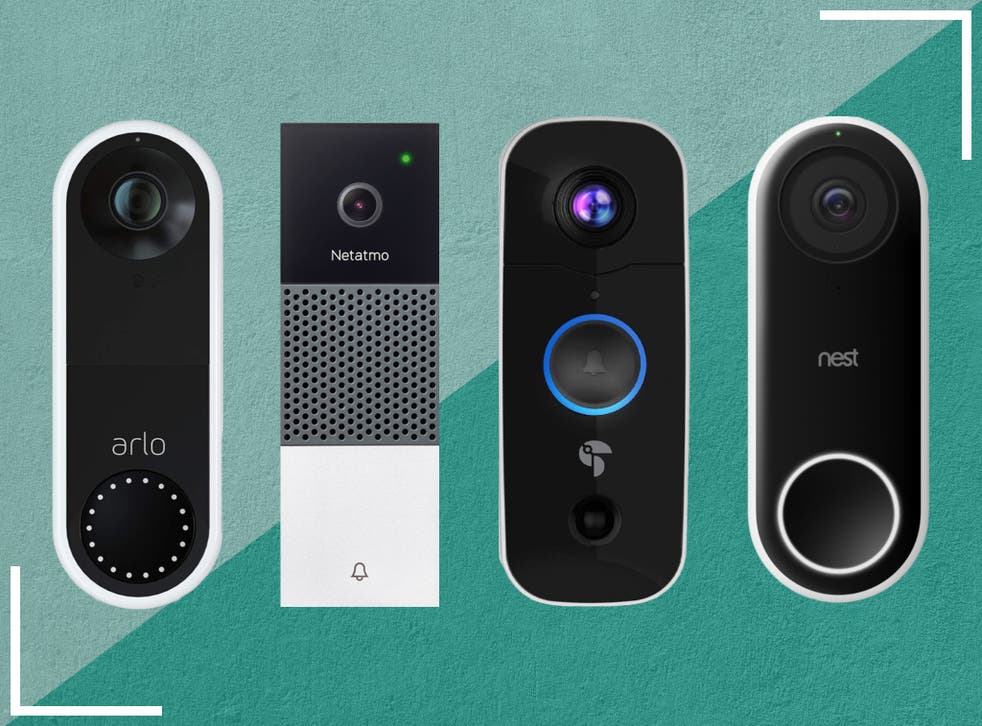 The last few years has seen an emergence in a new kind of linked technology, connecting devices from around the home to existing portable devices while providing extra protection, security and peace of mind.
A smart or video doorbell not only allows notifications to be sent to your phone, but gives you the ability to screen visitors at the door before you answer or let them in. Combined with a larger, connected smart home system, some video doorbells also twin with smart locks and lights to allow automatic unlocking and illumination of the driveway, for example.
The camera and audio quality tend to be good, and many of the video doorbells with subscription options have the ability to save recorded files on the cloud, which is an excellent security feature for peace of mind, should the worst happen and you get broken into.
If you have a doorbell installed at your home already, many of these devices will wire into your existing system, and there tends to be good guides out there to doing this yourself, including advice as to all the equipment you need. For those less inclined to do the work themselves, there are a number of battery-powered options which are systems that connect and go – just connect to your wifi and attach to your door, and they're ready to use.
We liked the versions that were pretty much "plug in and play", but we'd recommend finding guides online on how to install the wired ones yourself, as some can be incompatible with a range of existing systems so it's wise to double check before you make your purchase. For larger houses, locations in which wifi won't reach, or multi-device setups, we'd recommend the slightly more complicated but more reliable "always-on" wired approach.
Read more:
How we tested
Personally, we found that the battery options were the best bet for those with apartments, smaller houses and people who want something that'll work out of the box – and one factor in determining our ratings was how quickly we could get the devices set up. We tested over the course of about a week of regular comings and goings, and our tests also included video and audio quality measurement and how effective our device notifications worked up close and at a good distance from the doorbell itself.
Without further ado, here are our recommendations for some of the best video doorbells on the market at the moment.
The best video doorbells in 2022 are:
Video doorbells FAQs
Do video doorbells work with Alexa?
Most popular video doorbells are compatible with Alexa and Amazon Echo devices. For the most seamless setup and experience, Alexa users should consider choosing a Ring doorbell. Ring is also owned by Amazon, and so the functionality between the devices is more reliable than with a third-party video doorbell.
Video doorbells list which voice assistants and smart home setups they're compatible with. Look out for the "Works with Alexa" badge, the "Works with Hey Google" (or "Works with Nest") badge, and the "Works with Apple HomeKit" badge.
Wondering which voice assistant is best? Check out the 11 best smart speakers for use around the home.
Is there a monthly fee for a video doorbell?
Most of the bestselling video doorbells don't store recordings locally, but upload their footage to the cloud. This makes them more secure — as an intruder would be unable to access and destroy the evidence — but to cover the cost of storing and viewing these recordings, a monthly subscription fee is charged.
Many video doorbells work without a subscription, either by deleting footage after a short while, only allowing live audio and video feeds, or by storing their recordings locally. The Eufy 2K video doorbell (£179, Amazon.co.uk) is the best video doorbell without a subscription.
How do I install a smart doorbell?   
Battery-powered video doorbells are easier to install than their wired counterparts, and can usually be secured to a wall or door using the supplied anchors and some basic tools.
Installing a wired video doorbell requires a basic knowledge of wiring. Each doorbell will have a slightly different installation, so follow the instructions carefully. If you're not confident, book an electrician to do the job.
Both the Google Nest hello video doorbell (£164, Diy.com) and the Ring video doorbell 3 (£159, Ring.com) can walk you through the process using their accompanying apps, which have clear step-by-step instructions based on the type of setup you've got.
Some general tips to bear in mind: take a picture of your old wiring before you begin so you can put things back the way they were if needed, and switch off the power at the fuse box before you start working (though if you need us to tell you that, you should probably call an electrician).
Do you need an electrician to install a Ring video doorbell?
Like changing a light fitting or rewiring a plug, installing a video doorbell does not require a certified electrician to carry out the work.
This doesn't mean installing a video doorbell is a simple or safe task. While there are easy-to-follow guides online, if you want to be absolutely sure the doorbell is properly installed, it's worth calling in a professional. Most electricians will be very familiar with the leading brands of video doorbell and can carry out the work quickly and without fuss.
Do all doorbell cameras need wifi?
Not all video doorbells need wifi, but most do. Some video doorbells have SIM cards and operate on mobile data networks.
The Ring video doorbell 3 (£159, Ring.com) requires a stable wifi connection to work. If your internet goes down you'll no longer be able to see the live camera feed in the app, store any footage or be notified when a visitor arrives.
Wired video doorbells, such as the Google Nest hello video doorbell (£164, Diy.com), will continue to work like a traditional doorbell even if you lose wifi.
The verdict: Video doorbells
While we accept that having another piece of technology connected to your smartphone won't be for everybody, we also think that video doorbells are a useful addition to your home, especially in this era of more home deliveries.
Even though the Ring 4 is the latest incarnation of the Ring range of video doorbells, we still prefer the Ring 3 for its range of features and relative affordability. However, we also recognise that the Google Nest hello doorbell is on paper the best doorbell on offer, provided you have the capacity and wherewithal to install it.
Voucher codes
For the latest discounts on video doorbells and other smart home offers, try the links below:
Forget complicated systems, we've found the best home security cameras that give you ultimate peace of mind
Register for free to continue reading
Registration is a free and easy way to support our truly independent journalism
By registering, you will also enjoy limited access to Premium articles, exclusive newsletters, commenting, and virtual events with our leading journalists
Already have an account? sign in
Register for free to continue reading
Registration is a free and easy way to support our truly independent journalism
By registering, you will also enjoy limited access to Premium articles, exclusive newsletters, commenting, and virtual events with our leading journalists
Already have an account? sign in