The Independent's journalism is supported by our readers. When you purchase through links on our site, we may earn commission.
iPhone vs Android: How to decide which smartphone is best for you
When it comes to operating systems, there's only really two front runners in the game. We break down the differences you need to know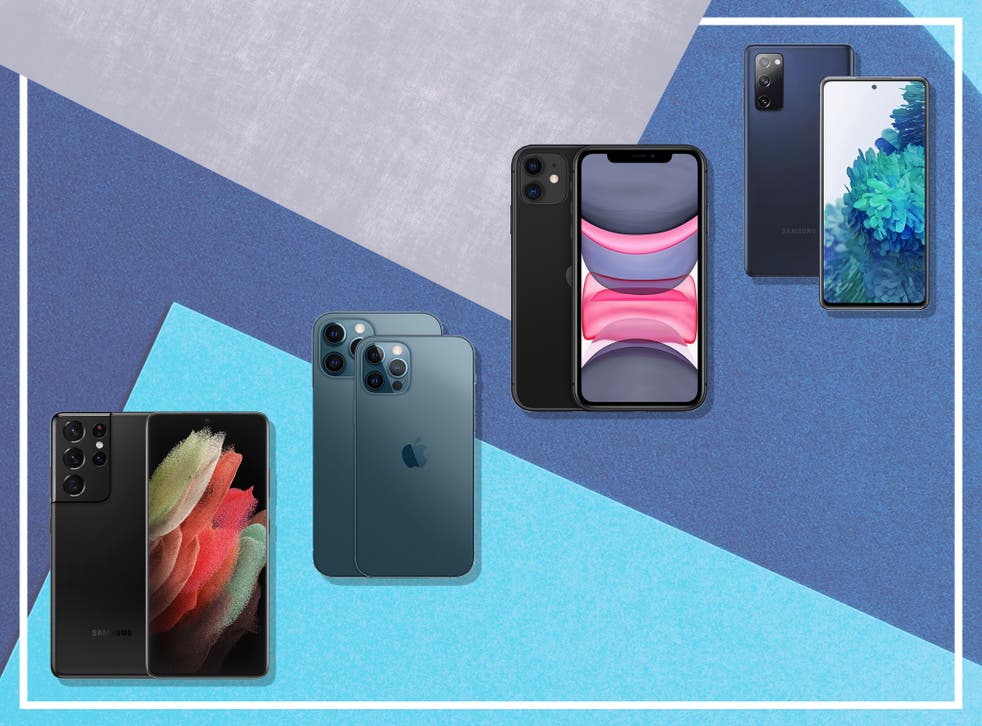 In 2021, smartphones can be divided in any number of ways, the easiest of which is to split them by operating system.
Once upon a time that would have encompassed the likes of BlackBerry OS, Symbian and Windows Phone. But now the choice lies, as voted by the public with its collective feet, between iPhone's iOS and the Android systems as seen on any number of handsets from Samsung, Nokia, Motorola and others.
All the other pretenders have been swept aside by Apple and Google's smart design and flourishing app ecosystems. Ultimately though, it comes down to personal preference.
Both iOS and Android have pros and cons and you can find excellent handsets in both flavours, so be sure to check out our list of the best smartphones to find the device that's right for you.
But to help you make an informed decision, here are some factors to consider before you part with your cash, covering design, hardware, operating systems, apps, security and price.
Read more:
You can trust our independent reviews. We may earn commission from some of the retailers, but we never allow this to influence selections, which are formed from real-world testing and expert advice. This revenue helps to fund journalism across The Independent.
Design
Let's start with the iPhone, because there are only two basic design styles. Every flagship Apple phone since the iPhone X has ditched the home button, and introduced a screen that covers the entire front of the phone. Well, almost: there's a small notch at the top housing the "selfie camera" and Face ID – the clever system that unlocks your handset via facial recognition. These are available in sizes between 5.4in for the iPhone 12 mini and 6.7in for the iPhone 12 pro max.
Then there's the entry-level iPhone SE (£399, Apple.com), which inherits the slightly more dated shell of the iPhone 8. Here, the screen is bookended by thick bezels at the top and bottom,  with the home button retained for fingerprint authentication. It's technically smaller than the iPhone 12 mini with its 4.7in display, but the thicker bezels means it actually takes up more pocket space (even if it won't shrink your wallet as much).
By contrast, Android design is a whole lot more varied – or as varied as a rectangle with a screen can be, anyway. Selfie cameras can be small pinholes in the screen, tucked inside a pop-up mechanism or even hidden underneath the screen.  Android phones are also available in vastly different sizes, ranging from the 3.3in Palm phone (£201.29, Palm.com) all the way up to the massive 7.6in Galaxy Z fold 2 5G (£1799, Samsung.com) – a phone that rivals the Nintendo Switch for screen size.
But that's really just scratching the surface of the variety available on Android. Want a stylus for doodling and note-taking? Try the Samsung galaxy note 20 ultra (£1179, Samsung.com) or the Motorola moto G pro (£229, Motorola.co.uk).
Similar to the Galaxy Z fold 2 5G, Motorola's razr (£449, Motorola.co.uk) reboot, also folds in half. Or if you need something that can survive both the elements and clumsiness, believe it or not, both Land Rover and Caterpillar have their own rugged Android devices.
Read more: Should you buy Apple's earbuds or headphones?
If you worry about the environmental impact of smartphone production, there's Fairphone, and while physical keyboards are rarer these days, options still exist from BlackBerry and London startup Fxtec. You get the idea – Android phones are far more flexible for the obvious reason that multiple companies make them and therefore there's far greater variety.
They get a couple of extra design points for continuous inclusion of the 3.5mm headphone jack, despite Apple signing its death warrant on iPhone back in 2016. Plus, plenty of Android phones let you expand your internal storage via microSD too – something that has never been an option on an iPhone.
Hardware and memory
Just as there's enormous variety in size and feature sets, Android phones run the full gamut from cheap and cheerful Android One handsets aimed at developing nations all the way up to four-figure luxury phones with all the bells and whistles you could  ask for. The difference between, say, the Alcatel 1S (£100, Carphonewarehouse.com) and the brand new Samsung galaxy S21 uItra (£1,199, Samsung.com) is night and day.
That means that in almost every area you can buy an Android device with better hardware than the iPhone equivalent, if you have the budget.
The camera benchmarking specialists at DXOMark don't mention an iPhone until fifth place in their current smartphone camera rankings, and while the biggest iPhone battery is 3,678mAh, some Android phone capacities reach 6,000mAh or higher.  
Storage is also a weak spot. The starting point for each iPhone is either 64 or 128GB of internal storage – and if you need more, you'll have to pay hundreds of pounds upfront, as it can't be upgraded later.
Read more: Samsung's Galaxy S21 plus has £150 off right now
While the iPhone 12 pro maxes out at 512GB, some Android handsets have a ridiculous 1TB of internal storage – and even the low capacity ones often support microSD card expansion, meaning you can add space at a later date on the cheap (a 128GB microSD card will cost you about £20 if you shop around).
But in terms of raw performance, the current batch of iPhones is our winner. While Android manufacturers generally rely on third-party chips from the likes of Qualcomm and MediaTek, Apple uses its own bespoke hardware and in both the Geekbench and GFXbench benchmarks, the latest Apple A14 bionic chip leaves the top-of-the-line Qualcomm snapdragon 888 in the dust.
It's unlikely that the average user would actually notice, but it does seem that Android devices have some catching up to do on that front, regardless.
Software
Part of why Apple's A14 bionic processor performs so well could be down to iOS itself, which is designed to work hand-in-glove with the company's own hardware. For phone makers using Android, it's always a game of trying to optimise third-party chips with a third-party OS.
That said, there are inherent advantages that both can claim. In general, iOS feels more streamlined and is arguably easier for smartphone newcomers to get to grips with. On top of this, while Android phones often ship with a bunch of unnecessary games and apps (known as "bloatware"), Apple ensures that iPhones ship with nothing but the essentials, leaving the job of filling the phone up to you.
Additionally, if you own other Apple hardware, then it's remarkable how well devices sync up with each other. Photos taken on iPhone will automatically appear in your Mac's gallery, you can copy and paste text between platforms with universal clipboard and if you buy something using Apple Pay on your Mac, you can authenticate via facial recognition on iPhone. It's all impressively seamless.
Read more: 10 best smartwatches that do much more than just tell the time
While Android can't boast this kind of shared ecosystem, there is a flip side to this in terms of diversity. If you buy an iPhone and then decide you want a smartwatch or smartspeaker, there are clear advantages to paying more for a HomePod or Apple Watch (£379, Apple.com). With Android, you're free to mix and match accessories to your heart's content.
Android also has a reputation for being more customisable, and although iOS is catching up with widgets in iOS 14, the Google operating system is still streets ahead overall. You can change the look and feel with a custom phone launcher and change your core services and software at will, from third-party keyboards to media players. Again, iOS is taking steps to catch up, but it's slow progress.
Apps and emoji
When it comes to apps, however, it's far more clear cut. While the Google Play store technically has more apps available, that's partly down to Apple's vetting process and there is an awful lot of filler making up the numbers. Although all the most popular apps (Facebook, Instagram, Snapchat, Netflix, etc) are present on both, nobody would seriously suggest that Google Play wins here.
It's not that there aren't good apps on Android – there clearly are, and the essentials are all covered – it's just that iOS tends to be more appealing to developers for two reasons. Firstly, it's well established that iPhone owners are more willing to pay for apps than their Android counterparts. Secondly, development on iOS is far easier because there aren't that many phones to account for. With Android, developers have to take into account hundreds of different hardware configurations and screen resolutions. The result? iPhone gets higher-quality apps, and those that are cross platform tend to come to iOS first.
This is especially true with games, and to put the boot in slightly, this is another area where the iPhone has the upper hand, thanks to the excellent value Apple Arcade service. For £4.99 per month, you get unlimited access to a bunch of high quality curated mobile games with no microtransactions – many of them exclusive to iPhone. Android has an equivalent – Google Play pass –  but Apple Arcade not only has quality and exclusivity going for it, but flexibility: you can play the games on iPhone, iPad, macOS or Apple TV if you like. Oh, and did we mention that the new M1 Macs have the ability to run iOS apps if the developer allows it?
Read more: MacBook buying guide 2021: Air or Pro? How to choose the best Apple laptop for you
There is one consolation worth highlighting for Android, though: Google opinion rewards. The free app provides sub-60-second surveys that give you Google Play credit for each one completed. While this can be anything from 5p to 50p a time, it soon adds up and you can find yourself part of the small demographic that pays for Android apps in no time – at no cost to you.
Emoji design differs between the two platforms, but it's really a matter of personal preference. The blob face style that Google used to favour was abandoned in 2017 and each update brings Android emoji closer in line to the clean, round style of iOS. That said, it's important to note that third-party apps like WhatsApp tend to feature their own take on emoji anyway, so it's possible that you'll rarely see the vanilla Android or iOS versions.
Security, privacy and updates
The closed nature of iOS gives the iPhone a huge advantage when it comes to security. Apple doesn't let owners modify the operating system and prevents custom read-only memory (ROMs) unless you void the warranty and jailbreak the device. Not only that, but Apple's iron grip on the App Store means there's less chance of a malicious app slipping through the net than there is with Android.
Privacy is another big win for the iPhone, which shouldn't come as a huge surprise given how the two companies make most of their money: Google trades in user data for its advertising network, while Apple is predominantly a hardware seller. This manifests itself in Apple overtly flying the flag for privacy with features such as the brand's upcoming app tracking transparency which will expose how data is shared by apps and services. It even has an option to auto-generate burner email addresses for apps and websites that you'd rather didn't have your details.
Read more: Pay less for privacy with the best VPN discounts on ExpressVPN, NordVPN and more
That said, Android is catching up here, and the privacy section added in Android 10 is a huge step in the right direction, alerting you when apps ask for special permissions and instantly allowing you to veto. Plus, if you buy an iPhone for privacy reasons and then fill it up with Google apps like Gmail, Maps and YouTube, you're still ultimately helping with Google's data collection, just with more steps.
Another win for Apple: the iPhone is very good for updates. The company's latest software – iOS 14 – is supported by the iPhone 6s, a handset that's just celebrated its fifth birthday. Getting long-term Android support is more of a lottery. Because updates have to be tailored to each model by the manufacturer, most handsets only offer a couple of years' worth of support at best, and some low-end devices are lucky to see any patches at all. Despite being the creator of Android, Google only guarantees three years of updates for its own Pixel handsets – and that's about as good as it gets in Android land.
Price
Because of the sheer variety in terms of specs and features, Android phones come at every price point imaginable, from £2.60 phones aimed at developing countries to handsets that sell for 500 times that. 
Suffice it to say, the words "cheap" and "iPhone" don't typically end up in the same sentence. That said, Apple does have a very well priced mid-range offering in the form of the iPhone SE. It uses the same Apple A13 bionic chip as last year's iPhone 11, so it's still up there with the fastest Android phones around, though it does obviously make its savings on things like camera quality, screen technology and its slightly dated design. 
There are plenty of excellent Android handsets around this price or lower, of course. There's the Motorola moto G9 plus (£179.95, Johnlewis.com), Google's Pixel 4a (£349, Store.google.com) or the superb OnePlus nord 5G (£249, Oneplus.com). 
After that, Apple still sells the two-year-old iPhone XR (£499, Apple.com), but it feels a bit outdated in 2021 and it's worth paying £100 more for the iPhone 11 (£599, Apple.com). By this point, though, you can buy some excellent Android devices with near top-tier internals, such as the OnePlus 8T (£549, Oneplus.com), Google Pixel 5 (£599, Store.google.com) or Samsung Galaxy S20 FE (£599, Samsung.com).
Read more: Samsung Galaxy S21 vs Apple iPhone 12, which newly released smartphone is best?
By the time you reach the iPhone 12 family, you're looking at a starting price of £699 for the basic model, or £999 for the pro version with its improved camera and larger screen. Increasing the built-in storage ups the price by hundreds of pounds, and at this price point the competition is the most luxurious non-folding Android phones around: think the Samsung Galaxy S21 ultra (£1149, Samsung.com) or the Sony xperia 1 II (£1099, Carphonewarehouse.com).
While you can find Android devices that cost even more than this – especially foldables like the Galaxy Z fold 2 or the Huawei mate Xs –  it's pretty clear that you get a lot more bang for your buck with Android.
But do remember that resale value: according to the trade-in site Bank My Cell, Android handsets lose value twice as fast as iPhones on average. That's something to bear in mind if you plan to upgrade at the end of a two-year contract.
The verdict: Android vs iPhone
As you probably expected, there are pros and cons to buying either Android or iOS. Android handsets come in all shapes and sizes, have a flexible OS and can fit to any budget – but they can prove intimidating to newcomers, aren't guaranteed security updates and are of hugely variable quality.
iPhones, meanwhile, offer a smooth experience out of the box, the best app selection around and guaranteed updates for years to come – but they don't come cheap, can't be customised much, and miss out on trailblazing features offered by the Android innovators.
To keep your new smartphone's juices up read our round up of the 11 best portable chargers so you can top up your battery life while on the go
Register for free to continue reading
Registration is a free and easy way to support our truly independent journalism
By registering, you will also enjoy limited access to Premium articles, exclusive newsletters, commenting, and virtual events with our leading journalists
Already have an account? sign in