The Independent's journalism is supported by our readers. When you purchase through links on our site, we may earn commission.
AirPods Max vs AirPods Pro: Should you buy Apple's earbuds or headphones?
Same same but different — we help you decide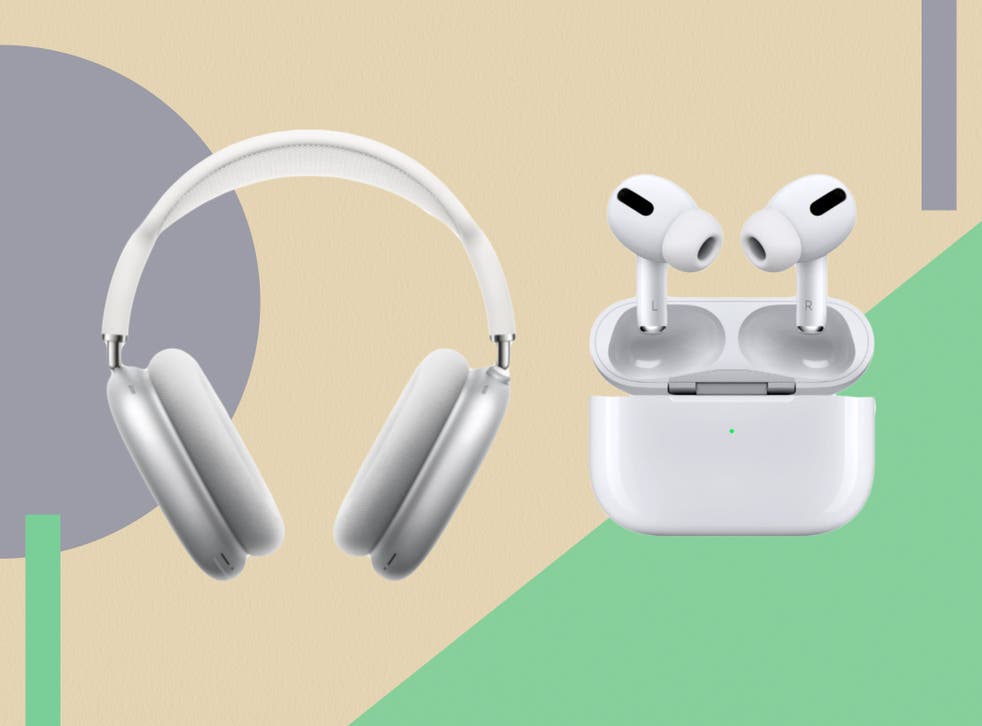 The AirPods have changed how people listen to music: those instantly recognisable stalks in people's ears represent a revolution in wireless listening.
But it can be confusing knowing which of Apple's AirPods line-up is best, especially when they offer such similar features.
Each of them feature the same smart connections to your various Apple devices and the same famous Apple design. All of them sound great and work just as well.
Read more: 11 best noise-cancelling headphones to help you focus when working from home
But there are big differences between them all, and it's important to understand them before embarking on a purchase cost hundreds of pounds – and, in the case of the Max, a lot of hundreds of pounds.
Here's how the two most premium AirPods – the Max and the Pro – compare, and which is best.
You can trust our independent reviews. We may earn commission from some of the retailers, but we never allow this to influence selections, which are formed from real-world testing and expert advice. This revenue helps us to fund journalism across The Independent.
Price
There's one clear winner on this measure. While the AirPods Pro aren't cheap – quite the opposite – they look it when compared with the very high price of the Max.
The AirPods Pro cost £249 through Apple, but usually around £215 from third party retailers like John Lewis & Partners or Currys PC World, though they regularly go on sale for less than that; the Max cost a whopping £549. (That's all compared with the normal AirPods, which start at £159.)
Of course, what you get for the price is vastly different: there's a lot more to the Max, physically, if nothing else. But read on to find out whether that's the kind of premium you actually want to or need to pay.
Smart features
One of the key things to be aware of is that the AirPods Max and AirPods Pro are just as smart as each other, and share all of the clever features that Apple has packed into its latest headphones.
That is because they each have Apple's H1 chips in them, which powers all of the other smart features that are a central selling point of both.
It means they can switch between Apple devices that are connected to your account, can use Apple's "Adaptive EQ" to tune the sound to your ears, including a transparency mode that enables the also-smart noise cancellation to let sound through, and include an astonishing spatial audio feature.
That spatial audio tool represents perhaps the best of both headphones: they can track your head as it moves around, and use that to ensure that the sound always sounds expansive and follows you around.
Obviously, the way they use those features is a little different – the spatial audio does the same thing on both headphones, but sounds better on the Max – but the way they work is identical.
The flip-side to the smart features is that they mostly require Apple devices to work; while you'll be able to connect and use them with any other Bluetooth phone or computer, you'll miss out on almost all of the clever tricks. This, too, is the same for bot
Design
If the features are the same, then it's the design where the Max and the Pro really differ. They are entirely different: the Max a big set of earphones that sit on top of your ears, a Pro a very small set of earbuds that nestle right inside them.
When they're on, that means that the AirPods Pro are so light you can almost forget they're in, so long as they fit nicely in your ears. There's no forgetting the Max, which sit heftily if comfortably on your head, beaming music into your ears.
Read more: 9 best smartwatches for kids that have games, cameras and trackers
But it's really when you're not listening to them that the design makes the bigger difference. The AirPods Pro are so small they can easily slot into even the smallest pocket, whereas the Max are likely to have to go into a bag, even when they're squished and folded down into their smallest form.
Of course, the Max make heavy use of that extra bulk: they sound better, have bigger batteries, and can be more comfortable over long periods. But none of those benefits are useful when they're tucked into your bag or pocket.
One small but key aspect of the design is colours or the lack of them. The Max come in a rainbow-like array of colours – grey, silver, blue, green and pink – while the AirPods Pro come in any colour so long as it's white.
Read more: 8 best running headphones: Wireless earbuds that won't fall out during a workout
They also have different carrying cases. The AirPods Pro's case is a revelation, and perhaps one of Apple's smartest ever creations, charging up the earbuds and keeping them safe and secure; the Max's case, more like a strange harness that keeps them bundled up, is mostly useless and a rare and confusing misstep for Apple.
Noise cancellation
One of the big features of both headphones is what you can't hear: they each offer active noise cancellation for covering up any unwanted sound. And they both do it astonishingly well.
The AirPods Max ultimately win on this point – sound is filtered out almost entirely – but not as decisively as you might expect. Both do a fantastic job.
Sound
The all-important thing, of course, is how they actually sound. And on that score, the AirPods Max are the clear winner.
There's hardly a bad thing at all that you can say about how the AirPods Max sound. They are crisp, clear, punchy and refined; much has been said about the price, but they actually sound as good as even more expensive headphones.
It's on this point that everything that's less good about the Max when compared with the Pro – their big design, their less satisfying case, and their much bigger price – justifies itself. Everything is leading back to that sound.
Read more: Best iPhone 12 and 12 Pro cases that protect your new device
Of course, the AirPods Pro doesn't sound bad; in fact, they sound very good indeed. Despite their small size and everything else that holds them back, they sound astonishingly good, with deep bass and crisp clarity.
But if sound is the concern, and nothing else is, then there's a clear winner in the form of the AirPods Max.
The verdict: Airpods Max vs Airpods Pro
They might share a name, most of their underlying technology, and the same basic functions, but the AirPods Max and AirPods Pro are as different as they are similar. The cases you're likely to want them for are just as different, and that's the real deciding factor.
If you value sound above all, then the Max are a match made in heaven; your iPhone has never sounded this good or worked this cleverly. If you want to make the most of your Spotify library, bring your films to life, or otherwise enjoy the sound from your Apple devices in higher quality than you'd ever imagined, the Max are the way to go.
But for everything else, the AirPods Pro are the best choice. They are an astonishing piece of technology – tiny in the pocket but big in every other way – and remain impressive even nearly a year and a half after they were launched.
For more tech reviews read our write on the new Marshall's new portable bluetooth speaker and see if it lives up to the brand's reputation?
Register for free to continue reading
Registration is a free and easy way to support our truly independent journalism
By registering, you will also enjoy limited access to Premium articles, exclusive newsletters, commenting, and virtual events with our leading journalists
Already have an account? sign in
Register for free to continue reading
Registration is a free and easy way to support our truly independent journalism
By registering, you will also enjoy limited access to Premium articles, exclusive newsletters, commenting, and virtual events with our leading journalists
Already have an account? sign in