The Independent's journalism is supported by our readers. When you purchase through links on our site, we may earn commission.
12 best cafetieres to brew your morning cup the French way
Take the plunge with these stainless steel, ceramic and glass presses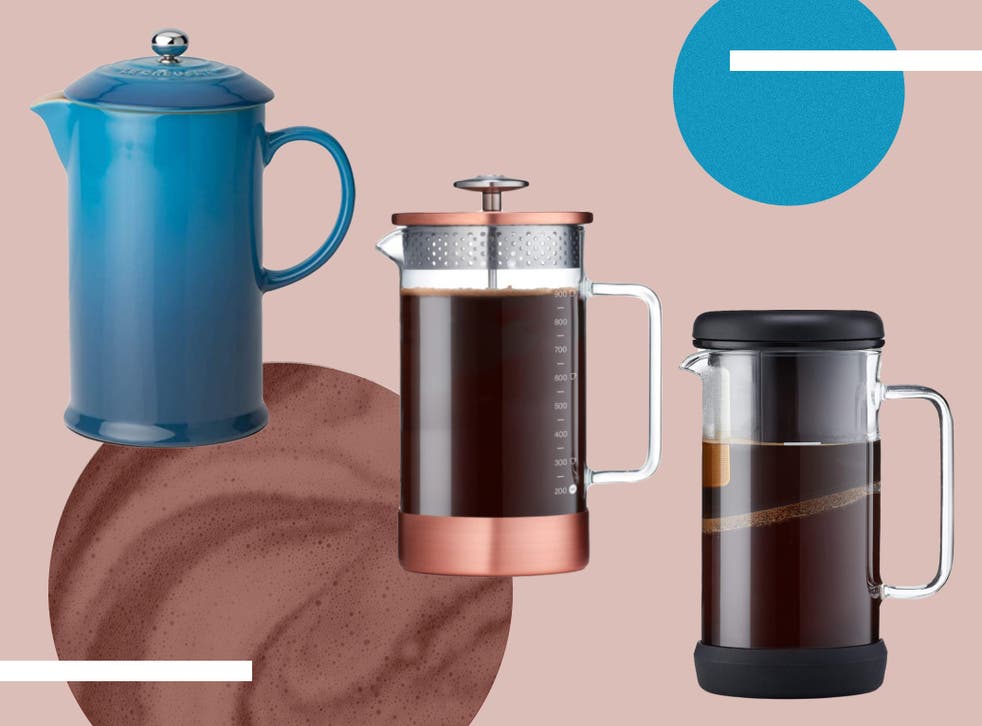 The sweet aroma of coffee drifting through your kitchen in the morning is at its best when from a cafetiere.
Although many have turned to elaborate bean-to-cup or pod machines for their caffeine fix, the French press has remained a champion in the coffee market. They're durable, easy to use, make affordable cups of Joe, they're perfect for sharing with friends, and many of them look pretty stylish on your kitchen worktop too.
If you're not familiar with the cafetiere, it is a large jug, which varies from glass to ceramic to stainless steel, with a mesh plunger to push unruly coffee grains to the bottom of the carafe – which means they don't end up in your cup.
The art of the cafetiere is that, unlike the expensive cup from a cafe or straight from a machine, you make the call on how strong your coffee will be, using your preferred spoonful of ground coffee. So pop your coffee in, wait around three to four minutes and then take the plunge.
They come in a range of different sizes, from one cup to as many as 12 – but you'll find that the "cups" they're referring to are fairly small, not a large mug size. And of course, there's a range of different prices too, so we've made sure to include a cafetiere for every budget.
Read more:
How we tested
We used one of our favourite independent coffee brands, Lost Sheep Coffee which produces bags of fresh ground coffee, especially for cafetieres, alongside beans and ground coffee for espresso machines and filter coffee. For testing, we used Lost Sheep Coffee's get to the hopper (£7.95, Lostsheepcoffee.com) and El Salvador las mercedes (£9.50, Lostsheepcoffee.com) blends.
From the cafetieres, we were looking for a strong yet smooth and no-mess plunge, a non-dribble pour and a jug that kept our coffee warm through the morning. We also tested the durability of each product, whether it required a hand wash or dishwasher and how much mess it created. For each taste test, we waited around four minutes before pressing the coffee and pouring into a small cup. These are the hottest buys right now.
The best cafetieres for 2022 are:
The verdict: Cafetieres
There are hundreds of cafetieres on the market and it was tough to whittle down the range to our favourites. It is best to first choose the material you want before making the purchase. What suits your needs, budget and style?
If you're going for a ceramic, the Le Creuset is worth splashing out on and while the stainless steel options don't look as aesthetically pleasing as the ceramic, they keep your drink warm for such a long time. That's why the Barista & Co coffee press topped our list because of its all-round high quality.
Voucher codes
For discounts on kitchen gadgets and appliances, try the links below:
Prefer a latte or cappuccino over a regular brew? These are the best milk frothers for a cup that's up to barista-standard
Register for free to continue reading
Registration is a free and easy way to support our truly independent journalism
By registering, you will also enjoy limited access to Premium articles, exclusive newsletters, commenting, and virtual events with our leading journalists
Already have an account? sign in
Register for free to continue reading
Registration is a free and easy way to support our truly independent journalism
By registering, you will also enjoy limited access to Premium articles, exclusive newsletters, commenting, and virtual events with our leading journalists
Already have an account? sign in