The Independent's journalism is supported by our readers. When you purchase through links on our site, we may earn commission.
How to clean a mattress and get rid of stubborn stains, according to TikTok
After a video tutorial went viral, we spoke to the experts to find out how often you should be cleaning your bed and what products to use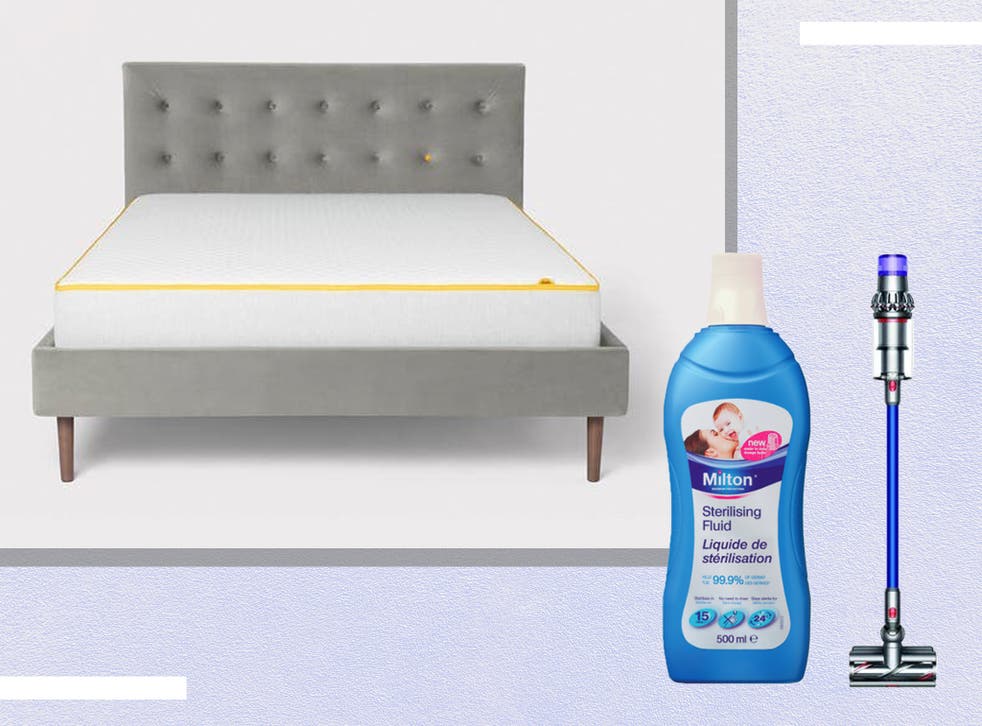 Cleaning your mattress is perhaps the least enjoyable household task – followed closely by cleaning the oven and taking the bins out.
It's easy to put it off by claiming you don't have enough time for such a menial task, but, as most of us are still living under lockdown, we're spending more time indoors than usual.
Read more: Best mattress 2021: Memory foam, pocket sprung and hybrid mattresses reviewed
And without a commute to contend with, and limited places to go on the weekends, now you have no excuse.
Particularly as hygiene is more important than ever, it's a job well in need of doing. Thankfully, you don't have to go too far to find out the ins and outs of tackling cleaning your mattress – and TikTok is here to lend a helping hand.
User and professional housekeeper @vaneamaro91, shared her step-by-step guide on how to keep it clean with a few simple products in a video that has currently amassed more than 633.9k likes.
In it, she reveals you should clean your mattress once a year, and shares the rather revolting detail that the average human being sweats roughly a cup of sweat every night.
It's also not the lengthy tutorial you may be expecting.
While you have probably deep-cleaned your house, this is your expert-led guide to doing the same to your mattress: the products you'll need, when it's time to buy a new one and all your questions answered.
You can trust our independent round-ups. We may earn commission from some of the retailers, but we never allow this to influence selections. This revenue helps us to fund journalism across The Independent.
How often should you clean your mattress?
Even though we spend a third of our lives in our beds, you probably won't think about cleaning your mattress until you spill something on it. But Simon Williams, a spokesperson from the National Bed Federation recommends giving your mattress a quick vacuum every six months.
What do you need to clean a mattress?
The first step according to @vaneamaro91 is to vacuum your entire mattress, and Kate Dutton, product director for Eve sleep tells The Independent exactly what one is best: "You'll need a vacuum cleaner with a suction tool attached, a damp cloth and if you have it, stain remover, along with some good old fashioned elbow grease."
For hassle-free hoovering, the Dyson V11 absolute is expensive at £599.99 but worth the investment, coming in at number one in our review of the best cordless vacuum cleaners.
It will give you 60 minutes of power on the minimum setting, only takes three and a half hours to full charge, reaches into all the nooks and crannies and is lightweight.
"It's a doddle to empty and it looks hi-tech, with the fancy LCD display telling you everything from how much time you've got left on your current charge right through to troubleshooting alerts about blockages or when the filter needs cleaning. Flaws? None," said our reviewer.
What's the best way to clean a mattress?
Williams then recommends sprinkling your mattress with baking soda and leaving it for 30 minutes before vacuuming in order to help get rid of odours and dust and grime. "It's also worth turning the mattress over to clean both sides, even if your mattress is a single-sided product," he adds.
For an even deeper clean, @vaneamaro91 suggests leaving it for as long as 10 hours.
If your mattress comes with a removable cover, most can be put in the washing machine at 40 degrees, then put back on your mattress once totally dry.
Dutton advises to run your vacuum over the top and sides of the mattress with the suction tool attached, then, using a damp cloth and stain remover, gently rub away any stains.
"It's important not to soak the mattress and only use a damp cloth. You'll just need to leave your mattress to air dry afterwards, so it might be worth doing this first thing in the morning," she adds.
How can you clean stains from a mattress?
According to the National Bed Federation website's guide to ridding stains from your mattress, stains such as urine can be removed using a sponge dampened with a warm solution of mild detergent or upholstery shampoo.
Following that, wipe the mattress with cold water and a few drops of an antiseptic such as Milton sterilising fluid (£2.60, Wilko.com).
Promising to sterilise surfaces in just 15 minutes, it's odourless too. The same can be done for vomit and diarrhoea too.
While @vaneamaro91 used her own homemade blend of ingredients including water, essentials oils and dish soap in a spray bottle, she recommends using a toothbrush to scrub out stains before letting the mattress air dry.
How can you stop a mattress from smelling?
To keep your bed odour-free, Williams suggests regular airing, so every morning throw back the bedclothes with the windows open to let the fresh air get to it and spray with a fabric freshener.
Additionally, Dutton details the importance of your bed frame in ensuring your mattress doesn't smell. "Ventilation is absolutely key, so a bed frame with slats will help air circulate around your mattress and prevent any damp build-up."
In our guide to the best double beds for a great night's sleep, we loved this Atlas black bedstead (from £139, Dunelm.com) for its vintage appeal and timeless look that will endure as interior trends come and go.
"Available in cream or, our favourite, black, it has brass-look detailing and a sprung slatted base. It's surprisingly sturdy for the price, although admittedly not a patch on traditional iron. It was also very quick to put together, taking two of us less than an hour," our reviewer said.
Do you need a mattress protector and topper?
In short, yes. A mattress protector keeps bed bugs and dust mites away, as well as acting as a hygienic divider between you and your mattress.
"Using a mattress protector will mean that you don't need to clean your mattress as often. A good tip is to buy two mattress protectors so that when one is in the wash, you can use the other one," says Williams.
Invest in a topper too. A good mattress topper will transform a bumpy mattress into a comfy nest, providing extra support and padding to aches and pains. Plus, come winter, it will act as an extra layer of insulation.
Most importantly, it will be a barrier between stains and spillages and your mattress. In our guide to the best mattress toppers for a comfortable and well-supported sleep, the Simba hybrid topper (from £199, Simbasleep.com) took the top spot, earning rave reviews for its generous depth made up of 2cm high-density foam, 2cm of conical pocket springs and 2.5cm of latex.
Not only that, our tester added: "It's cooler than all-foam mattresses and the anti-slip base and corner straps work a treat for keeping it in place, yet it's easy to roll up and store away if you only use it on, say, a sofa bed when you have guests."
How often should you flip your mattress?
Flipping your mattress is key to prolonging the life and comfort it, but how often you flip it depends on the material it is made from.
Dutton says, "Old school 'open coil' spring mattresses need regularly flipping, around once every six months. The more modern memory foam and hybrid mattresses (combination spring and foam) don't need flipping but do however need rotating every month for their first six months."
When is it time to buy a new mattress?
The general rule is after seven to eight years of use, but you should look into buying a new one if your current one is sagging, squeaking or looks unsightly when you change your sheets.
But it's also important to be aware of any physical effects a mattress that needs changing can have, according to Williams, who says you should buy a new one if you don't feel refreshed, you wake up with aches and pains or if you sleep better in other beds.
It's also a matter of hygiene, and if your mattress is nearing its shelf life, it's important to take how soiled it is into account when considering getting a new one.
"It's not just the physical state of the mattress but the fact that it will have absorbed a lot of moisture and dead skin cells over the years, making it a great breeding ground for the house dust mite," says Williams. "You use your mattress for around seven to eight hours every day and yet still expect it to be performing like new after several years – it won't."
What mattress should I buy?
In our review of the best mattresses, where we reviewed memory foam, pocket sprung and hybrid designs, the Eve Sleep premium hybrid (£978, Evesleep.co.uk) was named our best buy.
The foam style was praised for being "good news for tall and/or overweight back sleepers."
They went onto say: "The durability is outstanding, so it should last you longer than other mattresses. It also gets 10 out of 10 from us on breathability, comfort and support, being just slightly firmer than medium."
"The top provides a comfy lift, followed by a contouring memory foam layer, then a firmer foam support layer and a sturdy foam base layer that also encloses full-sized pocket springs."
Our tester also loved that the cover is washable and you won't disturb your partner when you roll over.
For more cleaning tips, read our guide to the best cordless vacuums for hassle-free cleaning
Register for free to continue reading
Registration is a free and easy way to support our truly independent journalism
By registering, you will also enjoy limited access to Premium articles, exclusive newsletters, commenting, and virtual events with our leading journalists
Already have an account? sign in
Register for free to continue reading
Registration is a free and easy way to support our truly independent journalism
By registering, you will also enjoy limited access to Premium articles, exclusive newsletters, commenting, and virtual events with our leading journalists
Already have an account? sign in