The Independent's journalism is supported by our readers. When you purchase through links on our site, we may earn commission.
10 best carving knives that make simple work of any meat joint or nut roast
Whatever you need to carve, make sure you choose the right tool for the job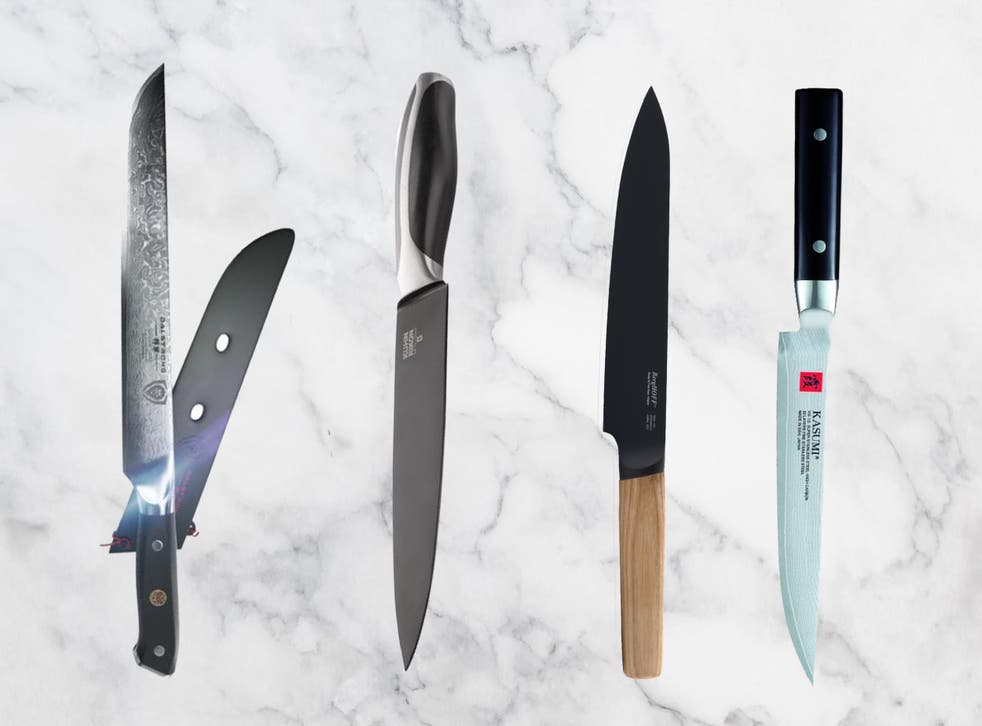 It's that time of year again, thoughts are turning towards Christmas, butchers and farm shops across the country are opening up their order books and requests for turkeys and nut roasts are flooding in.
You've worked hard to make Christmas perfect so don't come unstuck with a blunt knife that will shred all your efforts rather than glide effortlessly through your meal.
Carving knives, unlike their pairing counterparts, have longer thinner blades and while weight can vary, the long slimline design helps you make clean cuts through your beef or bird.
To get the most from your blade and your hard work in the kitchen, there are a few simple rules to follow. Firstly make sure you rest your meat or nut roast for at least thirty minutes before you start carving.
Secondly, slice rather that saw through your food and finally, get your blade sharpened every few weeks. There are some great YouTube videos to show you how or take it to your local butcher who should oblige.
We've put a range of knives to work to find you the best blades in the business, basing our test on how easily they cut through various foods, their appearance and material quality.
You can trust our independent reviews. We may earn commission from some of the retailers, but we never allow this to influence selections, which are formed from real-world testing and expert advice. This revenue helps to fund journalism across The Independent.
Dalstrong shogun series 9" carving knife and fork set: £111.48, Dalstrong
Arguably the best looking knife in the line up, the scalpel sharp blade is nitrogen cooled which means it's less likely to corrode or blunt. The narrowness of the blade means it'll make easy work of hard to carve joints like lamb legs or shoulders. Dalstrong claims every knife goes through hundreds of hours of design and testing and the Japanese inspired design isn't just for looks. The shogun series has been created used ancient Japanese sword making techniques. Unsurprisingly, there's a lifetime guarantee and the blade itself is constructed from garolite, a military grade non-porous fibreglass type material.
Victorinox swiss classic carving set: £59, Victorinox
While this thermoplastic handle might not look as elegant as some of its wooden counterparts, this lightweight carving knife handles extremely well and is dishwasher safe too, unlike some other models. Weighing just 234g with a 19cm blade, the stainless steel knife cut effortlessly through a rib of beef and leg of lamb without reaching the end of the blade, so it's perfect for bigger joints. It comes with a lifetime guarantee and while Victorinox might be more closely associated with penknives, the 134-year-old brand has applied its experience to a great carving knife.
Viners eternal marble 8" carving knife: £17.50, Viners
The curved marble handle makes this knife ergonomic and if you like a heavier blade, this could be for you. The higher carbon content in the German steel means this won't go blunt as quickly as some other models and it comes with a 25-year guarantee. It's attractive to look at and while the recommendation is not to put it through the dishwasher and to hand wash instead, it successfully went through on a high temperature cycle over ten times during our test.
Mercer culinary millennia 10" granton edge chef's knife: £23.89, Amazon
For a start this blade has a lifetime guarantee and secondly, it's made from a single piece of stain free Japanese steel. The ergonomic design with textured finger points and a protective finger guard will keep you safe while you carve. While it might not be the most attractive of the group, Mercer has a fantastic pedigree. The knife making firm has been in operation for over thirty years and supply 90 per cent of the culinary academies in North America, so if you want to feel like a pro, this is the blade for you.
Richardson Sheffield sabatier trompette three piece carving knife set: £39.99, Ocado
Manufactured by British brand Richardson Sheffield, the 180-year-old company knows a thing or two about producing knives. The only three-piece set on the list, this blade comes with its own sharpening steel. The blade is held in place with three rivets, which gives you great control and strength when using it. It's lightweight, one of the more stylish on the list and comes with the option of personal engraving which makes it an ideal gift for the home chef.
Kasumi damascus 20cm carving knife: £139.95, Knives From Japan
With 32 layers of steel and a gold standard steel core, this knife has exceptional strength and will carve through the most difficult joint. Made in Seki in Japan, known as the home of cutlery, the Kasumi blades are still forged by blacksmiths with over 25 generations of experience. Four craftsmen are responsible for each knife with a combined 100 years of experience between them. The handle is made from micarta, a composite material which is moisture and heat resistant.
Kuhn Rikon black peak carving knife: £29.71, Kuhn Rikon
Made in furnaces which temperatures reach over 1000C, this long narrow blade is ideal for all types of joints. Heating the blade to such high temperatures gives the steel flexibility but increases the strength of it too. Each blade is polished and ground by hand making it great value for the level of craftsmanship you'll get. The knives are also coated with a silicone resin, which makes them slide effortlessly through everything from boned rolled shoulder to brisket.
IoShen carving knife: £112.95, IoShen
While it has a hefty price tag, the innovation that goes into this design merits it. This is the only knife on the list to feature Triplex technology. Designed in Japan, the steel that makes up the blade is wrapped in two layers of softer shock absorbing rockwell, which is made up of ten per cent steel. The result is a knife that will retain its razor sharp edge far longer than any conventional blade but without the brittleness of reinforced steel which could shatter the blade. Perfectly balanced and the nicest to handle, the 24cm blade also comes with a lifetime manufacturers guarantee and coped as effortlessly with home smoked salmon as it did with a rolled rib of pork.
BergHOFF ash wood 190mm carving knife: £36.73, BergHOFF
This black steel blade has a two-layer titanium and ceramic non-stick coating so it glides through meat and fish effortlessly. Ash wood is a light, non-dense material but is one of the harder woods and so is perfect for a strong handle. The brand recommends you hand wash this as ash doesn't fare well when exposed to extreme temperatures, but it fared fine in over ten washes in the dishwasher at a low temperature.
Tamahagane san tsubame 21cm carving knife: £129.95, Knives From Japan
Tamahagane is the word used to describe the central core of a samurai knife, which has to be strong, precise and unbelievably sharp. At 21cm it's one of the longer knives on the list and the blade is hand hammered to give the appearance reminiscent of the Japanese forges. The lightweight handle is made of mincarta, a pressed linen material that is mixed with resin to create a strong, durable but light handle with the most comfortable grip in our roundup. This knife comes with a lifetime guarantee that you most likely won't be needing as this blade intends to last longer than you do. If you're looking for a carving knife to hand down the generations, this is it.
The verdict: Carving knives
If you're after effortless use, the Dalstrong shogun is the perfect versatile carving knife. It was tested on a shoulder of lamb and a mushroom wellington and made easy work of both. The Tamahagane comes in a close second, it's stylish, lightweight and its length definitely works in its favour. The Kuhn Rikon is the best value on the list, offering precision at a wallet friendly cost.
Register for free to continue reading
Registration is a free and easy way to support our truly independent journalism
By registering, you will also enjoy limited access to Premium articles, exclusive newsletters, commenting, and virtual events with our leading journalists
Already have an account? sign in
Register for free to continue reading
Registration is a free and easy way to support our truly independent journalism
By registering, you will also enjoy limited access to Premium articles, exclusive newsletters, commenting, and virtual events with our leading journalists
Already have an account? sign in